The experience that customers have with a business or brand is vastly dependent on the support they receive from its customer service team.
Knowing this, what can businesses do to ensure the best customer service quality is achieved and maintained at all times?
The solution is to switch from manual to automated customer service where possible.
In this blog, we'll break down the details of automated customer service. Let's jump right in!
What is automated customer service?
Automated customer service refers to the process of solving customer issues using powerful, automated technologies and tools without involving human support agents or while minimizing human interaction.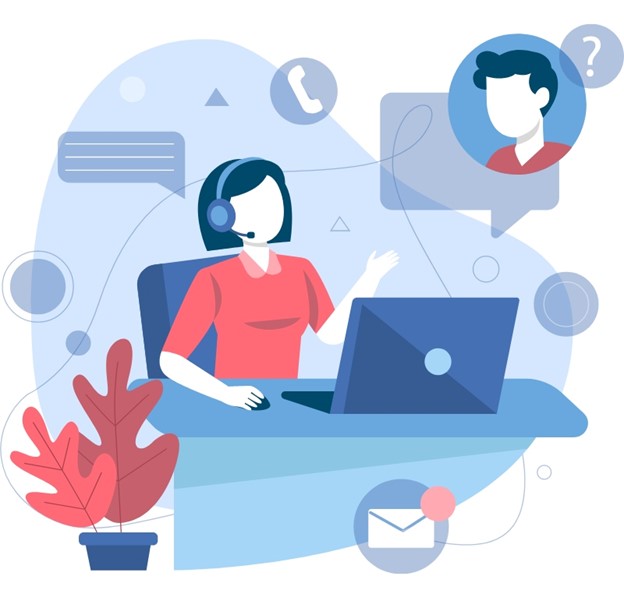 With customer service automation software, repetitive manual tasks or processes involved in solving customer problems are automated for more efficient responses.
Customer service automation aims to ensure the best customer experience by shortening response and resolution time and reducing (or curbing completely) human error. The goal is to offer 100% customer satisfaction!
What are the benefits of customer service automation?
Automating parts of the customer support process has many advantages for your business, support team, and customers.
The following are advantages of automated customer service to consider:
Increased agent productivity
Automation of manual and simple repetitive tasks creates room for customer support representatives to give important and urgent tasks their undivided attention.
This ensures all issues are resolved properly and in a timely fashion, thus boosting agents' productivity.
With automated customer support tools, agents now only deal with tasks that require human intervention. For instance,
An automated ticketing system automatically converts support emails into tickets.
It routes new tickets to support agents with the right skill sets and knowledge to handle the specific customer problem.
Without automation, task analysis and distribution is left up to the support team leads, who have more important things to do.
Reduced response time
Customers always prefer fast answers whenever they reach out to the support team for assistance. For customer service to be termed effective, the speed of responses has to be fast.
Automating customer service processes helps reduce the first-response time for tickets.
Agents also find answers faster. With fewer manual tasks as a part of each ticket, they get to each customer's issue sooner.
A Survey report by Khoros reveals, 79% of customers want to get fast responses upon reaching out to brands. The faster and more streamlined the customer service is, the happier the clients.
Reduction of errors
"To err is human." With manual customer service, the chances of errors occurring are high.
For instance, assigning customer issues to the support agents with the wrong expertise leads to transferring customers from one support representative to another.
This displeases clients and can lead to a ticket getting stuck in limbo.
Automating ticket assignment reduces these errors by ensuring customer issues are automatically routed and assigned to the appropriate agents when necessary.
Therefore, it eliminates transfers, information distortion, and wrong-assignment errors.
Improved efficiency
Automating customer support operations improves efficiency in many ways such as:
Self-service tools like knowledge base software can be automated to make finding answers easier. This reduces the effort of both agents and customers to find solutions.
With automatic ticketing, agents are able to resolve customer issues in the first attempt without the hustle of moving tickets from one support agent to the next.
With service-level agreement (SLA) automation, agents get notifications to help them respond to and resolve issues on time and meet their set SLA targets.
All these automation make customer support more efficient, which eventually increases customer satisfaction.
Reduced cost of serving
In most cases, customer service is expensive. Businesses have to hire support agents, train them, and offer ergonomic amenities.
Automating support operations reduces the overhead costs of running customer service by reducing the overall workload and therefore size of the team.
Empowered customers
Today's customers value speed and efficiency over interacting with a person.
Automation is revolutionizing the way customer support is provided, putting customers in the driver's seat by offering them the option to get their issues resolved quickly without having to interact with a human.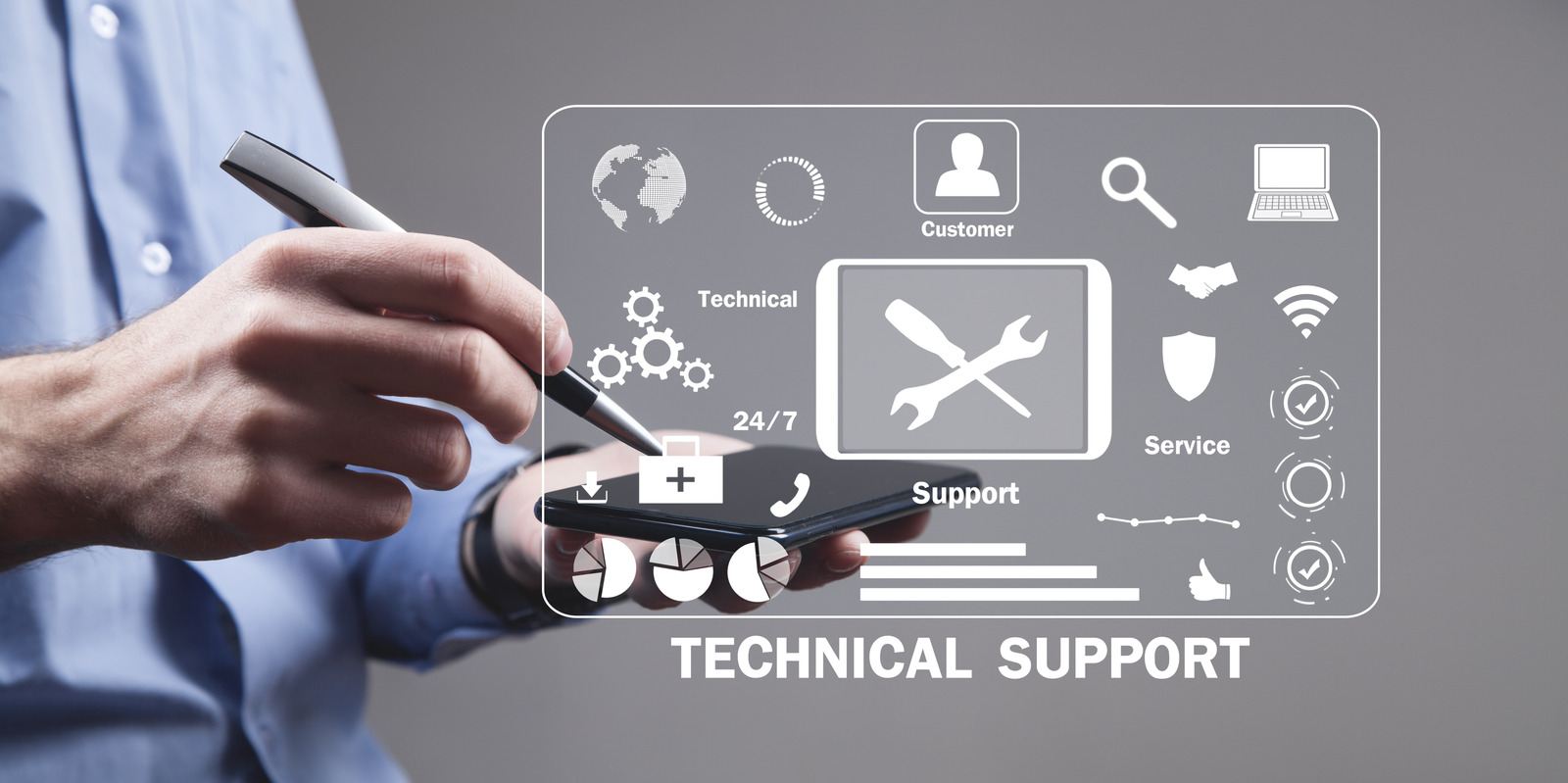 While some consumers are only interested in speaking to a real person, others enjoy solving their own problems by reading through help center pages.
The trick is to cater to both. Your clients can still contact a support agent if they require more assistance.
24/7 support
The use of automated customer service solution offers the advantage of providing support to customers regardless of their circumstances, location, or time zone.
This is particularly beneficial since automated tools are not limited by contact center operating hours, and customers can quickly solve simple issues without needing to contact support agents.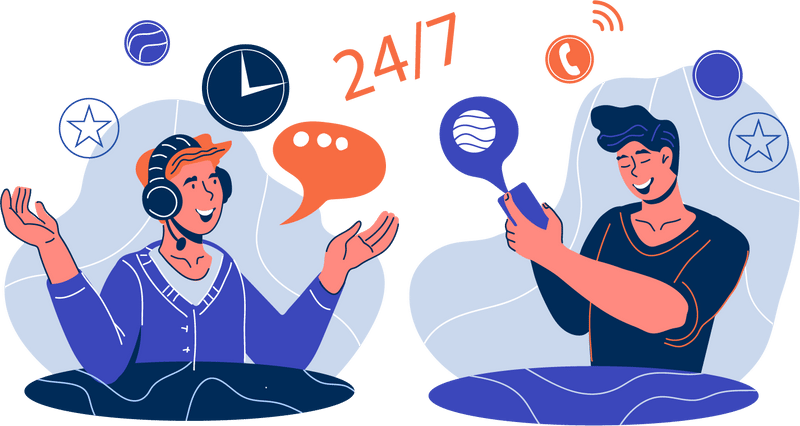 This is why automation is especially useful for answering frequently asked questions, either through self-service or automated customer communications that include links to articles with keywords from customers' input.
This helps to reduce the amount of frustrated customer complaints, as they are still able to receive assistance.
Reduced human error
Being human means making mistakes, and this is especially true for repetitive tasks.
Automations and templates can be beneficial in fast-paced environments, as they reduce the likelihood of human error.
By utilizing automation, it is possible to increase speed and decrease mistakes.
Encouraged support team cohesion and minimized confusion
Automated customer service tools can assist in boosting cohesion among teams and put an end to any uncertainty about who is responsible for a certain support ticket.
All tickets are automatically assigned to an agent. Automation can also be set up to identify tickets that have not been updated for too long and escalate them, ensuring that no ticket is overlooked.
Uniform process-driven workflow
Automation software helps to standardize and streamline customer support by making sure each query is tagged, prioritized, and given a ticket, all in the same way.
Each customer receives the same acknowledgement that their ticket is being handled, the same notifications of status changes, and timely responses guaranteed by automated SLA management.
This process makes it easier for your team to manage their workflow, as it is more predictable and organized.
What are the drawbacks of implementing customer support automation?
As much as automating your customer support operations is a great step, there are still some setbacks to this move.
When automating the support processes, keep in mind the existence of the following disadvantages.
Absence of human touch
Some automated customer service aspects lack the real human touch, which is a major drawback. For instance:
Some clients prefer to talk to human agents as opposed to the robotic, machine-generated responses that automated help desks provide.
Some customer service attributes such as personalization, patience, and empathy can only be achieved by humans, since they can relate to clients on a human-to-human basis.
Setup process is complex
Before any automated customer service system is up and running, a company sometimes has to invest a lot of time and resources.
Setting up different features, such as the ticketing system and knowledge base, is time-consuming.
In addition, with the dynamic changes being made in automation technology, new updates will have to be made. That means the automation process will never fully be complete.
Poorly planned customer service automation often leads to poor customer experiences.
Threat to customer support agents' jobs
Having machines perform tasks previously being done by human agents means less work for them, which may mean fewer jobs.
Foremost, given that machines are more efficient and accurate, this makes it even more disadvantageous to agents.
Support representatives who are not as efficient may lose their jobs.
The good news is that customers will always want human interaction and there will always be issues that only a real person can solve.
Some best practices to setup automated customer service tool
Businesses can automate their customer support operations to improve their workflow by adopting some best practices.
1. Use the right modern customer experience automation tool
One of the best steps to automating your customer service is to switch to automated ticketing software.
Within automated ticketing software, support emails get automatically converted to tickets, routed to appropriate teams or people with proper expertise (if necessary), and evenly distributed to support agents.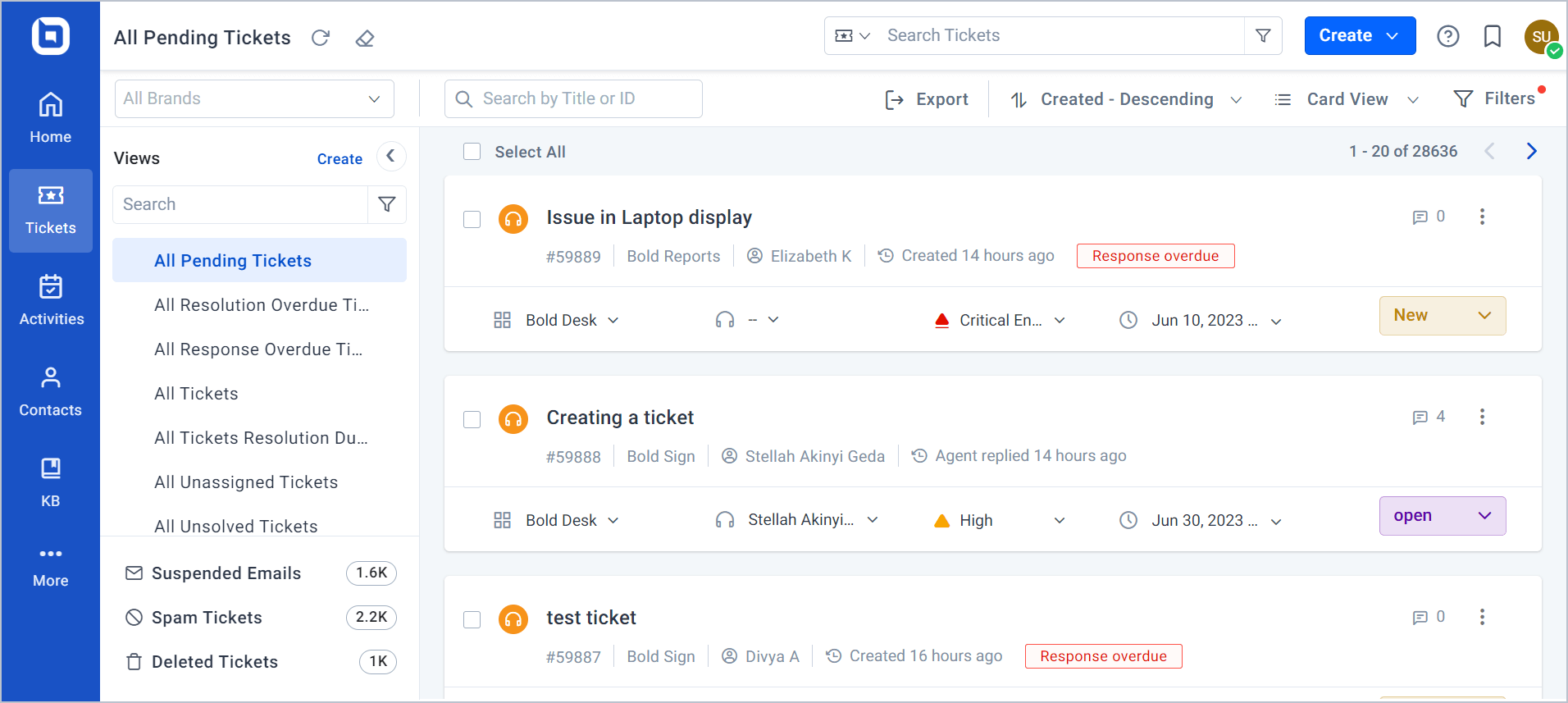 In addition, help desk software will also track conversations on tickets and prioritize incoming tickets using keywords and phrases you set as indicating urgency.
2. Personalize the customer support experience
Every customer wants to feel valued as an individual, and the interaction with the support team should have a human element.
Ensure the automated responses via emails and live chat are customized to include the customer's name, if possible.
Because aspects like an acknowledgement email will be obviously automated, support agents should use a friendly tone in instances of personal interaction.
Additionally, take a few seconds to check the customer's history before beginning.
3. Integrate live chat tools in your customer support
Businesses can consider integrating customer support communication channels such as an AI-powered live chat to boost customer experiences.
For instance, the AI can provide real-time responses if the answers are in your FAQs page or knowledge base.
If the answers don't satisfy your customer, they can choose to escalate to a live agent or create a ticket if it's past business hours.
4. Create a knowledge base
Obviously, the AI-powered live chat would not be useful without a repository of answers to mine.
Reports show that, 70% of end-users expect to get self-service solutions in companies' portals.
With a knowledge base software, customers and support agents are able to access information and get solutions or answers to support issues by themselves.
Set up your knowledge base properly, including keywords and alternative phrasings, so that your chatbot can find useful information, too.
Ensure the knowledge base software is well-designed, well-organized, and contains all the necessary information in the form of up-to-date articles.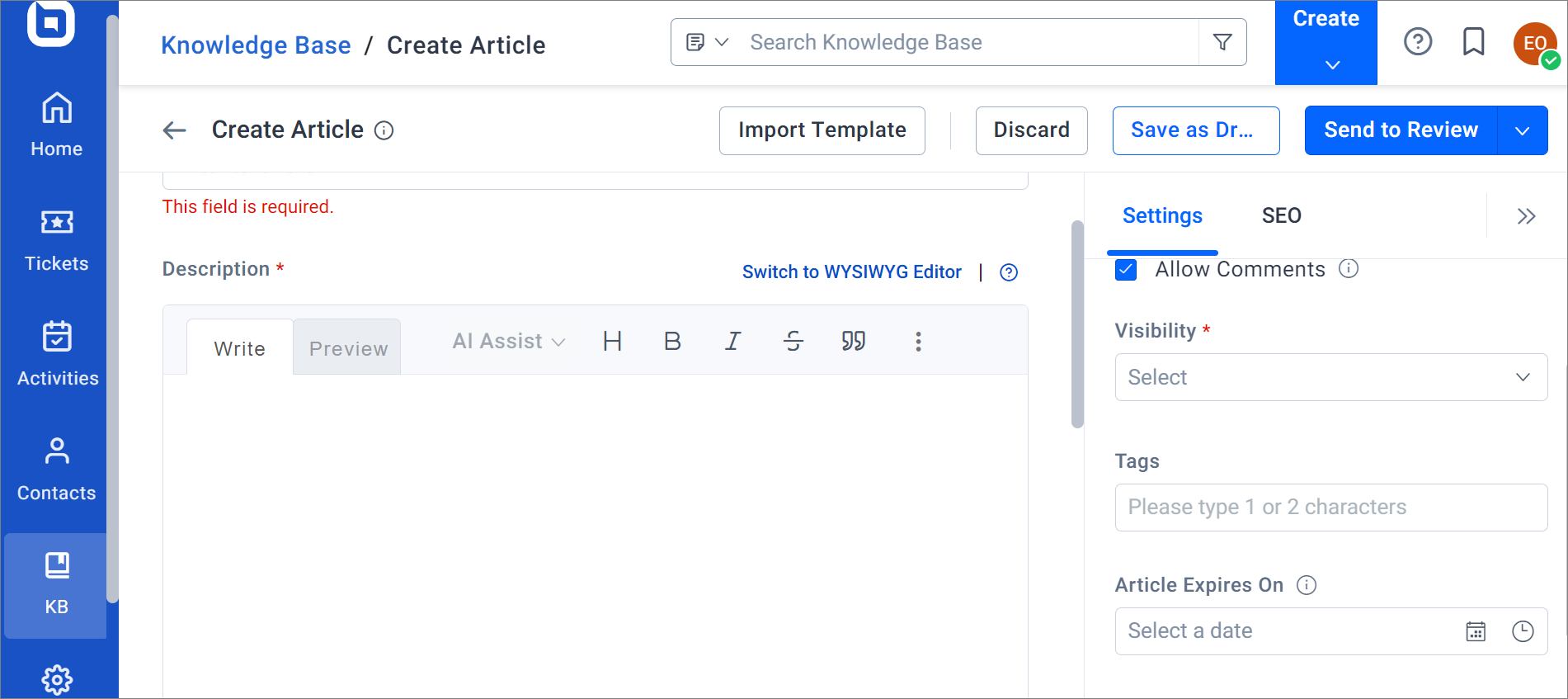 For customers going directly to the knowledge base, set up your search function to auto-suggest relevant articles.
5. Train support agents
The support agents form the main link between a business and its customers.
Having a well-prepared support team, therefore, is crucial.
With any automation changes set to happen, ensure your support team is well-trained to handle the new customer service tools.
Additionally, they should understand what tasks are still their responsibility.
Make all possible clarifications to avoid future errors associated with a lack of technical know-how or confusion over workflow.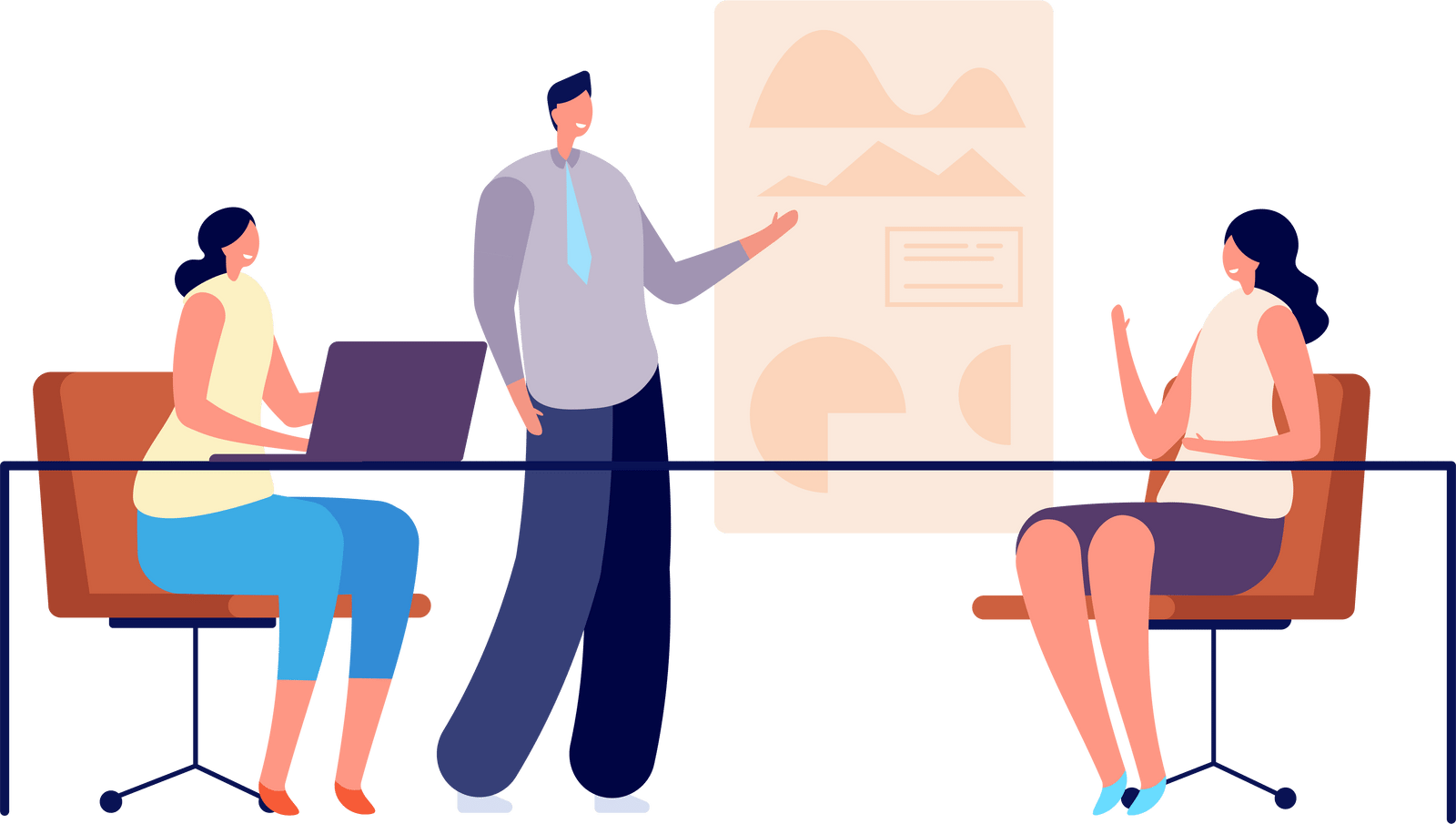 Keeping your support agents in the loop goes a long way in ensuring that customer interactions are streamlined.
Combining both the human touch and the automation tools is the perfect recipe for the best customer service.
6. Monitor and evaluate performance
Using an effective automated reports and analytics tool, track how your automation choices affect your support quality by monitoring your customer service metrics.
Automating customer support reporting processes can involve a learning curve, but you should see positive results after an adjustment period.
Keep an eye on performance metrics such as:
Ticket conversation activities
Agents' performance to see how well your agents are using the new technology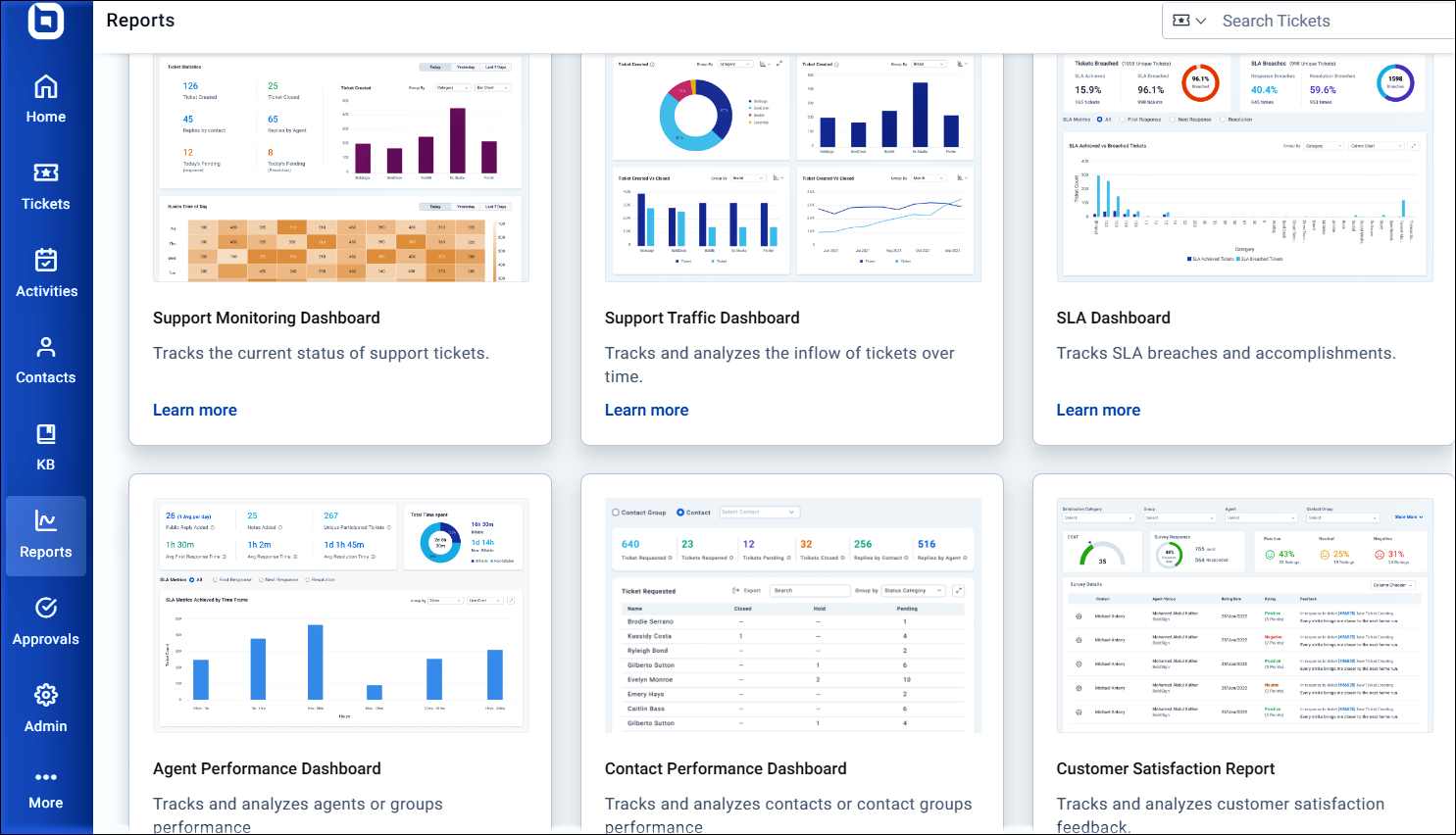 You can send out surveys to gather customer feedback throughout the customer service process in order to collect some of this data.
For instance, when a support ticket is closed, a survey can be sent automatically after a set amount of time to the customer who created it.
Using this feedback, you can identify whether your automation efforts are helping or confusing customers and find ways to improve its implementation if necessary.
Streamline Your Support Operations With BoldDesk
Get the most out of your customer service experience with our automated customer support. Streamline the process and provide resolutions quickly.
Some automated customer service examples
We have mentioned some of these automation choices previously when describing advantages, but let's look at a few of them more closely.
SLAs
With service level agreement automation, there are various functions such as:
Customers and the support team get automated alerts, reminders, and notifications on the progress of the support tickets.
There are stipulated SLA targets that determine the expected resolution due time and response time.
Support agents get automated reminders before tickets' target time is due to remind them to resolve the issue on time.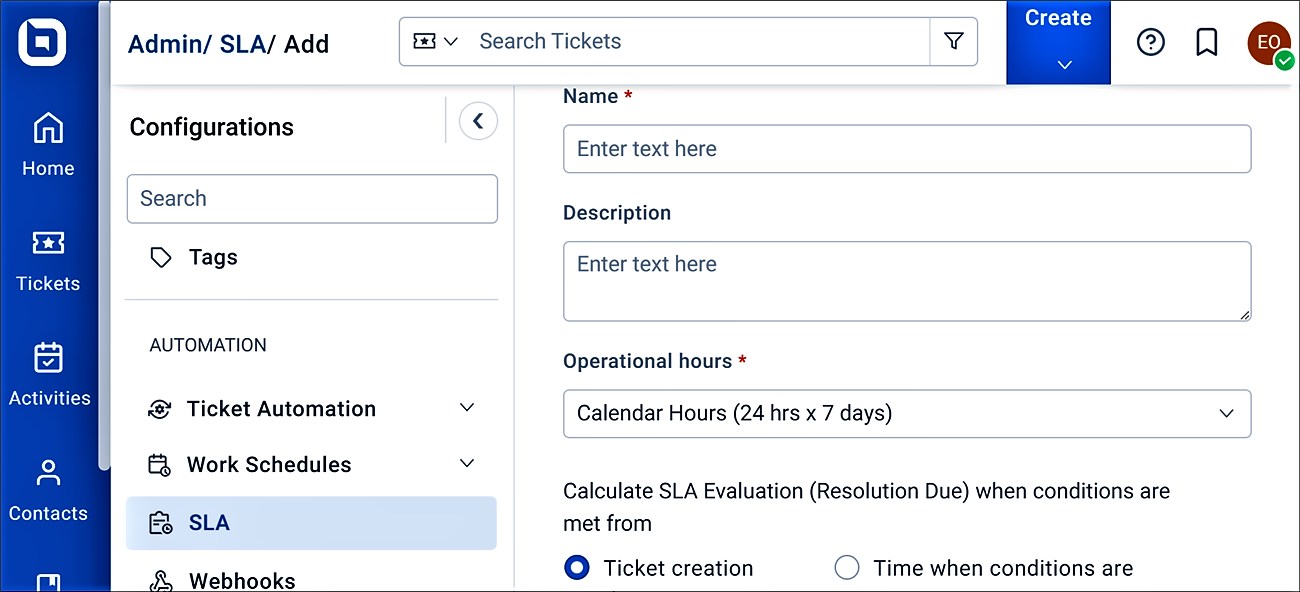 If the SLA is breached (the ticket issue is not resolved within the target time), an SLA escalation alert is sent to the support team manager.
The lead will then request the assigned agent to resolve the issue quickly or move it to a different agent for faster resolution.
In addition, the customer gets automated notifications whenever changes are made to the ticket.
Automated SLA actions help ensure all support issues get quick and timely resolutions.
Email ticketing and responses
Businesses can use automated customer service emails to respond to customers.
In an automated ticketing system, customer requests or inquiries sent via email get automatically converted to tickets and assigned an agent.
Usually, this will be round-robin assignment, to keep workloads even.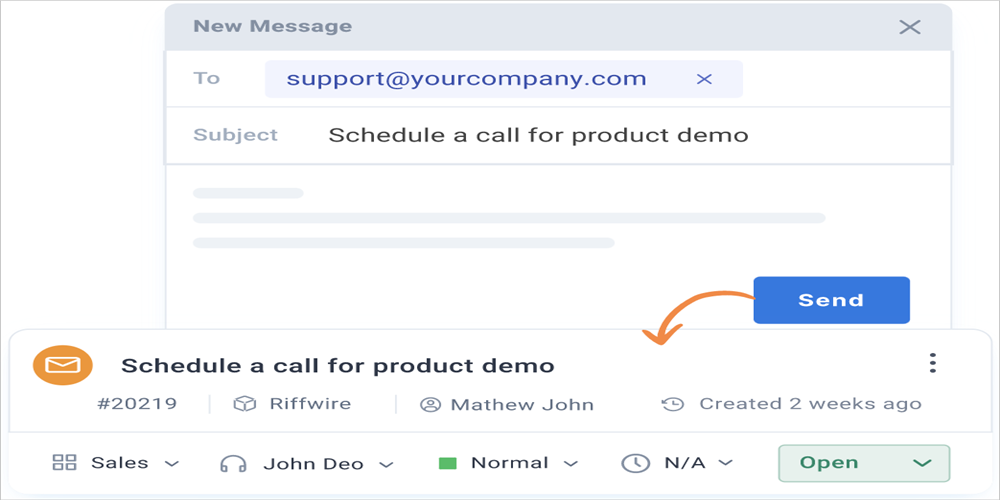 When an email is received, automated reply is sent to the customer informing them that a ticket has been created on their behalf.It then provides instructions on how to follow its progress.
If a customer directly creates a ticket, an automated reply is sent to them acknowledging its receipt.
Finally, feedback surveys are sent when a ticket is closed to measure customers' satisfaction with the support process.
Live chat
Live chats are fast gaining popularity because they offer instant responses to common issues.
According to Comm100, Millennials prefer using live chat as their primary customer communication channel.
The bot finds keywords in the customer's question, scours your company's knowledge base, website, and forums for matches, and presents them to the customer.
If the customer is not satisfied, the live chat can redirect to a live agent.
The automation keeps agents from spending time unnecessarily on easy questions.
Knowledge base
The secret to success when it comes to customer service is providing fast responses to customers' questions and issues.
By offering a self-service knowledge base, customer satisfaction is increased, and support ticket volume is decreased.
When customers search for solutions on your website, automation provides knowledge base articles using the keywords in their search terms.
This helps the customer to find answers to common problems and questions quickly and at any time, since articles are always available.
Ticket automation
Ticket automation refers to the process of assigning a client's inquiry to the correct agent or department.
Automation rules are utilized to execute recurring, ticket-related activities.
These rules can include ticket properties, requester properties, and other filters to determine whether an issue should be escalated or routed to a specific employee with the right expertise.
Despite being an activity that takes place in the background, it still has a huge effect on the customer experience.
Spending hours being continuously shuffled among agents is an avoidable frustration. In the absence of special properties, tickets can be automatically distributed according to agent workload.
Customer feedback surveys
To enhance your customer service strategy, you should implement surveys that provide real-time customer feedback.
It's hard to improve something without measuring it first. Your customer service team has the potential to gain valuable insights from customer interactions daily.
You can automate the sending of feedback surveys when purchases are made on your website and when support representatives have resolved customer issues.
The surveys will be sent to obtain feedback regarding their experience with your products and customer service.
Gathering feedback not only makes customers feel appreciated, but also allows you to refine your products and processes.
Automated replies
Automated replies are prewritten messages that are used in automated customer service to quickly provide responses to customer communications.
When a customer opens a ticket, an automatic response is sent to acknowledge the receipt of the ticket.
This assures the customer that their ticket has been received and is being looked into.
These customer service automated responses can be customized to match the tone and language of your brand and can be sent automatically to customers through various channels such as chatbots, emails, or social media.
Automatic responses provide an efficient means of streamlining customer replies, ensuring speed and convenience for all parties involved.
How to choose the right customer support automation tool
Choosing the right customer support automation tool for your business involves considering several factors.
Cost
Consider your budget. The first step is to determine how much you can afford to spend on customer support automation. This will let you eliminate any options that are outside of your budget immediately.
While some tools may offer advanced features, they may also come with a hefty price tag. Make sure you understand the cost structure and any potential extra charges.
Examine the simplicity of use
The aim of investing in customer service ticketing software is to make support simpler for your agents to provide, not more difficult.
So, the ease of use of the software plays a crucial part in choosing the appropriate tool for your organization.
The software you select should be straightforward to install and use in order to boost the efficiency of your agents.
Requirements of the team and customers
Define your customer support needs. This will help you identify the type of customer support automation tool you need. Consider:
The volume of customer inquiries
The complexity of issues
The channels your customers use to reach out to you
Also keep in mind that any software you select will only serve a supplementary role, with the primary role resting on your support team.
Make sure to ask your team about their needs. If a system is already in use, find out which aspects work for them and which don't.
Reporting and analytics capabilities
Assess the tool's capacity to offer insightful metrics for gauging support effectiveness.
The tool should provide detailed reports about the number of tickets resolved, average handle time, customer satisfaction score, first response time, etc.
These reports should be customizable based on your goals and preferences.
Consider the scalability of the software
Select a tool that can grow alongside your business. As your business expands over the years, it's crucial that your customer service software keeps pace with the growing number of customer requests and service agents.
The tool should be able to handle increased volume and complexity.
Capacity of the software to facilitate team collaboration
Seamless collaboration is essential since excellent customer service often necessitates the involvement of other departments.
Therefore, it's essential that your customer support software enable seamless collaboration.
Team members should be able to monitor each other's work, outstanding tickets, and the status of responses to requests according to their workflow.
Testing to confirm the tool's abilities
Once you've narrowed down your choices, the most effective method to identify the right customer service automation solutions is through a process of trial and error.
When utilizing a customer service automation platform, it's important to adjust the set parameters as required by your business.
Test the tool to ensure its ability to meet your needs in terms of flexibility, efficiency, and effectiveness. It's advisable to choose tools that provide a free trial to avoid unnecessary costs and wasted time.
Try our automated customer service software for free!
Customer experience automation is an ideal solution for businesses looking to offer more efficient customer service.
With the right automated customer service processes, companies can save on response and resolution time, increase customer satisfaction, and streamline support operations.
It should be noted that automation and support agents together create the best customer service.
BoldDesk provides excellent customer service automation tools to help take your support operations to the next level.
Feel free to request a live demo to see how BoldDesk works. Experience our automated customer service software with BoldDesk's free trial plan.
Contact the BoldDesk support team for any requests or inquiries.
FAQs
The following are some commonly asked questions on automated customer service:
a. What is the main purpose of automating customer service?
The need to provide the best customer experience and satisfy clients over the years has pushed businesses to come up with lasting solutions for their customer service.
Automating customer support operations seems to be the most viable solution for this need.
After all, happy clients mean better business.
b. Can automating customer service eventually replace humans?
Advancements in technology are dynamic. However, that doesn't mean that automating customer service aspects will translate to the loss of jobs for existing support teams.
Automated customer service solution will ensure simple, routine tasks get performed automatically while complex tasks get delegated to the support team to handle.
Customer service automation solutions get rid of the boring part of support agents' work but cannot replace agents for less routine issues. Therefore, the answer is NO.
c. Why is it important to automate your customer service?
Customer support automation is beneficial because:
It makes support representatives more productive
Reduces the response and resolution times for customer issues
Streamlines the support teams' workflows
Reduces the costs of manually providing support
d. What are some common automated customer support examples?
Most businesses automate common support operations such as:
Ticket assignment
Auto-suggestion in knowledge bases
Email autoreplies
SLA automation
Live chatbots
Related articles
Reasons why automated ticketing system is good for customer service