Choosing the best customer service software from the numerous options available can be daunting, particularly for beginners.
The majority of suppliers offer similar features and guarantees to aid you in attaining the same goals.
To guide you in picking the perfect software for your business, we have compiled a list of the best customer service solutions for 2023.
We will be examining each software solution's key features and cost.
What is a customer service software?
Customer service software refers to the platforms and tools used by businesses to enhance customer support management.
These tools are used specifically for handling customer support requests. They enable service agents to monitor, prioritize, manage, respond to, and resolve customer inquiries and employee requests.
Promoting the growth of your business necessitates a robust customer service program.
Undeniably, exceptional customer service is the bedrock of a profitable, long-lasting business, and it's crucial to have top-notch customer service software to provide such service properly.
Benefits of customer support software
Customer support software is a critical tool for many businesses, providing numerous benefits and advantages that can considerably enhance the quality and efficiency of customer service operations.
Promotes customer satisfaction, loyalty, and retention
Providing service agents with the information and tools that enable them to offer swift and accurate customer responses improves their quality of service.
This reduces customer churn and promotes loyalty, which often translates into repeated purchases.
Enhanced efficiency and response time
Providing a self-service hub for your customers can significantly improve their service experience and reduce your team's response time.
When some customers can help themselves, your team has more time for those who can't.
With customer support software, all relevant information about a customer's history, including previous interactions and purchases, is centralized and easily accessible.
This helps support agents respond to issues more efficiently, without having to spend time searching for information and eliciting information from customers.
The automation functions in customer support software handle numerous repetitive tasks that would normally need human involvement.
This includes sorting and assigning tickets to the relevant departments or individuals, sending automated responses for common questions, and tracking the status of each customer's issue.
This automation not only saves time but also ensures that no request goes unanswered.
Provides analysis and reports
Utilize the inherent reporting functionalities of some customer support software to comprehend alterations in support volume, team efficiency, customer type and size, among other things.
Access to precise data insights can enhance a business's sales, marketing, and support operations.
The reports generated can help management make informed decisions. They provide significant insights into customer behavior, preferences, pain points, and satisfaction levels.
Improves customer experience
Many automated customer service solutions offer automated responses and chatbots that can provide assistance around the clock.
This means that customers can receive help even outside of regular business hours.
Customer support software helps businesses provide consistent service by standardizing responses and ensuring that all inquiries are handled in a timely manner.
This can improve customer trust and satisfaction in the business.
Reduces costs and saves time
Utilizing customer support software can significantly cut down on costs.
First, it reduces the need for a large customer support team, as the software can handle some of the ticket volume, reducing labor costs.
Second, it decreases the costs associated with human errors, as the software can provide accurate and consistent responses.
Third, it reduces overhead costs by streamlining and automating different customer service processes.
The automation provided by customer support software also saves time. It can quickly sort and handle simple customer inquiries, leaving more complex issues to human agents.
It also provides immediate responses to customers, reducing the waiting time.
Finally, it allows for easy tracking and management of customer data, saving time that would have been spent on manual data entry and analysis.
Upgrades your service
As your business grows, so does your customer base and the volume of support requests.
Most customer support software can scale to accommodate this growth, allowing you to handle an increasing number of support tickets without compromising on service quality.
Customer support software is also flexible, meaning it can easily adapt to alterations in your business needs. You can include new features, integrate with other systems, and upgrade your plan as needed.
As your business grows, it's important to provide consistent service to all customers. With customer service software, you can ensure that all support requests are handled in a consistent manner, regardless of volume.
What are the various types of customer service platforms?
Here are some types of customer service platforms.
Help desk software
This is a platform that provides customer support operators with a range of tools to assist users and solve their problems.
These tools typically include ticket management, automation, reporting, a customer portal, and multiple-channel support.
The software allows companies to manage and track interactions with customers, streamline their issue resolution process, and improve customer satisfaction.
It also helps in prioritizing customer issues based on various factors like urgency, type of problem, etc., and assigns them to the appropriate support staff.
Knowledge base software
Knowledge base software is a type of technology that stores and retrieves knowledge to support functions such as problem solving, learning, and decision-making.
It serves as a central repository for information that is accessible to everyone in an organization. It may include FAQs, manuals, guides, procedures, rules and regulations, among other types of information.
This software is used to create an online library of information about a service, product, department, or topic. It can help in improving customer service by providing answers to common questions. Internal knowledge bases increase efficiency by providing employees with quick access to information they need to perform their tasks.
Live chat support software
Live chat support software enables businesses to communicate with their clients in real time through a chat interface on their website or app.
This software often includes features like automated responses, chat transcripts, customer profiles, and performance analytics.
Shared inbox software
Shared inbox software is a type of program that allows multiple people to access and manage a single email account.
This can be useful for groups that need to collaborate on responding to customer inquiries, managing customer support tickets, or handling other collaborative tasks.
Ticketing systems
Ticketing systems compile customer interactions, often from various channels, and convert them into tickets.
These tickets are threads that contain all communication related to a specific customer case, letting businesses manage and track customer service requests.
These systems enable companies to resolve customer issues and inquiries more efficiently by assigning a unique identifier, or "ticket," to each request. This allows for easy tracking and follow-up.
Ticketing systems are widely used in customer service and support teams to manage, prioritize, and resolve customer questions, complaints, and requests.
However, they are also used in other departments, like IT or HR, for internal requests.
Phone support software
Phone support software enables businesses to handle customer inquiries and issues over the phone efficiently.
This software is designed to log, track, manage, and report on customer support calls.
It assists in managing customer's queries, complaints, suggestions, and requests, and also helps in tracking the resolution process until the issue has been resolved.
Top customer service solutions to consider
Customer service software is a vital tool for any business that values its customers. It assists businesses in managing and tracking customer interactions, ensuring a smooth and seamless customer experience.
The best customer service software products in 2023 include features such as multichannel support, automation, analytics, and self-service support.
Let's check out some of the top software for helping businesses excel in customer service in 2023.
1. BoldDesk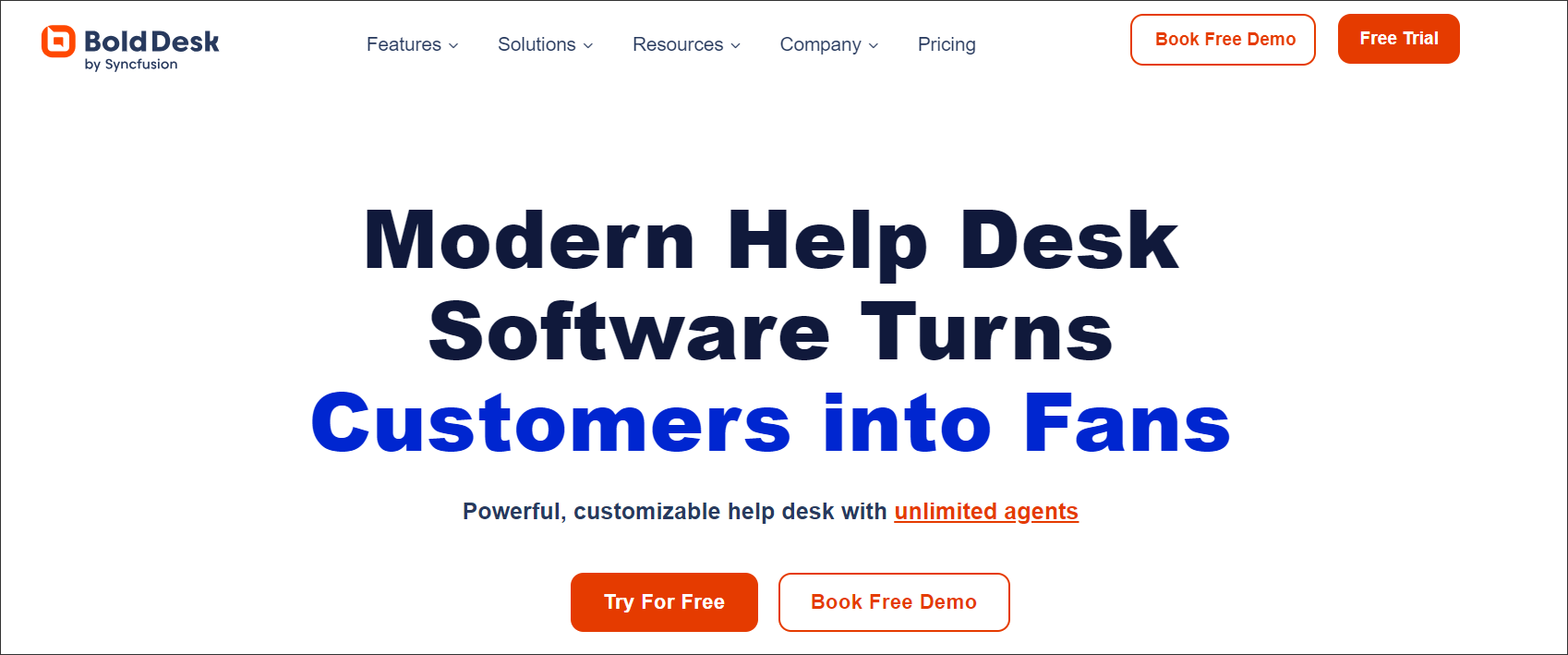 Our own BoldDesk is an advanced customer service software platform that utilizes cutting-edge customer support tools and self-service functions to enhance and streamline customer service.
It is a highly scalable and intuitive solution for enterprise businesses seeking to provide exceptional customer support for business growth.
BoldDesk is a cloud-based platform that enhances customer experience by managing support emails, facilitating collaboration among team members, and automating repetitive tasks.
BoldDesk also holds a SOC 2® Type 2 certification, signifying that the customer service software adheres to the highest standards of customer service security and privacy.
Key Features
Advantages of using BoldDesk
Integrations: With BoldDesk's integration feature, users can link their preferred tools and apps to simplify workflow, declutter data, and enhance productivity.
Robust automation features: BoldDesk possesses multiple automation options for routing tickets, eliminating repetitive tasks, reducing manual effort, and boosting agent productivity.
Email-to-ticket conversion: BoldDesk utilizes a ticketing system that automatically converts customer emails into tickets for agents.
Enhanced usability: BoldDesk comes with an intuitive interface that's easy to use for both service agents and customers.
Improved customer satisfaction: Businesses can set their own SLAs in BoldDesk. The software can automate notifications to be sent to agents when due dates are approaching and to supervisors when they pass. No customer ticket is left to languish, keeping customers happy.
For more information on BoldDesk features, please refer to the following video.
Pricing
BoldDesk has two pricing categories:
Starter: Starts $12/agent/month.
Growth: Starts at $20/agent/month.
Enterprise: Starts at $40/agent/month.
Don't let this incredible opportunity slip away. Choose our Unlimited Agents package for a worry-free, seamless service. This not only streamlines your payment process but also allows you to concentrate more on your business instead of budget management. With our Unlimited Agents package, you have the freedom to scale your business and reach new heights without any financial constraints.
Standard: Starts at $199/month.
Pro: Starts at $499/month.
Business: Starts at $999/month.
You have the options to do a 15-day free trial and schedule a live demo.
2. Zendesk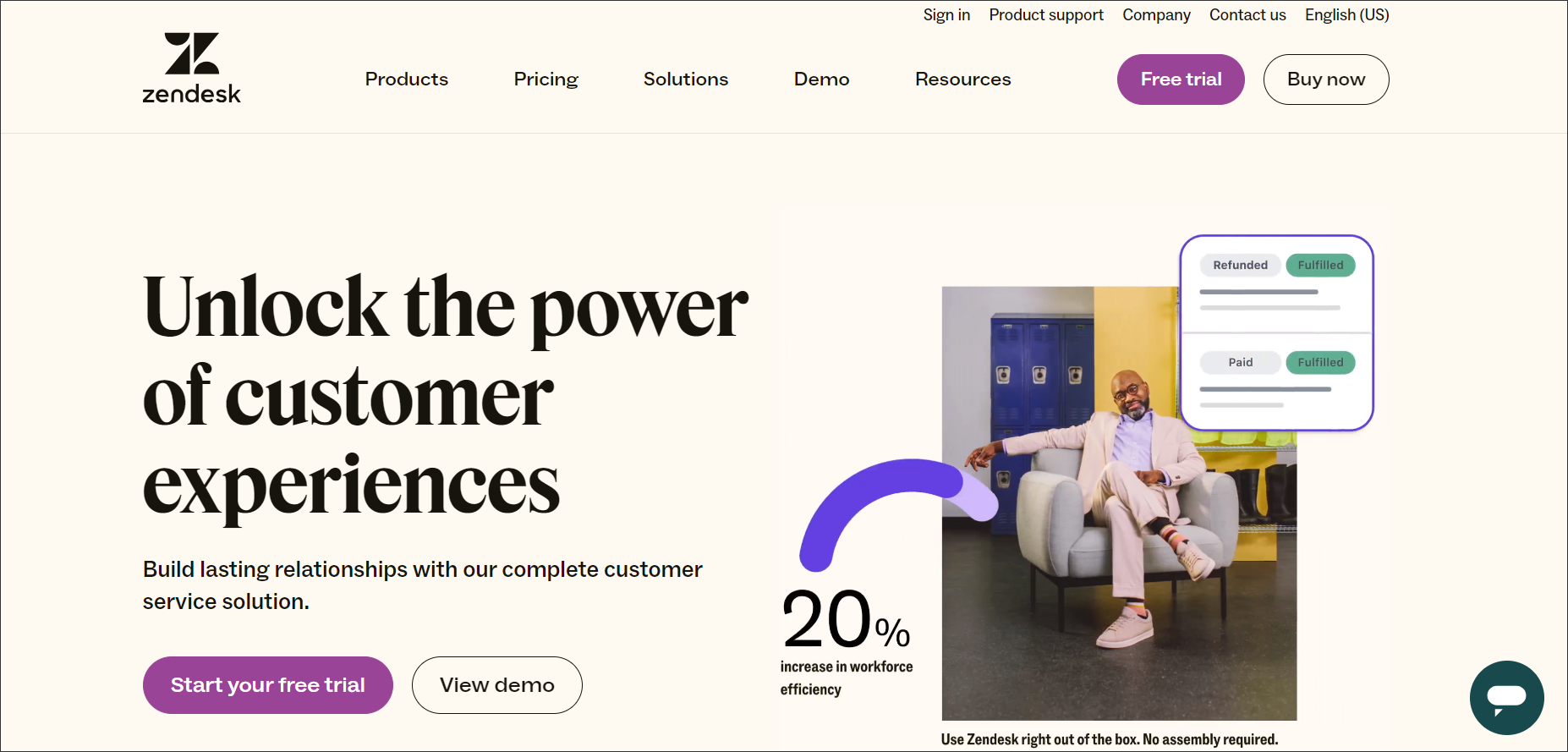 Zendesk is powerful customer support software tailored for large organizations. It allows users to handle conversations via email, Twitter, and Facebook with any of their plans.
Zendesk provides a multitude of features specifically designed to optimize and improve customer service processes.
Their more expensive plans also permit management of phone and chat conversations.
Pricing
A free trial is available.
Monthly plans begin at $19/agent.
3. Freshdesk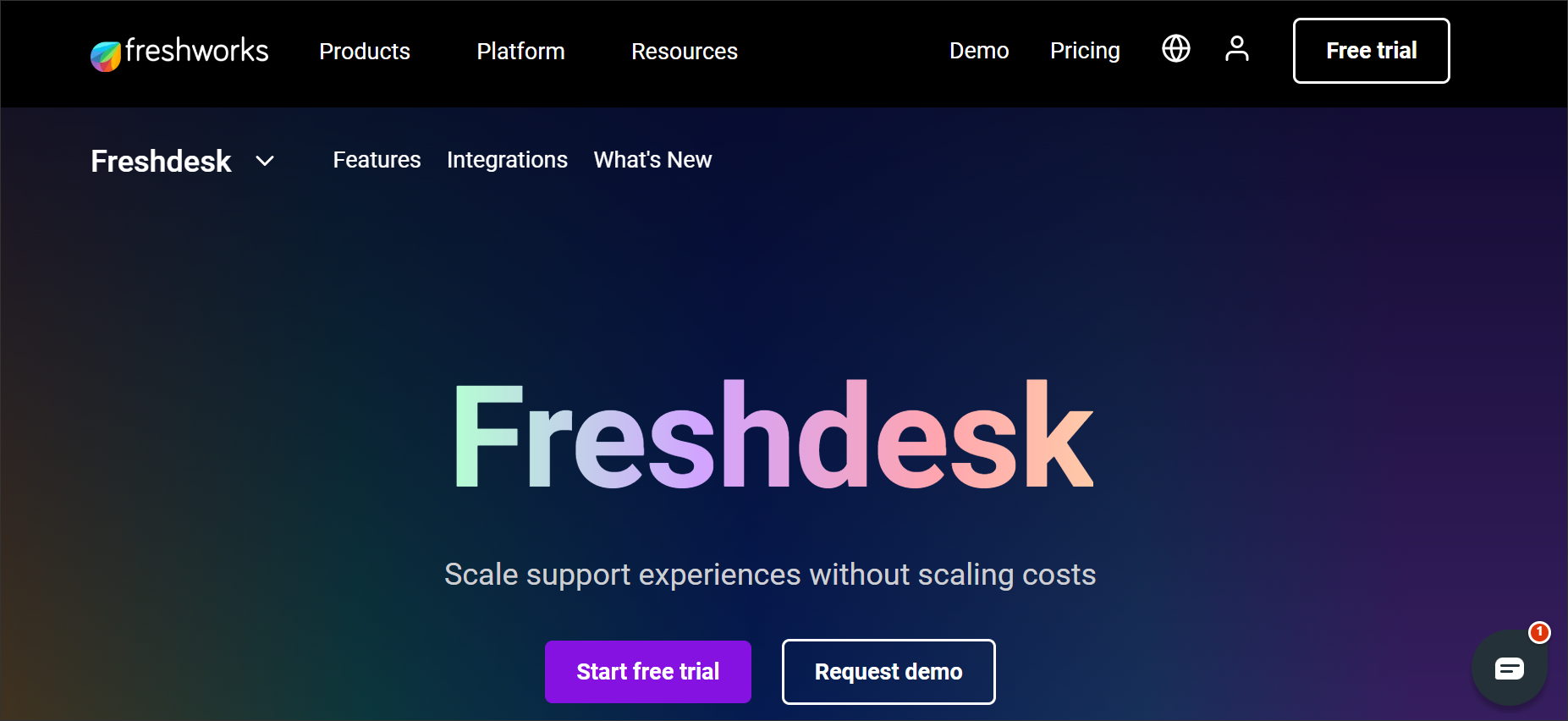 Freshdesk offers two types of support: a basic help desk solution and comprehensive omnichannel support.
Freshdesk is customer service software that operates on the cloud and is designed to offer good customer service for businesses, regardless of their size.
It converts customer inquiries from emails, phone, web, chat, and social media into manageable tickets.
This makes it easier to streamline and consolidate your support operations, especially when you utilize Freshdesk integrations.
Pricing
A free trial is available.
Monthly subscriptions for paid plans begin at $15/agent.
4. Salesforce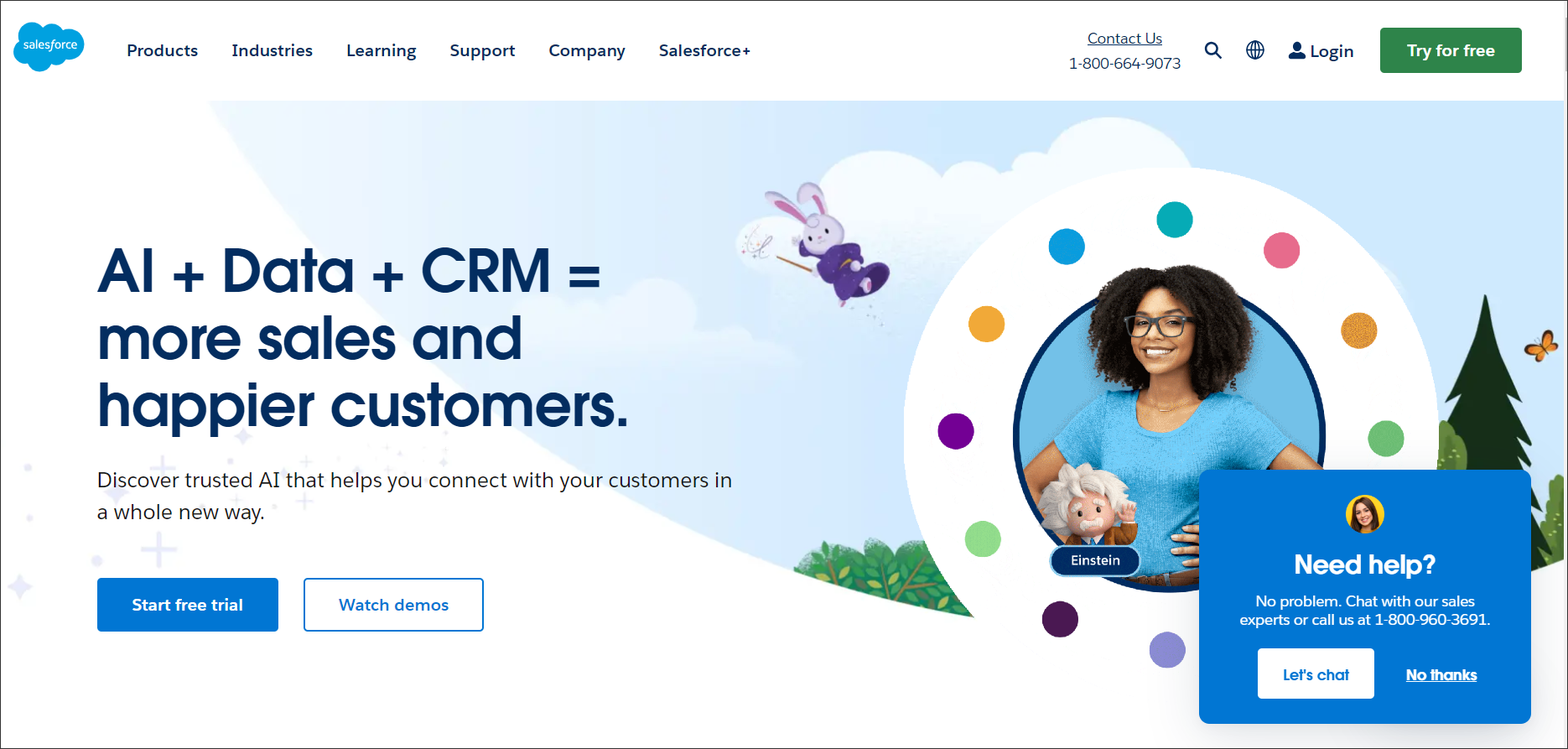 Salesforce is a CRM (customer relationship management) platform explicitly engineered to facilitate collaboration among teams within companies for optimal customer service.
It also provides a customer support platform known as Service Cloud.
It ensures that staff members from IT, sales, marketing, support, and any other pertinent department have access to identical customer data, enabling them to provide the necessary support to your customers.
Salesforce Service Cloud is customer service software that equips agents with a consolidated view of:
Customer data
Prior interactions
Purchase history
Ticket information
This single view enables agents to access relevant details swiftly and provide fast support.
Pricing
A free trial period is available.
Essentials: $25/user/month.
Professional: $75/user/month.
Enterprise: $150/user/month.
Unlimited: $300/user/month.
5. HubSpot Service Hub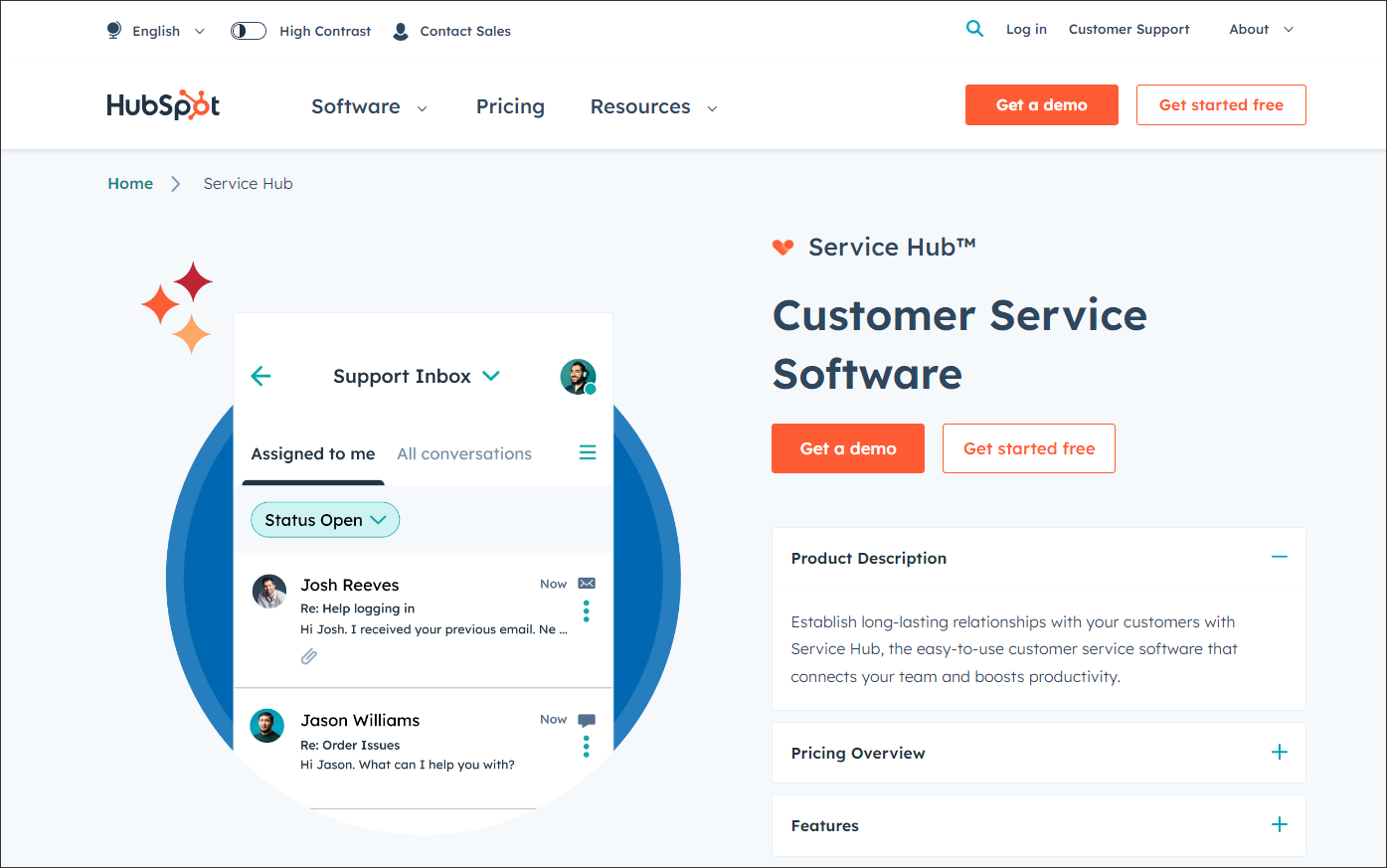 HubSpot is a CRM platform that incorporates a ticketing system and live chat capabilities. It also offers a customer service product known as Service Hub.
Service Hub is especially beneficial for teams that already utilize HubSpot's CRM.
The products integrate smoothly, providing agents with contextual data that aids in personalizing their support efforts.
Pricing
Starter plan starts from just $18/month
Professional plan starts at $450/month
Enterprise plan starts at $1,200/month
6. Aircall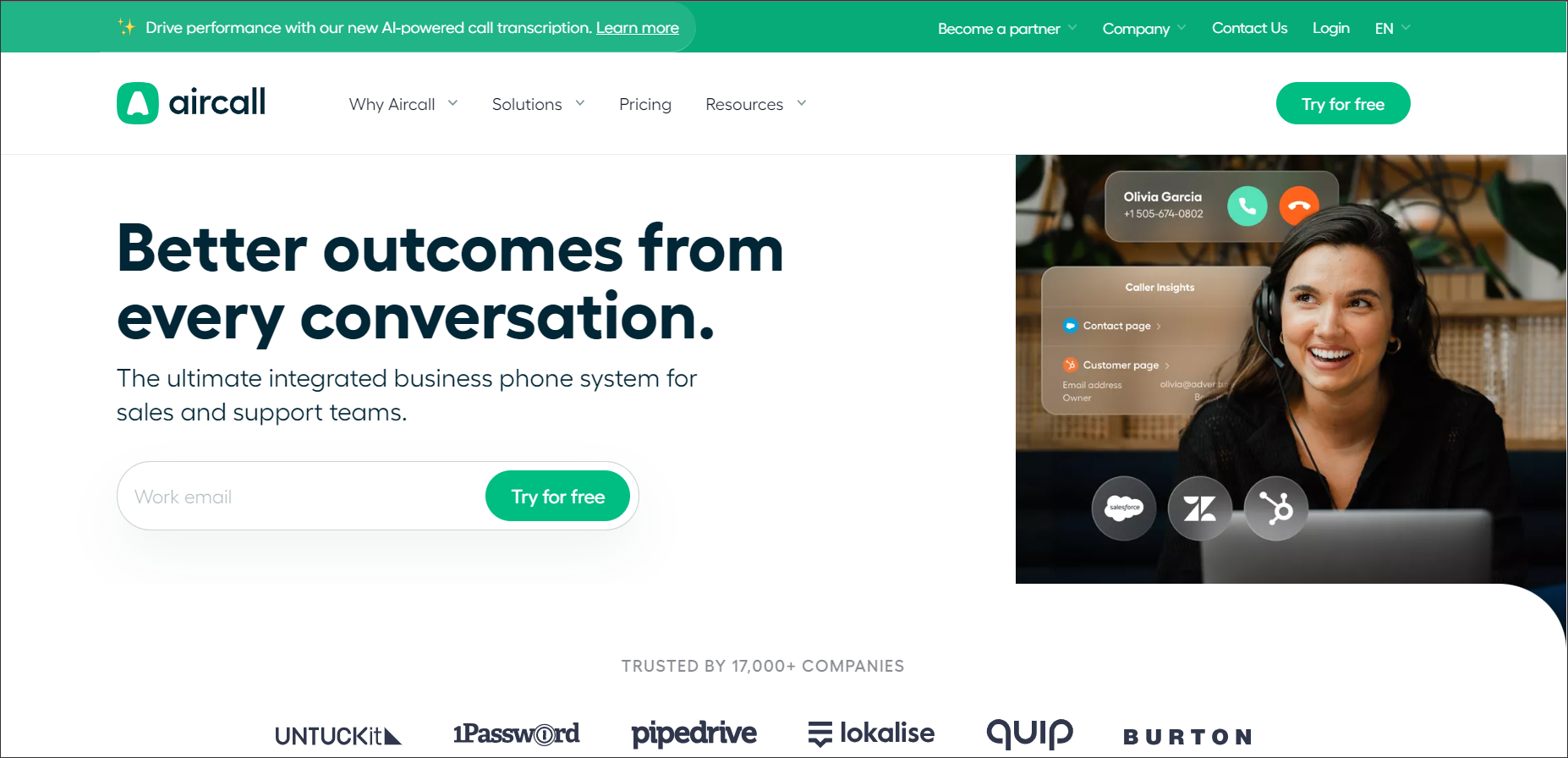 Aircall is a phone support software designed with simplicity and user-friendliness at its core. It is particularly suitable for small- to medium-sized businesses.
Aircall's customer support software accumulates pertinent customer data, providing agents with needed context for each interaction.
The software connects with numerous customer support tools, such as live chat and social messaging platforms, offering support across multiple channels.
Pricing
7. Helpshift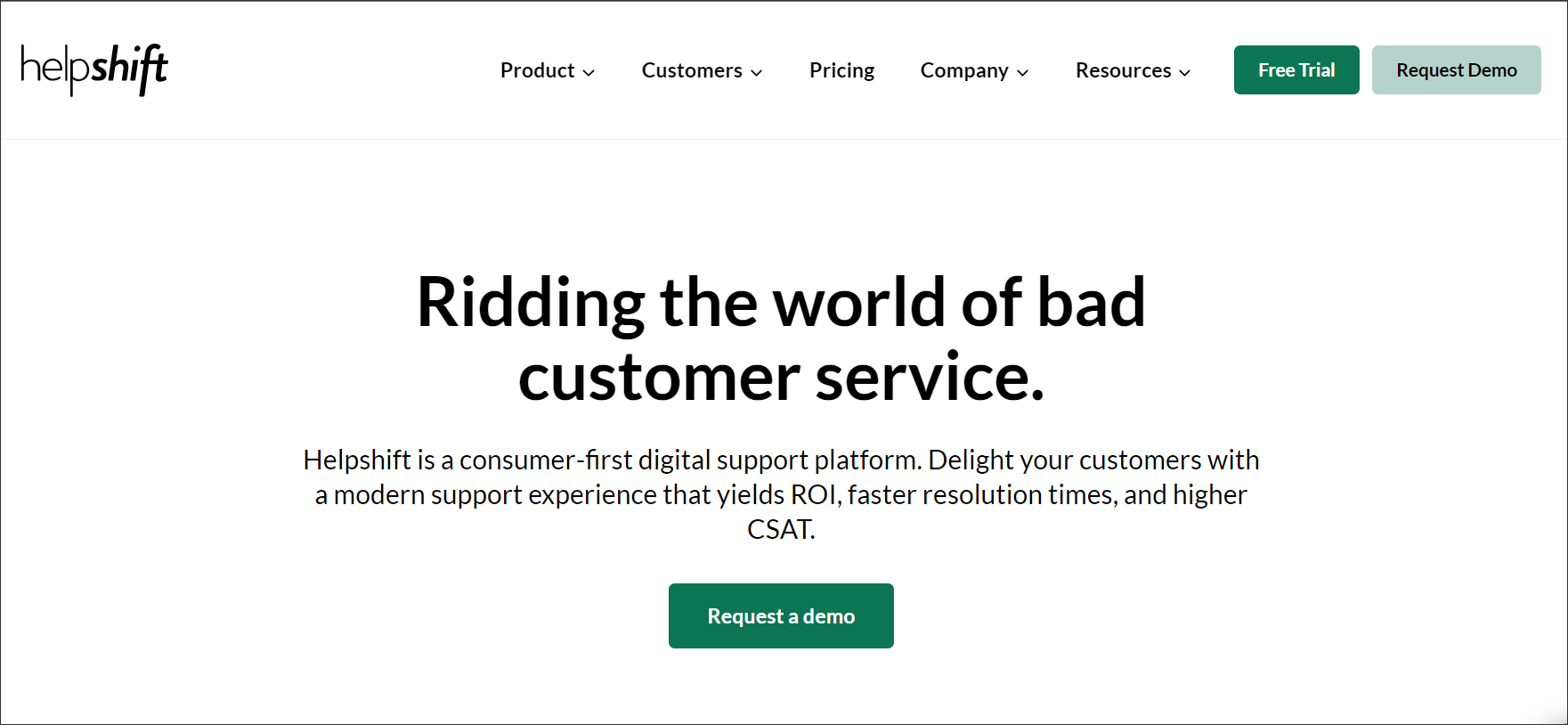 Helpshift is a provider of primarily in-app support catering to mobile applications.
It is customer service software that offers a suite of tools for businesses to provide customer support across various channels including in-app, web, email, social media, and phone.
Helpshift's main purpose is to help businesses streamline their customer support process, improve response times, and enhance overall customer satisfaction.
Pricing
A free trial is available.
The cost of paid plans begins at $150/month.
8. LiveAgent
LiveAgent is a platform that streamlines customer requests from various channels into one management system.
It consolidates all customer communication and support, enabling you to cater to customers regardless of their location.
LiveAgent merges communications from email, calls, and social media into a single dashboard. It is a robust option for smaller service teams that utilize WordPress.
Moreover, its extensive collection of native integrations enables your team to incorporate it into their current workflows.
Pricing
Small businesses: $12/agent/month
Medium businesses: $35/agent/month
Large businesses: $59/agent/month
9. Zoho Desk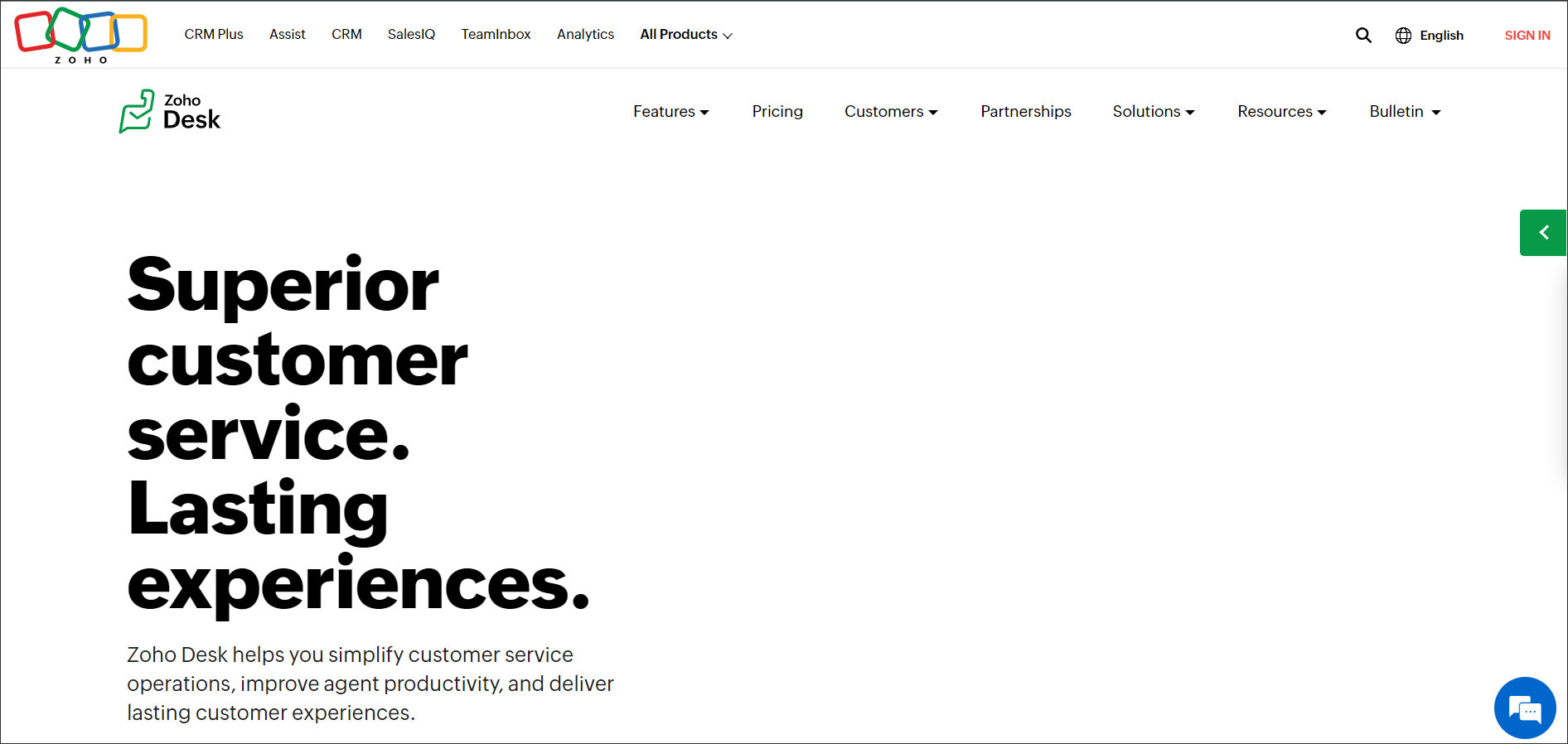 Zoho Desk provides customer support software designed to enhance your representatives' ability to deliver excellent customer service.
The platform is equipped with tools and automation features that can simplify your agents' workflows and boost productivity and efficiency.
The software from Zoho Desk offers omnichannel support with a unified view, enabling agents to manage customer concerns from a single location.
Pricing
A free trial is available.
Monthly plans start at $14.
10. Help Scout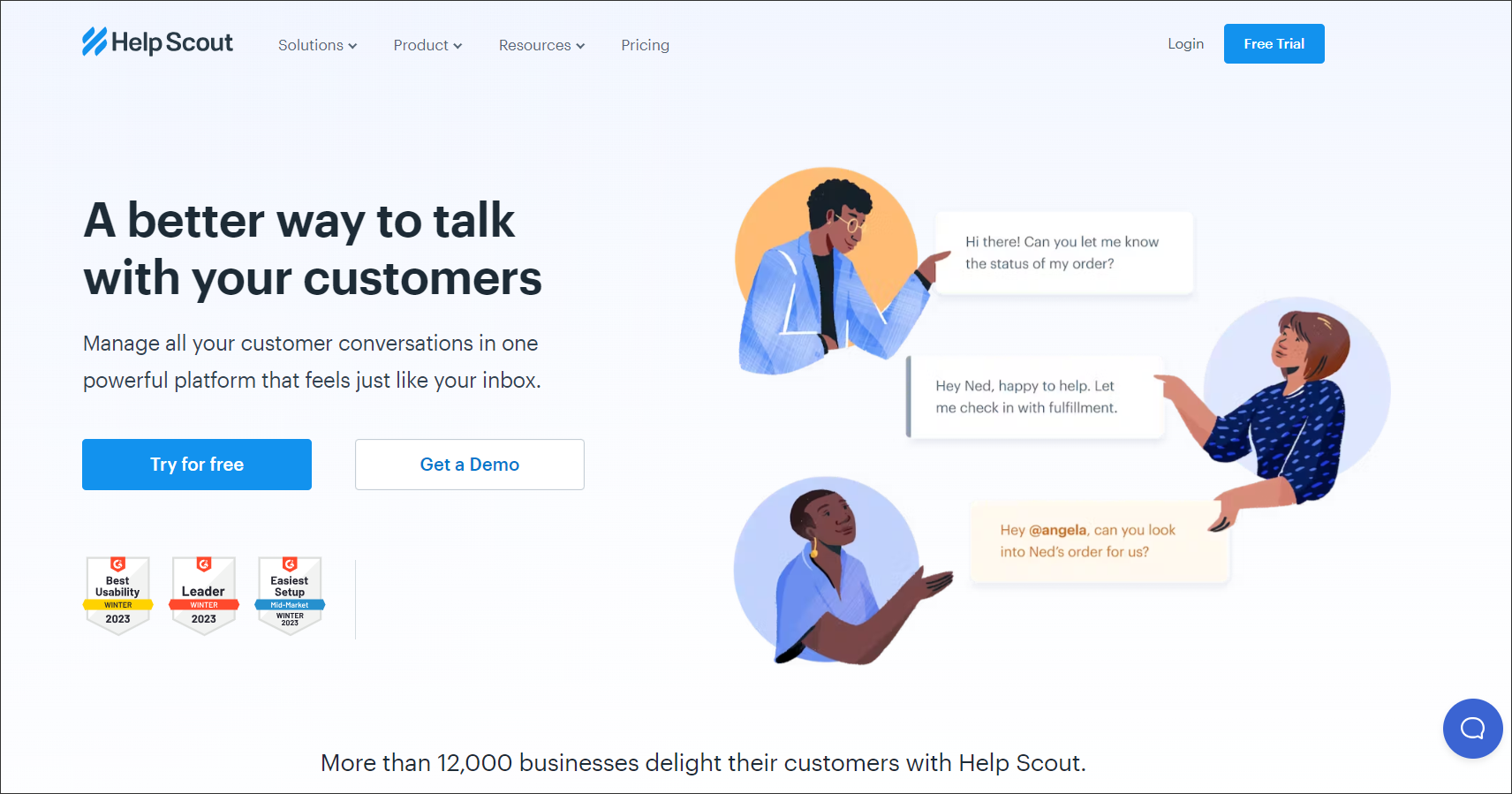 Help Scout is a customer service software designed to replicate the experience of working from a shared inbox.
It offers the added benefit of tracking customer inquiries via email and live chats. The system brings together customer data, interactions, and history, providing your agents with context for every request.
Pricing
A free trial is available.
Monthly plans begin at $20/user.
11. Olark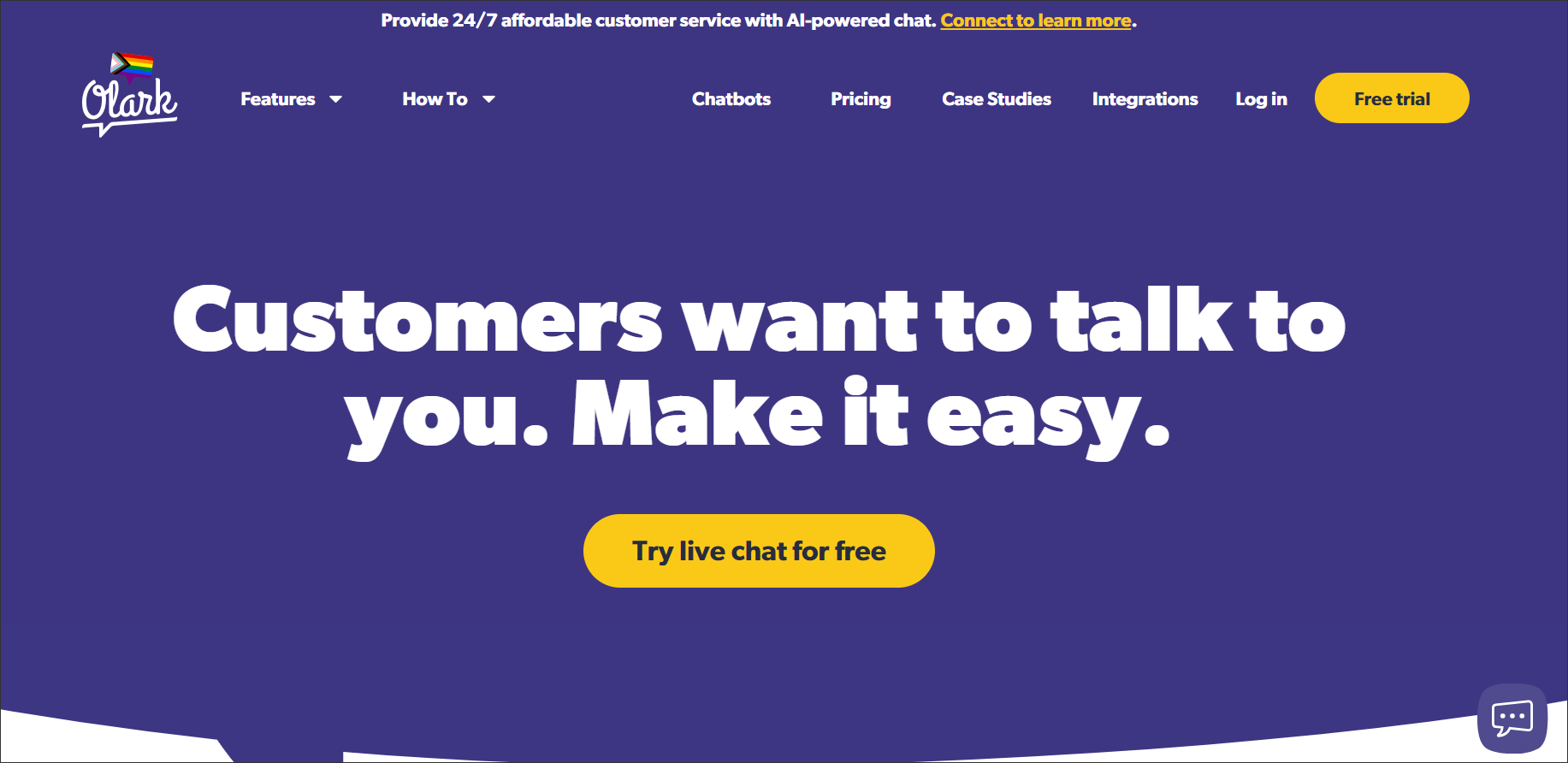 Olark's customer service software assists teams in delivering a great customer experience.
The software offers customization features, allowing for a comprehensive brand experience for customers.
It enables customers to get instant answers to their questions, thus enhancing the overall customer experience.
With its pricing structure, no long-term commitments for most plans, and the option to add specific features as needed, Olark is particularly beneficial for smaller teams.
It allows you to select the features you need and disregard the ones you don't, optimizing your team's functionality.
Pricing
12. Front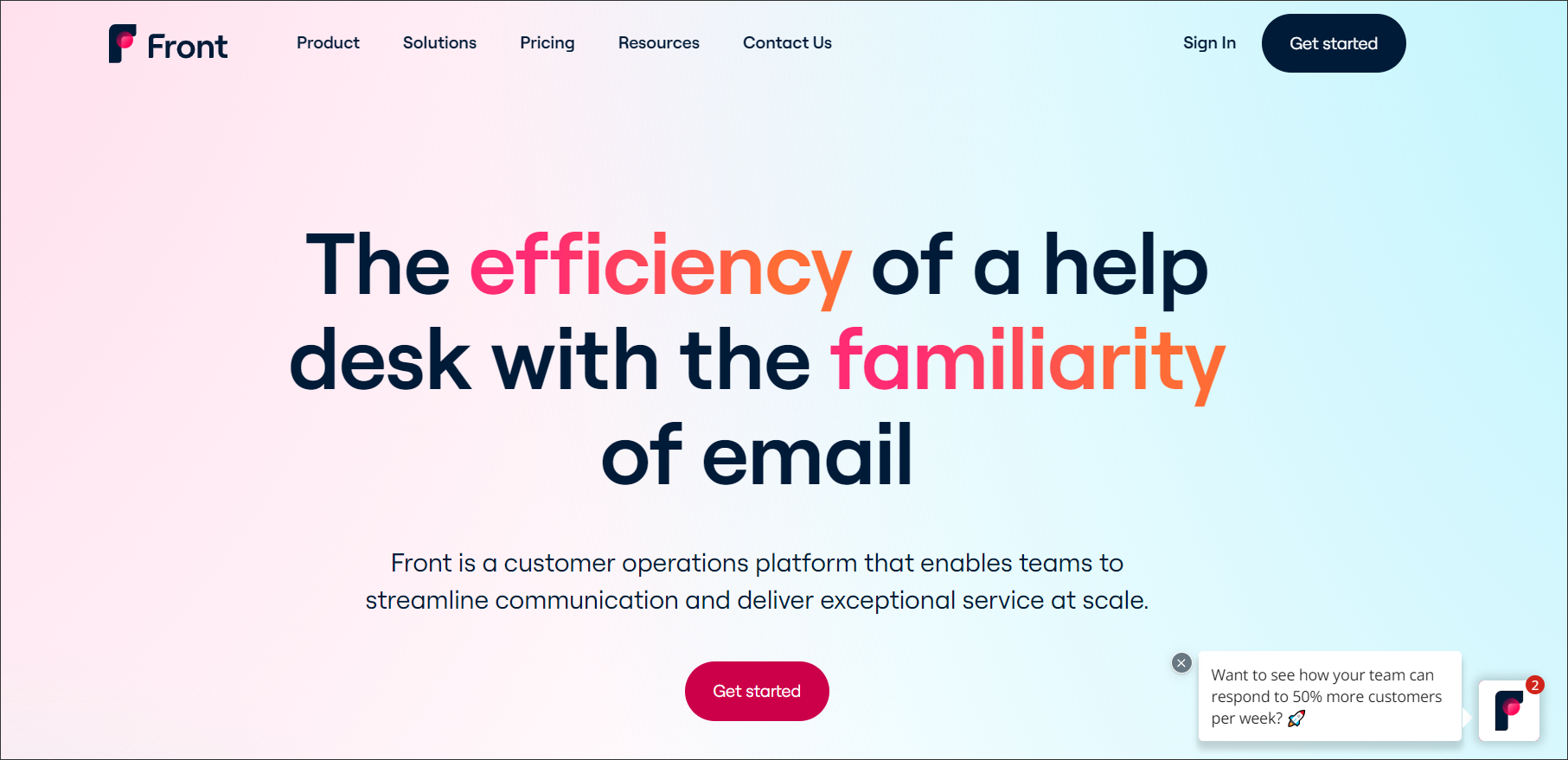 Front is a customer service platform that prioritizes human interaction. It seeks to foster strong and personal relationships with customers instead of just seeing them as tickets.
Front is an ideal choice for those in search of a straightforward, Gmail-like application for customer service.
Described on their website as a "shared team inbox," Front facilitates the consolidation of all team discussions in one location.
It integrates messages from various channels such as email, live website chat, SMS, and social media.
Pricing
Free trial period: 7 days
Pricing starts at $19/user/month
13. LiveChat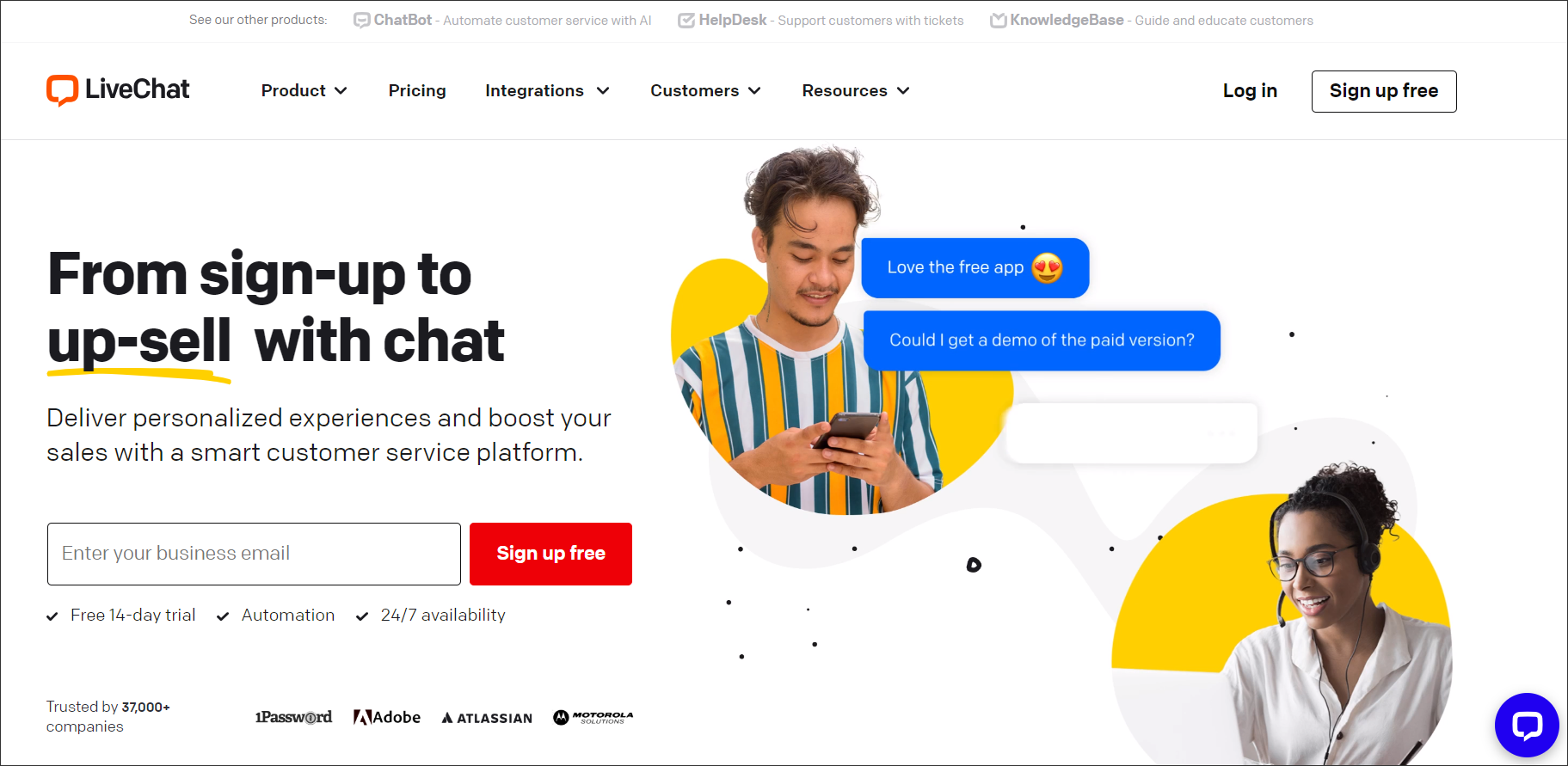 LiveChat is a live chat and help desk tool designed to deliver good customer service. It appears as a straightforward chat box on the surface, but it actually functions as an all-inclusive help desk ticketing system.
This customer service chat tool is compatible with popular CMSes like WordPress and can also be directly linked to Facebook Messenger.
The software is recognized for its attractive chat widgets, integrated product cards, and chatbot automation.
Pricing
Starter: $25/user/month
Team: $75/user/month
Business: $150/user/month
14. Jira Service Management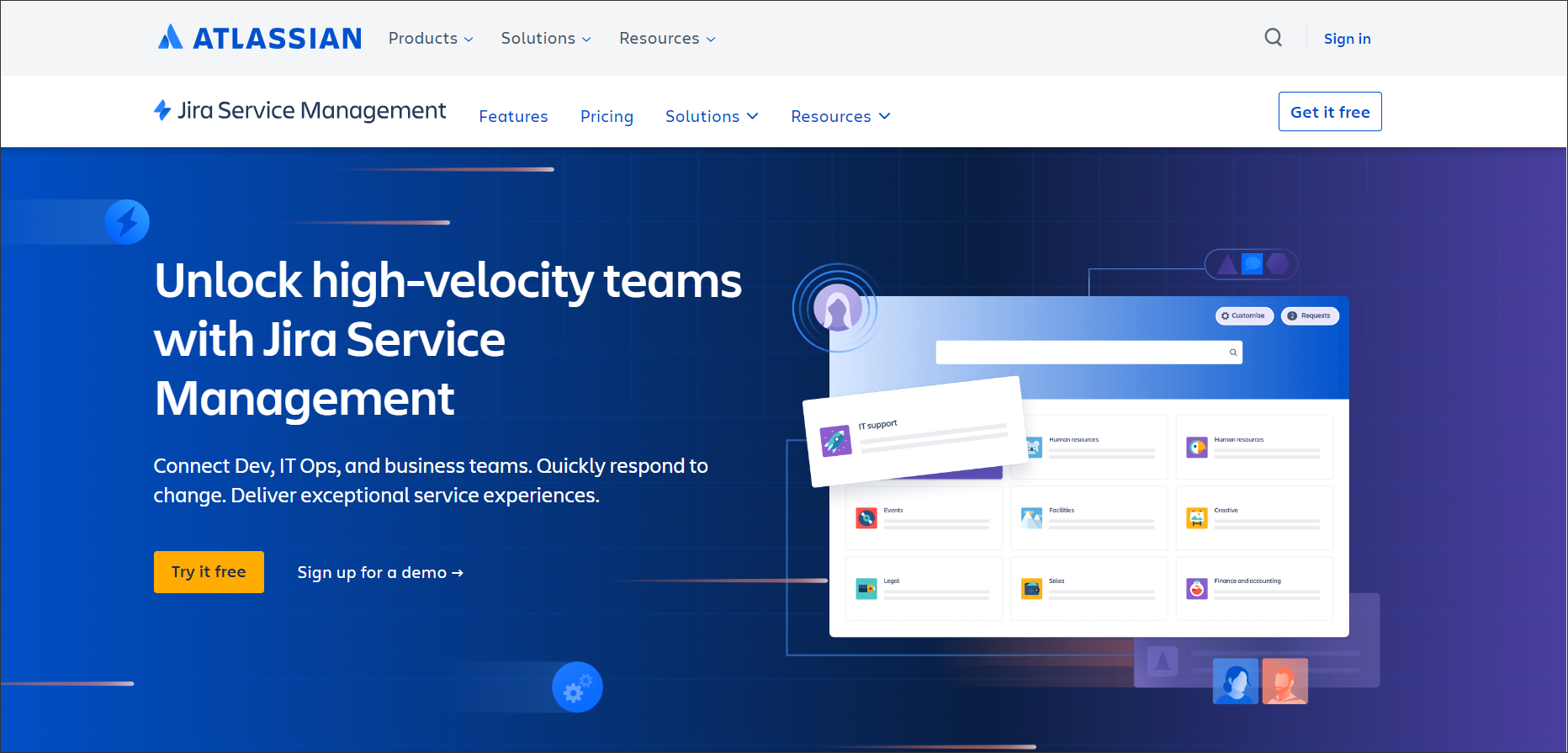 Jira is commonly known for its project management and issue-tracking software used by development teams.
However, they also offer Jira Service Management, a platform that aids IT teams in managing incidents and related requests.
This support tool allows you to provide assistance to both employees and customers.
Jira Service Management provides IT teams with a modern service desk, complete with ITIL-certified processes.
Pricing
A free trial is available.
Standard plan starts at $21/agent/month.
15. Hiver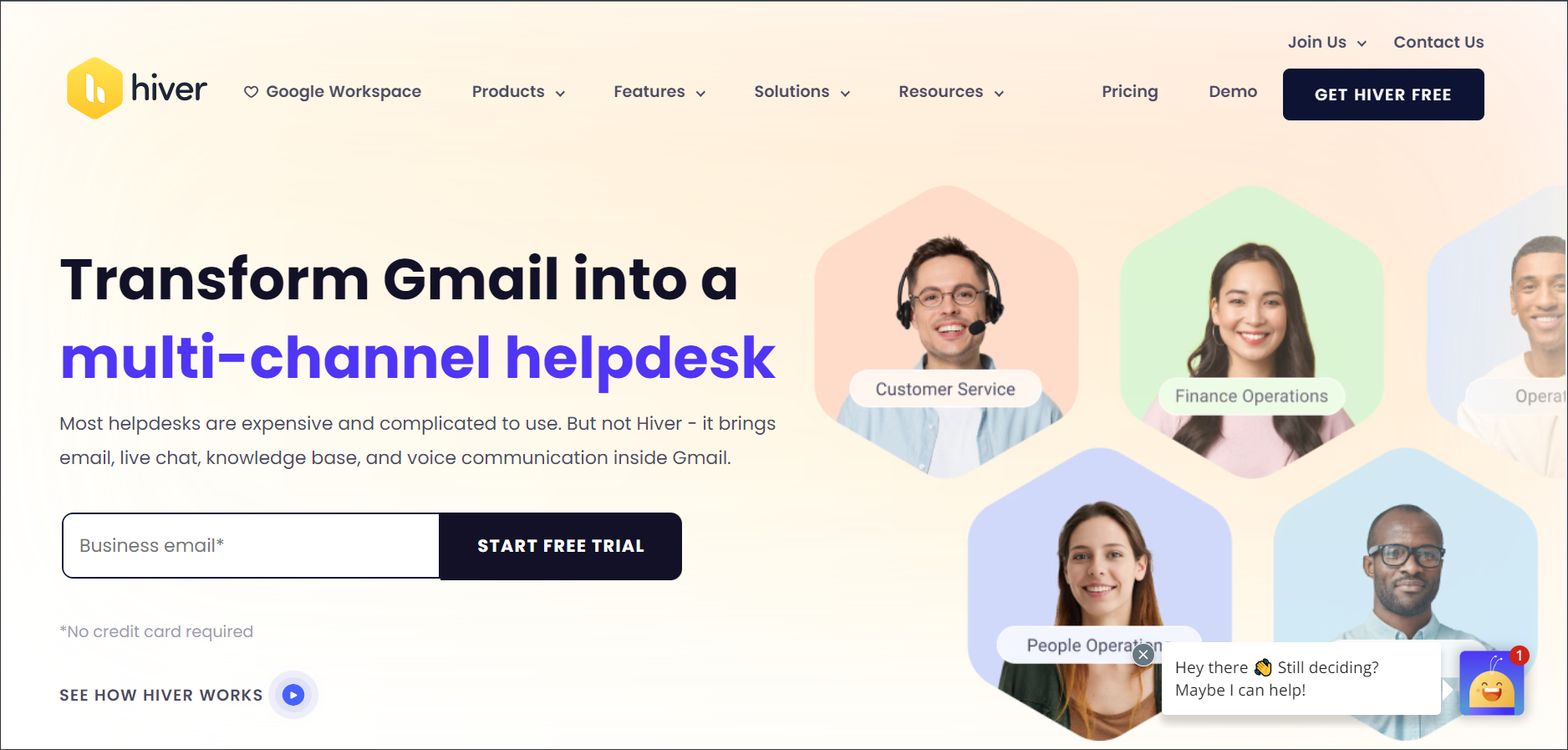 Hiver is a customer service help desk designed for integration with Google Workspace.
Instead of adopting an entirely new platform, Hiver enhances your company's current Google Office programs by adding common customer service features such as shared inboxes, analytics, and SLAs.
It's good for customer support teams who prefer the familiarity of Gmail but need help managing customer requests.
Pricing
A free trial is available.
Lite: $19/user/month
Pro: $49/user/month
Elite: $69/user/month
16. Bitrix24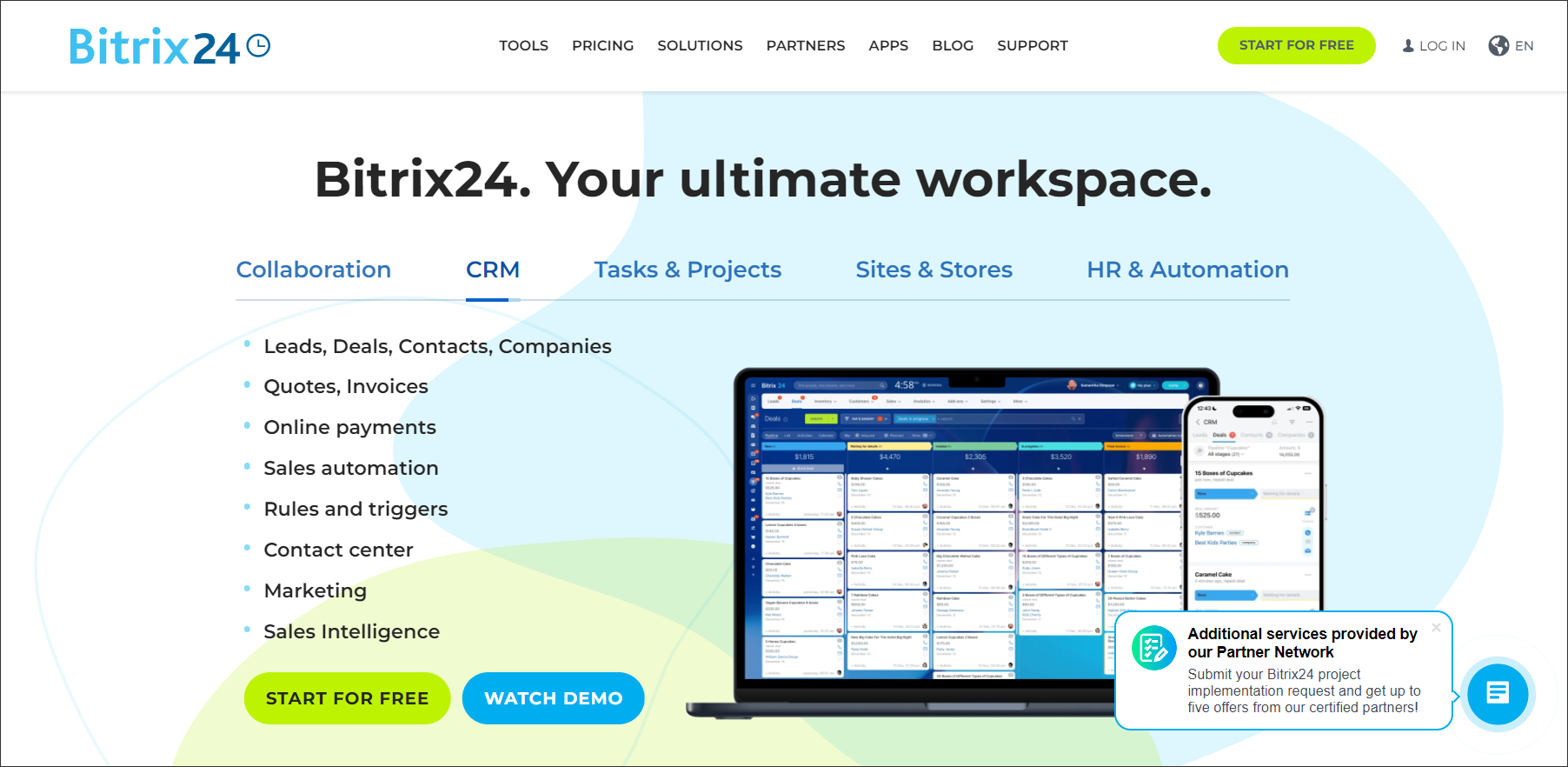 Bitrix24 is a popular customer service software that provides a suite of communication, social collaboration, and management tools.
Bitrix24 also possesses project and team management features, making it good for remote customer service teams.
This platform enables your teams to deliver omnichannel support and manage customer questions from one central point.
Pricing
A free trial is available.
Monthly plans begin at $61/ agent.
17. Nextiva service CRM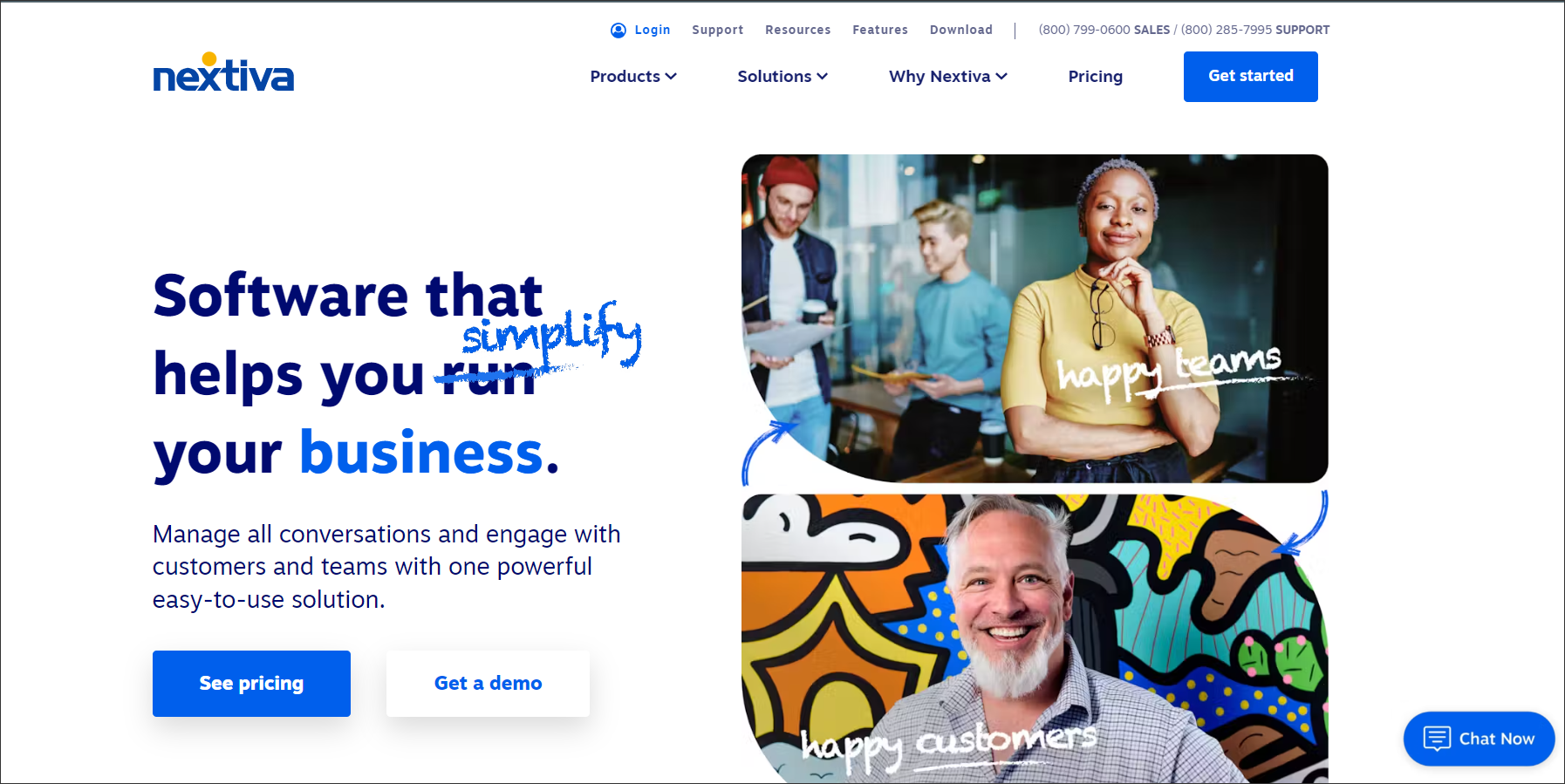 Nextiva Customer Service CRM is a software that helps businesses manage and improve their relationships with their customers.
This software provides a unified customer service platform that allows businesses to track customer interactions, manage customer data, and automate some parts of the customer service process.
Nextiva's product suite also integrates with widely-used business applications for the enhancement of support operations and agent efficiency.
Pricing
Monthly plans begin at $18.95/user/month.
18. Intercom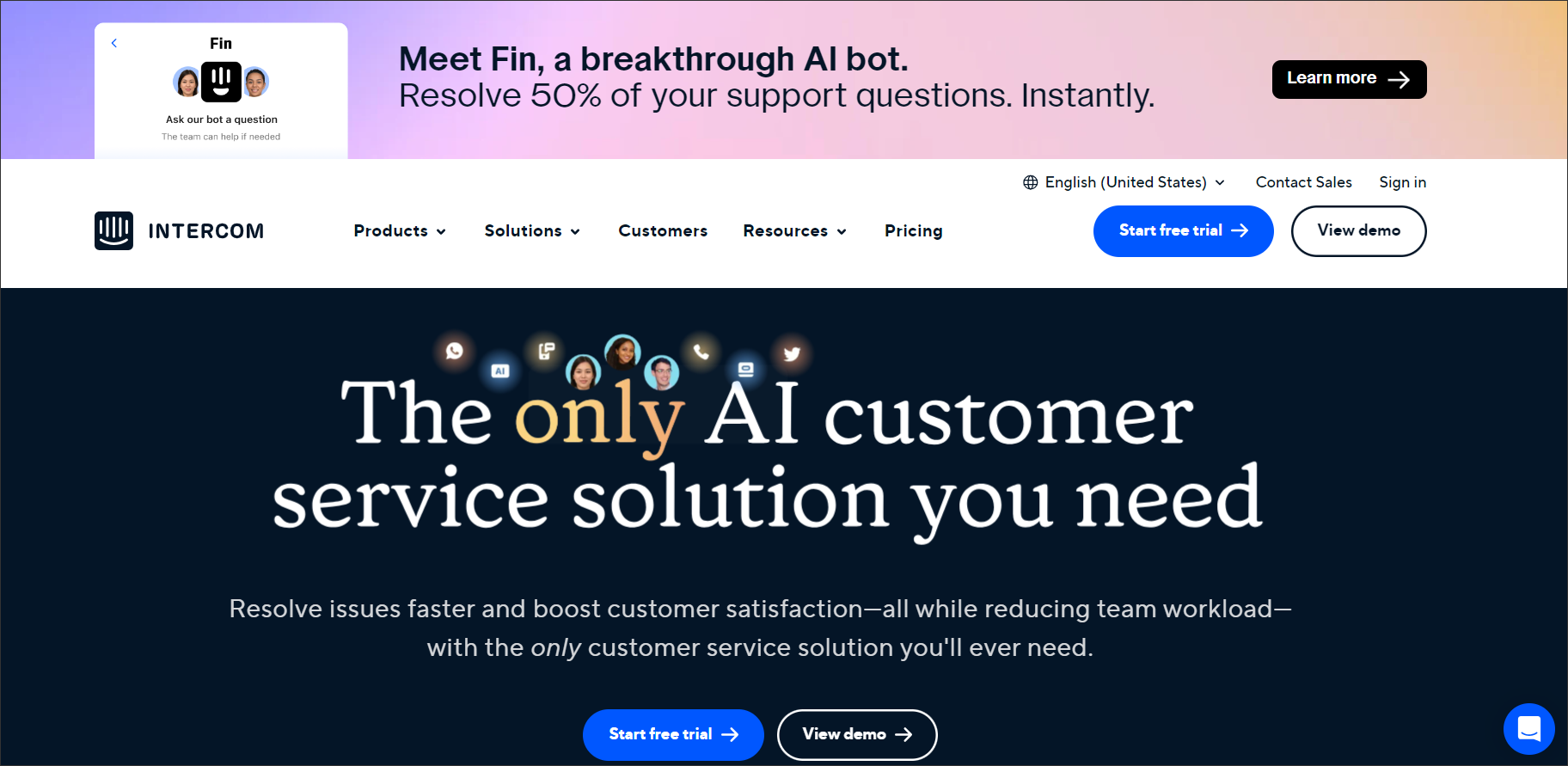 Intercom is a customer service software that enables companies to communicate with their customers on their website, app, through social media, or via email.
Intercom's customer service solution employs messaging and automation to enhance the experience for both customers and in-house teams.
This software is designed to help businesses manage and improve their customer engagement and support.
Pricing
A free trial is available.
Starts at $74/2 seats/month.
19. Happyfox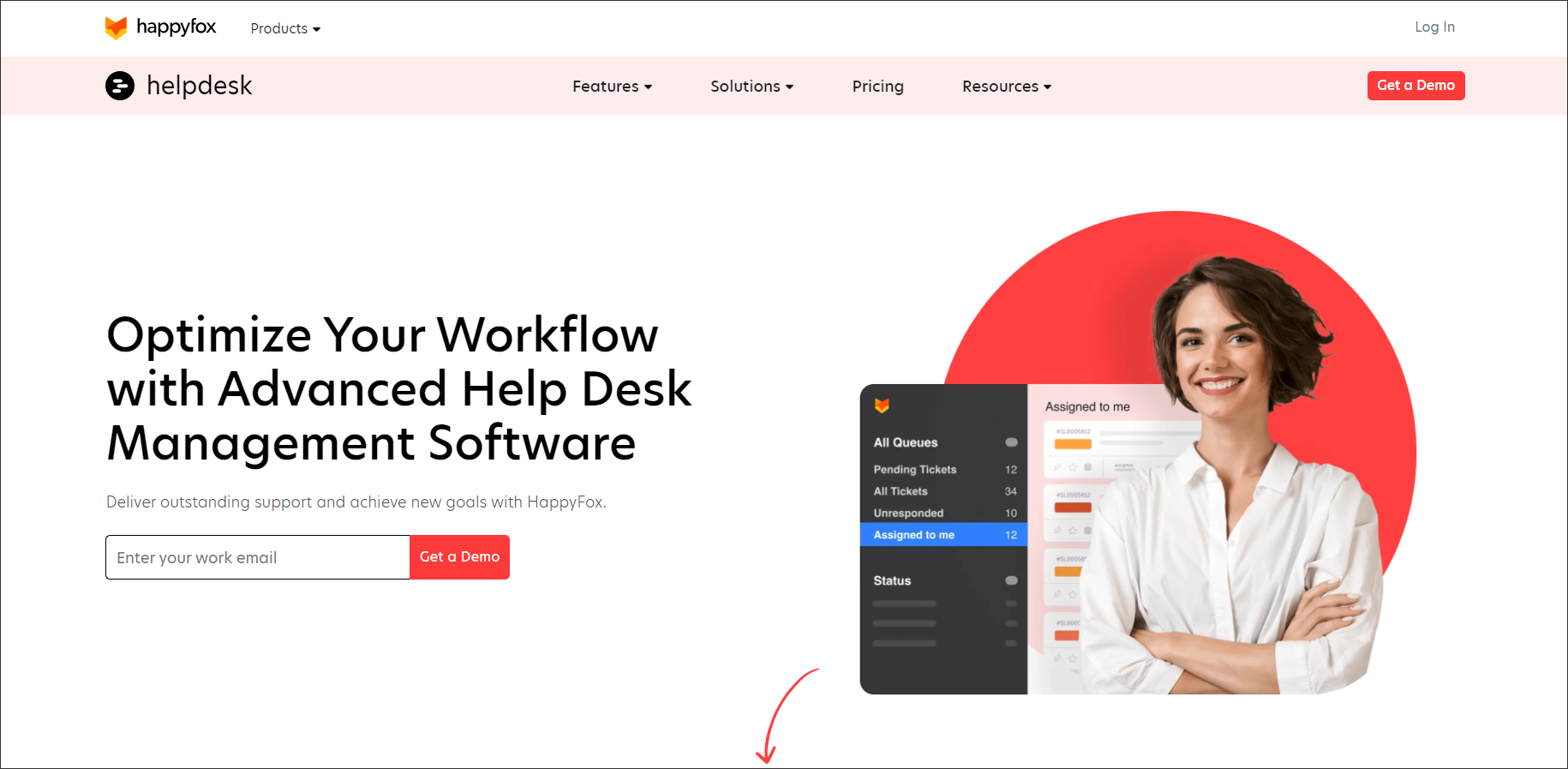 Happyfox is a customer support system suitable for use by not just customer service teams, but also HR and marketing departments.
It enables the streamlining of internal support through its IT support and customer support operations modules.
It has customizable workflows and automation features that help simplify and reduce mundane tasks, thereby making work more manageable for agents.
Additionally, happyfox provides self-service options for both internal and external customers, enabling them to find solutions to their inquiries without the need to generate a support ticket.
Pricing
A free trial is available.
Starts at $29/user per month.
20. TIDIO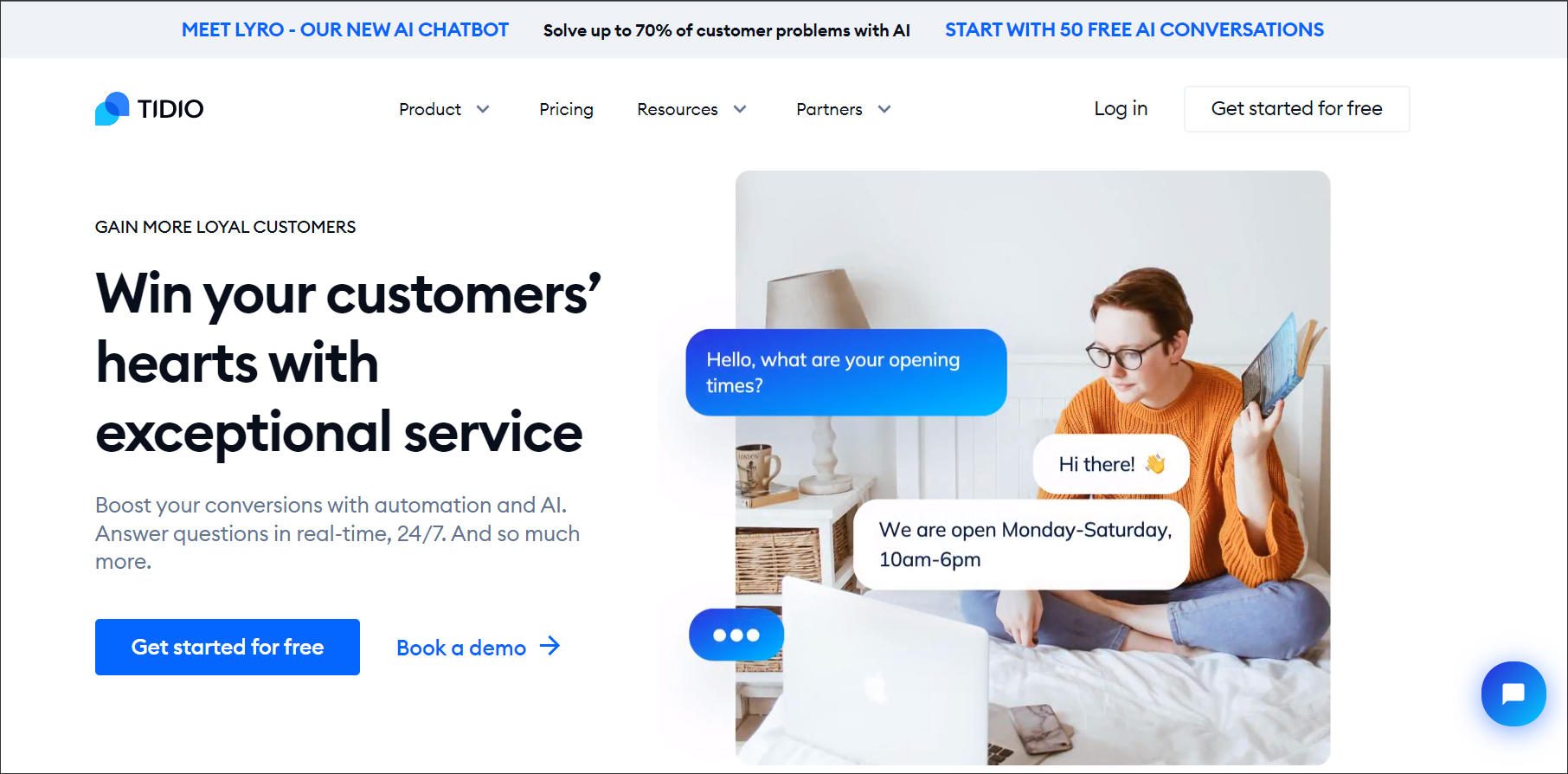 TIDIO is a communication tool for businesses that keeps live chat, chatbots, and marketing automation in one place.
This customer service software is designed to help businesses communicate with their customers faster and more effectively.
What sets TIDIO apart from its competitors is its exceptional affordability.
Instead of charging for myriad features or site visitors that you may not utilize, TIDIO offers budget-friendly options for websites with less traffic.
Pricing
A free plan is available.
Communicator: $19/operator/month
Chatbots: $19/operator/month
TIDIO+: $329/operator/month
Best practices of customer service tools
Customer service is a key part in maintaining a successful business. It can be the difference between a single purchase and a loyal, repeat customer.
As such, it's important to ensure you're using the best practices to select top-notch support software.
Evaluate the requirements of your customers
One of the top ways to understand your customers' needs is by actively listening to their questions, concerns, and suggestions.
This involves not just hearing, but understanding and evaluating the information they provide.
Every customer service tool has unique features, usually tailored towards a particular audience, industry, or niche.
To simplify the process of sifting through the multitude of customer service systems, begin by identifying the kind of support your customers need.
Consider your potential for future development
Your selection of customer service software tools will form the foundation of your support team's workflows.
It's important to make a choice that can evolve with your company, to avoid having to overhaul everything later because your chosen solution couldn't scale.
When assessing tools, consider their scalability. Can you add more users as your team expands? Is there an option to upgrade to a more advanced solution from the same provider if your business really takes off?
Comprehend your requirements and those of your team
It's important to remember that a small business does not share the same needs as a large enterprise. However, size should not be the only factor considered when choosing support software.
Consider your business operations:
Is the majority of your marketing done online?
Is it through social media or your website?
Do your customers often have technical issues that necessitate involvement from another department?
Do your customer interactions take place over the phone or solely through digital platforms?
Are you frequently asked the same or similar questions?
Identify the customer service tasks that consume the most time or create the most managerial challenges. Then, ponder over the types of tools that could potentially simplify these tasks.
Think about reporting capabilities
Reporting tools allow you to oversee your customer service experience and avoid potential irritations.
This data can be used to gain a deep understanding of your customers, your team, and even your own products and services.
Your customer service software solutions should also enable data collection on team performance, facilitating the establishment of a baseline response time and satisfaction level.
Look for free trials
Numerous customer service software tools provide free trials. This gives you the opportunity to familiarize yourself with the product's interface and assess its user-friendliness and suitability for your needs.
If you're representing a larger business, it's advisable to contact the software provider's sales team. Discuss your specific requirements with them so they can demonstrate how their tools can meet your needs.
Summary of the top customer service software solutions
Below is a summary of the best customer service platforms:
Name
Features
Pricing plan
BoldDesk

Modern ticketing system
Multilingual knowledge base software
Effective automations
Advanced reports and analytics
Integrations
Top-notch security
Extensive customization options
User-friendly customer portal

Starts at $15/month/user.

Zendesk

Reporting and analytics
AI chatbots
Community forums
Automation
Live chat

Starts at $19/month/user.

Freshdesk

Omnichannel ticketing
Reporting
Ticket routing
Knowledge base software
Automation

Starts at $15/month/user.

Salesforce

Automation
Reporting
Knowledge base
Call center management
Ticketing

Starts at $25/month/user.

HubSpot Service Hub

Live chat
Reporting
Ticketing
Integration with marketing and sales hub
Shared inbox

Starts at $18/month/user.

Aircall

Reporting
Call routing
Integration
Call tagging
Call conferencing solution

Starts at $30/month/user.

Helpshift

In-app messaging
Knowledge base software
Chatbot
Analytics dashboard

Starts at $150/month/user.

LiveAgent

Ticket routing
Live chat
Automation
Community forum
Knowledge base

Starts at $12/month/user.

Zoho Desk

Reports and analytics
Ticket collaboration
Ticket management
Automation
Ticket routing

Starts at $14/month/user.

Help Scout

Shared inbox
Ticketing system
Live chat
Automation
Knowledge base software

Starts at $20/month/user.

Olark

Ticketing routing
Omnichannel agent workspace
Live chat
Canned responses

Starts at $29/month/user.

Front

Shared inbox
Live chat
Reports and analytics
Automation
Team collaboration

Starts at $19/month/user.

LiveChat

Multichannel support
Live chat
Automation
Ticketing

Starts at $25/month/user.

Jira Service Management

Automation
Ticket routing
Knowledge base
Tracking and reporting
Live chat

Starts at $21/month/user.

Hiver

Automations
Live chat
Shared inbox
Integrations
Analytics and reports

Starts at $19/month/user.

Bitrix24

Dashboards
Knowledge base software
Custom reports
Time tracking

Starts at $61/month/user.

Nextiva service CRM

Ticketing system
Automation
Analytics
Collaboration

Starts at $18.95/month/user.

Intercom

Live chat
Ticketing
Chatbots
Reporting
Shared inbox

Starts at $74/month/user.

HappyFox

Automation
Reporting
Ticketing
Knowledge base software
Canned responses

Starts at $29/month/user.

TIDIO

Live chat
Canned responses
Multilanguage support
Omnichannel support
Chatbot

Starts at $19/month/user.
It's about time to invest in top-notch customer service software
Customer satisfaction should be a key priority for every business, as happy customers are more likely to return and spend more, while dissatisfied customers can severely harm your reputation.
This is why it's essential to utilize a top-notch customer service software. These tools can assist you in automating and optimizing your system, enhancing your service delivery and maintaining customer satisfaction.
It's essential to choose a tool that fulfills your immediate needs, offers flexibility for future requirements, and fits within your budget.
While the decision-making process might appear overwhelming, ending up with an unsuitable tool, unhappy customers, and disgruntled team members is a far worse scenario.
Through evaluating these options, we hope you can identify the customer service software that aligns with your business objectives and gives you superior customer service.
Related blogs
Most essential customer service skills 
Guidelines for customer service for any business