Providing effective and efficient customer service is every company's ultimate goal. Integrating the best ticketing system in your customer service is the solution.
A help desk ticketing system guarantees customers a great experience and satisfaction while improving agents' productivity.
In this blog, get a complete guide to what a ticketing system entails.
Learn the ticketing system features.
Tips on how to set up the best ticketing software.
Strategies on how to choose ideal ticketing system for your business.
Benefits and best practices
Let's jump right in.
What is a ticketing system?
A ticketing system, also known as help desk ticketing software, can be defined as an online customer service tool used to perform support operations.
These support operations include:
Managing and tracking client support inquiries and requests.
Managing a support team's workflow.
Troubleshooting problems associated with a company's brands.
How a help desk ticketing system works
With automated help desk ticketing tools, customer service tasks are performed and managed online in a centralized platform.
The ticketing system workflow functions in the following ways:
Inquiries or requests that customers submit from varying communication channels, such as emails, live chat, and social media platforms, are automatically converted to tickets.
These new tickets are then categorized, prioritized, and routed to support agents with the right knowledge, skills, and expertise to handle the issues.
An assigned support representative receives an automated notification to resolve the ticket issue.
What are the features of ticketing tools?
A help desk ticketing system software uses powerful features that streamline the support process. These features include:
Ticketing
The backbone of any automated help desk is the ticketing feature.
This feature involves the conversion of support issues to tickets, which are then categorized, tracked, and routed to the right-skilled support representatives to resolve.

There are several processes involved, such as:
Email-based ticketing involves converting support emails to tickets that are prioritized and routed to support agents for resolution.
Ticket tagging involves categorizing and grouping tickets based on issue.
Ticket insight includes all metrics of a ticket, such as ticket conversation reports, support monitoring, and support traffic dashboards.
Customers can easily create and track their support tickets using the customer portal software.
Knowledge base
Harvard Business Review argues that 81% of customers prefer resolving issues independently using self-service options such as knowledge base software.
This refers to a central repository for different sorts of information for customers and support representatives, intended for self-service purposes.
It includes the following self-help options:
Knowledge base software has powerful tools such as instant search, search engine optimization (SEO), article tags, multilanguage support, and auto-suggest options.
These self-help portal tools make it easy for end users to access information quickly.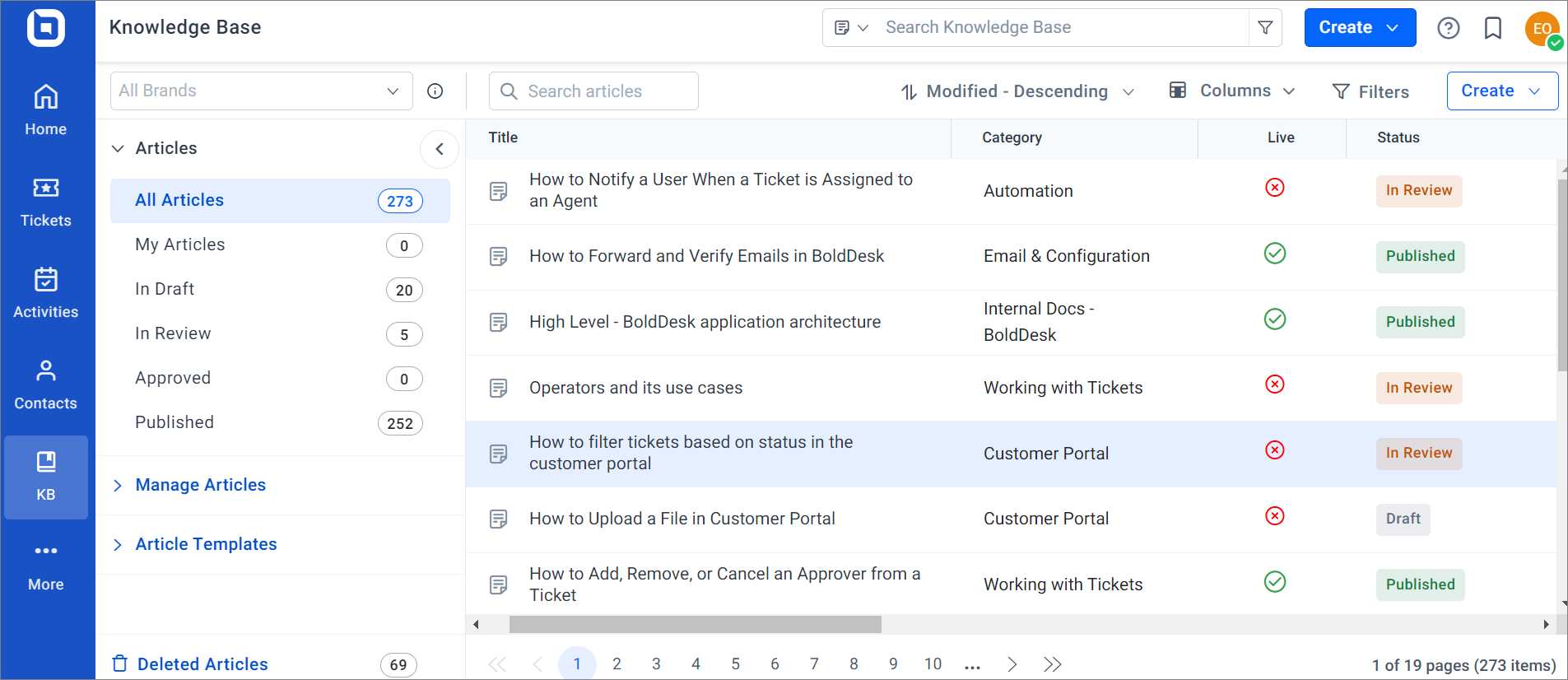 It also has a feedback option to ensure that end users can give their opinions and offer suggestions regarding the articles they read.
With a self-service portal, the solutions that representatives provide to customers automatically convert into articles.
Clients and other support agents who face similar issues can then use the articles for reference.
Automation feature
A help desk ticketing system uses automation rules to customize workflows and ensure certain actions are performed if given conditions are fulfilled.
These automation features are mostly used to perform simple, recurring tasks that can be done automatically without necessarily needing a support agents' intervention.

Examples of automation in help desk include:
In the long run, automating manual, repetitive tasks reduces response and resolution times, increases agent productivity, and makes the workflow more efficient.
Related Articles:
Customization
The customization feature is used to make changes to the help desk ticket system to suit individual business needs and give it a personal touch.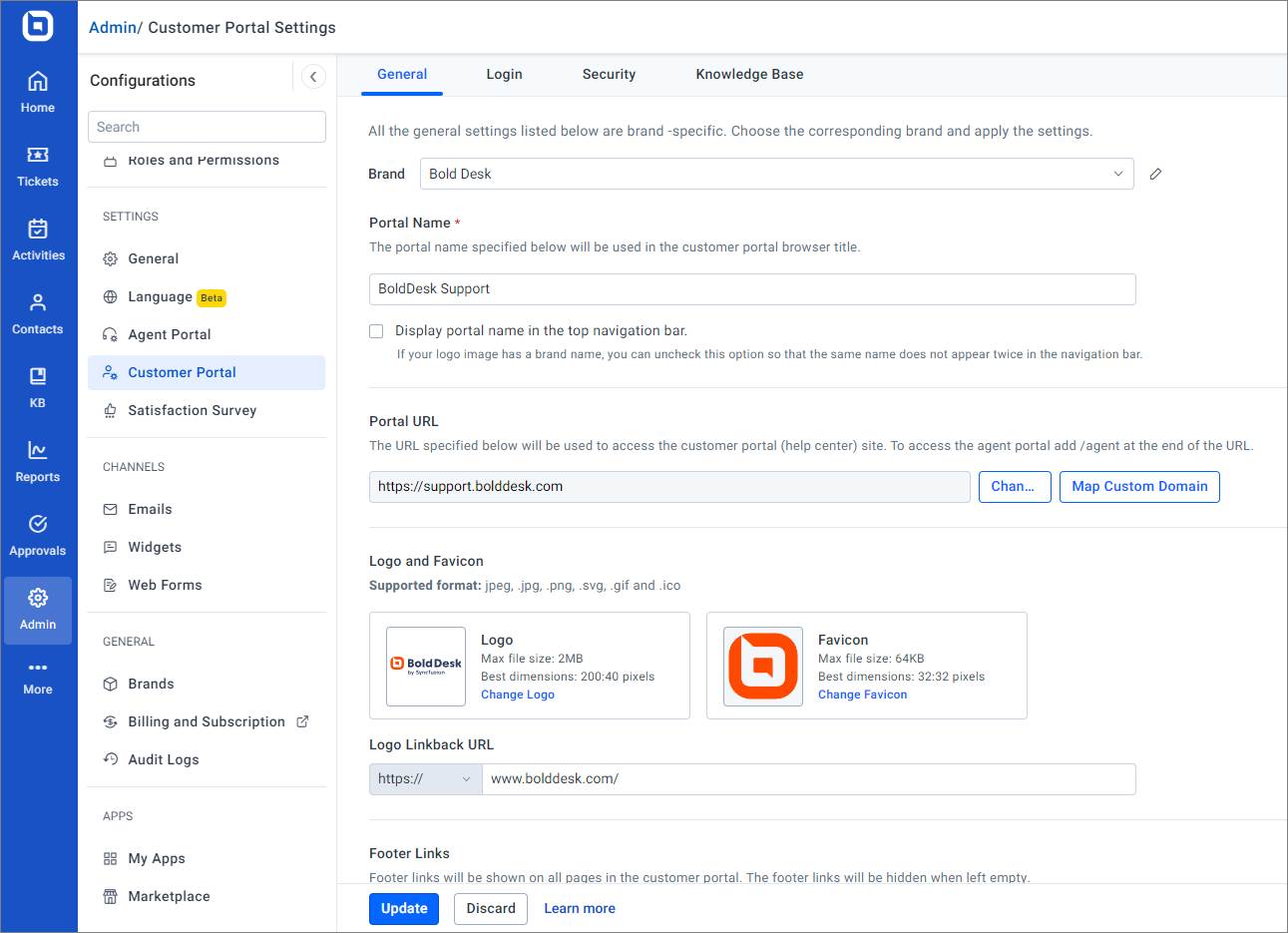 Customization ideas that a business can implement during the setup process include:
With these customization tools, clients can change different components in their help desk.
Integration
Customer support cannot operate independently without involving other tools and apps.
For this reason, companies can integrate their ticketing system with different third-party tools and apps used for various services to simplify the workflow.
Examples of third-party integrations include:
With the integration feature in help desk ticketing system, support agent productivity increases, and the workflow becomes more streamlined.
Reporting and analytics feature
The reports and analytics features are essential in customer service.
They consist of built-in tools that collect valuable information about the performance of different metrics within the help desk.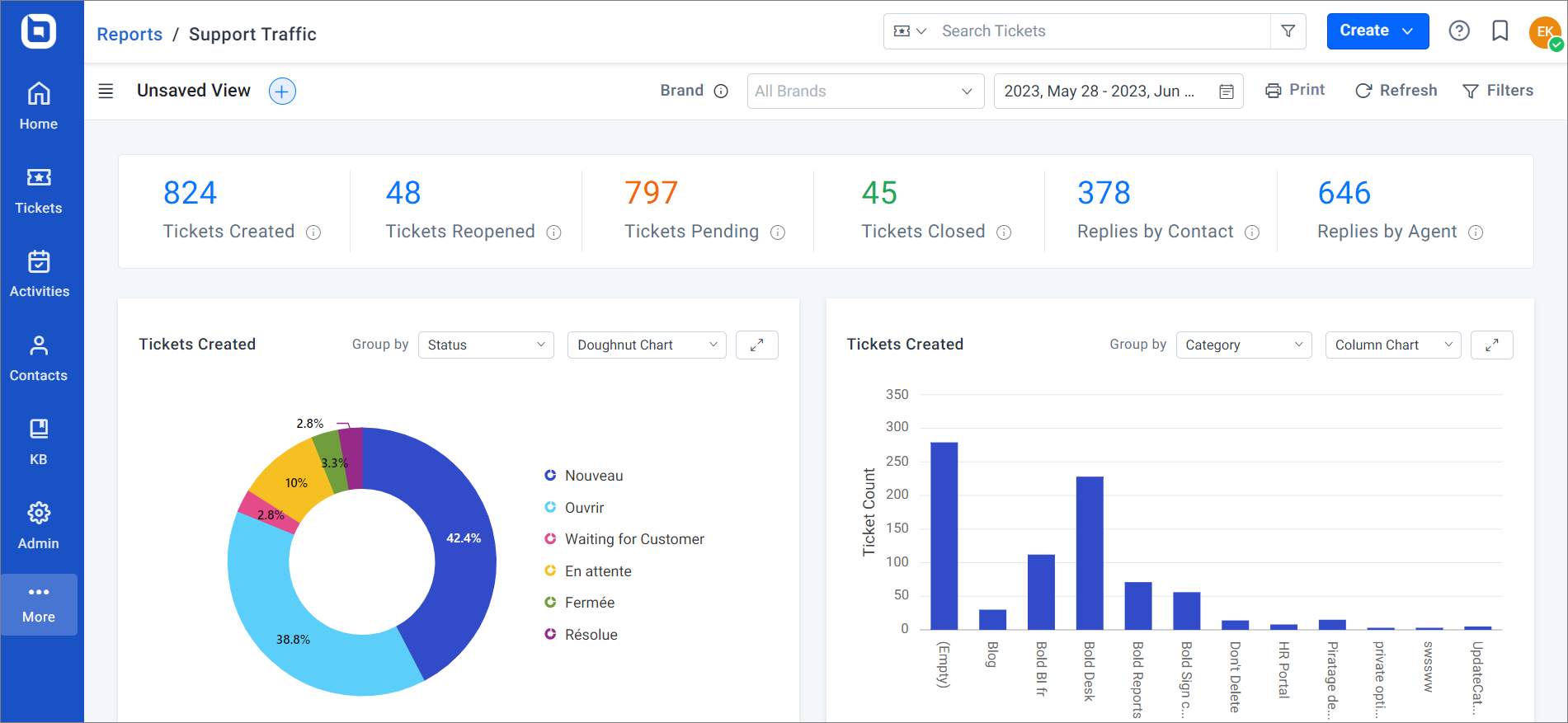 Examples of standard metrics that are monitored and tracked are:
Through reports and dashboards, support team leads and managers can use the insightful information to make positive decisions and changes that will impact the growth of the business.
Streamline Your Customer Support Operations with BoldDesk
An all-in-one Help desk with a one-page ticketing interface to help you execute your support operations in a jiffy. Sounds interesting?
Security feature
The security feature ensures that all security systems controlling access, as well as customers' and companies' data, are always protected.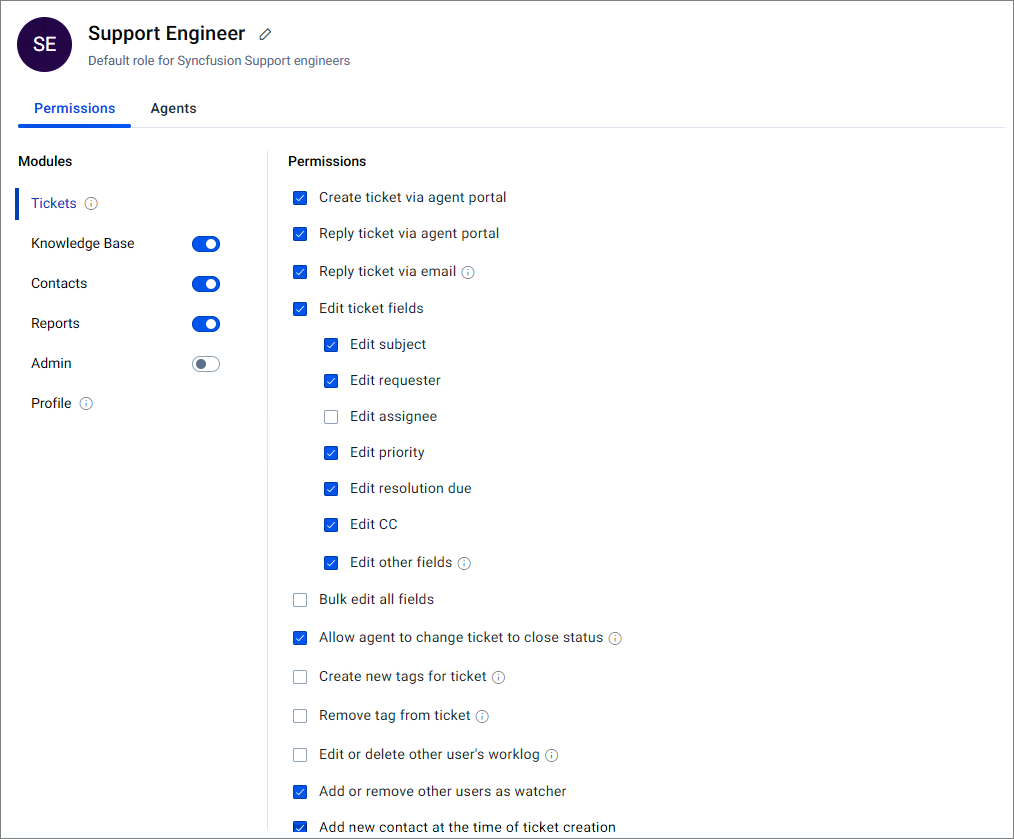 Security tools such as encryption, SSO, audit logs, and IP restrictions protect all information and limit access to specific data within the help desk ticketing system.
Examples of security measures implemented in a customer support ticketing systems are:
Why organizations need an IT ticketing system
Having a ticketing system solution for customer service is beneficial in many ways. Some advantages of switching to a ticketing system for your support operations include:
a. Reduced response and resolution times
Different ticketing system features, such as self-service portals and automation in the ticketing process, help with timely resolution and response to support requests and inquiries.
Forrester Consulting reports show that companies that offer quick responses have a 2.4 times better chance of keeping existing clients.
b. Improves support team's efficiency and productivity
With the automation of a customer support ticketing tool, manual and routine tasks are out of the way, meaning support agents can now work on difficult or complex tasks that need their undivided attention.
They use less effort, and the answers or solutions are error-free.
c. Better customer experience and satisfaction levels
According to PwC, 73% of clients consider their customer experience as an important factor in whether they will purchase from a company.
IT ticketing systems improves customer satisfaction and offers customers a great experience by:
Providing multiple options of communication channels
Offering 24/7 support
Automating certain routine actions
Gathering feedback during every step of the ticket lifecycle
d. Customer retention and loyalty
Using effective support ticketing system guarantees excellent customer service and customer satisfaction.
These upsides ensure clients continue to do business with a company and refer others.
Related articles:
Best practices of help desk ticketing software
You can implement the following best practices in your help desk software to give your customer service a competitive edge.
Automate routine tasks and workflows
Your support team can reduce waiting or response times by automating mundane tasks through the automation feature.
Some of the main automation capabilities to consider include:
Ticket creation, routing, and assignment
SLA alerts, notifications, and reminders
Gather feedback from customers and the support team
Collect insightful information through CSAT surveys and the comments' sections from clients on:
Customer satisfaction levels
Client loyalty and retention
Customers' improvement suggestions
Additionally, get insight from the support team on what they would want improved to help provide better customer support.
You can also ask them to help draft effective survey questions.
Configure SLAs
Set up ideal service level agreements (SLAs) that clearly define the expectations of the response and resolution times for tickets.
This enables you to prioritize support tickets based on their urgency and ensure support agents start with pressing issues first. This boosts client satisfaction.
Create and use an effective self-service option
Consider implementing self-help options such as:
Knowledge base software
FAQs
Live chat
These help clients independently resolve simple issues, thus reducing the number of tickets and saving the support teams' time.
Train support agents
For automation to be successfully implemented, ensure you train your customer support representatives well during the onboarding process.
Always enlighten them on the latest features and any updates in the automated ticketing system.
Use an effective tagging system
Your support team can add tags to tickets. The ideal tags should be well-structured, short, clear, and precise.
Tagging is important for the following reasons:
Helping to support agents to identify and organize tickets
Managing a support team's workflow better
Customize prewritten messages and templates
Proactively create automated templates and prewritten messages for repetitive email responses.
Using prewritten messages and templates or canned responses is useful for the following reasons:
Creating uniformity in replies sent to clients on common inquiries
Helping support agents have a reference point for important information
Reducing response time for support tickets
In the long run, using predefined responses makes achieving customer satisfaction easier.
Monitor and track support metrics
Ensure you regularly review and analyze performance metrics for different aspects of customer support. This will help you:
Identify areas to improve
Identify training needs
Optimize workflow processes
Factors to consider when choosing the right ticketing software for your business
The quality of your customer service is determined by how effective your ticketing system software is and its impact on your support operations.
A business should consider the following when choosing the right IT ticketing software:
1. Types and number of communication channels supported
Clients always have varying preferences on the type of channel they'd rather use to contact the support team.
Every business should gauge the most common channels their clients use and choose a ticketing platform that supports all these channels.
2. Ticketing system features available
Do the features of a given ticketing software meet the requirements needed to accomplish your business goals?
Consider help desk ticketing software with powerful features that will provide the best customer support experience and increase your productivity and profitability.
3. User-friendly and intuitive
Consider customer support ticketing software that is simple and easy to use. The onboarding process should also be smooth.
Support representatives should have an easy time going through the system.
You can request a demo and free trial to gauge whether it is intuitive enough for your support team.
4. Scalability of the help desk
The right automated customer service should grow alongside the company. Flexibility to changing factors is a key consideration, especially for companies looking to expand.
For instance, consider a help desk ticketing system that is expandable to multiple channels, multiple languages, can integrate many third-party custom apps, and more.
5. Price
Ensure you settle on the best deal by considering help desk ticketing system that fits your budget.
Check for an annual plan, including any extra costs before purchasing.
Related reads: 9 tips for choosing the right ticketing system for your business.
Benefits of the best ticketing systems
To enhance problem resolution, support ticketing software gathers, organizes, and separates incoming tickets. Below are some benefits of utilizing the best ticketing systems.
Provide end users with self-service capabilities
End users experience recurring problems that they are capable of resolving on their own, thereby reducing the workload of the IT help desk team.
To empower end users to fix their own issues, a self-service portal should be implemented. This portal would provide necessary information and solutions, as well as a service catalog for users to browse and select the services they require.
Over time, the system can build up a database of common issues and their solutions, which can be used to quickly resolve similar problems in the future.
Allocate tickets to appropriate team members
A ticketing tool enables you to delegate support tickets to your team members who possess the appropriate skills to manage them.
One of the major advantages of help desk ticketing software is the total accountability it provides. Each incoming support ticket is assigned to an owner who is responsible for solving it in the quickest possible time.
Increased accountability in your customer service team ensures that no ticket goes unnoticed or unresolved.
Enhance collaboration and communication
Help desk ticketing software allows different departments or team members to collaborate on a single issue without overlapping their efforts, allowing multiple team members to work on a single ticket simultaneously.
The system keeps all communication related to a ticket in one place, eliminating the risk of miscommunication or losing important information. This promotes collaboration, as employees can share insights, ideas, and solutions to solve the issue faster.
It can also notify relevant team members when an issue is raised, updated, or resolved so that technicians engage in extensive communication with requesters.
Also, the need to manually type emails can be decreased by utilizing prewritten text for standard responses and resolutions.
Effective workflow management for the support team
A help desk ticketing system organizes all incoming requests and issues in a systematic way. This avoids any confusion or overlapping of tasks, ensuring that all issues are addressed promptly and efficiently.
It helps prioritize and categorize different issues based on their severity, which reduces confusion and ensures that critical issues are dealt with first.
With an effective support ticket system, support teams can easily track the time spent on each ticket, which helps in better resource allocation and productivity management.
Improve routine task management
Handling a large portion of your customer service tasks manually can result in a slow and inefficient process and distract your agents from dealing with more urgent tasks.
One of the top benefits of a help desk ticketing system is automation, which not only streamlines workflows but also eliminates human errors that often occur with manual work.
By automating certain tasks, like routing tickets to the appropriate personnel or sending follow-up messages, the system saves valuable time that can be dedicated to more complex issues.
Scalability
A help desk ticketing system is designed to grow with your business. Whether you're a small business or a large corporation, it can be scaled to fit your needs.
As your business expands, the system can handle an increasing number of tickets. This prevents your employees from becoming overwhelmed with requests and ensures that all issues are addressed promptly and efficiently.
Scalability also means that the system can adapt to a variety of situations. For example, if your business experiences a sudden surge in support requests, the ticket management system can quickly adjust to handle the increased load.
This flexibility allows you to keep your customer service at a high level, regardless of changes in your business.
Wrap up
Businesses can implement an effective ticketing system that has powerful features for customer support.
Improve your agent productivity and boost clients' experience and satisfaction.
Choose the right help desk for your support operations with the right tips.
BoldDesk is one such powerful ticketing system. Request for a live demo and get a BoldDesk free trial for a first-hand experience of the best help desk ticketing tool there is.
Reach out to the BoldDesk support team for any inquiries or requests. Take advantage of BoldDesk's exclusive Black Friday offer and enjoy the benefits.
Related blogs
How to optimize a ticketing system workflow for customer support
Why you should switch to help desk ticketing software from email-based support
Benefits of a ticketing system