Provide valuable information to customers and employees using knowledge base software to benefit your customer service.
A study suggests that if a knowledge base for self-service support is available, 92% of people claim they would use it.
Allow your customers and support team to access relevant, up-to-date information that will ease the resolution process when they encounter issues with the products or services from your company.
In this article, learn what a knowledge base is in detail and how implementing these self-service portals can benefit your business.
Agenda:
What is a knowledge base?
Types of knowledge base software.
How to make good knowledge base content.
Knowledge base management & best practices.
Benefits of using knowledge base solution articles in your customer service.
What is a knowledge base?
A knowledge base is a central storage location for information: a digital library, a database of related information about a particular subject, and a means to provide or collect knowledge from various sources.
These knowledge base management platforms help in gathering, organizing, retrieving, and sharing this information.
It is used in organizations as a data repository that serves as a self-service platform for both employees and customers.
These centralized data repositories include details about a company's products, its features, and how-to information on using them.
Types of knowledge base
There are two types of these self-service tools:
Internal knowledge base
An internal knowledge base is a database of your company's systems and procedures for your employees' reference.
It includes all the essential details about your company's customers, products, and services.
It especially includes troubleshooting to help your support team. It also has information like employee handbooks and annual reports that your employees can reference for their own knowledge.
An internal knowledge base management portal consists of articles with the following types of information:
Company guidelines.
Employee roles and contact list.
Company metrics.
Training resources.
Documentation.
Forms, templates, branding info.
Customers project details.
External knowledge base
An external self-service platform is a database built for customers' reference.
It generally consists of all the necessary information about a company and its products or services.
An external knowledge base management tool can comprise of:
Troubleshooting and FAQs.
Billing and pricing.
Contact information.
Licensing specifics.
Company description (About Us page).
Product descriptions.
Locations of shops or offices.
What is the purpose of a knowledge base?
A knowledge base serves as a central storage location for information. Its purpose is to:
Provide a means of information management: It organizes large amounts of information in a coherent and usable way.
Facilitate easy access to information: It allows users to search for the information they need quickly and easily.
Improve productivity and efficiency: Employees can use the knowledge base to find information necessary for their tasks quickly, thereby enhancing their efficiency and decreasing time spent searching for information.
Be a resource for training and learning: It can be used as a tool for training new employees or educating current ones about new processes or tools. It can also help lower the costs of agent onboarding and training, as new employees can self-learn through relevant content.
Store structured and unstructured information: This includes data, rules, and relationships relevant to an organization.
Enhance customer support: In customer service, a knowledge base can provide customers with easy access to answers for common questions or issues.
Encourage knowledge sharing: It can foster an environment of collaboration and knowledge sharing among employees or team members.
Offer 24/7 self-service: Providing external knowledge bases is a cost-efficient method to offer support 24/7. Instead of increasing your staff or making them work nonstop, you can empower customers to find their own solutions.
How to make good knowledge base articles
A knowledge base's setup doesn't have to be difficult. The following are the steps to creating a useful platform for self-service purposes:
1. Establish the purpose of your knowledge base
Before starting to draft the articles for the knowledge base management platform, you need to establish its purpose.
First, does your company actually need the software? Do you need it for your clients, agents or both?
To figure out the solution that is best for you, answer the following questions:
Are there a lot of questions frequently asked by your customers?
Are there a variety of resources your employees often reference to solve customer problems?
Is your customer service overburdened with a lot of customer inquiries?
How fast is your customer service at responding to queries, and is the demand changing?
Does any agent of your customer support team possess expertise or knowledge that would be lost if they left the company?
2. Identify the basic components of your knowledge base
You need to identify your basic components before making the self-service portal. The following are some essential components to include in it:
a. Contact support link
Regardless of how robust your knowledge base management platform is, it won't help customers who need additional assistance or can't locate what they're looking for.
Therefore, you need to include a link and instructions on how to contact your support team.
b. Search bar
Customers usually enter your knowledge repository with a specific topic in mind. Therefore, you need to give them a search bar to navigate to their issue in the shortest time possible.
c. FAQ section
The frequently asked questions page is the first place most customers will navigate to if they have a simple query about your product or service.
Therefore, you need to organize this section by topic to ease your customer's work while searching for info.
3. Prepare the structure of your knowledge base
A knowledge base should be user-friendly and easy to understand. Therefore, you need to organize its content and make it easy for your customers to search for and browse through the articles.
Proactively create an ideal framework that best fits your audience's needs and interests.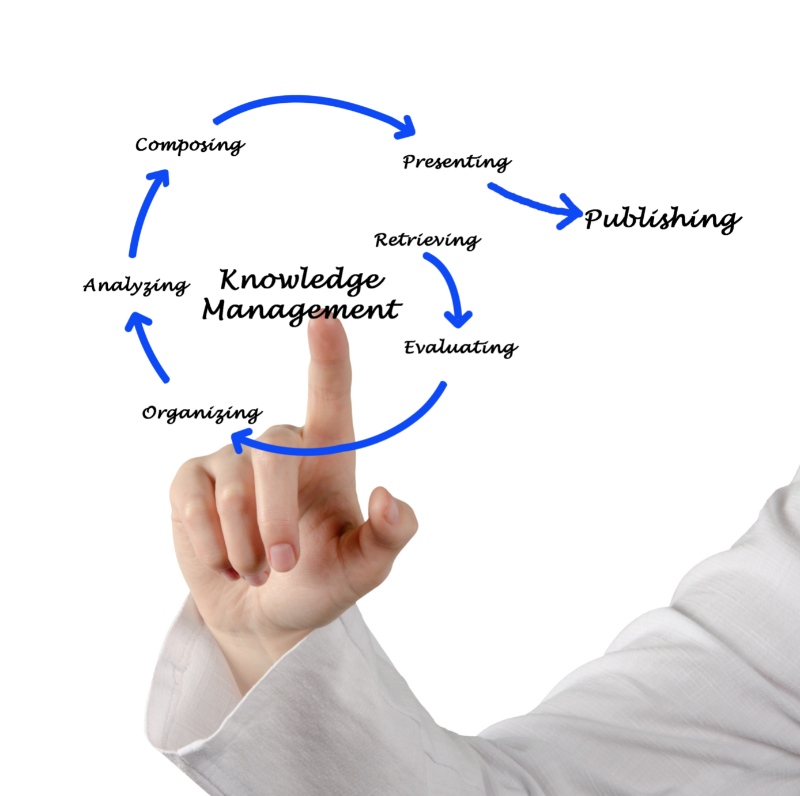 4. Do extensive research and content preparation
You need to prepare an outline of every topic you intend to cover and keep a record for the content production process.
Note the content you already have and any gaps that need to be filled.
In addition, discuss with your support, sales, and marketing teams the common questions that clients always ask. Add their answers as solution articles for future reference.
5. Integrate your self-service tool with your help desk software
After creating a knowledge base, you need to integrate it with your help desk software to make it function better.
A help desk has useful features like a powerful search function, permissions settings, and methods for better organization like tags.
In addition, you can track how your tool is used, like which articles have the most visits.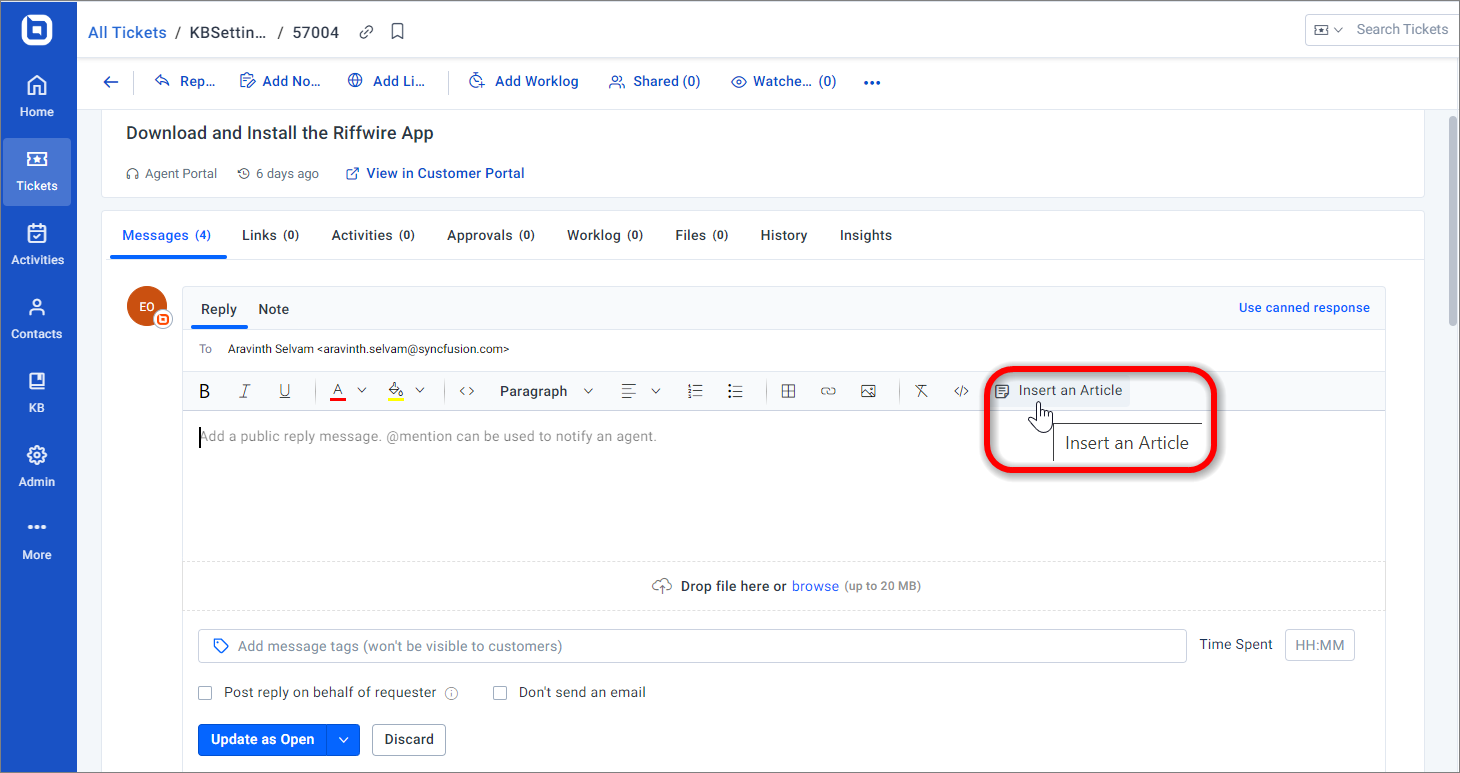 6. Set user access levels
When you've taken care of all these issues, your self-service software is now ready.
You must then choose who gets access to your documents. For instance, you can provide some agents editing privileges while limiting others to read-only or write-only access.
Setting access levels will protect it from unwanted alterations, thus making it safe for customers and agents to use.
You can go through this article to learn more: 7 Important Tips to Creating a Knowledge Base Effectively.
Knowledge base management & best practices
After creating the content of the articles, you can maintain their standards through the following best practices:
Obtain consumer feedback
You can enhance customer satisfaction and build stronger customer relationships by considering the feedback and implementing changes accordingly. This will keep you informed of missing content in your KB.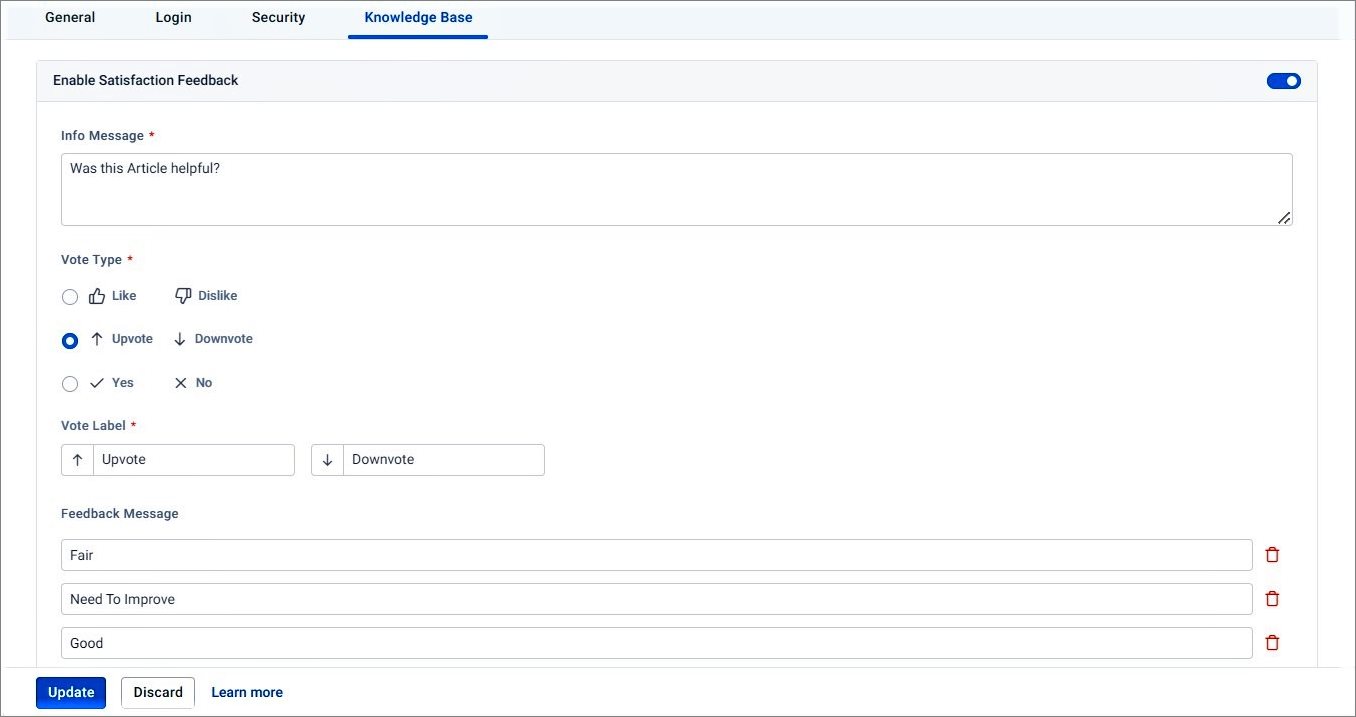 Look through your content
Establish intervals at which to review the content in articles. You can add new content, make changes to existing articles where necessary, and remove outdated information.
Check accessibility
Make sure your knowledge base management software is accessible. Ensure you consider the user experience when creating new knowledge base articles. They should be user-friendly.
Engage your customer service team
As customers' main point of contact, this team will have the best idea of gaps in your knowledge base and how to fill them. Give them the ability to do so.
Make it simple for your customers to easily reach your support team
Do not make your self-service tools a barrier that keeps clients from reaching your customer service agents. It will never contain the answer to every question.
Benefits of using a knowledge base in your customer service
A study by Higher Logic Vanilla indicate that 79% of individuals anticipate that organizations will offer self-service support tools, enabling customers to find solutions without needing to reach out to support.
Having a knowledge base in your customer service system is advantageous.
Increases work output
Support agents waste a lot of time searching through multiple sources. They sometimes have to wait for responses from other departments to answer customers' questions.
Therefore, a knowledge base increases productivity because the necessary information is often already available in one place.
The articles are accessible around the clock. This keeps agents from waiting on replies from other time zones.
Agents solve tickets faster, resulting in more tickets solved. Thus, less pending and unresolved issues pile up.
Helps quickly resolve client issues
Customers expect their problems be solved immediately. By offering a knowledge base solution, you let customers instantly search for and find answers or resolution ideas on their own.
Reduces customer support staff anxiety
Support teams often deal with a huge volume of questions, issues, and irate clients.
Having to search for answers or solutions to the same questions repeatedly can be overwhelming and annoy support agents.
With relevant, informative content available, you can ease their frustration by directing clients to the central repository to get answers on their own.
In addition, you can provide agents with easily found answers to copy and paste. Agents will have fewer tickets to resolve and an easier time completing the simple ones.
Increases consistency
Consistency is one of the advantages of knowledge base solutions. Knowledge base content ensure that clients with similar issues receive the same, complete solutions.
Support agents without a single source of information may miss important components of an answer.
They are also likely to miss alternative solutions that could be helpful in solving issues faster.
Conclusion
I hope you have a better idea of what a knowledge base is, its importance, and how to make good self-help articles.
Shorten your support team's resolution time with knowledge bases.
BoldDesk is equipped to help you perfect your self-help tool with great article templates and customer service tools with a wealth of useful features.
To witness how BoldDesk can boost your support team's performance, register for a free trial.
If you need further clarification, don't hesitate to reach out to the BoldDesk support team.
For a first-hand experience of BoldDesk's functionality and customization possibilities to match your business needs, get in touch with us to schedule a live demo.
Related blogs
7 Essential Knowledge Base Metrics for Enhancing Self-Service
7 Great Benefits of Customer Self-Service Portal