Artificial Intelligence (AI) is transforming the landscape of various industries globally, offering groundbreaking solutions and unparalleled efficiency.
One such industry that is increasingly benefiting from this innovative technology is customer support, where AI integration is widely being used to enhance and streamline help desk management operations.
Going forward, the utilization of AI help desk software is expected to rise even further. AI Business projects that by 2025, a staggering 95% of customer interactions will be powered by AI.
In this blog, we will explore AI's capabilities, potential applications, and the immense value it can bring to your customer support.
We will cover the following topics:
How does AI generally work?
Artificial intelligence (AI) works by mimicking human intelligence processes, learning from these processes, and then applying this knowledge to achieve specific tasks and goals.
Simply put, AI works by learning from data, recognizing patterns, and making autonomous decisions or predictions based on this learning.
This process exemplifies the foundation of AI's capability to imitate human intelligence, accomplish tasks, and provide solutions to complex problems in many fields, including healthcare, finance, and more.
What is help desk management?
Help desk management is a process that involves handling and resolving all internal and external support questions and issues related to a product or service. It also involves support agent training, tracking customer interactions, assessing your team's performance, and providing solutions.
Why should you power your help desk with AI?
Complementing your help desk management with AI can significantly enhance efficiency and improve customer satisfaction.
AI can also handle multiple customer queries simultaneously, enhancing the productivity and satisfaction of customer-facing teams.
AI help desk software can also help you:
Provide 24/7 support
Deliver fast, accurate responses
Save time by automating routine tasks
Lower operational costs
Offer personalized customer interactions
AI is a must-have tool for any customer support team that seeks to enhance efficiency and effectiveness.
Best ways to use AI for help desk management
As businesses grow, the strain on help desk systems intensifies due to the growing client base. This escalating demand can no longer be met by mere help desk features.
Below are the best ways to integrate AI into your help desk software to enhance performance and streamline customer support.
1. Sort and route support tickets efficiently
A significant increase in tickets can potentially lead to overlooking critical issues. AI can help you sort tickets into smaller, more manageable chunks so nothing slips through the cracks.
As requests come in, AI help desk software assesses them by comparing them with similar cases.
It identifies keywords, assesses their severity, categorizes them, and then allocates them to the appropriate agent or group.
For example, if a ticket contains words like password, login, and access, it can automatically be categorized under "Login Issues".
These tickets can subsequently be directed and allocated to an agent who specializes in resolving login problems.
This automatic sorting:
Maintains a well-organized inbox
Improves the accuracy of ticket assignment
Reduces wait time for customers
2. Summarize the content of request tickets
It can be challenging to interpret the meaning of each ticket correctly when you have a pile of them and are pressed for time. AI can improve productivity by providing quick ticket summaries.
You can set up predefined tags and train the AI model to:
Read and understand the content of tickets
Identify key issues and the product or service they are related to
Assess the urgency of the ticket
Summarize lengthy customer-agent conversations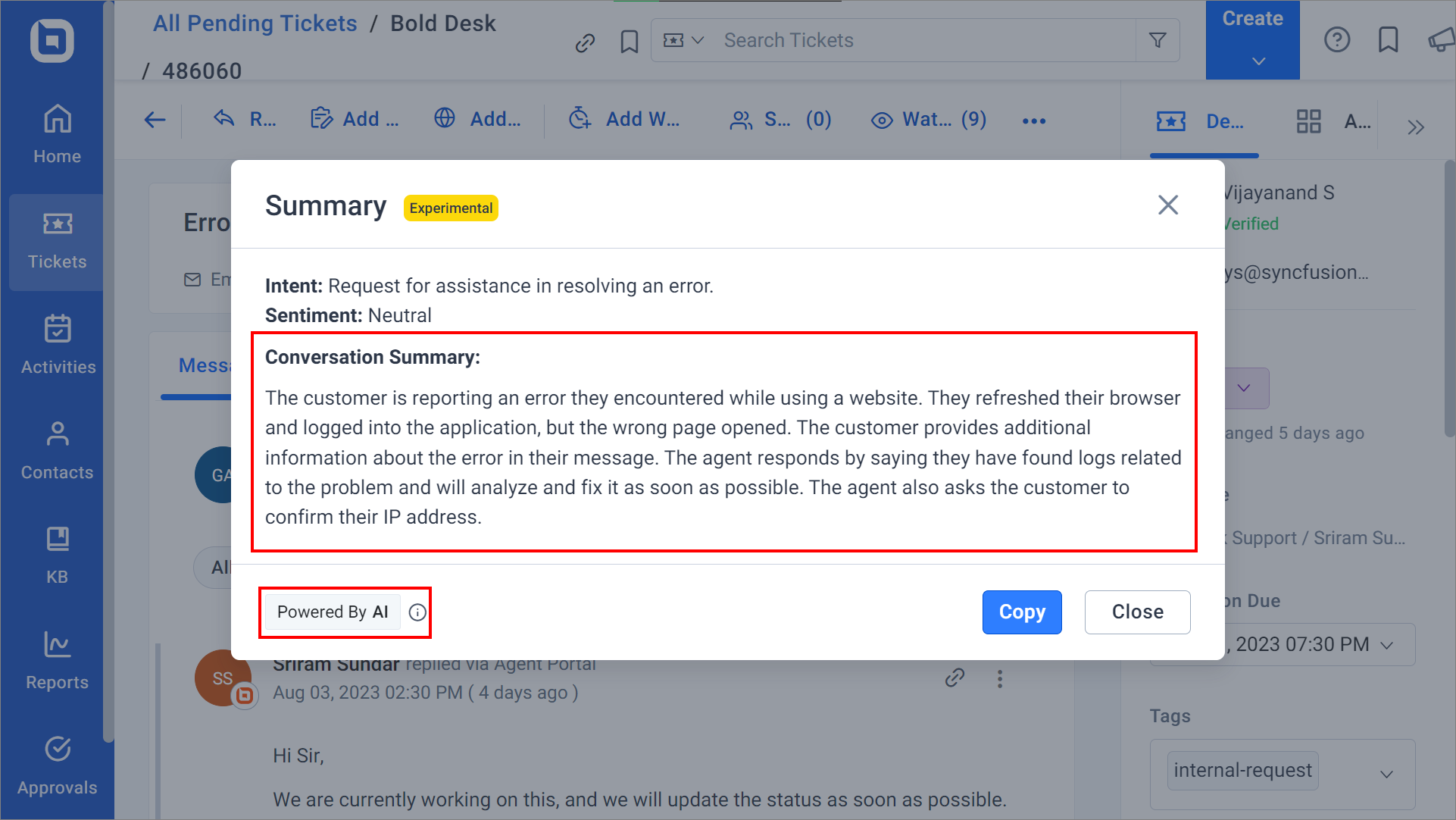 3. Perform ticket sentiment analysis
Integrating AI into your help desk can help you quickly understand intricate details from customer feedback.
AI applies a sentiment analysis score to every feedback response, assisting you in tracking customers' feelings and tone.
AI help desk software:
Analyzes customer feelings: positive, negative, or neutral
Determines the hidden emotional tone behind customer feedback
Recognizes and highlights critical customer experience issues with the biggest emotional effect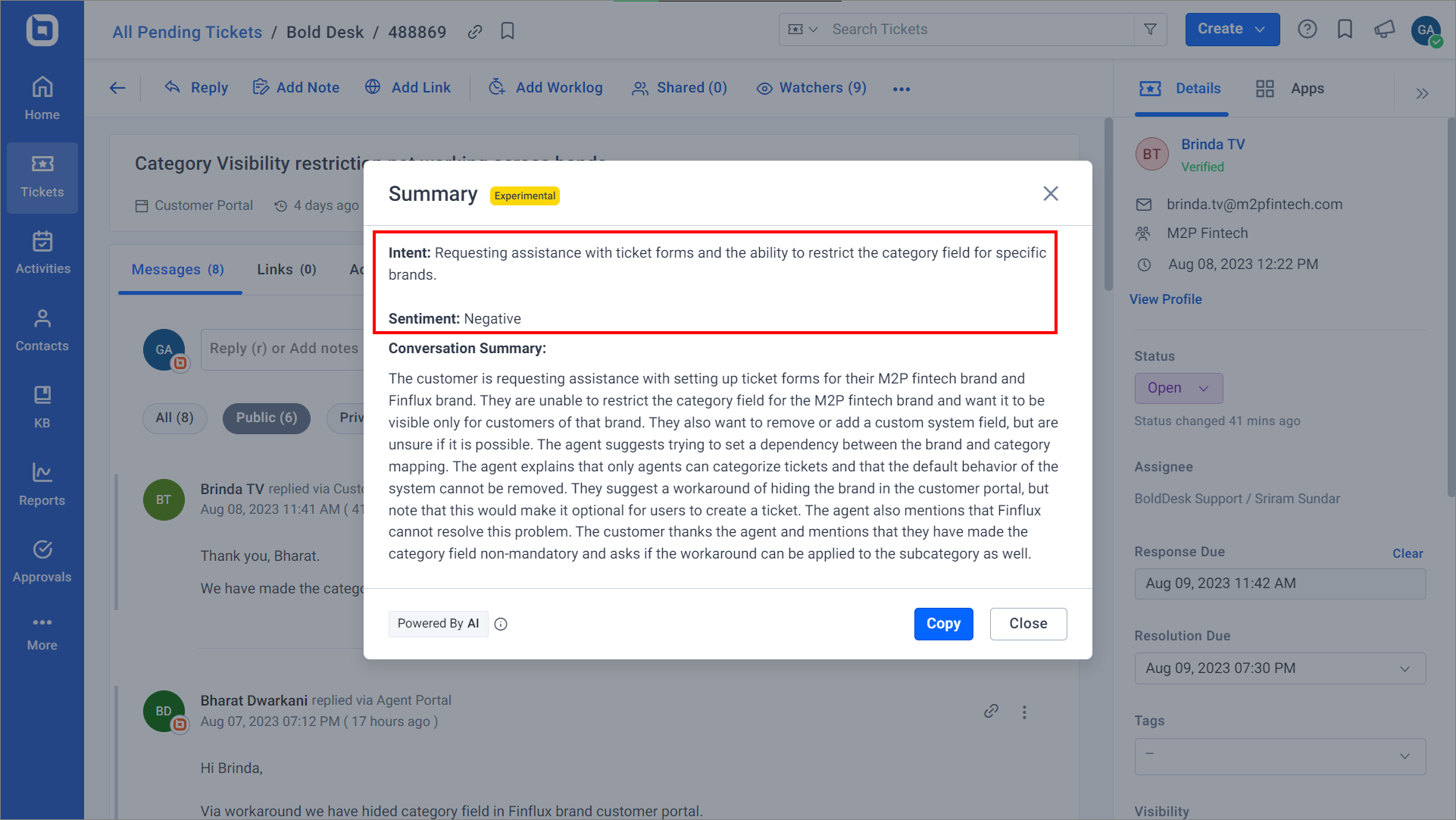 This deep understanding of customer needs is instrumental in enhancing your products, services, and customer relationships.
4. Offer multilingual support
AI help desk software provides the capability to automatically identify and translate languages, allowing you to offer personalized support in several languages.
By translating tickets and knowledge base articles, you foster clear communication and effective knowledge transfer.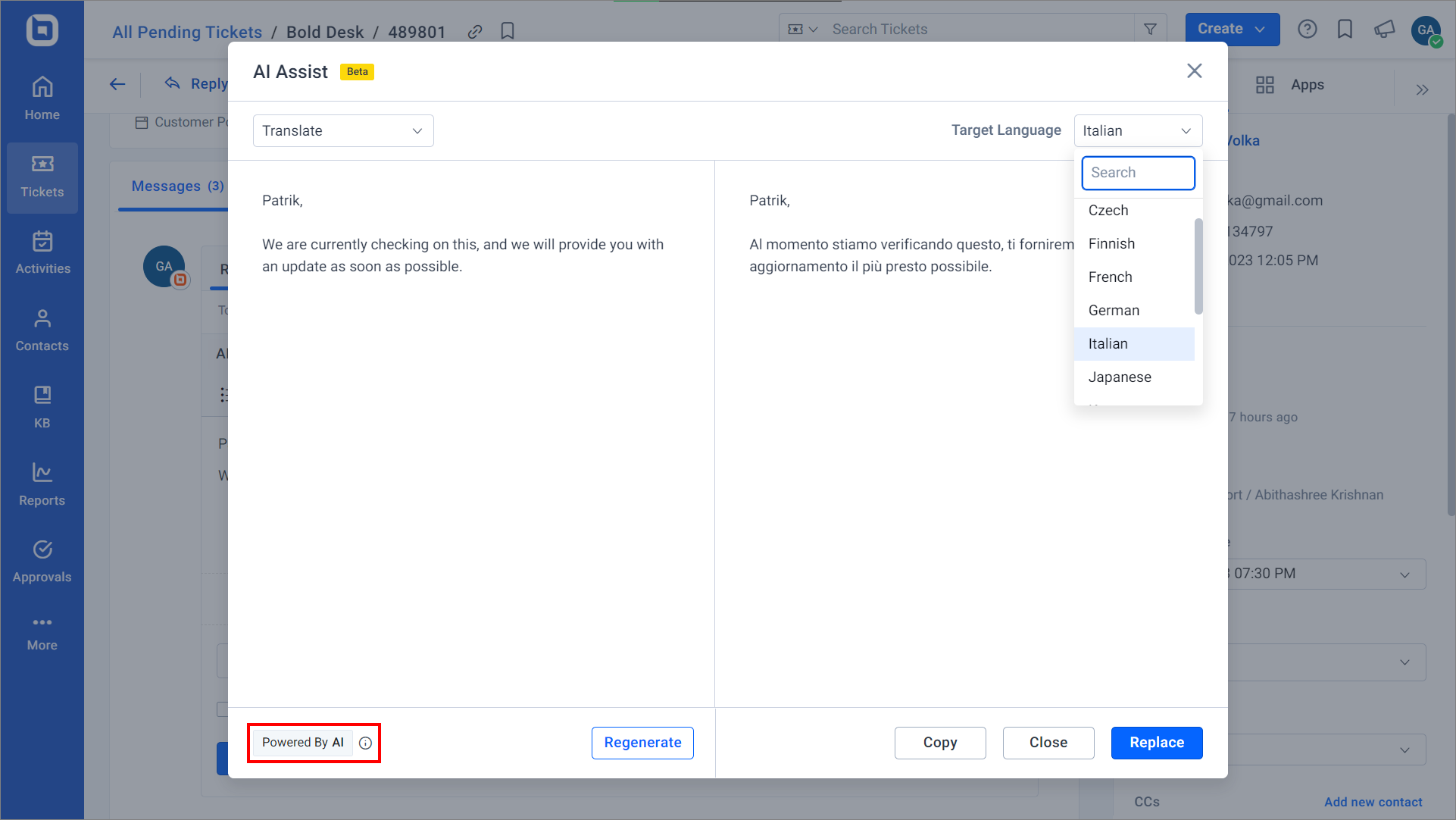 Offering customer support in multiple languages eliminates misunderstandings caused by language barriers. It can also improve your global reach and brand awareness.
5. Improve article SEO rankings
AI's application in help desk management can significantly enhance article SEO rankings.
It can understand the context and intent of search queries and auto-generate sitemaps and optimized keywords for your knowledge base articles.
In addition, AI-powered help desks can scrutinize data from competitors, identify patterns, and predict the kind of content that will likely draw traffic.
Other AI capabilities in this domain include:
Providing SEO-friendly titles and meta descriptions for your articles
Identifying content gaps to guarantee a comprehensive knowledge base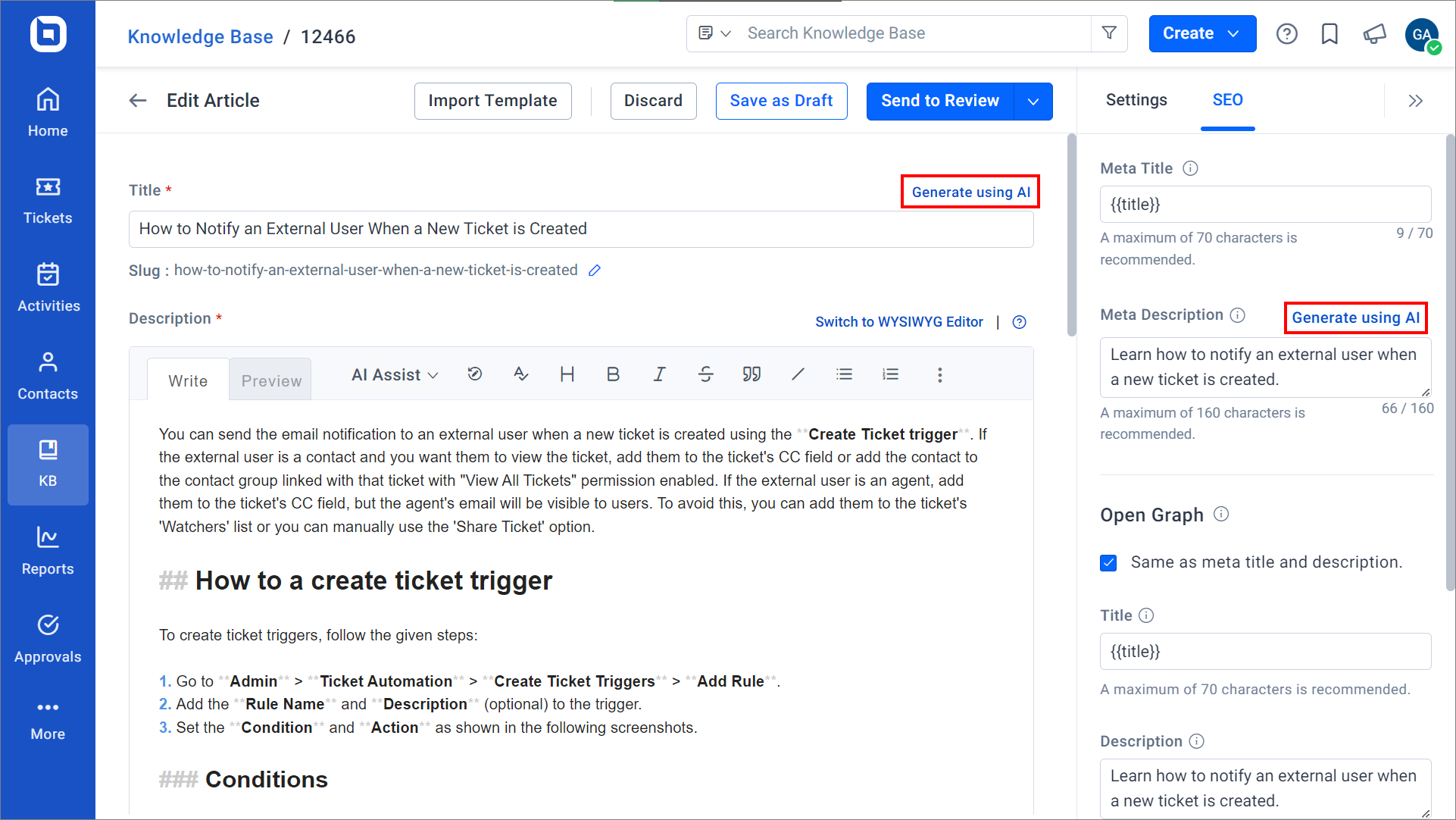 By combining these abilities, you can tailor your content and improve your visibility and rankings on search engines.
6. Provide professional, error-free responses to clients
AI can also be utilized in a help desk to help agents deliver professional responses to clients.
It does this by refining ticket replies and conversations to match your brand standards, using techniques such as rephrasing, elaborating, shortening, translating, and grammar correction.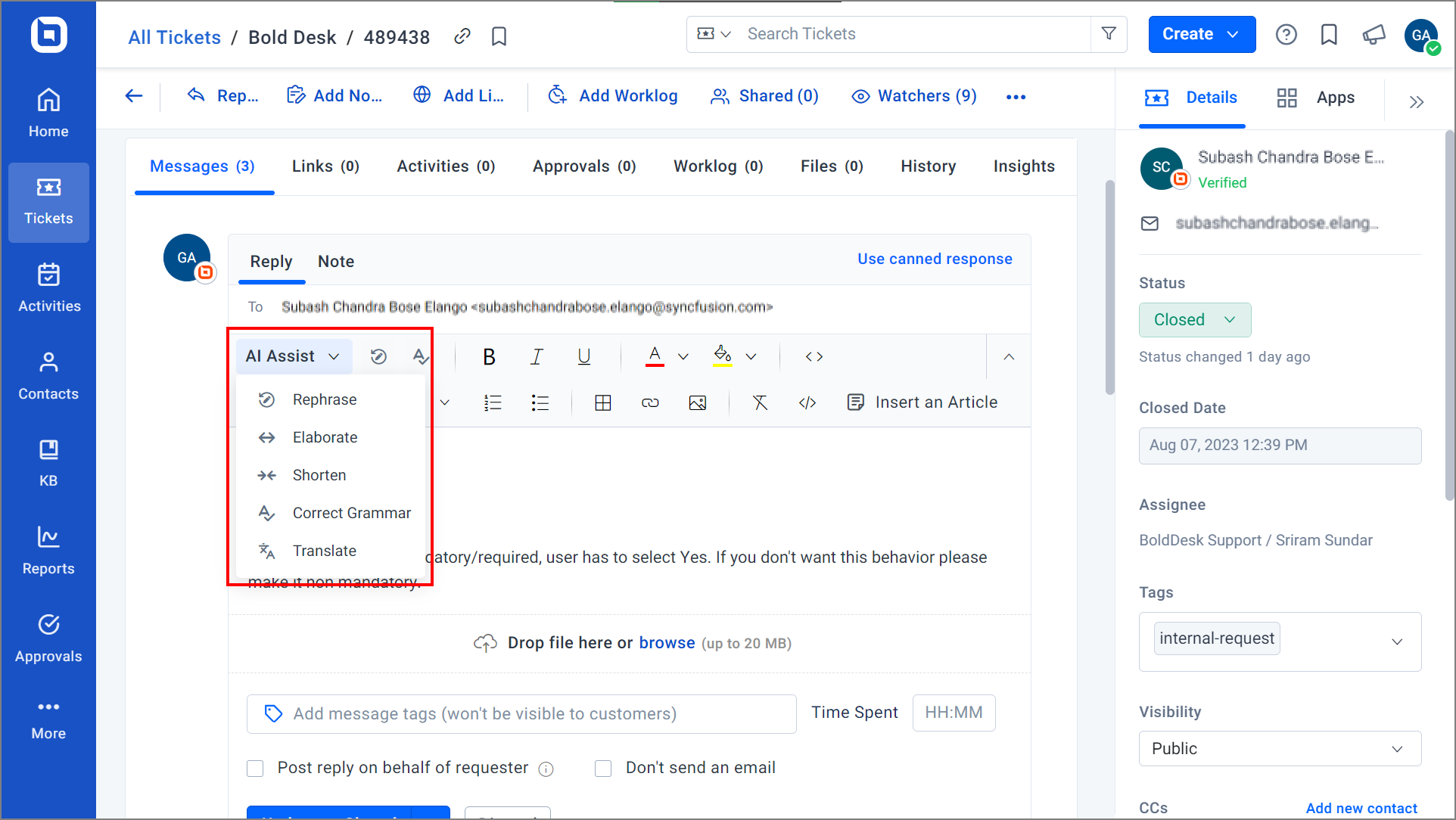 AI help desk software can be trained using past conversations to choose the most suitable canned response when a new ticket arrives. These features help you enhance your customer communication and convey your message in the most effective manner.
7. Create flawless knowledge base articles
Another way AI can enhance your help desk operations is by generating top-notch, engaging, and valuable content for your knowledge base.
This empowers you to create articles that are consistent and standardized by suggesting improvements in grammar, style, and structure.
An AI help desk presents the following article editing tools for creating better articles: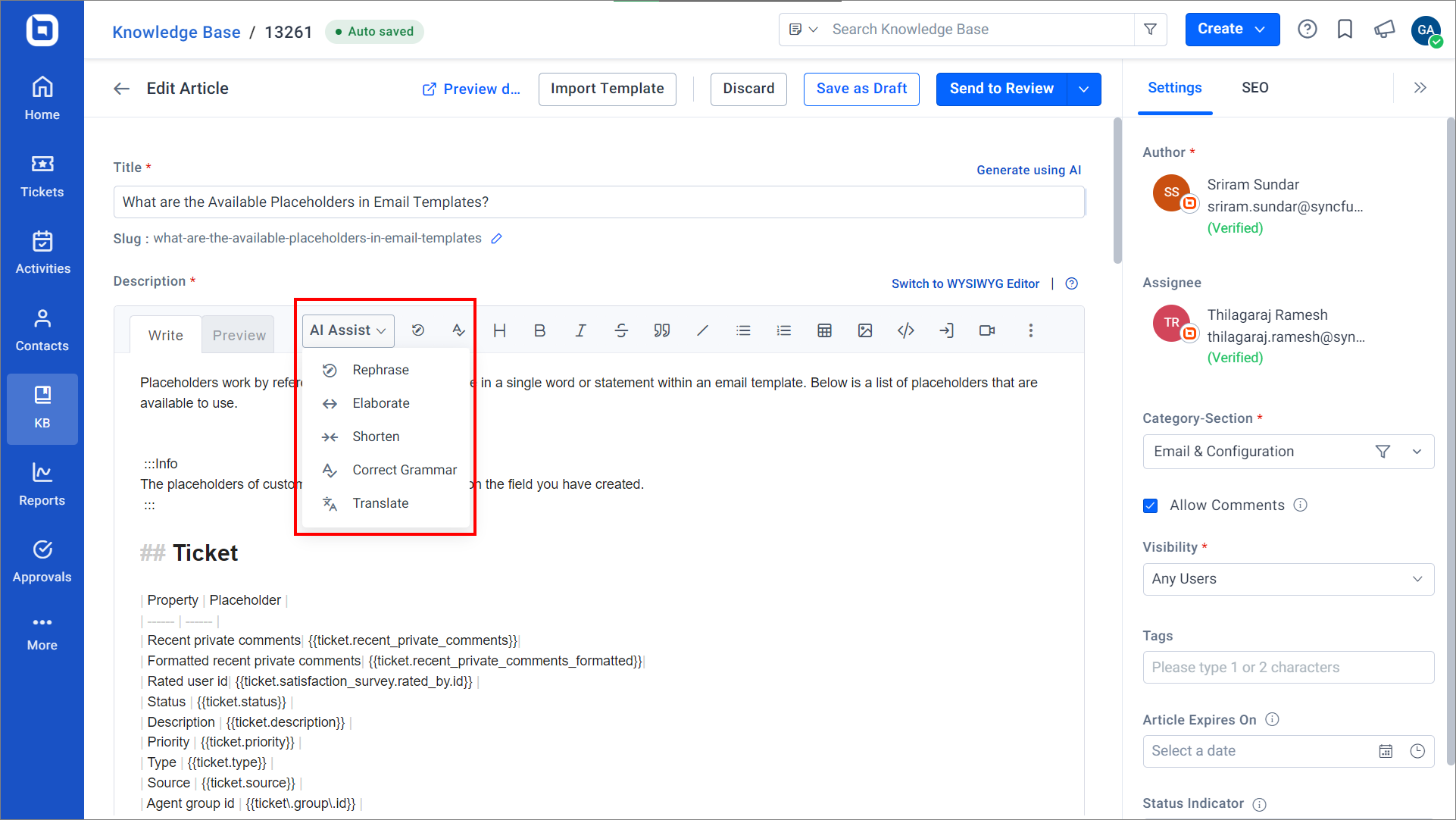 8. Promote self-service
Incorporating AI in a help desk enables you to automatically recommend related knowledge base articles to users based on the keywords used in their search.
This provides them with a more comprehensive understanding of the topic and encourages a culture of self-service.
For example, if a customer types "refund policy" in their search, the AI help desk can automatically search the organized knowledge base content and provide them with articles, FAQ pages, and video tutorials that are related to refunds.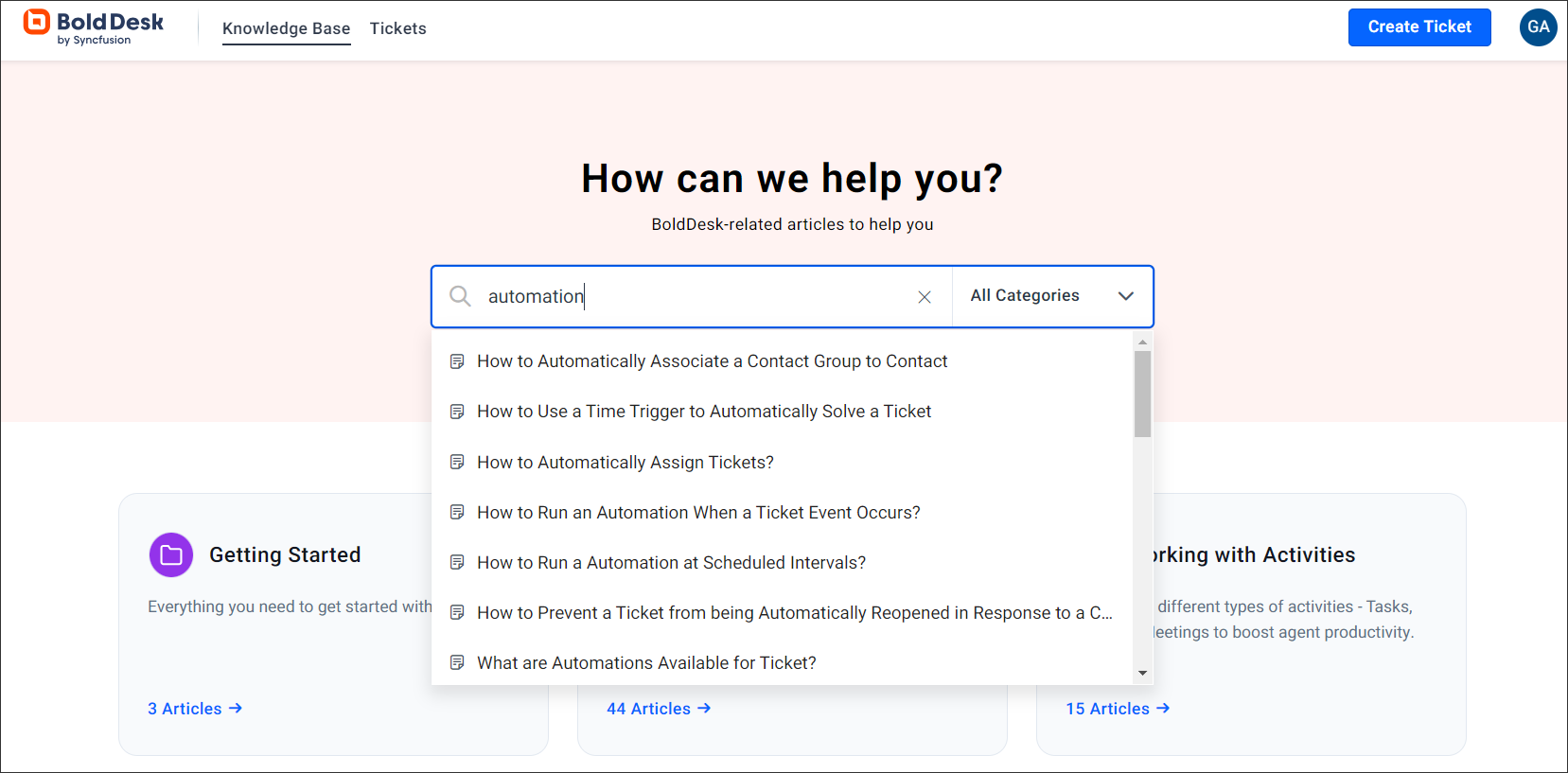 Additionally, the article summary feature generates summaries of lengthy articles by highlighting key takeaways, guaranteeing the delivery of concise and condensed information.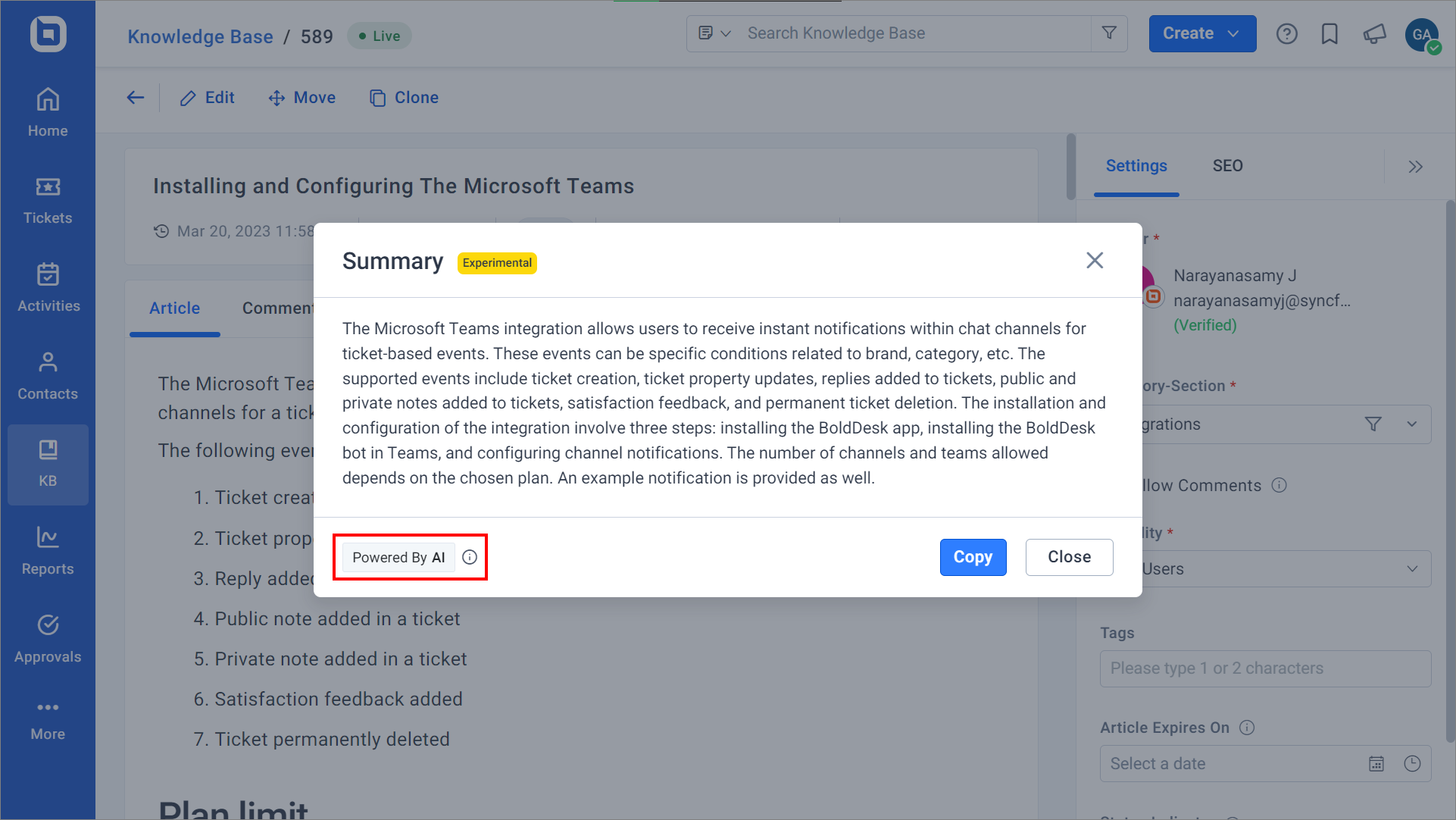 9. Generate reports and analytics
An AI help desk can analyze customer interactions, feedback, and inquiries to generate useful insights about customer behavior, preferences, and satisfaction levels.
This data can be used to predict future customer needs, improve customer service, and personalize communication.
AI can also evaluate and report on agent performance using important help desk metrics such as ticket response times, resolution rates, and work logs.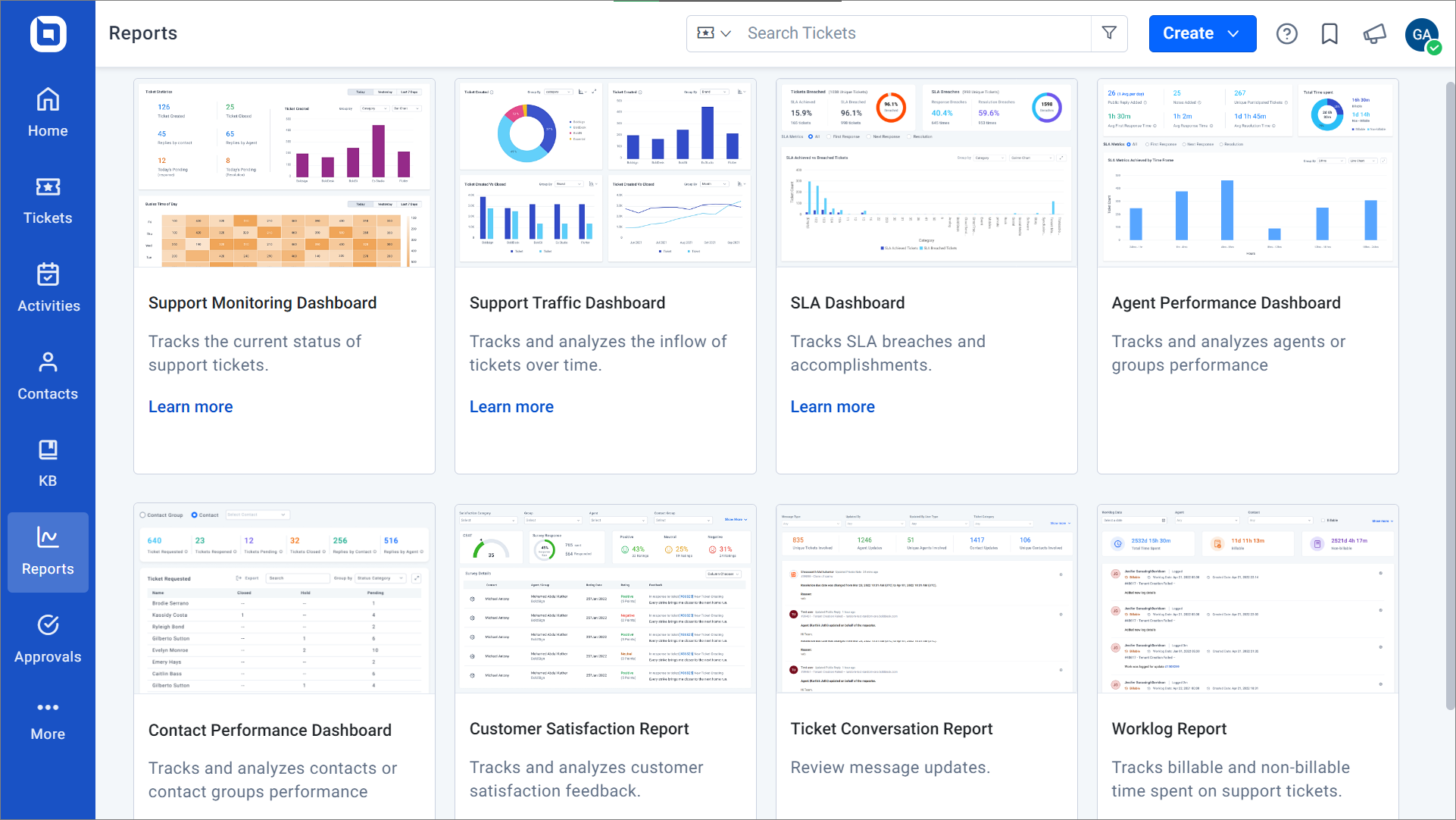 These reports and dashboards can be used to identify areas that need improvement, inform the allocation of resources, and implement strategies to enhance productivity and customer satisfaction.
Potential challenges in implementing AI help desk management
While AI can enhance efficiency and optimize your support processes, it has its own challenges that need to be addressed during implementation.
Integration ramifications: The integration of AI into existing help desk processes and systems requires time and technical expertise to guarantee seamless functionality. You should properly strategize and plan to prevent this challenge.
Data privacy and security risks: There could be potential challenges in safeguarding data privacy as AI help desks handle sensitive customer data. You should ensure robust security measures are in place beforehand.
User technophobia: Incorporating AI in your help desk may be met with reluctance or resistance from both employees and customers. Adequate staff training on the benefits of AI alleviates this challenge.
Cost implications: The initial setup cost for an AI help desk can be substantial. This entails the cost of AI software, integrations, customization, and user training.
You may also incur recurring costs for maintenance and updates, which can pose a financial challenge.
Revolutionize your customer support with an AI help desk
The ability to learn continuously and enhance accuracy with every interaction renders an AI help desk an indispensable tool for supplementing your customer support. Implement the ideas we've discussed and transition from outdated, inefficient practices to stay ahead of the game.
Check out BoldDesk, a robust AI help desk management system that harnesses the power of AI to enhance agent productivity and deliver exceptional customer support.
Get in touch with us to set up a 30-minute live demo to see what you can accomplish with BoldDesk's AI-powered customer service features. Or sign up for a 15-day free trial today.
Recommended reads
10 Help Desk Automation Ideas to Improve Productivity