Successful businesses recognize the crucial role a help desk system plays in boosting customer support. However, merely selecting an appropriate help desk system for your business does not guarantee a competitive edge. It is essential to utilize the correct help desk metrics as well to monitor the effectiveness of your customer support processes and ensure they meet customer expectations.
This blog explores important help desk performance metrics you need to monitor and how to utilize them effectively.
What are help desk metrics?
Help desk metrics are quantifiable measurements that capture and evaluate the performance, productivity, and service quality of a customer service team.
They provide key insights into various aspects, such as first response times, ticket volumes, resolution rates, customer satisfaction levels, and the overall effectiveness of the support team.
Important help desk performance metrics
We will examine the following help desk KPIs: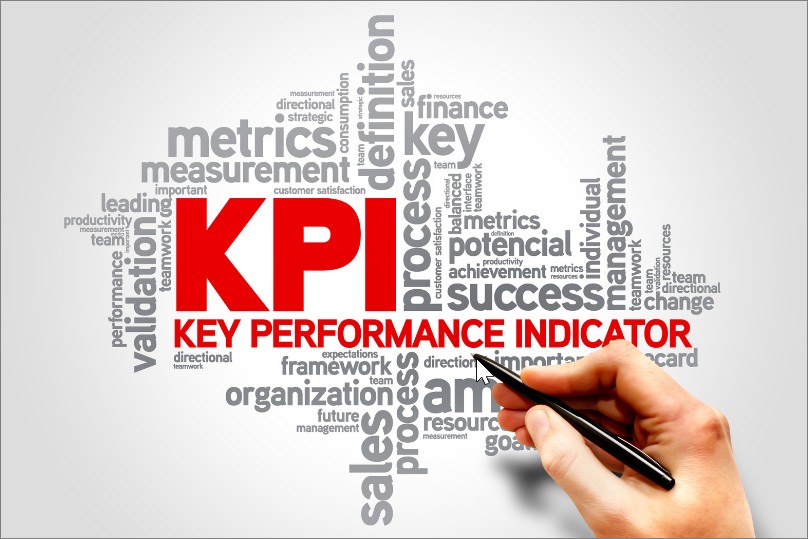 Support tickets created vs. closed
This metric compares the total number of tickets created, and the total number of tickets closed. It is helpful to know this statistic for a specific time period.
By tracking this metric, you can easily work out and manage all your customer's demands and see the trends of tickets created and closed.
For example, if the number of tickets created is higher than tickets closed, means that fewer tickets are getting solved. You can correct this by increasing the number of agents who can help with resolving tickets. Therefore, this increases the efficiency of the work done and the number of tickets closed.
Worklog
Worklog tracks all work logged-in tickets and records the date on which the work occurred. This metric is helpful to see how much work each agent does, understand which types of issues the agents excel at, and how much time is spent on customer issues. Knowing this, you can better assign agents to tickets to complete work efficiently.
Customer satisfaction
Customer satisfaction (CSAT) is a metric that tracks and analyzes the number of customers satisfied with your support during a specific period. Knowing this information helps you manage your customers' expectations and discover areas to improve in your support team.

One guaranteed way to increase your customer satisfaction score is to provide fast responses and improve ticket resolution times.
Quicker responses show a sense of duty to your customers, and their feedback will note your team's speed and efficiency. The positive reputation of your support can even lead to attracting more customers.
Response overdue
This metric tracks the total number of tickets for which responses are overdue. The permanent goal of your support team should be to reduce this number by continually improving the first response times.
Customers expect quick response times. In fact, according to Forrester, customers are 2.4 times more likely to stick with a brand when their problems are solved quickly.
SLA breached
This help desk metric is the number of tickets not resolved within the time period specified in the customer's SLA. Hence, by analyzing the circumstances in which breaches occur, you can devise strategies to avoid future SLA breaches, such as improved escalation triggers.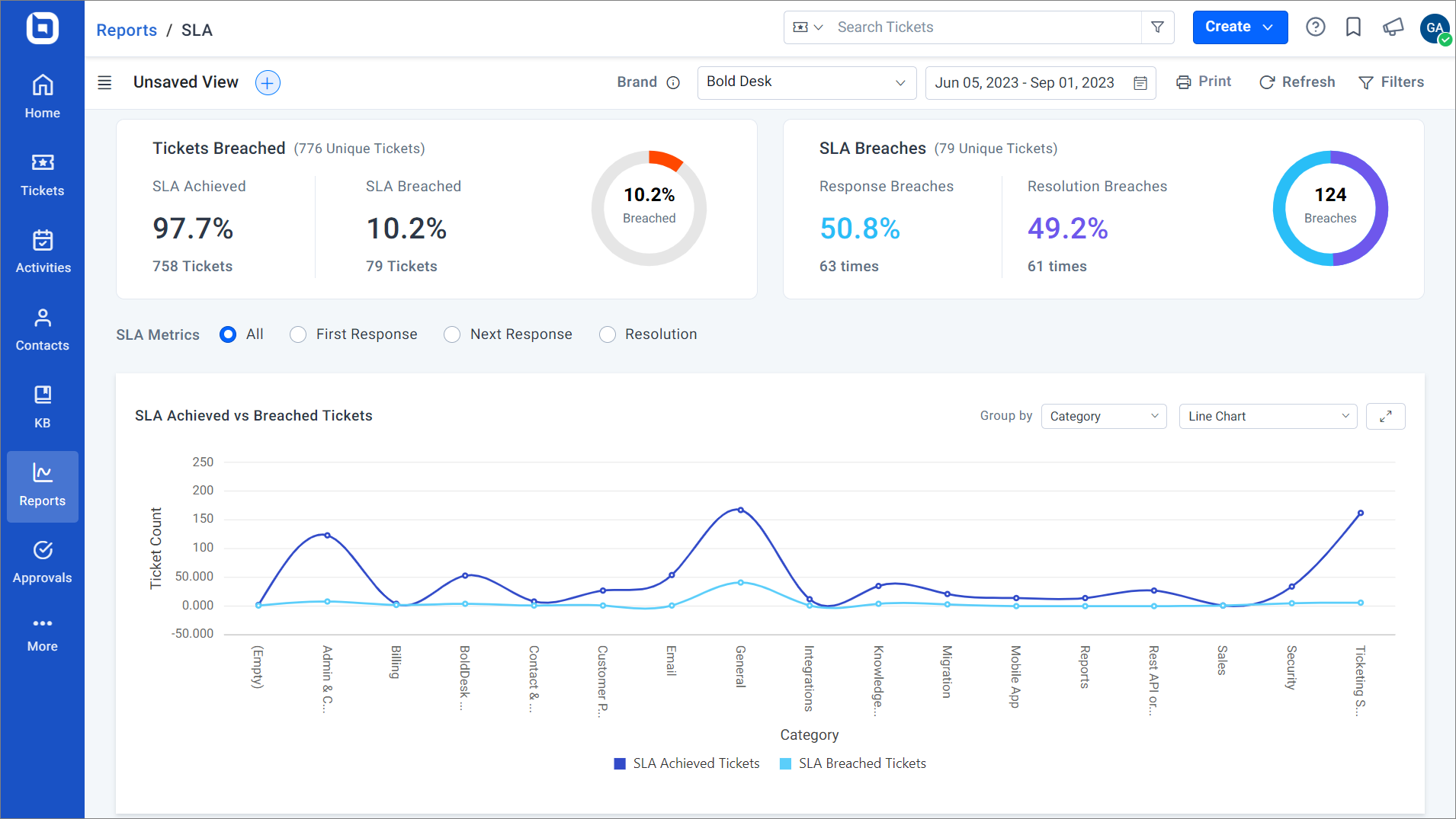 Read our article on SLAs dashboards to learn more.
Replies by contact
This help desk metric represents the number of responses provided by customers during a specific time. By breaking customer replies down into categories based on the number of responses required to resolve an issue, you get a better idea of the quality of your support services.
Moreover, knowing this helps you better prioritize customer issues that may require special attention to fix.
Busiest time of day
The busiest time of day help desk metric helps you identify the busy and idle times of the day. The importance of this metric is that you can ensure whether the necessary resources are available at the time of creating more tickets.
You can further explore the busiest time of day by the number of agents, and customer replies to tickets at the time. With this information, you can see what issues are effectively and efficiently resolved and derive better customer support strategies.
Best practices for implementing help desk metrics
In highly competitive markets where businesses offer nearly identical products and services, customers often gravitate towards brands that excel in customer service.
A Salesforce study revealed that 92% of consumers are more likely to make an additional purchase after a positive customer service experience.
Understanding and implementing the right help desk reporting metrics can significantly improve customer service. Let's explore the best practices for effectively integrating these metrics into your operations.
Set clear goals
Begin by determining what you aim to achieve with your help desk metrics. Is it to improve response time, increase customer satisfaction, or reduce costs? The kind of goals you set will guide the type of metrics you need to focus on.
Choose the right help desk reporting metrics
Select suitable help desk performance metrics that align with your processes, goals, and objectives. While it's important to keep track of quantitative metrics like number of tickets resolved, don't ignore qualitative metrics such as customer feedback and satisfaction.
Automate the process of tracking help desk metrics
Help desk ticketing systems provide powerful reporting and analytics features that generate insightful real-time data. Leverage automated help desks to conveniently track, evaluate, and report on your team's performance over defined time periods.
Regularly review your metrics
Make it a habit to regularly evaluate your help desk performance metrics to identify trends, note areas of improvement, and take corrective action where necessary.
Regular revision also ensures that the help desk metrics remain relevant to evolving business needs, changes in technology, and customer expectations.
Benchmark against industry standards
Compare your help desk reporting metrics with industry standards to understand of how you're performing relative to your competitors. This will provide valuable insight into where you need to improve.
Be transparent
Share your help desk reporting metrics with your team and other stakeholders so they understand how performance is being measured, where they stand, and what they need to do to improve.
This helps agents make necessary adjustments to their approach to improve the overall performance of their team.
Track key help desk metrics for enhanced customer service
Help desk metrics contribute to making your support services run smoothly and effectively. Try BoldDesk, a help desk ticketing system that empowers you to monitor these metrics using features such as built-in dashboards and reports.
Contact our support team to schedule a 30-minute live demo to experience BoldDesk's cutting-edge capabilities and how they can be customized to meet your unique business needs. Or, sign up for a 15-day free trial today.
Related articles
9 Effective Metrics to Measure Customer Loyalty
7 Essential Knowledge Base Metrics for Enhancing Self-Service
12 Crucial Customer Experience Metrics for Your Support Team