Whether you operate in the B2B or B2C sector, the key to growth and success lies in exceptional customer service. The strategies for winning over B2B clients, however, differ from those for B2C clients from a sales and marketing perspective.
Business-to-business (B2B) customer service involves the management of relationships and interactions between companies.
By understanding the importance of B2B customer service and implementing best practices, companies can retain business, build stronger relationships, and enhance their brand's reputation.
In this article we will discuss what B2B customer service is, difference between B2B and B2C customer service, ways to improve B2B customer service and B2B examples.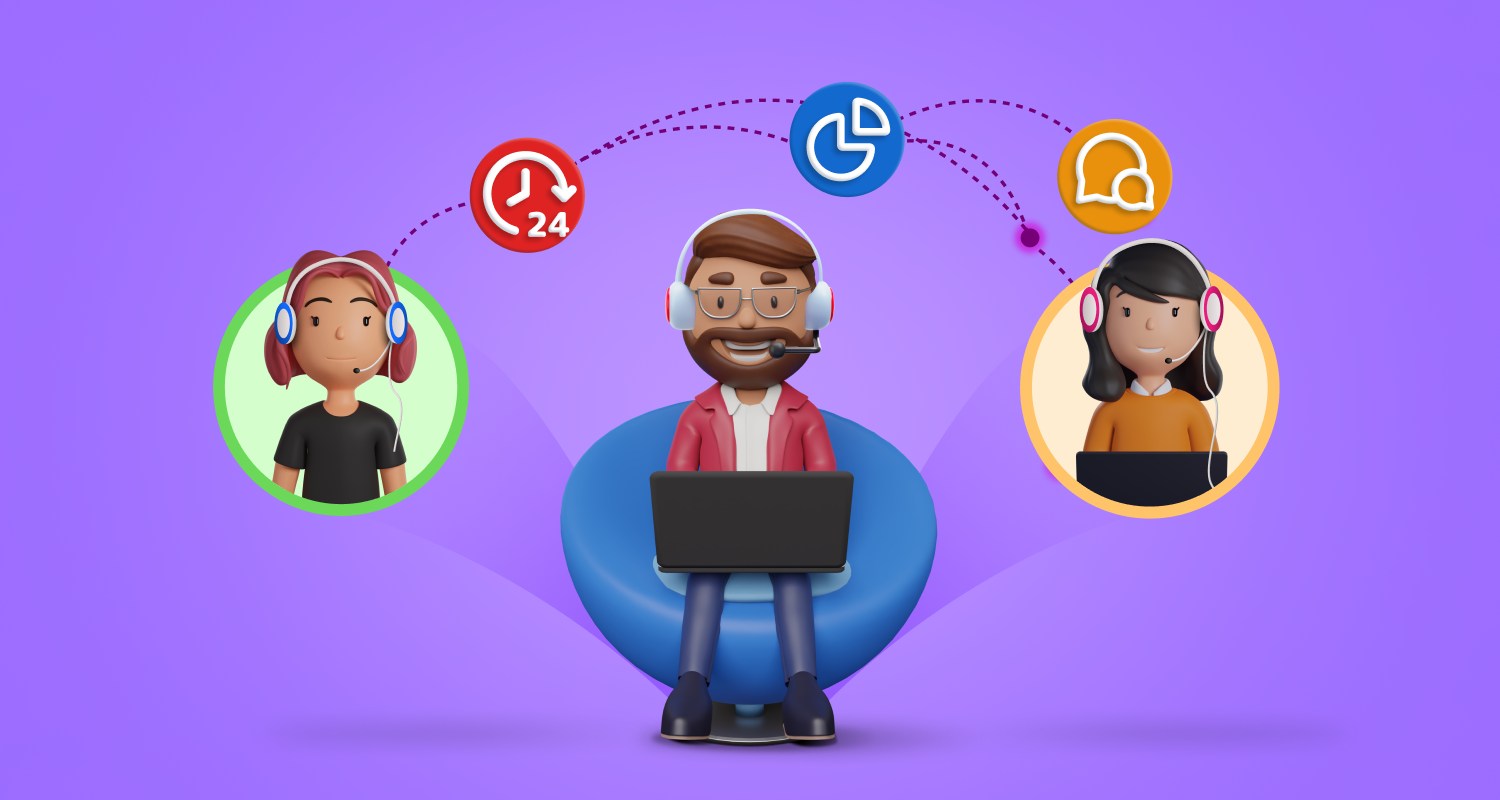 What is B2B customer service?
Business-to-business (B2B) involves one company selling its products or services exclusively to other companies, rather than to individual customers.
B2B customer service refers to all the service interactions between a B2B company and its business customers.
B2B customer service includes providing the following help throughout the customer journey:
Guiding clients through product setup
Offering clients both technical and human support
Answering any questions or concerns clients have
Providing clients with the necessary self-help resources
Helping clients through the troubleshooting process and providing solutions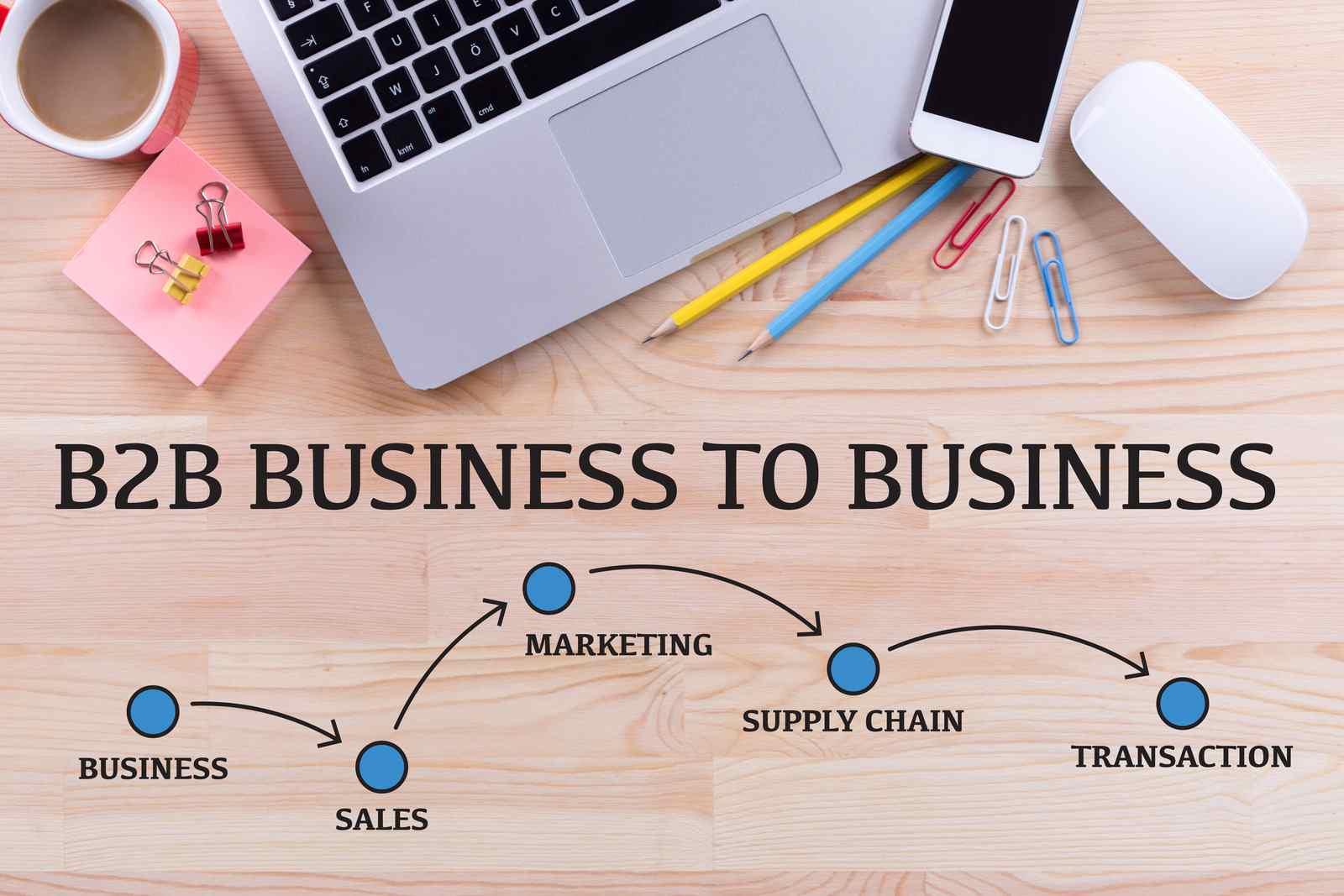 B2B customer service vs B2C customer service
Business to customer (B2C) is where businesses sell their goods or services directly to individual consumers.
While B2B customer service is the process of assisting or providing support to other businesses that are your customers, the main goal of B2C customer service is rapidly responding and resolving individual customer's issues and questions.
Following are the differences and similarities between B2B customer service and B2C customer service.
Differences between B2B customer service and B2C customer service
| | |
| --- | --- |
| B2B Customer Service | B2C Customer Service |
| Product prices are expensive because of complexity | Product prices are lower, since once one product may be purchased |
| | |
| Communication is more formal and can involve stakeholders and legal team | Communication is informal and involves agents and individual customers |
| Brand identity is less emphasized | Brand identity is more emphasized |
| Takes longer for transactions to be closed | Takes shorter timeframes to close transactions |
| Relationships are built over long periods of time and are lasting | Relationships are built over a short period of time |
Purchases
B2B (business-to-business): In B2B customer service, the purchasing process frequently includes several stakeholders, such as a legal team responsible for contract examination and approval.
The purchasing duration is extended, their financial resources are greater, and they anticipate personal customer service.
B2C (business-to-consumer): The purchase procedure in business-to-consumer (B2C) customer service is usually simple, involving just one decision-maker and having a lower monetary value and shorter timeline.
Customer base
The size of the customer base and how products are utilized differ significantly between B2B and B2C customer service.
B2B: B2B customer service caters to a smaller but more diverse customer base, which often involves selling larger quantities of more expensive products.
Multiple individuals in different departments within the client company may utilize the products.
As a result, B2B customer service often requires managing the requirements and desires of multiple parties within the same company.
B2C: On the other hand, B2C customer service focuses on serving many individual customers who have specific and immediate needs.
Even if there are multiple users, such as in a family, customer service will usually deal with just one person among them.
Communication
B2B and B2C commerce each have a distinct style and approach to communication.
B2B: B2B communication is more formal and ongoing, usually including formal meetings with various stakeholders and decision-makers involved in the organization's administration.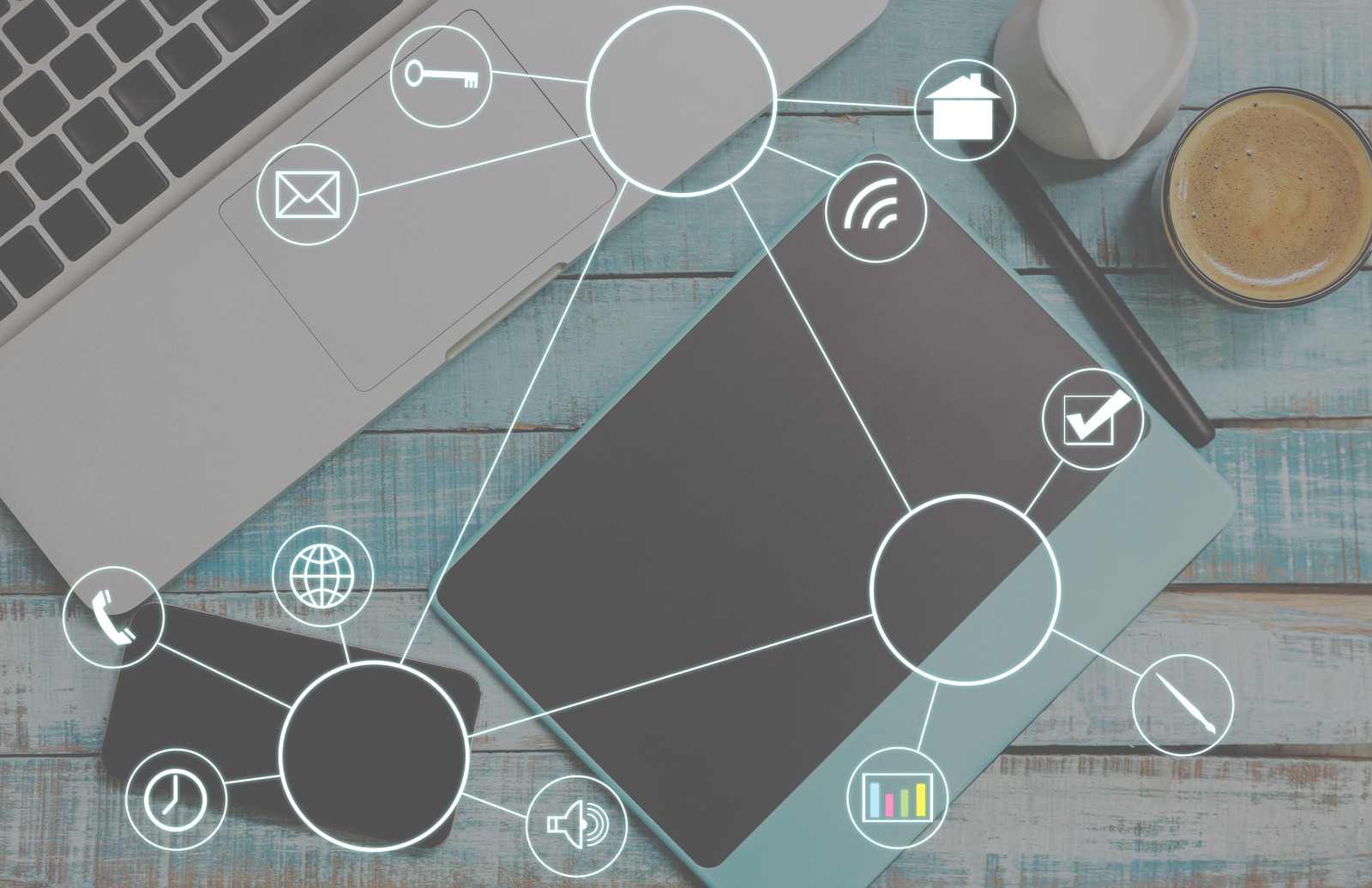 B2C: On the other hand, B2C communication is more relaxed and direct, with common customer service manners and politeness.
B2C communication is generally less formal compared to B2B communication, with the goal of establishing a personal connection with consumers.
Duration
B2B: In B2B relationships, decision-making is usually shared by various stakeholders over an extended period of time, continuing negotiations often lasting several years. B2B transactions are relatively complex, expensive, and can take a long time.
Returns from business-to-business transactions take longer to process.
Lack of available products or continuous production of those products is another reason the procedure can take longer.
B2C: Consumers usually have a product in mind that they intend to purchase within a relatively short timeframe of days or weeks.
Transactions are speedy and even if a customer requires post-purchase support, interactions are relatively short-lived.
Relationships
B2B: In B2B customer service, relationships are created over a longer time period, and support team members interact with many individuals in the client business.
This calls for a customer service strategy that can successfully connect with and meet the requirements of different individuals within the firm.
However, they also interact multiple times with the same company reps, building familiarity.
Support representatives for B2B relationships concentrate on growing and sustaining these relationships over long time periods.
B2C: Business-to-consumer (B2C) partnerships are typically characterized by one-time purchases or subscriptions from customers.
These can require monthly or yearly purchase renewals.
Support teams that operate in a B2C environment interact directly with customers they don't know most of the time, necessitating a more direct, general, and friendly approach to customer support, with a goal of building quick rapport instead of familiarity.
Therefore, every interaction counts in building the customer relationship.
Similarities between B2B customer service and B2C customer service
Customer interaction: Both B2B and B2C transactions involve real individuals during their customer interactions. Thus, fostering relationships, understanding requirements, and delivering customized service are essential in both scenarios.
Customer-oriented sales procedure: Both models necessitate a sales procedure that prioritizes the customer's needs and preferences.
Excellent customer service: Outstanding client support is a requirement in both B2B and B2C models. This includes timely responses to inquiries, effective issue resolution, and assurance of customer satisfaction.
Customer experience: A superior customer experience means providing a smooth, positive engagement with the company at every point of contact.
Problem resolution: The emphasis is on addressing the client's issues in both situations. This could range from a demand for a particular product in B2C to a comprehensive business solution in B2B.
10 Best ways to improve your B2B customer service
These are some of the ways that to improve B2B customer service.
Provide proactive customer service
Providing proactive service is a powerful strategy to improve B2B customer service.
This approach requires a deep understanding of customers' needs and expectations to address potential issues before they become problems.
It involves regularly communicating with your clients, monitoring their behavior, and using data to predict potential issues to ensure that your clients have a smooth and seamless experience with your business.
Some of the benefits of proactive service are:
Enhanced customer satisfaction
Increased customer loyalty
Competitive advantage
Increased business efficiency
Offer personalized experiences
Personalization and a customer-centric approach in B2B customer care aid in comprehending the requirements of each B2B client.
By gathering and utilizing information about the customer's mission, product, and long-term growth objectives, this comprehension can be improved.
Customizing the customer journey not only shows a company's dedication to fulfilling customer needs, but it also helps customers feel valued and understood.
Customization can improve satisfaction and relationships in the following ways:
Using the customer's identity
Sending relevant emails
Creating personalized suggestions
Providing service through their preferred channel are all part of offering personalized experience
Offer multiple channels of communication
By offering multiple channels of communication, businesses ensure that they are accessible to their customers in a way that is most convenient for them.
This could be through email, a messaging app, or in-person meetings.
Businesses can enhance customer loyalty and encourage repeat business by enabling customers to select their preferred communication method.
Use the right tools
Business can implement support tools such as a ticketing system to ensure they offer prompt support and manage their workflows better.
Business should consider implementing a help desk ticketing system for their B2B customer service.
A help desk ticketing system automatically assigns tickets to appropriate agents or teams based on predefined rules to ensure issues are handled by the most qualified agents.
Automate your B2B customer service workflow
Automating specific tasks in your customer service can enhance B2B operations.
By using automated customer service, businesses can improve productivity and service by allowing their agents to focus on more complex matters while repetitive tasks are handled automatically.
Additionally, automation aids:
Accuracy and consistency of responses
Effective time management
Faster processing workflow
Data management
Establish a clearly defined SLA
Implementing service level agreements (SLAs) establishes the standards for both your clients and your service staff.
They include response and resolution timeframes as well as the quality of service that customers can anticipate.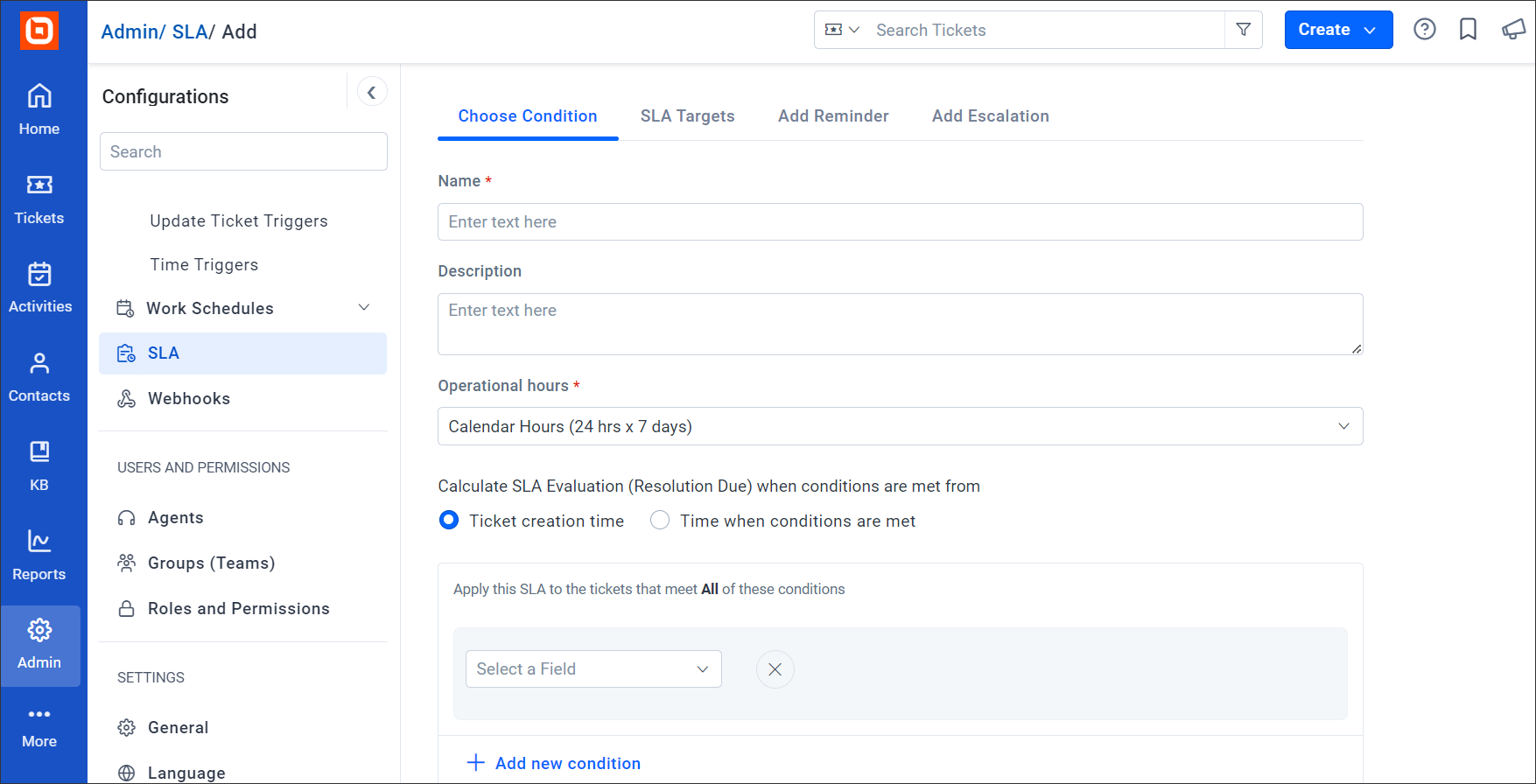 Help desks can incorporate SLAs. How well your team adheres to yours can be tracked. Making the SLA easily accessible by agents helps them prioritize their work and understand their responsibilities.
Your support system will run more smoothly, resulting in increased client trust and satisfaction.
SLAs help with:
Defining clear expectations
Accountability
Quality assurance
Issue resolution
Satisfaction
Risk mitigation
Gather and analyze feedback
Collecting and analyzing feedback from B2B customers reveals important insights about their opinions and feelings towards a brand's products, services, the industry in general, and their customer experience.
Analytics platforms enable companies to monitor and analyze support KPIs that are important, such the number of tickets received, the time it takes to resolve issues, and the customer satisfaction score.
They can use visualizations of these KPIs to pinpoint areas in need of development.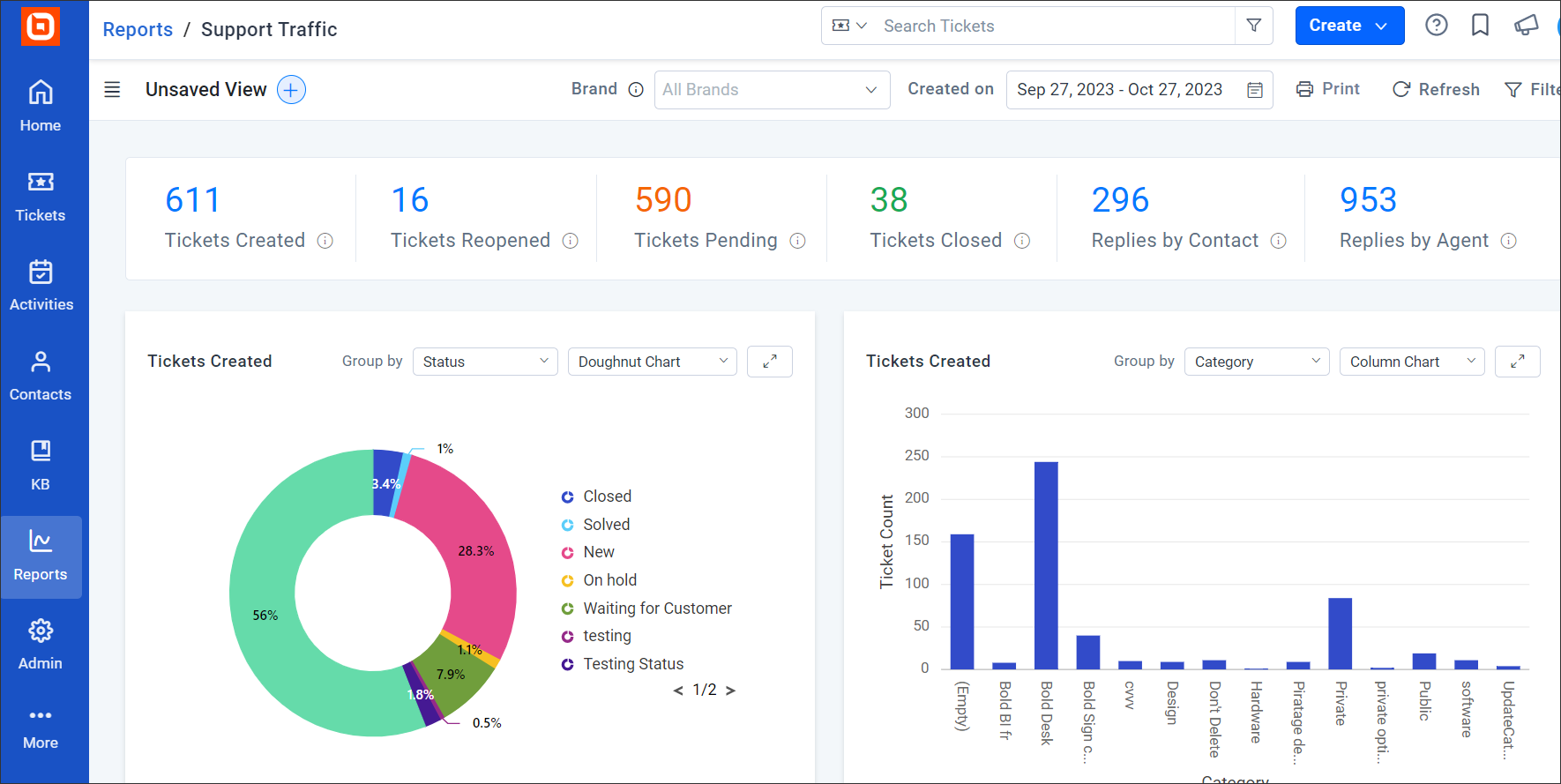 By analyzing these metrics, businesses can make data-driven decisions to enhance their service delivery and improve customer satisfaction.
Provide multilingual customer support
In an increasingly globalized world, businesses are not limited by geographic boundaries. As such, it's essential to cater to a diverse clientele who may not necessarily speak the same language.
Therefore, businesses should provide multilingual customer support to ensure that they can effectively communicate with all their clients, regardless of their native language.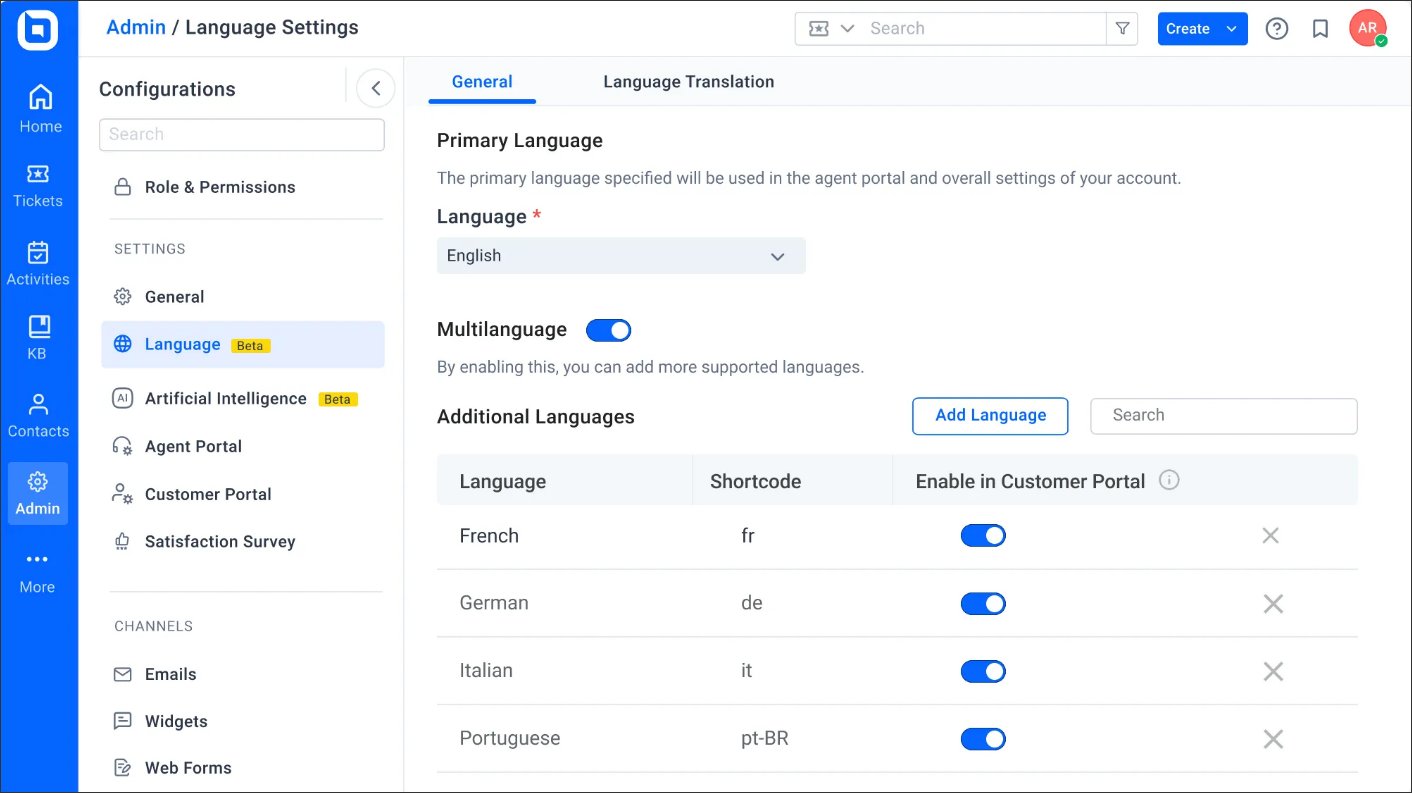 This not only improves the quality of service, but also enhances the clients' experience, leading to higher satisfaction.
Provide self-service options
Offer self-help tools such as a knowledge base in B2B customer service. It's best to equip customers with the necessary information to independently address common issues.
A knowledge base is a centralized repository of information about your products and services that is available 24/7.
A well-structured knowledge base typically includes the following components:
Frequently asked questions (FAQs): This section addresses common queries about your products or services. It serves as a quick reference for people looking for answers right away.
How-to guides: Detailed instructions that explain how to use your product or service are provided in guides. These could be user manuals, how-to articles, or step-by-step instructions.
Tutorials: Tutorials give consumers practical learning opportunities. These are usually videos that walk users through actions or procedures.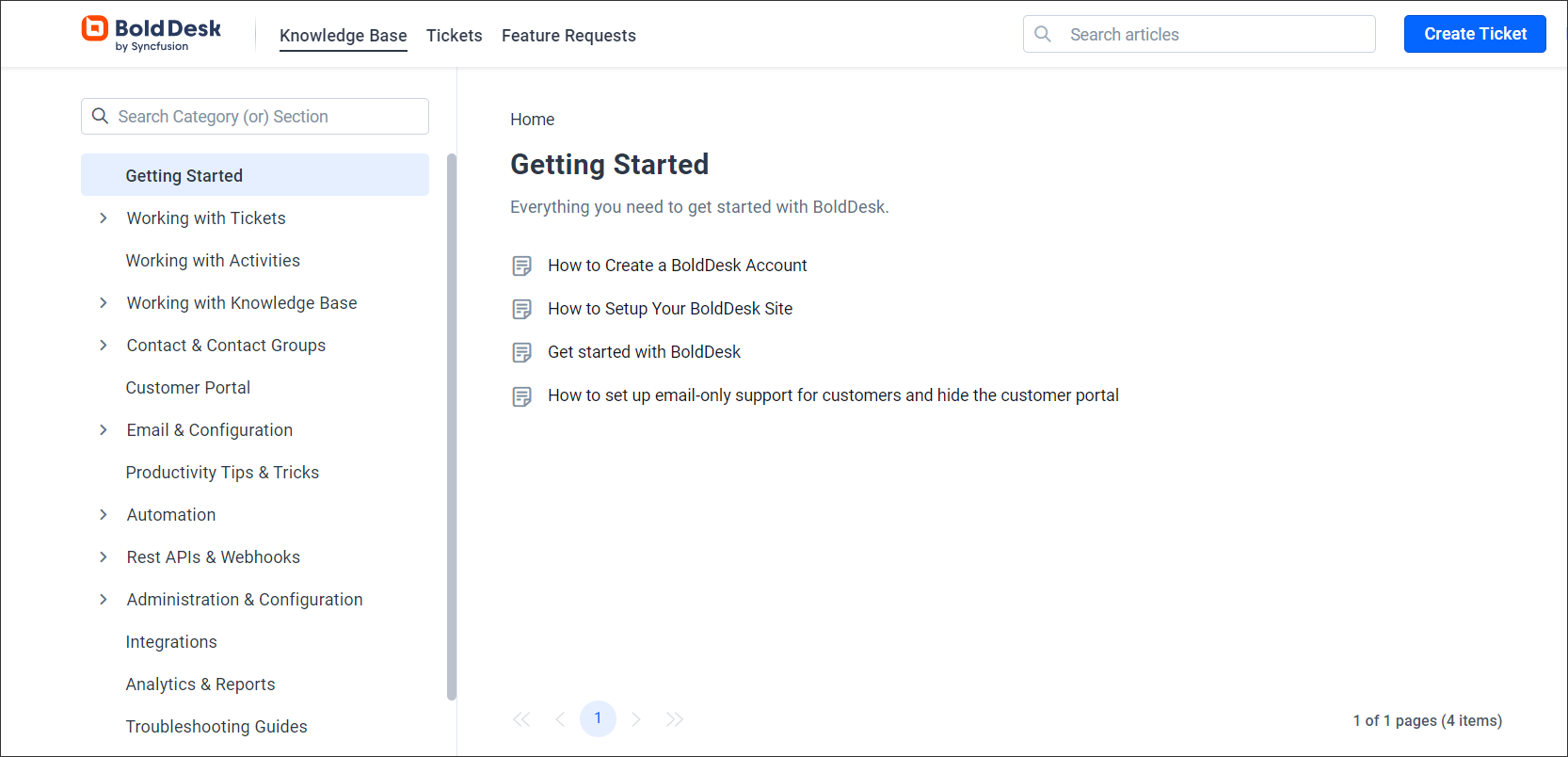 A self-service option lets customers answer simple questions on their own. This reduces your support team's workload, allowing them to focus on more complex issues.
Furthermore, it provides clients with immediate solutions, reducing waiting time and improving their overall experience.
Train your support team
You need a support staff that has received proper training to deliver excellent customer service.
Frequent training guarantees that your staff knows your products and can properly address client inquiries.
Ensure your support staff members are educated on your offerings and polite interactions.
They must be competent in responding to all client inquiries and offering precise answers.
B2B customer service examples
These are some business-to-business model examples.
BoldDesk
BoldDesk is a B2B product. It is a contemporary help desk ticketing system that runs in the cloud and supports a variety of customer support tasks.
Businesses can use it to streamline support requests, work with clients and associates, automate redundant tasks, and enhance the client experience.
Features provided by BoldDesk:
Netflix
Netflix is well-known for their exceptional B2B customer service as a top streaming platform. They cater to various industries, including airlines and hotels.
The customer support team at Netflix handles diverse concerns, from inquiries about billing to problems with technology.
They are available 24/7, aiding businesses whenever required. Additionally, Netflix maintains a comprehensive support center on their website, providing resources and guidance.
Amazon
Amazon (AWS) offers a wide range of global cloud-based products to businesses. These products include storage, databases, analytics, networking, mobile, developer tools, management tools, security, and enterprise applications.
Additionally, AWS provides several support services for its B2B customers. This includes sales support for sales requests or speaking with a sales associate and technical support for any service-related technical issues.
Compliance support is offered for customers who require assistance with AWS compliance.
Furthermore, account support is available for any inquiries related to accounts and billing, and subscriber support services are provided beyond the Basic Support Plan.
AWS also offers resources for troubleshooting sign-in issues and FAQs for unexpected charges and billing inquiries regarding the Free Usage Tier.
Make your B2B customer service effective today!
B2B customer service is an essential part of every flourishing company that supplies products to other companies.
By putting a high priority on customer service, fostering strong client connections, and offering efficient problem solving, companies may win over their customers' trust and succeed in the long run.
Try BoldDesk as the help desk software that offers all the essential features you need to facilitate seamless interactions with your clients. Check out the BoldDesk free trial or book a live demo. Feel free to contact the BoldDesk support team in case of any questions.
Related articles