What better way to begin the new year than by looking back at all that happened in the last one? In this article, we'll recap everything that happened with BoldDesk in 2022. From our biggest achievements to the most popular blog posts of the year, we cover it all.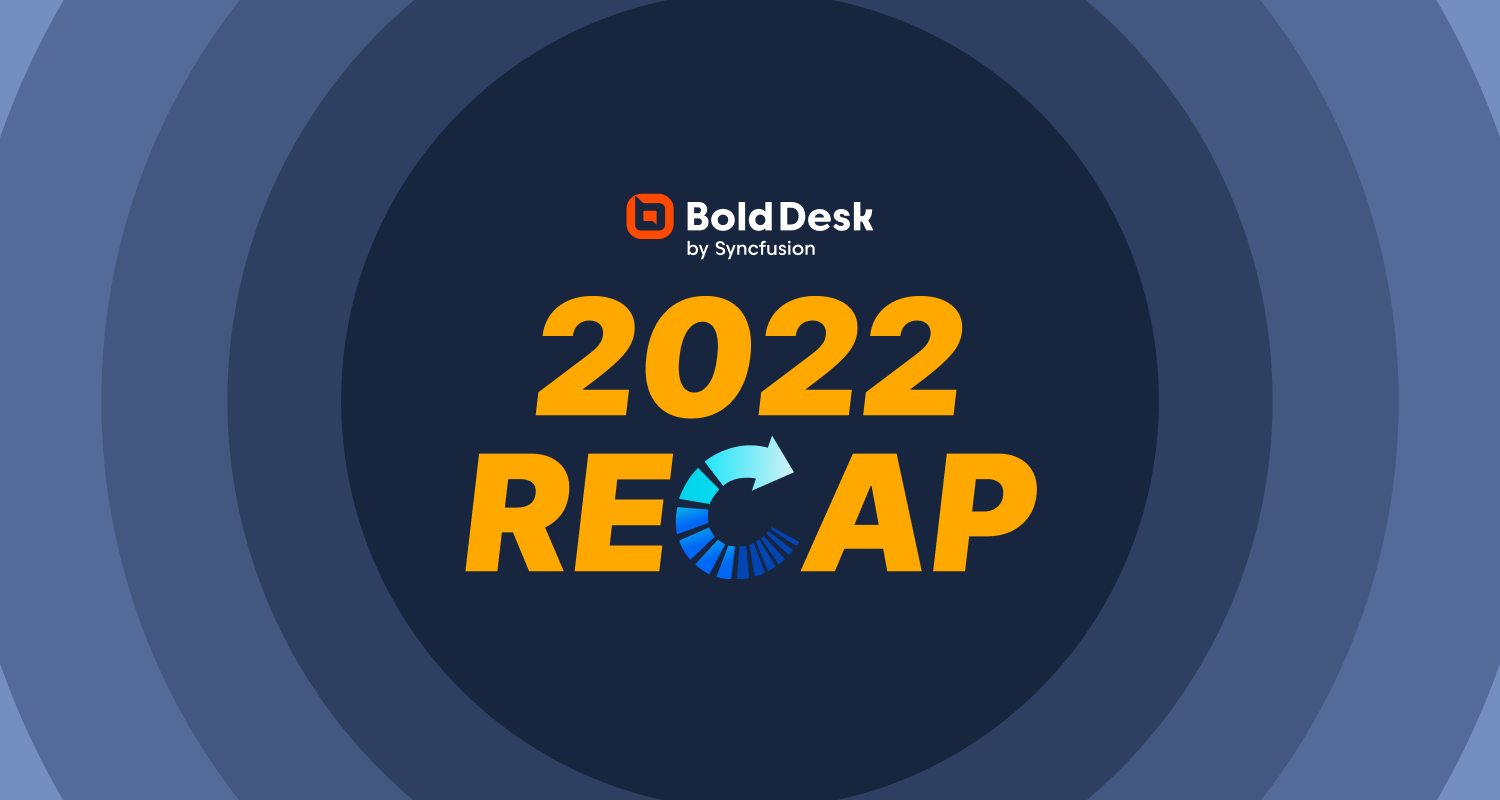 Major features introduced in BoldDesk
With its easy-to-use interface and helpful customer support resources, BoldDesk makes it effortless for customer service teams to maximize their impact on customers. Keep reading to find out more about the following major features offered by BoldDesk.
Knowledge Base
Ticketing System
Reports Module
Customer Satisfaction (CSAT) Survey
Integrations
Developer REST API
Audit Logs
Unlimited Agents
Knowledge base
We introduced a knowledge base module for creating unlimited self-help articles for different brands and products. You can organize and group your knowledge base articles using categories and sections. You can also apply tags to articles to better manage your content library.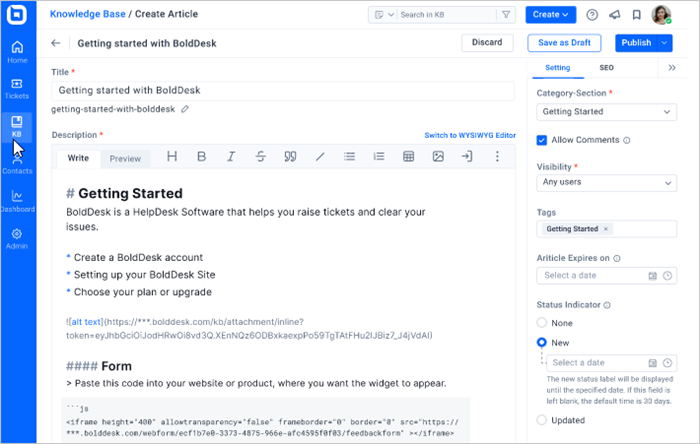 A powerful built-in search function allows your help center to get instant answers from the knowledge base. Moreover, it even searches for relevant articles based on keywords in tickets. Two types of knowledge base are supported in BoldDesk: a public knowledge base for customers and an internal knowledge base for support team agents. Learn more about the module by perusing the knowledge base page.
Ticketing system
The ticketing system in BoldDesk was included from day one with features and benefits designed to create an effortless experience for customers. Some of its most impressive features include:
Bulk ticket update
Convert ticket message to KB article
Delete brand option in admin module
Merge contact
Merge ticket
Edit message or note in ticket
Multiple file upload option in ticket
Share ticket with specific agent or group
Message tagging for classifying and filtering
Brand-based email templates
Embeddable web widget
Embeddable web forms
Also, you can get more details about these features from the product updates.
BoldDesk Reports module
In the reports module, BoldDesk provides both dashboards and reports that are useful for analyzing the effectiveness of your support and making informed decisions based on ticket data. Some of the reports support advanced data filtering and saving filters as views. The following reports are built into BoldDesk:
Support monitoring dashboard: Tracks the current status of support tickets and visualizes data based on created tickets and their stats. It helps identify the busiest time of the day for your support team by tracking created tickets, agent replies, and customer replies over a period of time.
Support traffic dashboard: Tracks and analyzes the inflow of tickets over time. This dashboard provides a summarized view of the activities done on tickets. This helps the support team manage their tasks effectively.
SLA dashboard: Tracks SLA breaches and accomplishments and visualizes the corresponding data at a specific point in time.
Customer satisfaction report: Tracks and analyzes customer satisfaction feedback to get insight into customers' satisfaction with the service they receive.
Ticket conversation report: Helps agents view message updates in tickets.
Worklog report: Tracks the billable and non-billable time spent by support agents on their tickets.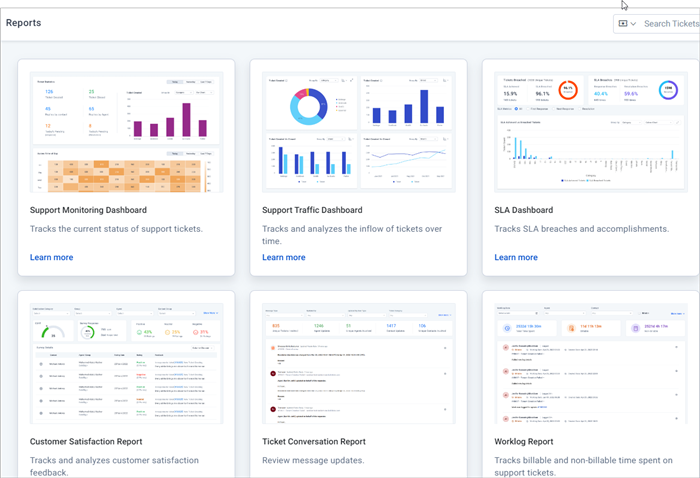 Customer satisfaction (CSAT) survey
The CSAT survey allows you to obtain consumer feedback on the service provided. This helps support team leads quantify and better understand customers' experiences with the support team. Moreover, it aids to rectify customer complaints and retain customers by modifying the support provided to the level they expect.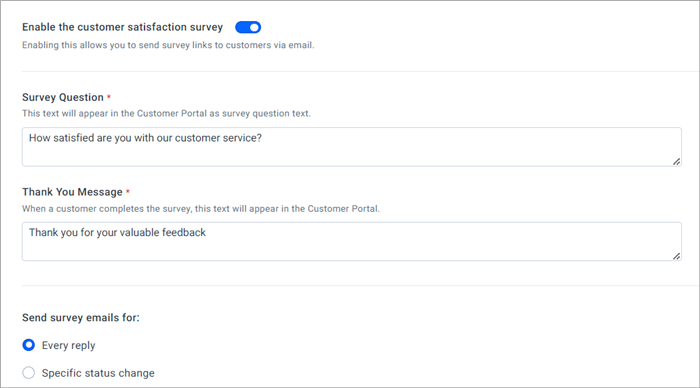 Integrations
To provide fast and stellar customer service through BoldDesk, we knew certain features were needed to enhance team cooperation. To this end, we created several integrations and made some significant improvements.
JIRA
JIRA integration with BoldDesk allows the support team to collaborate and stay on top of issues.  In addition, agents can view details such as comments, status, and priority on the ticket list page.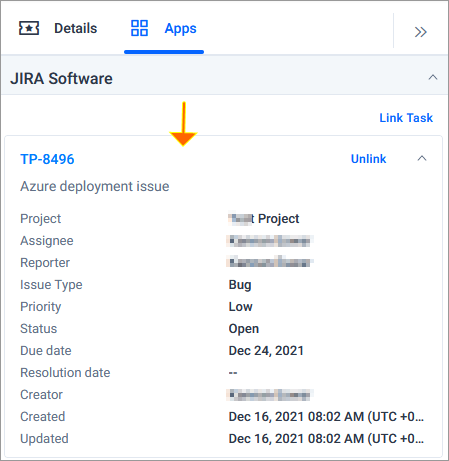 Salesforce
The Salesforce integration helps support teams view customer-centric data in BoldDesk. Agents can view data such as account, contact, lead, and opportunity on the ticket details page.
Custom apps
We built Custom app integration into BoldDesk to get data from any third-party source. By integrating your custom app, you can collect customer data, revenue, order details, and more from the ticket details, contact, and contact groups pages.
Google Drive
Through the integration of Google Drive, agents can share files with customers when adding replies to messages, private notes, and public notes in tickets. Also, you can access and view all files and folders in Google Drive through this connection. Additionally, a search function makes it easier for BoldDesk users to navigate through their files.
Dropbox
Just like Google Drive integration, Dropbox integration lets agents share files with customers when adding replies to messages, private notes, and public notes in tickets. Through this integration, you can access all Dropbox files and folders and view them. The search option makes it finding the right file super easy.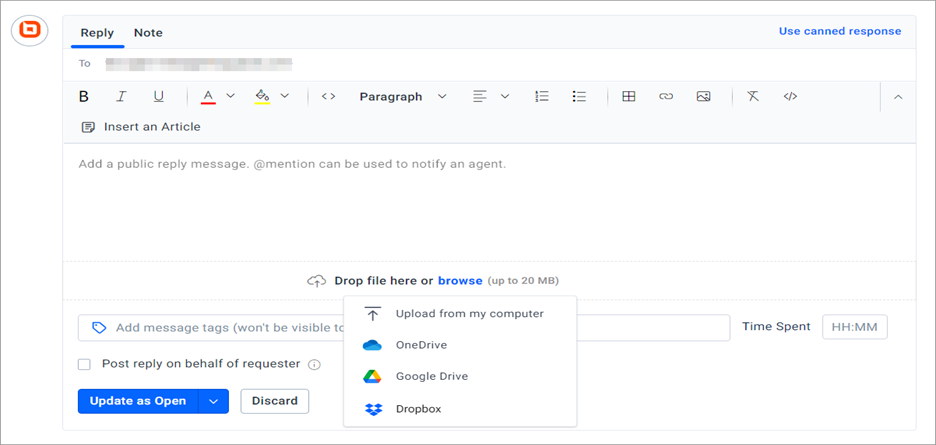 Developer REST API
The REST API helps third-party applications interact with BoldDesk programmatically. It supports read, create, edit, and delete operations, usually in JSON format. Tickets, contacts, contact groups, fields, and other items can be handled using the REST API.
Audit logs for administrators' control and maintenance
Audit logs provide a crucial service in modern companies by systematically and securely logging the history of every action that is performed. Information about individual events or operations, including access, changes to details, who did an activity, and more, are available through audit logs. They allow admins to track any change. Audit logs can keep even the busiest, most complex systems safe, as each action is automatically recorded and saved for audit analysis. This has great utility for future problem-solving and historical reporting.
Audit logs can also be used to improve operations and increase efficiency since agents can use audited information to analyze past trends within their company.
Unlimited agents
The pricing structure of BoldDesk has been designed to provide all the best features in an affordable package. Notably, we modified the price to make it simpler to manage subscriptions and payments. You'll never have to worry about having enough licenses for your help desk—you get unlimited agents at an unbeatable price.

What's next in BoldDesk?
We are always looking for new and creative ways to upgrade our products in order to stay competitive and keep customers engaged. After assessing our goals and objectives for 2023, we've decided that the following new features are our highest priorities in upcoming releases:
Multi-language support
Mobile app for agents
Approval system
Task management
Scheduled reports
Conclusion
The brief time that has passed since the release of BoldDesk has presented us with unique challenges and chances. As we look back on all that we managed to accomplish in that time, we are grateful for everyone who has taken the time to try out BoldDesk and given us feedback on how to make it the best help desk software on the market. Here's to another exciting year!
With BoldDesk, give your employees the best help desk experience and satisfaction. Try the BoldDesk free trial for your employees to thrive. Contact the BoldDesk support team if you have any questions.