Business surveys are broadly classified into product, marketing, demographics, and customer satisfaction survey questions.
They all serve different purposes, assessing different aspects of customers and their experiences at different stages of the buying process.
This blog will guide you through everything you need to know about customer satisfaction survey questions to assist you in getting started.
Here's a breakdown of the topics we will cover: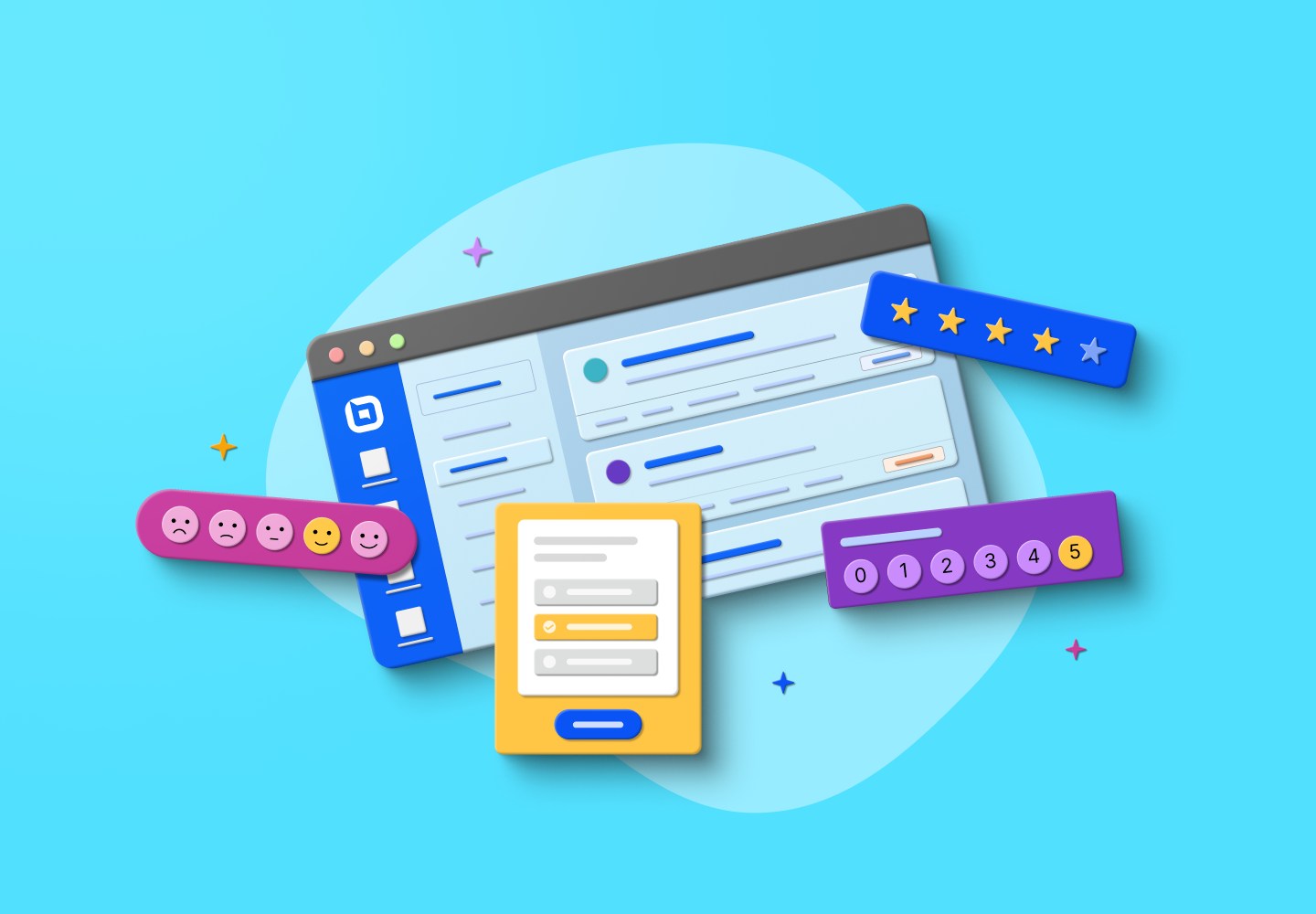 What is a customer satisfaction survey?
A customer satisfaction survey is a questionnaire sent to customers by businesses to help them understand their customers' opinions about their products, services, or policies.
Additionally, it aids in obtaining customer recommendations for how the business, product, or service could be improved.
Customer satisfaction survey reports, in particular, gauge how customers perceive your business and the level of their satisfaction with your service.
Customer satisfaction survey questions enable businesses to expand their markets.
Advantages of conducting customer satisfaction questionnaires
Conducting customer satisfaction surveys helps improve your customer service by identifying areas that need improvement.
The following are other advantages you can unlock for your business by measuring client satisfaction.
Improves customer communication and engagement
Understanding the level of satisfaction of clients allows businesses to conduct proactive outreach initiatives to improve relations with them.
Such an endeavor may seek to retain unsatisfied clients, cultivate connections with impartial clients, and add value to pleased clients.
Detects issues early
The evaluation of how satisfied your clients are helps you identify possible issues and take appropriate actions. Your clients won't find every issue they encounter to be worth contacting your support team or complaining in a review about.
However, small issues, like a website that is hard to navigate, can turn some potential end users off your products. Survey answers can alert you to these issues.
You can take steps to address them, such as training more customer service agents, improving the useability of your website, or hiring more staff to reduce wait times.
Lets you give customers fast responses
Agents can understand the real-time customer experience when you monitor CSAT results.
Giving clients a space to air their grievances when they interact with your company prevents negative reviews in public spaces.
Your support agents will be the first to see negative survey responses and can make instant apologies to unhappy clients. Your help desk software can alert agents to them.
Therefore, this lets you stay on top of issues and public perception of your company.
Provides marketing content
Open-ended questions in your customer satisfaction surveys allow clients who love your products to gush about them.
Certainly, it lets you know what features of your products and services are most valuable to the clients. These are features your company can promote.
Moreover, your marketing team can use more detailed positive statements in promotional material or on your website.
40+ customer satisfaction survey questions
Customer satisfaction survey questions provide valuable insights into a business.
If you never question your customers, you won't get the information needed to make better decisions.
However, customers rarely enjoy filling out customer service survey questions.
It is your responsibility to employ the best practices for customer satisfaction surveys to ensure the questions have all the key characteristics, such as being:
Clear
Brief
Relevant
Precise
Here are some of the most asked and useful customer satisfaction survey questions for different use cases.
Product usage and satisfaction
To understand customer satisfaction, knowing how other people view your product or service is essential. These customer satisfaction survey questions gauge consumers' overall satisfaction using an ordinal scale.
You can ask customer service survey questions to:
Learn about clients' experiences while using your brand. This will help you get clear, qualitative responses.
Help you identify whether your product or service meets clients' expectations.
Define your product-market fit and determine brand development.
Examples of product usage and satisfaction questions
1. Was our product or service up to your standards?
2. On a scale of 1 to 10, how satisfied are you with our brand quality?
3. Please rate the quality of our services.
4. Rate your satisfaction with our support team in your issue resolution.
5. How pleased are you with the pace at which we provide our goods or services?
6. How pleased are you with the speed at which we provide our goods or services?
7. Are you delighted with how quickly we service you?
Customer loyalty
This is an NPS survey question that determines how likely it is for your customers to tell others about your company.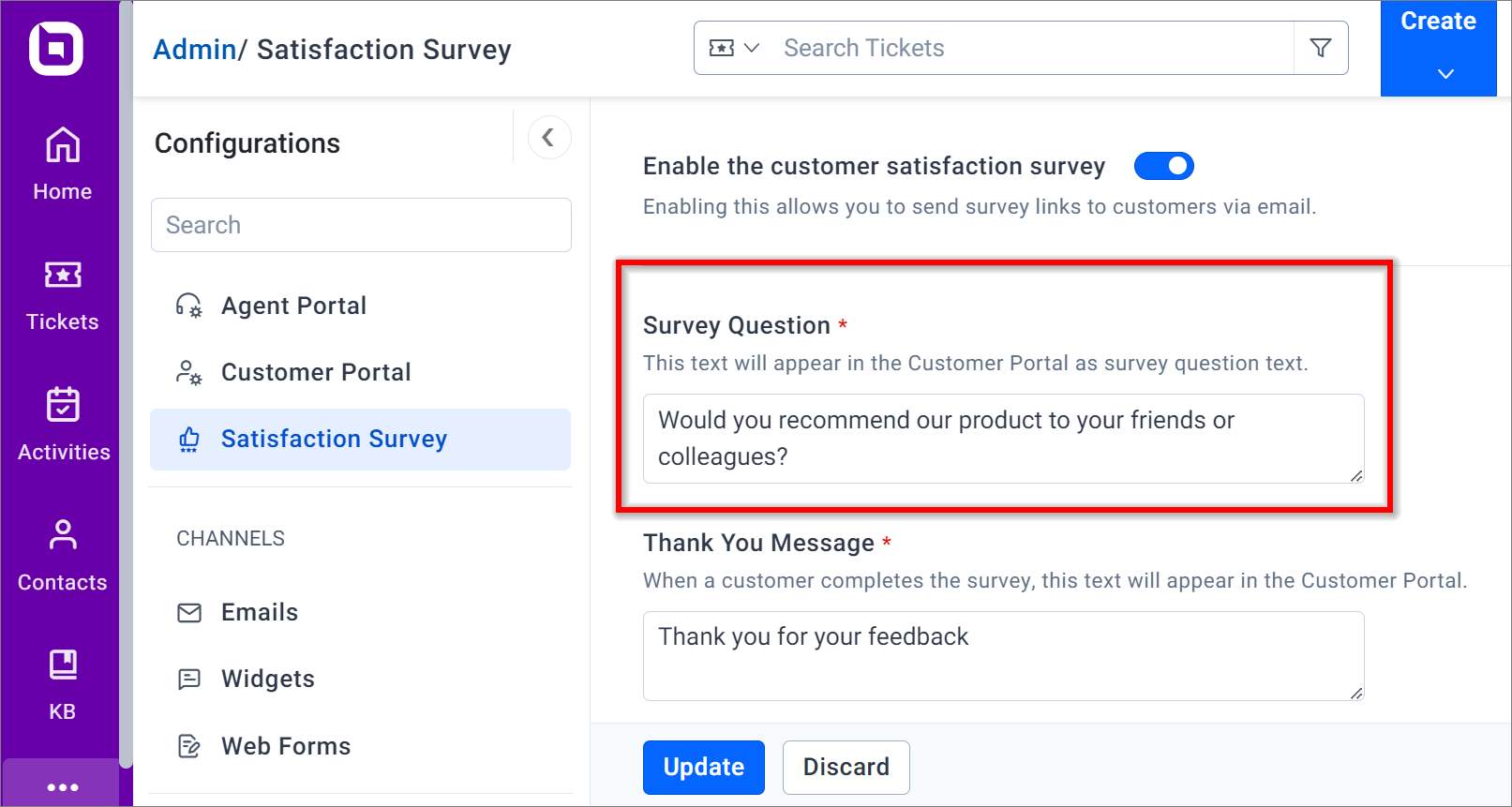 It produces quantitative answers that enable you to assess your performance in relation to your competitors.
Consequently, such customer survey questions help you forecast which of your customers are likely to continue doing business with you.
Examples of recommendation questions:
8. How likely are you to recommend our brand to others?
9. What's the probability of you recommending our product/service to a friend or co-worker?
10. What's the likelihood that you would recommend our brand to others?
11. Based on this experience, would you recommend others to use our brands?
Customer experience
These types of questions determine how easy it is to use your customer service. According to Oracle, 90% of companies consider customer experience as their key focus.
Customer experience-related questions help you determine how helpful your consumers find your self-service capabilities.
Customers' answers like—simple, neither simple nor challenging, or difficult—will inform you of where support processes or issue workflows can be streamlined.
Examples of customer effort questions:
12. How simple did you find it to address your issue?
13. How effective were our self-service tools?
14. Did you find it easy or difficult to resolve your concerns?
15. How would you describe your experience with our brand?
16. How easy was it to resolve your issue?
Product market-fit questions
You can use product-market-fit (PMF) questions to know the level to which your product satisfies a market need or resolves an issue.
More directly, these customer satisfaction survey questions show you whether clients need your brand or not.
Examples of PMF questions:
17. If we stopped offering our product or service, how would you feel?
18. How would you feel if we shut down our service?
19. How would you feel if you couldn't use our product anymore?
20. Is our product or service a necessity for your business?
Open-ended questions
When you need in-depth feedback from clients, open-ended inquiries are useful. Their recommendations can amend negative situations and help you win back dissatisfied clients.
Both positive and negative feedback from former customers is a key tool to proactively match your brand roadmap with your consumers' needs.
Note that positive customer feedback may not help you grow as much as negative feedback can.
Examples of open-ended questions:
21. What stopped you from using or purchasing our brand?
22. What's the main problem you faced while using/interacting with our brand?
23. What would you recommend us to improve or change in our product or service?
24. What is the one thing you would change about our brand?
25. Do you have any suggestions on how we can improve our brand? If yes, kindly mention it.
26. How can we make your experience with our company better?
27. Are you satisfied with the assistance provided by our support team?
28. How was your experience talking to our customer support agent?
Demographic and psychographic questions
It's key to follow up on your clients' behavior and motivations. Create memorable interactions by considering psychographic data, such as individual beliefs and values, in relation to the type of product your company offers.
You can gauge your client's preferences, attitudes, and desires about your product, its role as a solution, and the market segmentation of the brand.
This helps gauge client expectations and enables you to plan for future shifts in the product space or industry.
Examples of psychographic questions:
29. What is more important for you when purchasing a product or service: quality or price?
30. What expectations do you have from brands you interact with?
31. How many hours a week do you spend on social media sites?
32. What is your age group?
33. What is your name?
34. What is your gender?
35. Please rate the following on a scale of 1 to 10: quality, brand, cost-effectiveness, and reliability.
Follow-Up Questions
Sending follow-up questions at the end of every customer interaction is a great customer follow-up strategy.
These customer satisfaction survey questions require you to invest enough time with your clients to make sure they know that you care about them and their issues.
Examples of follow-up questions:
36. How was your experience talking to our customer support agent?
37. Is there anything you dislike about our product or service?
38. Do you have any concerns about your industry and how it relates to our product?
39. How would you rate the call?
40. Was the issue resolved to your satisfaction?
41. How well have we responded to your questions or concerns regarding our products?
42. How successful is our response to your worries about our products?
43. Did we react to your queries or complaints about our products in a way that met your expectations?
General questions
These client feedback survey questions are genuinely global. No matter what the topics of your CSAT survey questions are, it is always beneficial to inquire if your respondents have any more comments.
CSAT survey questions help you obtain extra insight into unexpected topics.
Moreover, they can provide new perspectives that may not be found within your company.
Best practices for creating the perfect customer satisfaction survey
Below are the best practices to follow in creating a good CSAT survey to raise participation rates and record a wider range of experiences.
Provide several survey mediums
Send surveys to customers via a variety of channels, including chat and email.
Instead of using real-time surveys that are offered at the time that is most suitable for the company, focus more on delayed response channels such as email or text.
This makes it more enjoyable for consumers to take part in the survey whenever is best for them. You have a better chance of getting more responses and earning their engagement if you respect their time.
Reduce the number of questions
At the end of a sale or service, most customers tend not to take a survey. They assume it will be long, and they want to get on with their day.
Keep your survey brief—no more than three or four questions—so that they aren't aggravated by the survey. Use a survey tool that enables you to ask a few questions randomly selected from a larger pool.
By doing this, you may acquire a sufficient sample size for a range of queries without overwhelming each consumer with an in-depth survey.
Always send survey questions at an ideal time
Do you know that the success of any survey is heavily dependent on its timeliness? No one likes it when notifications pop up while they are busy doing their daily activities.
Therefore, it is critical to choose an ideal time to send your surveys. Precisely, the best time to send a survey is immediately after a customer purchases your product.
Similarly, you can conduct a survey after resolving a customer issue by asking questions like, "How was our customer service?" In such cases, it will be easier for your customers to reply.
Train agents to write CSAT surveys
Having a training program for creating CSAT surveys is more crucial than ever. Many organizations devote a tremendous amount of time, attention, and effort to their sales training but do not put the same amount of care into teaching agents how to write quality CSAT surveys.
Identify key points that should be followed when creating a survey and make sure every agent understands them completely.
For example, one of the first things to inquire about through a CSAT survey is whether the brand promises and your customers' satisfaction line up.
Knowing which questions to write and how to write them helps your company identify and work on imperfections.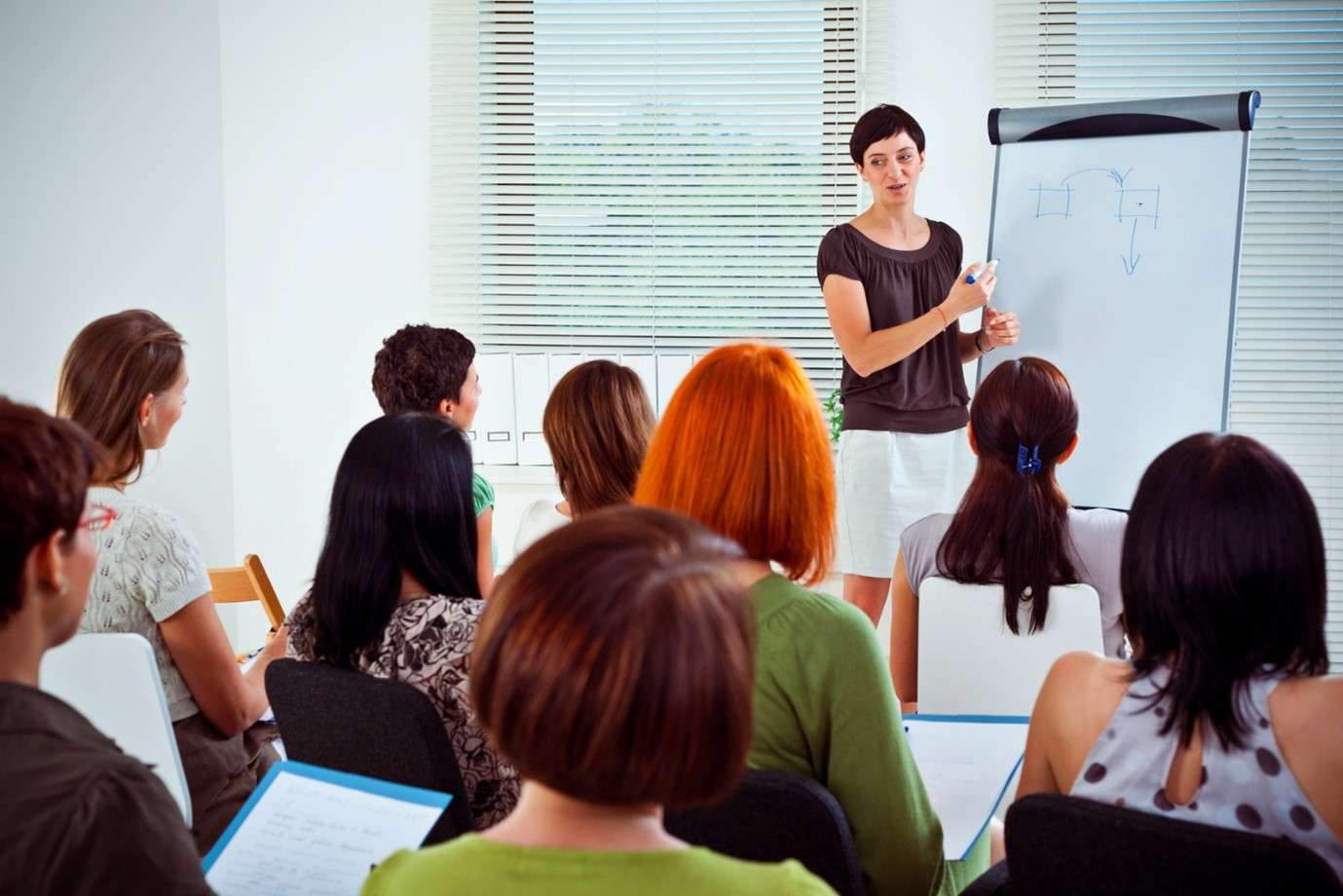 Pick the most appropriate survey metrics
There are many survey metrics you could gather. Each of these can aid your company in unique ways. Therefore, before choosing any metric to track, always identify the one that will provide the most insight into what you want to learn about your customers' experiences.
Similarly, you have to know which data can truly assist you in the development of your organization.
Learn more customer experience metrics you should track in our blog.
Provide a reward for participation
Although rewards are not a strange idea, it is rare for them to be used in CSAT surveys. Therefore, you need to be particular when offering them completed surveys.
For instance, you can use modest rewards like coupon codes for discounts on future purchases or offer an instant purchase discount.
Unsurprisingly, discounts that can be applied to the purchase or service that the consumer is currently using are the most potent incentives.
Moreover, it's important to remember that customers will tolerate answering several questions more readily if the reward is bigger but be careful not to overdo it.
The insights learned from the customer may not be worth the cost of the discount to the company.
Carefully plan your survey process
Before you conduct any survey, the essential first step is to plan effectively for every process you expect to follow. For instance, you can plan for the survey to be verbal (through calls) or online (through email, dedicated forms, ticket responses, etc.), and even plan for the exact resources you need to run the survey.
This helps you save time and resources since you'll already have an image of what you want to do and how you will do it.
Moreover, planning also gives you the advantage of assigning every agent their designated tasks, thus easing your management load.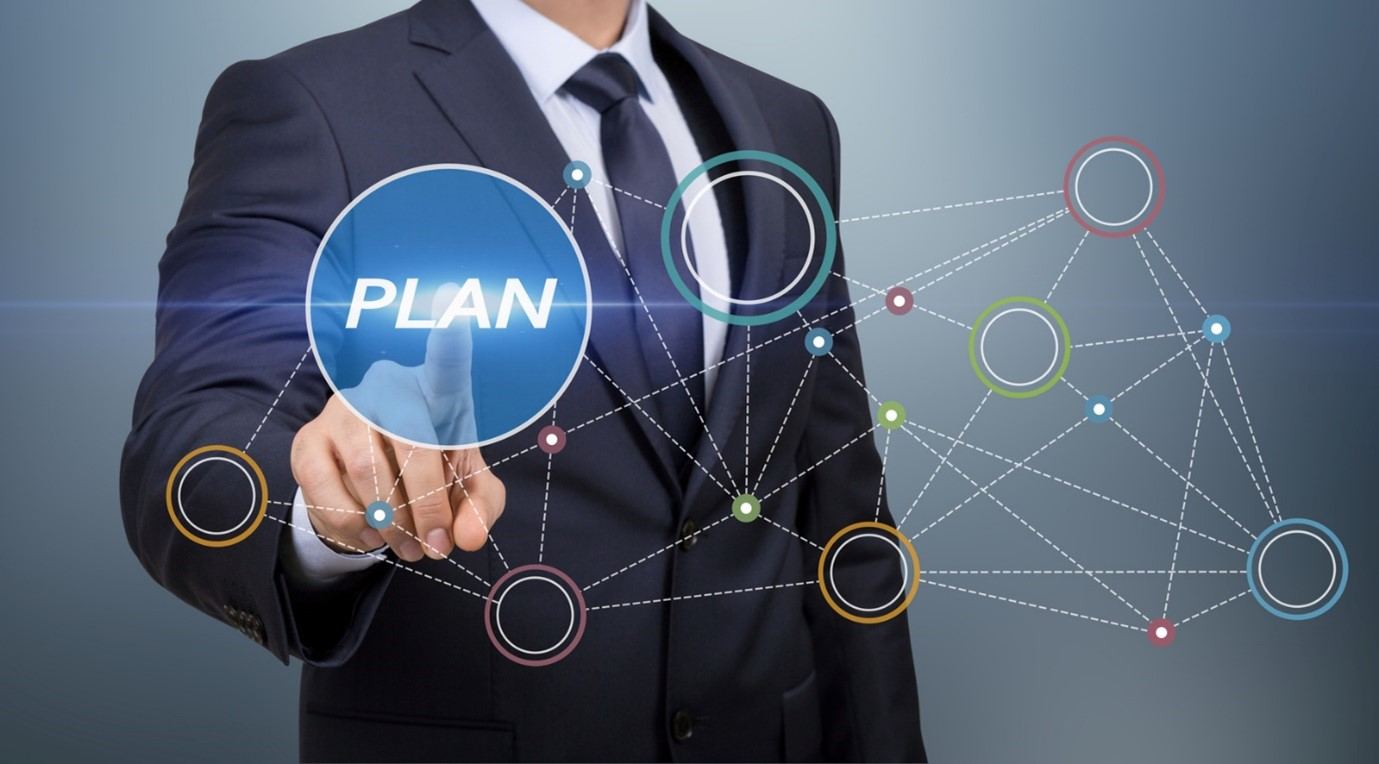 Thank your consumers for their suggestions
By carrying out customer satisfaction surveys, you will inevitably take some course of action in response to the findings. Otherwise, why would you be doing them in the first place?
Therefore, showing gratitude and letting customers know that you'll put measures into action in accordance with their responses shows them that their feedback matters. This also promotes their continued engagement with your company.
It also shows them that you are willing to put in extra effort to meet their needs and that their needs come first.
Use images in your surveys
Images can help explain concepts that are tough to explain in words. That's why images used sparingly and effectively can be helpful in customer satisfaction surveys.
The right images can prompt rapid understanding and boost response rates.
In fact, something as simple as using face emojis in place of qualitative answers like "strongly dissatisfied" and "very satisfied" can be beneficial to use in your customer satisfaction surveys.
Measure results post-customer satisfaction survey
Businesses that focus on doing customer satisfaction surveys but fail to measure customer outcomes beyond the survey end up with an incomplete picture of their customer's experiences and satisfaction.
It is, therefore, critical to have a final phase in which survey results are analyzed in the context of customers' continued business with your company or lack thereof.
This helps you gauge your past performance and prepare for the future.
Tips to enhance your client's satisfaction
Below are some tips you can use to boost your client's satisfaction:
Get feedback from customers on a regular basis
The best way to know if your services or products satisfy your customers is to ask for their feedback often, after short periods. There are several methods to use to get feedback from clients:
Customer satisfaction (CSAT) surveys get reviews from clients once support tickets are closed. The most common survey questions ask the clients to rate and review the products or services offered or talk about their customer service experience.
Carry out customer effort score (CES) research after customers contact the support team.
Employ the use of net promoter scores (NPS) to measure the statistical data in feedback.
This feedback lets company leaders know the areas they need to improve on in their brands and customer service.
Take action on the negative feedback
Feedback from customers can be negative based on their experiences. Agents must analyze the reviews that the clients give, try to understand them, and then fix them as fast as possible.
Core issues with a product should be forwarded to product teams, common solutions added to website help sections, and clients reassured that their issues are being handled.
Reply to all feedback
Different clients share different feedback based on their experiences. Whether the review is positive or negative, strive to respond to them.
Customers value responses from the company on their feedback. They feel appreciated if you interact with them on a personal level. If the feedback is negative, this is essential.
It's best to apologize for any problems caused and assure the client that the issue will be investigated and resolved. On the other hand, for positive feedback, you can thank the customers for taking the time to give feedback.
Replies to all feedback builds the relationship of a company with its customers. It also leaves the customers more satisfied.
Share feedback with all relevant teams
Other teams need to be informed of feedback from customers that is relevant to their work.
For instance, if the feedback is about the debugging process, the software testing and debugging teams need to know about it.
This will help the whole company stay current on issues and what each client prefers. It will also help support teams provide fast and more accurate solutions straight from their in-house experts when needed.
Cross-team cooperation on issues ensures the customer service and products offered are top-notch.
Listen to and understand your customers
It is important to know your clients. The support team should know what the clients prefer, their goals, and their common demographics.
Such information helps agents build rapport with clients and thus builds their relationships.
Understanding clients makes them feel valued. This, in turn, builds their loyalty and trust in your brands.
Offer fast response and resolution
The time it takes for agents to respond to and resolve an issue will show how satisfied a client feels. Customers who receive fast responses to their inquiries or whose issues get resolved fast have a good experience.
If an issue will take long to resolve, keep your clients updated so they know they're not forgotten. This shows the clients that they are valued.
Train your support team to be efficient
Support agents should know the products or services that the company offers in detail. Agents with the right skills and experience will be able to handle and respond to issues fast.
They will also be more accurate with less need to escalate issues. Product and customer service training are vital for an efficient customer support team.
Provide self-service options
You can empower your customers and support team by having self-service options. When you provide self-help tools on your website, like knowledge bases, clients can find solutions to issues without live help.
Agents, on the other hand, can access relevant information in internal systems that help them resolve issues with ease.
Knowledge bases in your help desk can offer articles, how-to videos, FAQs, and other documents. When clients are able to solve issues on their own, it saves your team time and effort and makes the customers happy, too.
Personalize the experience of customers
You can personalize the experience of each client in many ways in order to improve client satisfaction.
First, you can customize support responses by adding the names of clients. Second, you can recommend products, services, and solutions to fit the needs of each customer.
When you customize their responses, it makes your agents seem more human and less robotic. Clients will also feel like they matter. This makes them feel satisfied with the support they got.
Choose the right help desk for your customer service
To conclude, ensure you have the right help desk software for your customer service. This means you should ensure that your help desk has all the right features to make customer service smooth. As a result, it will enhance client satisfaction.
Consider help desks with automation, such as SLA automation, to avoid human errors likely to occur from manual ticket processing.
Features such as knowledge base software reduce the effort and time used by agents and clients to resolve issues.
Agents can focus on more urgent issues. As a result, nothing falls through the cracks, and issues are solved very efficiently. Such organized customer service will leave customers satisfied with their experience and thus boost customer retention and loyalty.
Customer satisfaction survey templates
Customer satisfaction survey templates provide a structured framework for gathering customer feedback, saving you significant time and effort. You can customize the questions according to your needs.
The following example is a template that poses the standard question, "How satisfied are you with our customer service?"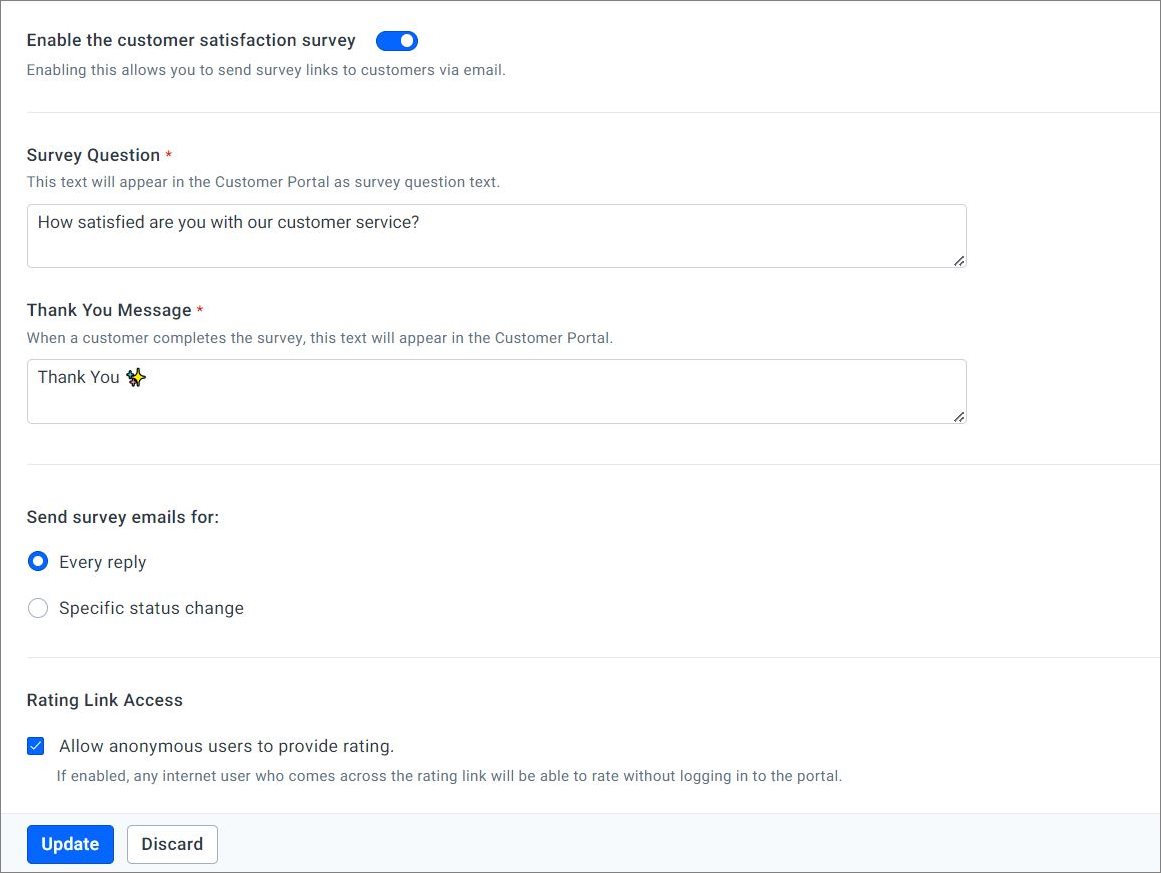 Templates give you the option to customize the rating scale to provide your customers with a variety of response choices.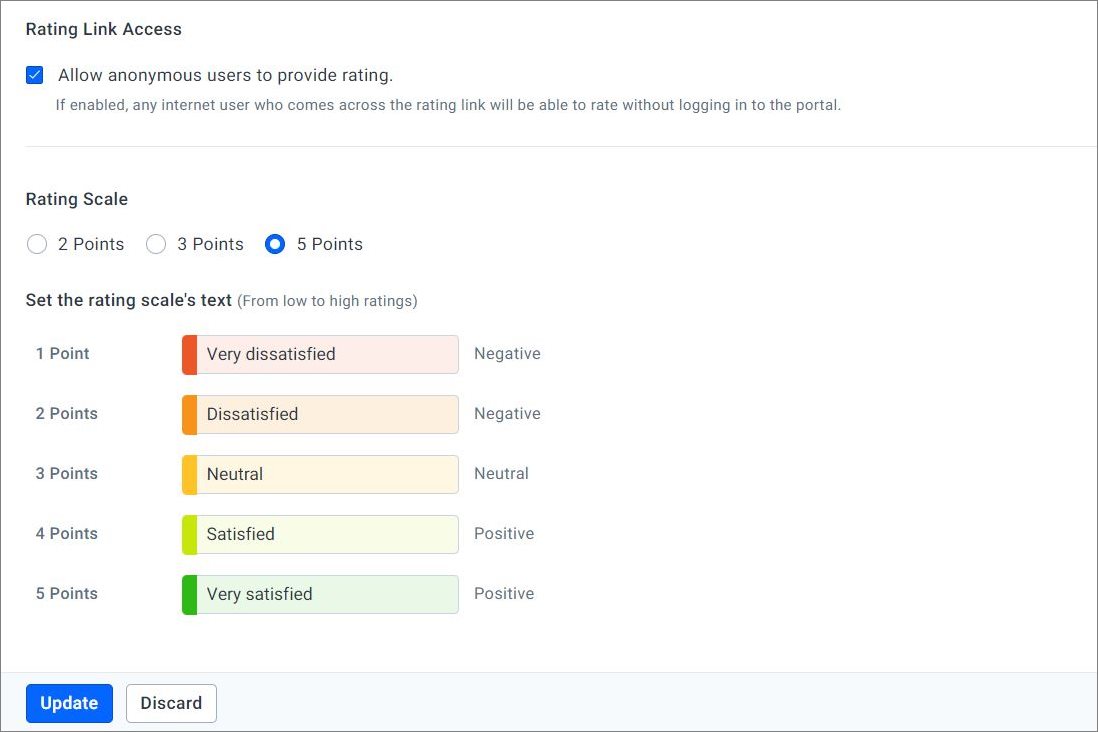 Customer satisfaction survey examples
Let's examine some customer satisfaction survey examples from popular brands to give you some ideas of how best to implement your own customer feedback surveys.
SubWay
Subway sells customized, made-to-order sandwiches through an enormous network of franchised outlets worldwide.

Subway's customer satisfaction survey uses a combination of questions with 10-point Likert scale responses and follow-up questions that appear after the customer responds to an initial question.
The follow-up questions have predefined responses that customers can select from a dropdown list.

Delta Airlines
Delta Air Lines provides air travel services to passengers and cargo.

Some of the factors that affect the satisfaction of Delta Air Lines customers are the conduct of flight attendants, the comfort of seats, in-flight entertainment, and meals.
Delta Air Lines uses short yet detailed customer feedback questions for its passengers to assess the satisfaction of passengers with the services provided by flight attendants.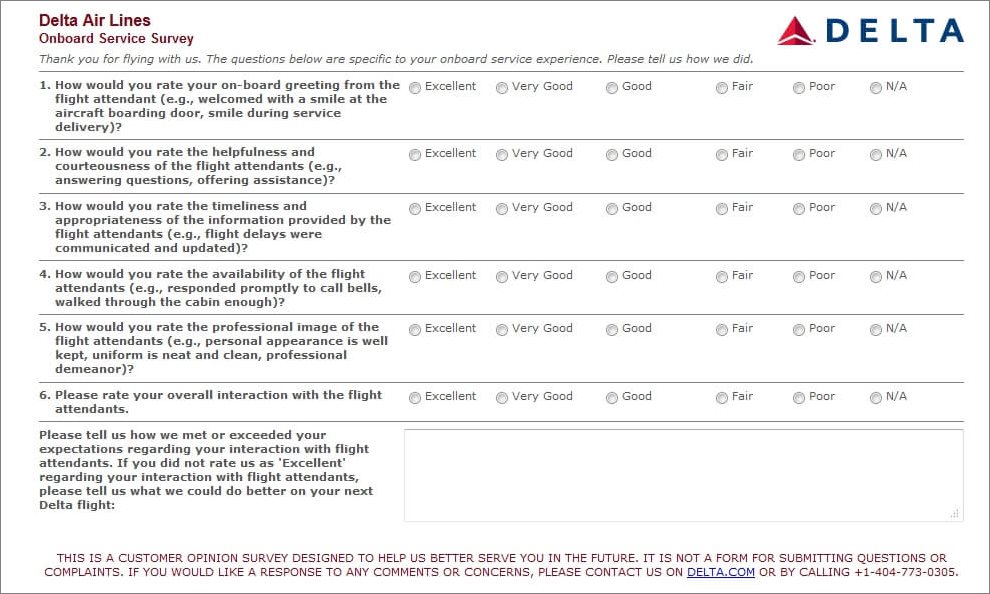 Namecheap
Namecheap provides affordable domain name registration, hosting, and other web services.

After concluding a customer support session, Namecheap sends feedback questions to determine the customer's satisfaction score and net promoter score.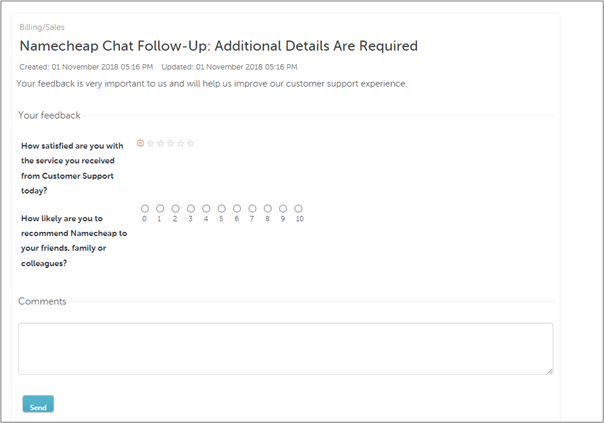 The survey also has a comments box where users can elaborate on the rating they provided.
Airbnb
Airbnb allows users to book overnight stays in locations all over the world.

Airbnb hosts rely on customer feedback to build the reputation of their units and boost their credibility.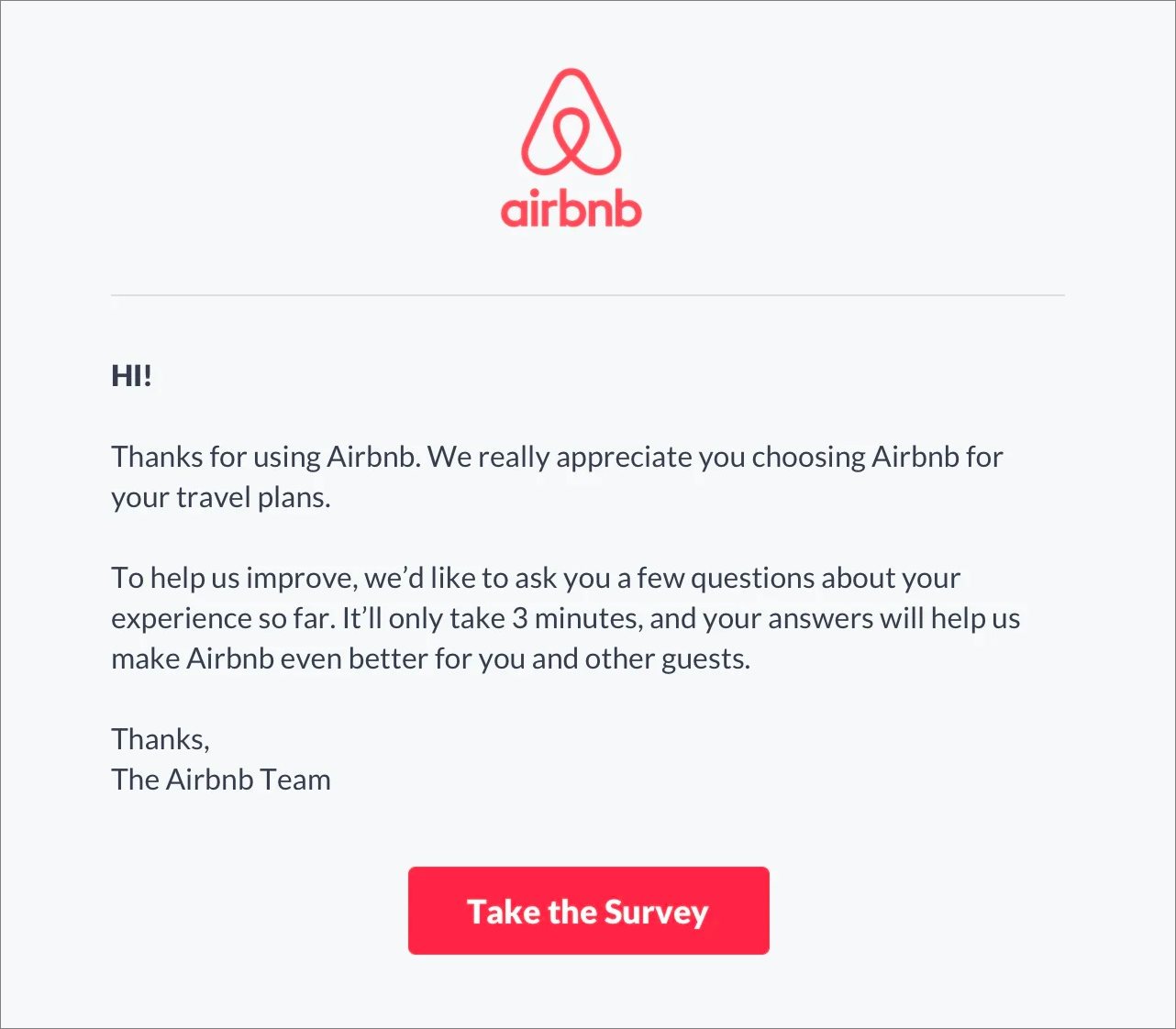 In the Airbnb customer satisfaction survey, a series of questions with predefined answers lets the customer narrow down the feedback they want to provide. After that, the customer is given a text box where they can expound on their feelings.
Netflix
Netflix is a streaming service that offers a wide variety of TV shows, movies, and more.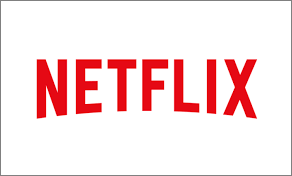 Netflix studies customer behavior to recommend personalized entertainment content. It periodically collects customer feedback including ratings, likes, and dislikes, to improve its offerings.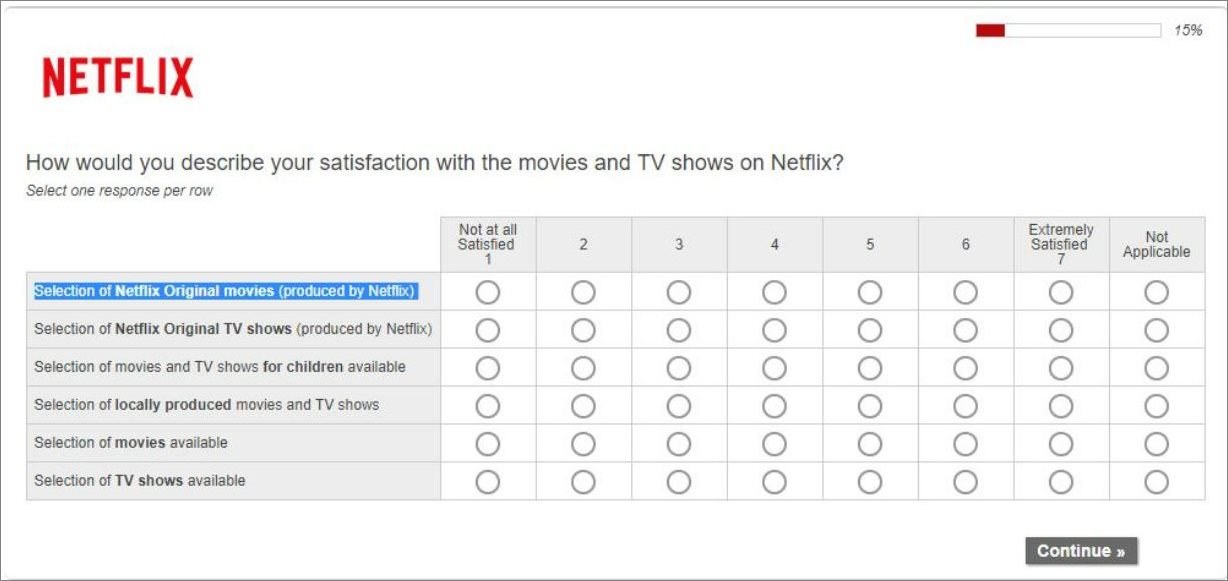 In this customer satisfaction survey, Netflix uses a few brief questions with responses based on a Likert scale. Each question is succinct to collect precise feedback on very specific categories of Netflix's products.
Conclusion
It is important for any business to create customer satisfaction questionnaires to obtain feedback from both pleased and irate consumers, which can guide you to offering a better product.
With this in mind, we built customizable, user-friendly customer satisfaction survey features into BoldDesk that enable you to gather detailed feedback with ease to improve your offerings.
Contact us to schedule a live demo to experience BoldDesk's feedback capabilities. Or, try out our free trial with instant access.
Related articles