Getting genuine feedback from clients, whether positive or negative, has a major impact on the growth of a business. Companies should make an effort to offer the best customer service experience and satisfy their customers to the best of their ability.
Customer satisfaction can be described as a metric used to gauge the happiness level of customers with a company's offerings and abilities.
Data on customer satisfaction, such as surveys and ratings, can assist a company in identifying the most effective ways to enhance or modify its products and services.
Providing your customers with CSAT customer satisfaction surveys is the best way to know how they view your company and the products or services you offer.
In this blog, you will learn about:
Scenarios under which you can use them.
The benefits of using the BoldDesk CSAT survey to get feedback from your customers.
When should you send a CSAT survey?
Customers should receive survey questions after support agents complete certain processes for them, such as resolving their issues or after they interact with them.
Here are some of the common events that can prompt sending CSAT customer satisfaction surveys to clients to gauge their view on the customer service they experience:
After a client completes certain key procedures
For instance, you can send new clients CSAT survey questions about how their on-boarding process was. Their responses will help the support team know its level of efficiency and identify areas to improve on.
Before customers renew their subscription
It is ideal to send CSAT surveys to customers before they renew their subscription. It helps to identify areas in the product or service that need improvements.
Actions can then be taken to ensure customers will not experience the same issues after renewal.
Once agents resolve or respond to ticket issues
After tickets are resolved or responded to, the tickets are closed. Upon closing, a CSAT customer satisfaction survey question can be automatically sent to the customer to rate the service provided, the response rate of the agent, or both.
After interactions with the customer support team
After interacting with customers, such as getting information about customers and their issues in detail, support agents should send CSAT surveys. These allow clients to give their feedback based on how well the agent interacts and collects information from them.
Advantages of using BoldDesk customer satisfaction surveys
BoldDesk has a CSAT survey feature that any support team can use to improve the customer service they provide to their clients in many ways, such as:
1. Obtaining client feedback using a simple numerical rating scale
BoldDesk uses a numerical rating scale method to collect feedback from clients. This method allows the clients to rate their experiences under three satisfaction levels: positive, neutral, and negative.
According to a Microsoft study, 77% of consumers have a more positive perception of brands that actively seek and welcome customer feedback.
BoldDesk allows agents to customize survey questions to send to their clients. They can also customize the rating text that will display, based on their needs.

In BoldDesk CSAT surveys, there are three types of rating scales. You can customize the rating scale content based on your unique survey case. The rating scales are:
2-point rating scale
3-point rating scale
5-point rating scale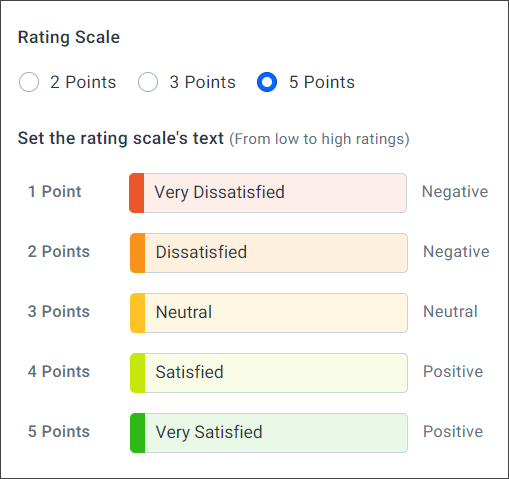 This rating method is very simple, easy to use, and easy to understand. It saves time and reduces the chances of survey bias and failure of clients to complete the survey questions.
2. Providing customers a chance to give detailed opinions about your services
Customers are free to give their feedback and explain their experiences in detail in the comments section, which is under the rating scale. The comment section is optional.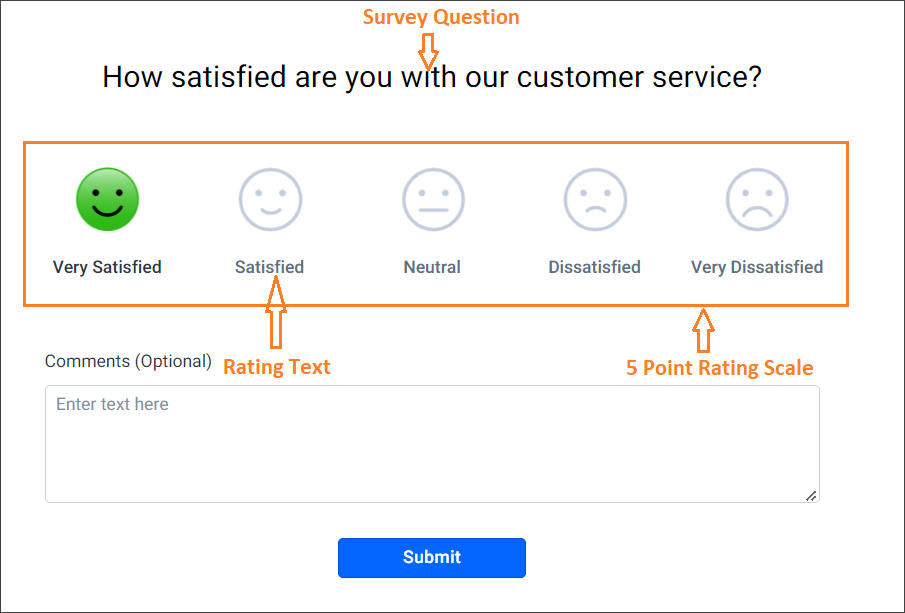 The feedback provided in the comment section helps a company in the following ways:
Enables agents to understand and address precise concerns and needs of customers better.
Provides insight on products or services that need to improve to satisfy the customer.
3. Drawing insightful conclusions from survey data (survey reports)
The BoldDesk CSAT survey reports feature in BoldDesk allows the support team to collect and measure the feedback from customers in real time. Support team leads can then promptly analyze the feedback and determine the experiences of clients.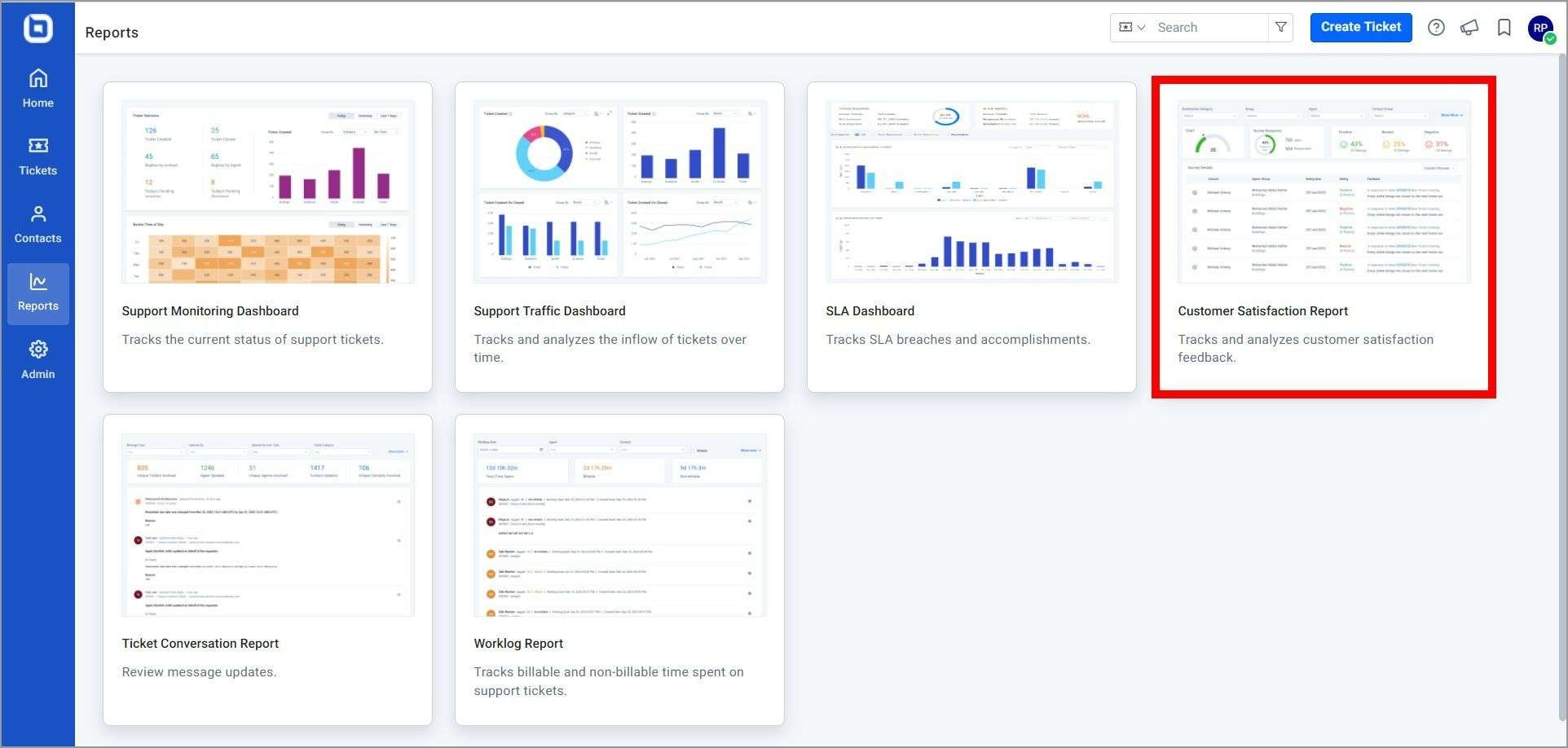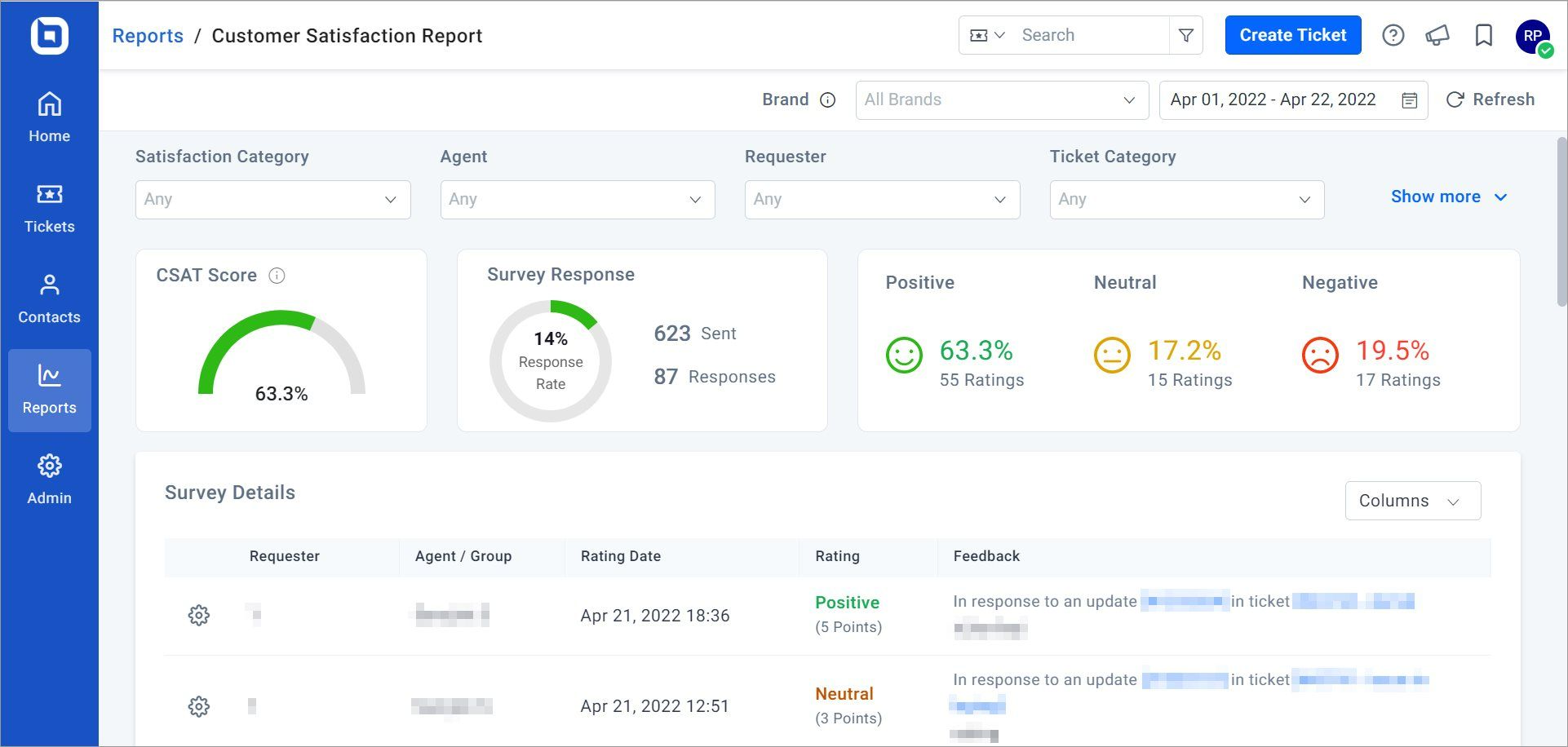 This helps identify areas the support team or others in the company need to improve on and helps identify steps that can be taken to enhance their product, services, or support.
4. Controlling when to include surveys in emails
The BoldDesk CSAT survey feature gives agents an option to send survey links to clients via email. Agents can choose to send survey emails after every email reply or after a specific change in status.
For instance, once an agent resolves a ticket issue and the ticket is closed, a client will receive a survey email where they can provide feedback. Often, follow-up survey questions help a company make improvements on products or services.
5. Giving anonymous users a chance to share their opinion
With BoldDesk CSAT surveys, any potential client that visits the website or comes across its rating link online can rate the product. The user can rate their customer service experience without the need to log in to your support portal first.

This is a strategy to show potential clients just how customer-focused the company is. As a result, it increases their trust in the brand of the company and encourages them to purchase your product or service.
6. Sending automated alerts and notifications based on feedback
BoldDesk CSAT surveys are automated to send alerts and notifications to the right groups or support leads regarding negative or positive feedback.
An alert on negative feedback helps leads work on resolving their problematic areas to avoid future complaints. On the other hand, notifications on positive feedback motivates agents to keep up the good work.
7. Categorizing data based on CSAT reports
Advanced filter options are available to CSAT customer satisfaction reports to categorize data based on satisfaction ratings by clients. The various filters that are listed in the category field will determine the data to be displayed.
These advanced filter options make it easy for agents and support leads to identify and separate issues by the type of feedback they provide.
This helps support agents focus their efforts on required areas and helps them know the next steps to take to improve customer experiences in the future.
Types and common examples of CSAT survey questions
There are some common survey queries that most businesses use. Asking the right questions helps clients provide the best feedback in detail.
Companies can utilize a range of customer experience surveys to gather customer feedback. Each type of survey offers distinct customer insights and should be applied at a particular stage in the customer experience lifecycle.
Visit our CSAT types and examples blog to explore the types of surveys and a list of common CSAT survey questions that support agents often send to their clients.
Conclusion
Companies that collect, measure, and analyze feedback from customers using customer satisfaction surveys in BoldDesk gain great insights.
These insights contribute in many ways to their main goal, which is to improve the customer service experience for their clients. Agents also need to consider when to send survey questions to maintain the trust and loyalty of customers.
BoldDesk offers the best customer satisfaction survey tool to ensure any support team gets feedback from its clients with ease. Try our BoldDesk free trial for first-hand experience with the best help desk survey tool.
If you have any questions, feel free to contact BoldDesk support for assistance. To explore how BoldDesk can be tailored to meet your business needs, please contact us to schedule a live demo.
Related blogs
Benefits of tracking customer satisfaction with helpdesk
 How to collect and use a customer feedback survey
 10 Popular Customer Satisfaction Survey Questions in Customer Service