AI has recently shown immense potential in transforming the way businesses engage with their clients. Successful businesses leverage AI customer experience capabilities to better understand customer needs and provide exceptional service at every touch point.
It is not just about selling anymore; it is about creating experiences that make customers feel valued, understood, and well-catered to. This blog will explore the ways you can harness AI for customer experience to deliver outstanding customer service.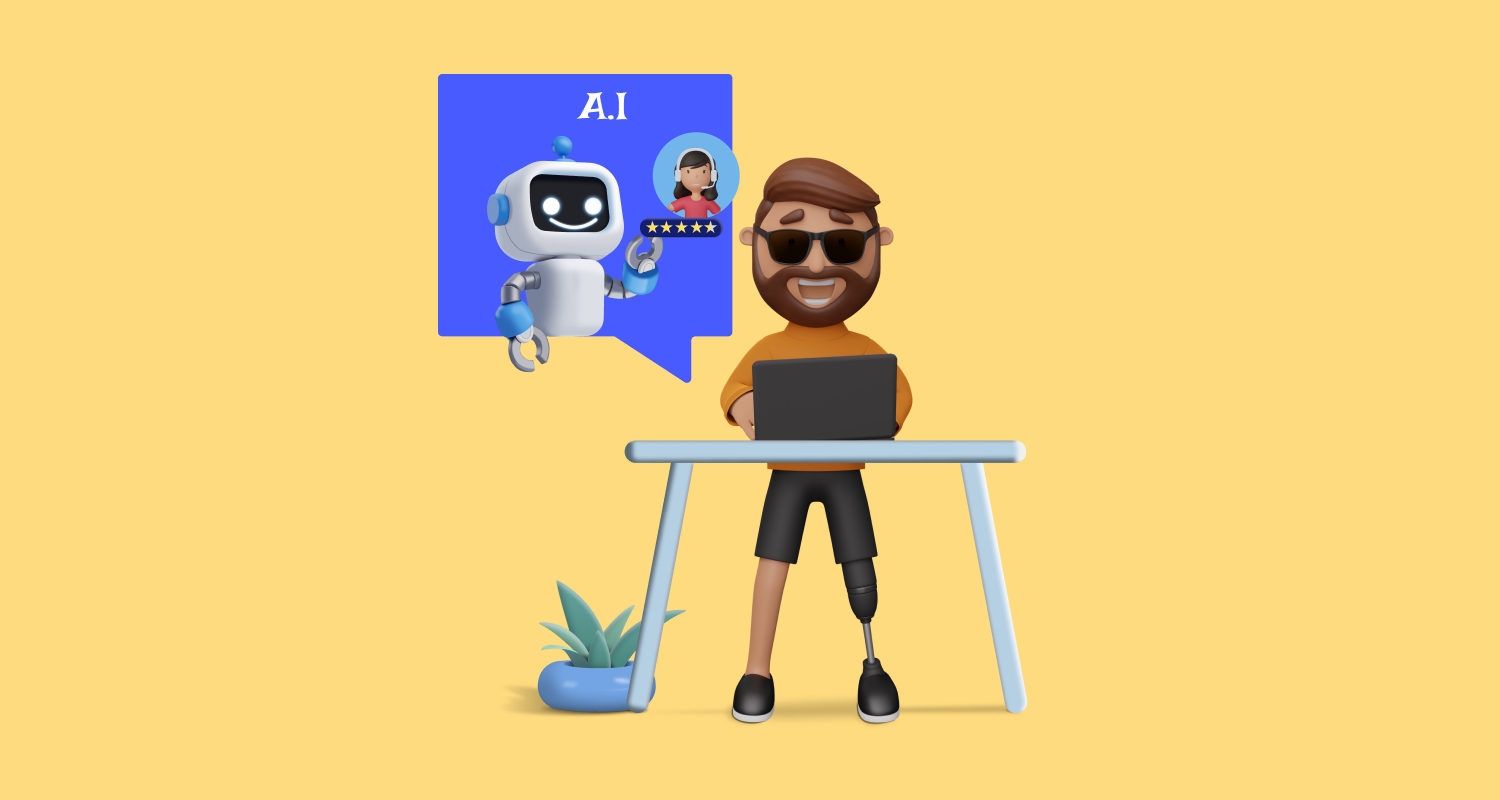 What is AI for customer experience?
AI for customer experience is the practice of using artificial intelligence technologies like machine learning (ML) and natural language processing (NLP) to improve user interactions and provide an enhanced user experience.
AI enhances the efficiency and productivity of support teams by automating repetitive tasks and forecasting customer behavior.
This helps businesses effectively identify and overcome customer issues, thereby providing first-class customer service that not only fosters customer loyalty but also maintains a competitive edge.
Ways AI can improve the customer experience
Each encounter you have with customers can significantly influence their perception of your brand. A study by PwC revealed that one in three consumers will walk away from a brand they love and switch to a competitor after just one negative experience.
The following are ways you can leverage an AI customer experience to improve how you interact with customers.
1. Foster effective self-service
The usability of a knowledge base (KB) can be enhanced significantly with the use of AI. AI-powered knowledge bases leverage the following AI assist features:
Summary tools—Generate brief overviews of extensive knowledge base articles.
Translate tools—Translate content into multiple languages to facilitate knowledge transfer.
SEO title and meta description generators—Suggest optimized article titles and meta descriptions for better SEO performance of the KB articles.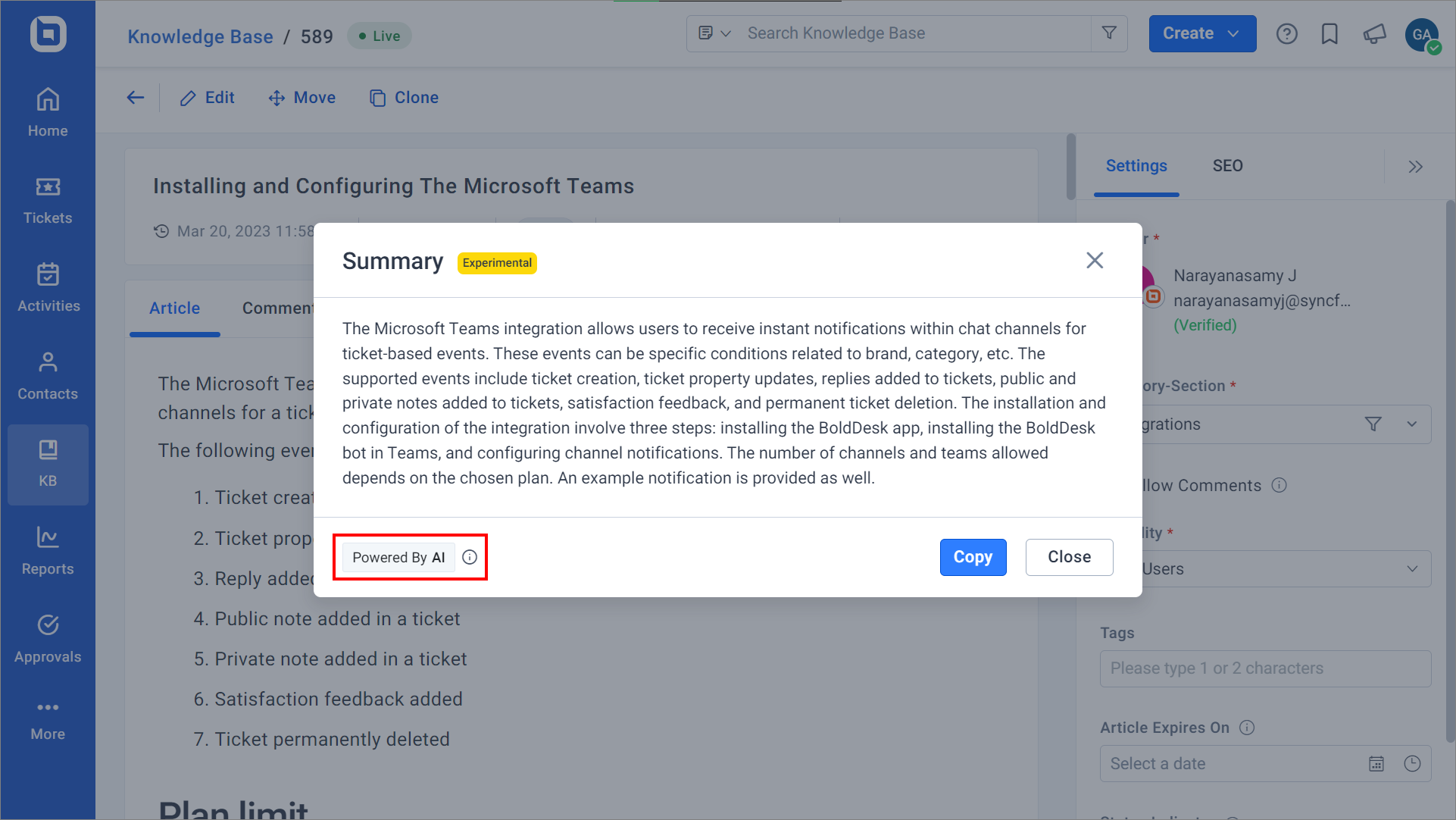 AI also analyzes keywords in user search patterns and automatically suggests appropriate articles from the knowledge base that they might find useful.
As a result, customers can swiftly retrieve the specific information they are looking for, saving time and effort.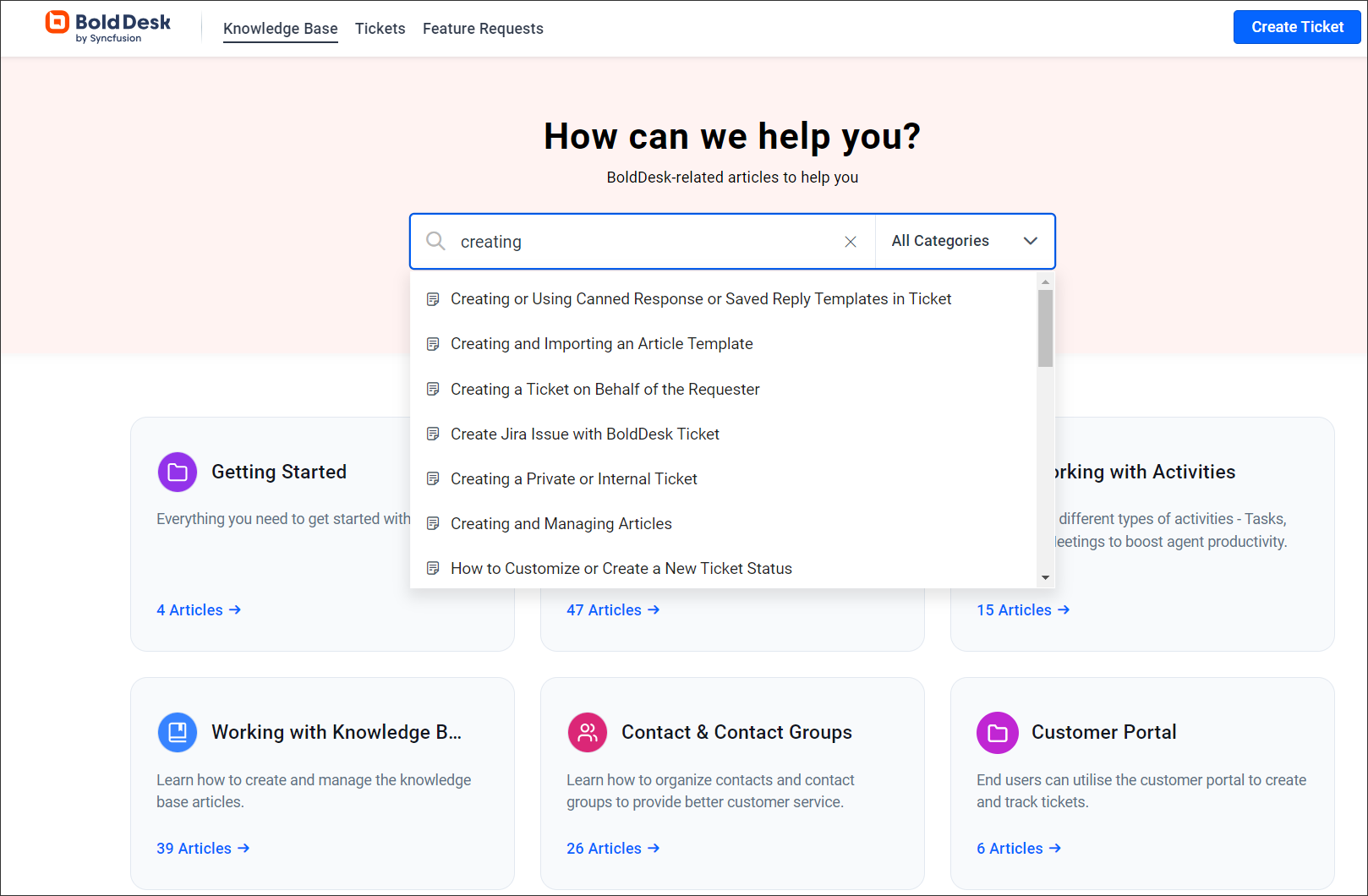 2. Provide fast response and resolution times
Support teams can swiftly respond to customer issues through AI-powered help desk management software. It begins by automatically converting support emails into tickets during the ticket creation process.
It then scans the content of incoming tickets, assigns predefined tags, categorizes, and automatically assigns or auto-routes them to appropriate agents or agent groups.
In addition, customer experience AI tools enhance SLA compliance by automating the process of tracking and managing tickets, ensuring prompt detection and escalation of any SLA breaches or delays.
3. Provide error-free, professional responses
Effective communication is vital for delivering an exceptional customer experience. Customer experience AI tools enable businesses to provide professional responses that help manage customer expectations, solve problems, and build stronger relationships.
It improves the quality of agent responses using the following AI assist features:
Rephrase tool: Rewrites text to provide professional content. Agents can choose to rephrase ticket replies into either standard, fluent, or professional formats.
Elaborate tool: Expounds on text to make it longer. Agents can also choose the preferred tone and length of the reply.
Shorten tool: Deletes unnecessary words and phrases to deliver the text's meaning succinctly.
Correct grammar tool: Analyzes text and eliminates grammatical errors.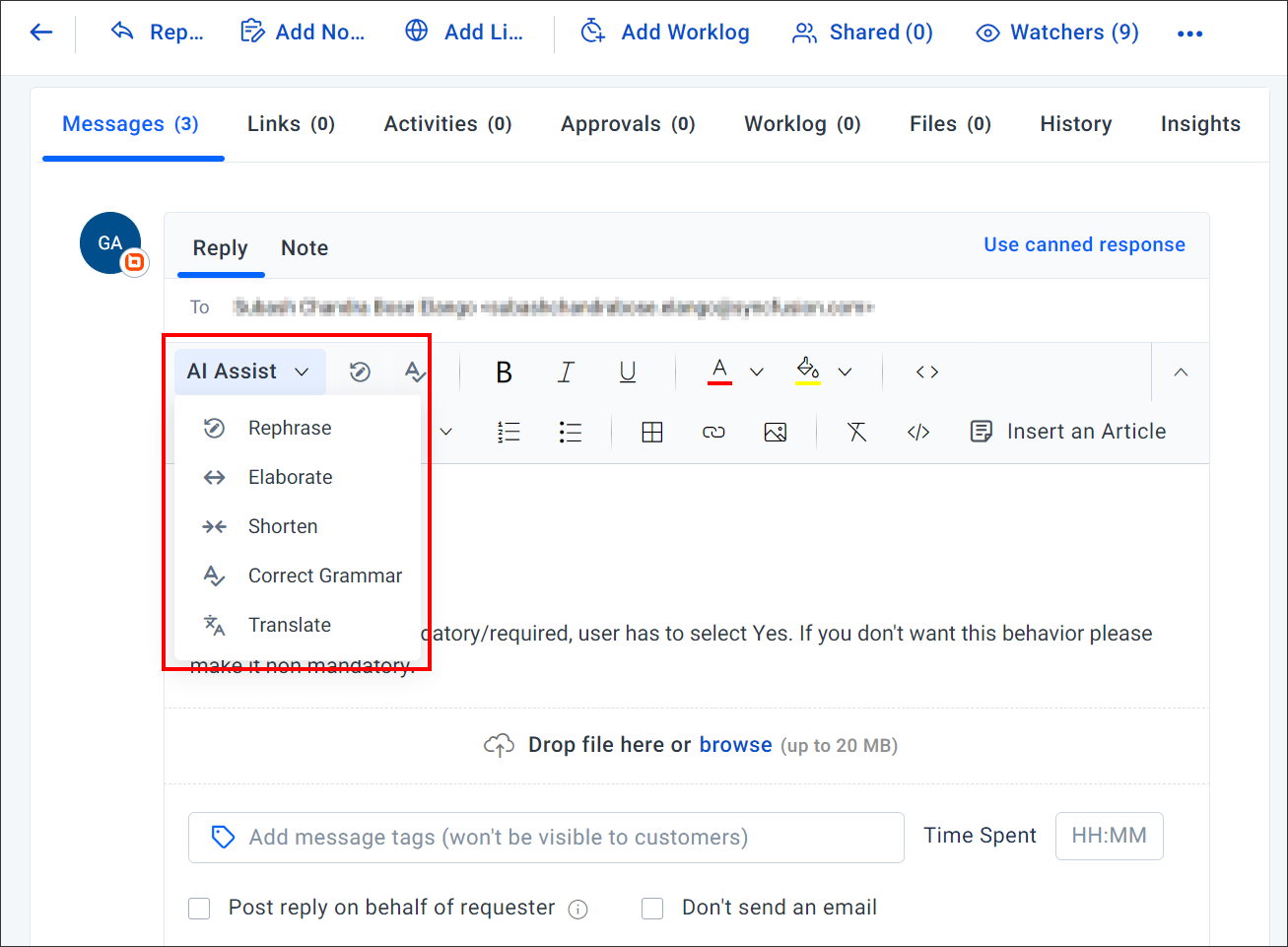 An AI assistant also analyzes ticket content and proposes the most appropriate canned response.  This ensures that responses remain consistent and professional, irrespective of the support agent handling the issue.
4. Identify customer pain points
The likelihood of clients continuing to purchase from your brand significantly increases when they receive customer experiences improved by AI.
Customer experience AI tools play a crucial role in this by evaluating extensive customer data, including demographics, purchase history, and individual preferences, to gain a deeper understanding of customers.
A sentiment analysis feature, for example, scrutinizes customer feedback to uncover the intent and emotional undertones. This assists customer service teams in pinpointing the issues that have the most significant emotional impact.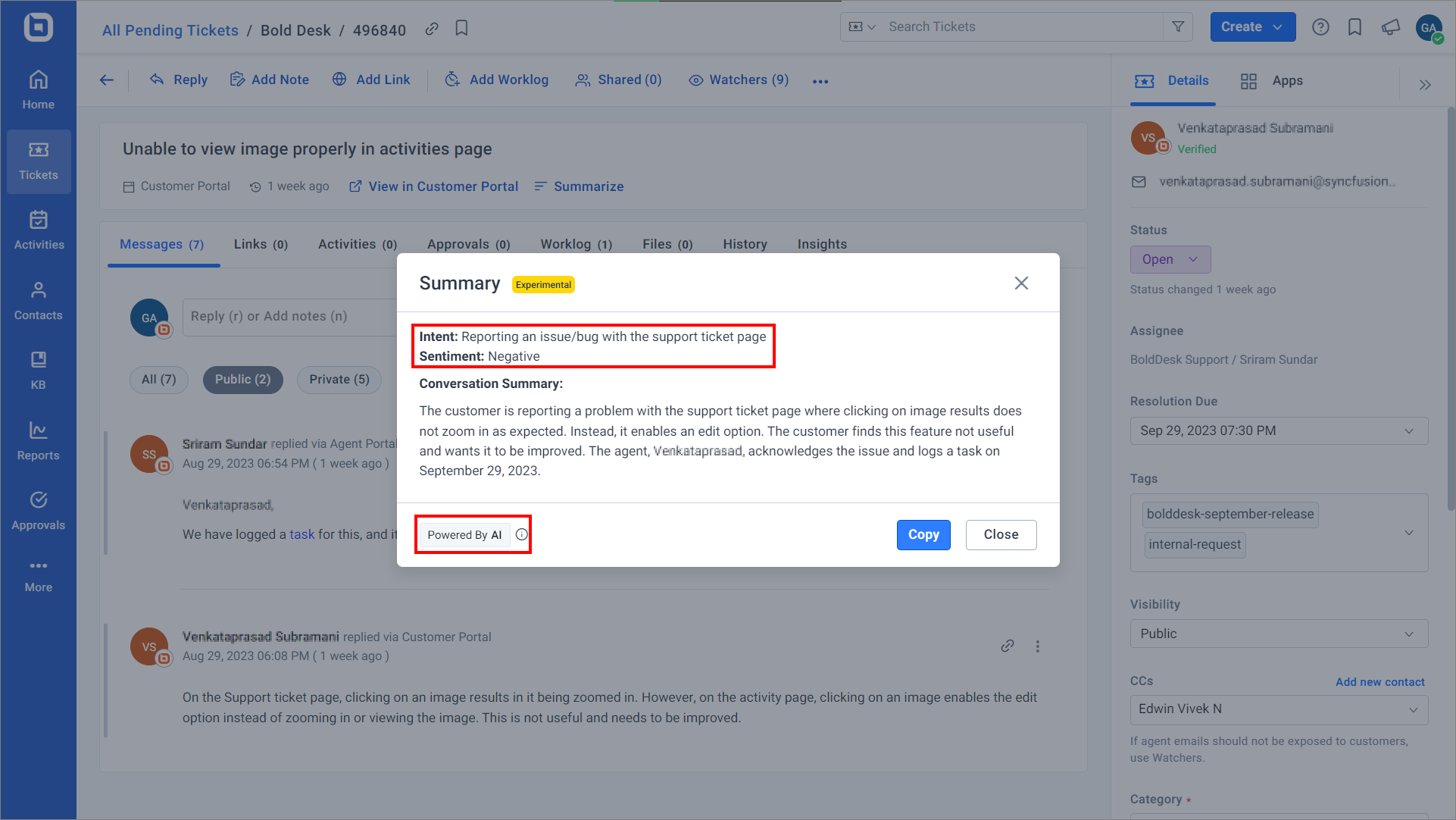 These valuable insights can guide strategic decisions to enhance the customer experience by changing products and services to match customer preferences.
5. Proactively address customer needs and potential issues
The ability to predict future customer behavior and needs is a powerful advantage for businesses.
AI for customer experience employs predictive analytics that analyzes trends, patterns, and correlations in historical and real-time data to predict future outcomes.
This knowledge can then be used by businesses to prepare for and potentially influence those future events. Predictive analytics can help businesses:
Foresee customer needs in order to design appropriate products, services, marketing strategies, and website navigation.
Understand and manage factors that influence customer behavior.
Foresee future risks and take preventative action before these issues arise.
Identify potential opportunities and seize them ahead of competitors.
6. Provide a multilingual customer experience
AI can be used to break language barriers in real-time. It can make use of a translation tool, which automatically recognizes and translates text from support tickets, knowledge base articles, customer feedback, websites, and social media into the language preferred by your end-users.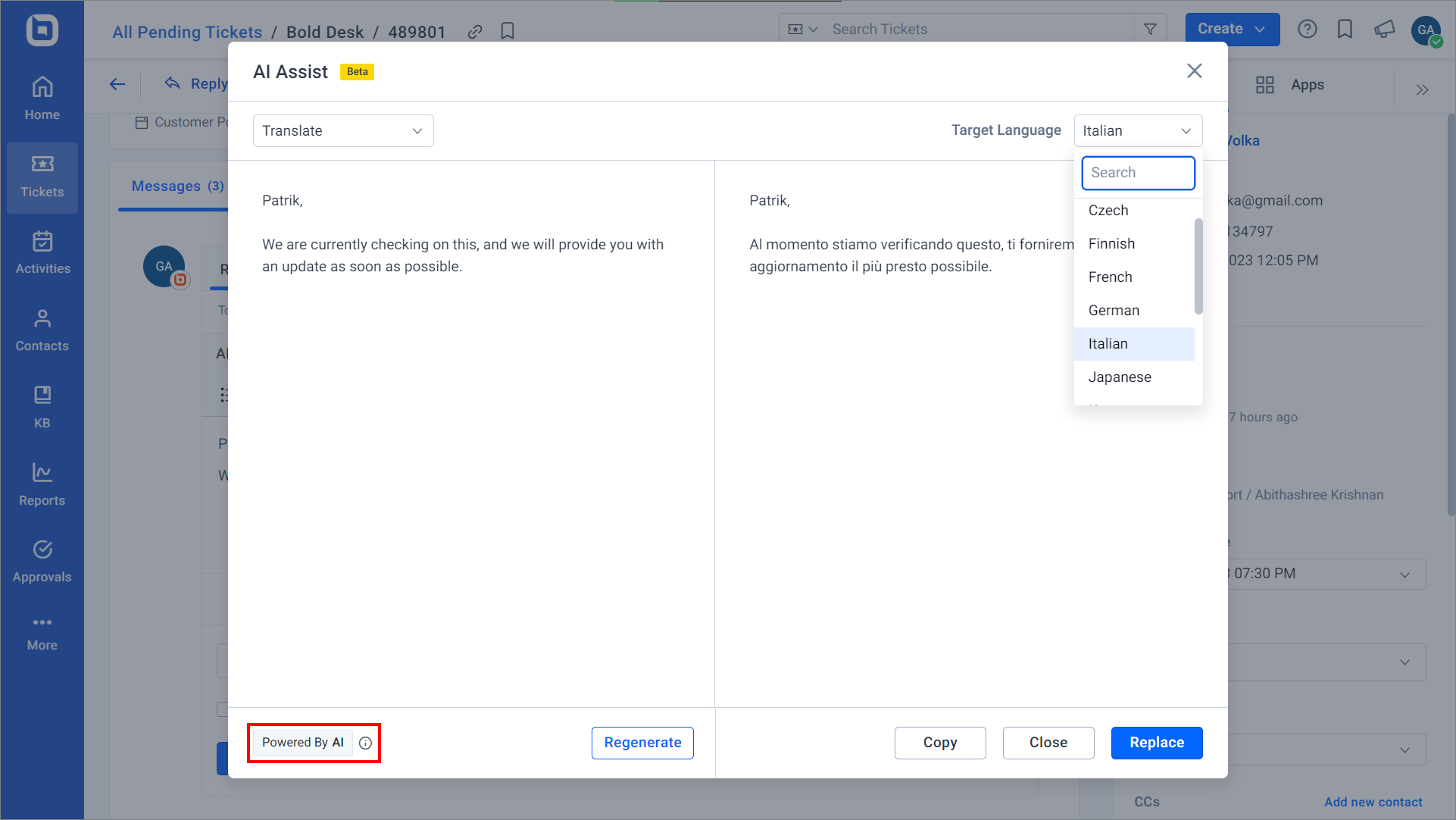 Apart from scaling your support system to serve a global audience and enabling customers to view the help center in their preferred language, a multilingual help desk also helps you:
Foster clear customer communication.
Eliminate potential misunderstandings.
Reach new markets.
Improve your customer support.
7. Conduct advanced data analysis
Customer experience AI tools can analyze customer data to produce comprehensive reports on customer behaviors, preferences, and satisfaction levels.
They also evaluate important help desk metrics that aid managers in tracking help desk performance and making informed decisions.
The insight from the visualized data can subsequently be used to enhance processes, products, and services, guaranteeing a consistently outstanding customer experience.
AI for customer experience examples
Let's now examine some AI for customer experience examples from real brands.
Netflix
Netflix, a popular streaming platform, utilizes artificial intelligence for customer experience in its intelligent recommendation system.
Upon signing up, AI collects data from users about their favorite genres and content and uses this information to customize the home screen.
The AI-powered system then analyzes individual customer search and viewing history, habits, patterns, and preferences to suggest and auto-play personalized movies and TV shows that align with their interests.
This advanced personalization enhances the user experience, ensuring that Netflix remains a market leader in the highly competitive streaming landscape.
Amazon
Amazon, the leading online retailer, heavily relies on AI for customer experience in its operations.
One way it uses AI is for providing personalized recommendations, allowing customers to discover products that they might be interested in based on their browsing history, past purchases, and items rated or liked.
AI is also used in Amazon Go stores for a cashier-less shopping experience, where it tracks customers and the items they pick up, automatically charging their Amazon account when they leave the store.
Spotify
Spotify is a renowned music streaming platform. It employs sophisticated artificial intelligence for customer experience to deliver personalized playlists for its users.
The AI scrutinizes each user's listening history—their most frequently played songs, favorite artists, and preferred genres—and generates a distinctive and personalized playlist.
This approach not only elevates the user experience by offering curated music suggestions but also amplifies user engagement on the platform.
Embrace AI for customer experience to unlock your potential
As AI for customer experience continues to advance, we anticipate even more significant improvements in customer service and business performance. Companies that do not adopt this technology risk falling behind in the rapidly evolving world.
Check out BoldDesk, advanced help desk software that harnesses AI to elevate the customer experience. Get in touch with us to set up a 30-minute live demo to see what you can accomplish with BoldDesk's AI-powered customer service features. Or sign up for a 15-day free trial today.
Recommended reads