A company's successful growth depends on creating loyal customers by following certain customer retention strategies. A first step to high customer retention is to find the reasons why customers are turning away from your company. This lets you generate focused strategies to form loyal customers who will purchase your products often. Moreover, you can learn what features of your offerings excite and encourage your customers.
Maintaining an old customer is more cost-effective than acquiring new customers. With this in mind, we will go through some strategies and metrics you can track for customer retention.
What is customer retention?
Customer retention is an organization's ability to hold on to customers after they approach your brand, product, or service. Retention of customers reflects how well the organization, and its offerings satisfy customers.
Difference between customer acquisition and retention
Customer acquisition describes the procedure of or efforts to attract new customers to a company's products or services. This usually involves marketing efforts.
Conversely, customer retention occurs after the customers approach you. Your goal is to form customer loyalty and promote repeat business once they make a purchase.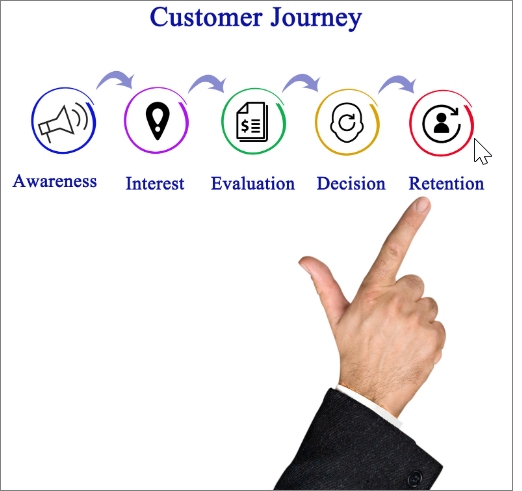 Important tactics to improve customer retention
Customer retention strategies will change and develop continuously as your company grows. Here are some practical concepts for improving customer retention:
1. Analyze customer surveys regularly
Sending out surveys and analyzing them regularly, as customer retention strategies, help you understand how customers perceive your brand and inform your steps to improve. For example, NPS (net promoter score) surveys estimate a customer's likelihood of endorsing your product or service. You'll understand better how much of your business is coming through word of mouth and why.
The CSAT score exposes the quality of support service you provided your customers. A CSAT survey occurs after a ticket resolution to gather customer opinions. Generally, it requests customers rate their support experience on a scale ranging from very satisfied to very bad. This helps agents improve their service. In fact, good customer support leads to higher retention of customers.
2. Implement customer service tools
In the starting stage of your company, you have a small number of customers and customer issues. Later, the arrival of more customers makes your number of customer issues grow, too. Therefore, everything done manually will take time, and you need to put more effort into handling these situations. To overcome this, you can adopt customer service tools like help desk software to maintain an efficient workflow in your support team.
Help desk software streamlines urgent issues and lets your team fix them in a timely fashion. Moreover, it aids team collaboration, which improves your support team efficiency. Quicker response and resolution times will drastically reduce your churn rate.
3. Educate your customers
Educating your clients can make your clients' experience with your products smooth and pleasant. Having no or poor instructions on your product's usage can frustrate your customers. Besides, customers will value your effort to ensure their purchase is easy to implement and thus, remaining loyal for many years.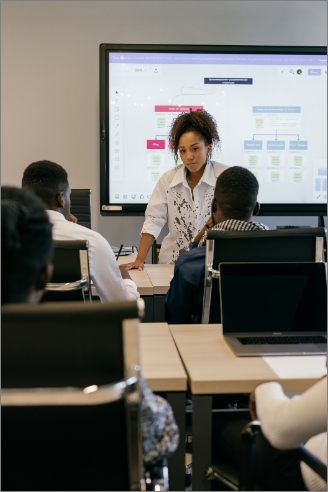 Additionally, let customers educate themselves by providing a knowledge base. If you provide adequate instructions and tips on your website, they can solve their issues on their own and feel self-sufficient, too. Accordingly, tutorials, documentation, life hacks, and forums are all great ways to keep customers informed. Then, customers may continue using your product or brand for long.
4. Provide customers an easy way to contact you
A consumer is already having a less-than-ideal experience when they ask for assistance or ask a question. So, don't make things worse by making them figure out how to contact you.
Make it incredibly simple for customers to contact you, either by prominently displaying contact information on your website or by including a support link on each page. Therefore, this enables your customers to request assistance from anywhere.
5. Improve your customer support
Most customers repeat the same product or service when they have a positive experience with its customer service. Purchasing a product or service with a new company is always a risk. Therefore, you must prove to your customers that you back up your offerings by providing excellent customer service. They will know going forward that, even if they do have issues, they can rely on your company to sort them out.
Additionally, you have to ensure a fast response to customer inquiries. You can meet the communication expectations of your customers by properly training your staff and monitoring their performance with benchmarks.
Benefits of customer retention
There are many ways to benefit from the customer retention strategies:
Reduce customer acquisition cost.
Learn more about your target customers.
Increase the purchase value of each sale.
Increase referrals and loyalty.
Create a more stable revenue stream.
Customer retention metrics
Different metrics for retention of customers help you analyze which method reaches your customers more. Using these metrics, you can decide which customer retention strategies to emphasize with your work force. First, let's see some of the metrics that help you to realize the strength of the current customer base.
Customer retention rate
Evaluates the capability of an organization to hold on to its customers for a specific period of time.
How to estimate customer retention rate
To estimate the customer retention rate, set the time period you want to measure (last year, quarter, month, week) and collect the number of customers:
At the start of the time.
At the end of the time.
Newly arrived during the time.
Formula: Customer retention rate = (Number of customers at the end of the period – newly arrived customers)/Customers at start of the period*100.
Customer lifetime value (CLV)
CLV denotes the total predictable revenue a customer will bring throughout their dealings with a business. CLV enables you to determine a customer's potential lifetime value rather than just the value they bring at the time of their initial purchase.
How to calculate customer lifetime value (CLV)
Calculate the averages of the following:
Customer lifespan
Purchase value
Number of purchases
Multiply the average purchase value by an average number of purchases, and then multiply the obtained value by the average customer lifespan.
Formula: Customer Lifetime Value (CLV) = (Average Purchase Value * Average Number of Purchases) * Average Customer Lifespan
Customer satisfaction
A customer satisfaction survey states a customer's level of satisfaction with your brand, product, or service.
How to calculate customer satisfaction (CSAT)
To calculate the CSAT score, gather the number of positive responses and the total number of responses obtained from customers.
Formula: CSAT Score = (Positive responses / Total responses) * 100.
Customer attrition rate
This rate describes the number of customers a company loses over a certain period of time. They no longer use the company's product or service.
How to calculate attrition rate
To compute the attrition rate, take the number of customers your company has left at the end of the time period and divide it by the number of customers at the start.
Formula: Attrition Rate = (Total number of customers left / Total number of customers at the start of the time period) * 100
Net promoter score
A net promoter score (NPS) gauges your customers' desire to recommend your product, brand, or service.
How to calculate net promoter score (NPS)
Estimate your NPS by subtracting the percentage of detractors from the percentage of promoters in your customer feedback.
Formula: NPS = Percentage of promoters – Percentage of detractors
Conclusion
Use these customer retention tactics as a roadmap to develop customer experiences that increase retention so that both your customer base and your revenue continue to grow.
Help desk software enhances the capacity of the retention of customers for your organization. Moreover, it helps you send quick responses to your customers, resolve customer issues fast, analyze your customer support data, and get accurate customer feedback.
Sign up for a free trial with BoldDesk to see how you can show excellent customer care to your clients every time they reach out to you.
For any questions, please contact us through our support system, built on BoldDesk.