Customers often look through a company's online self-service tool first when they seek solutions to their issues or questions.
Given that 92% of clients claim they would utilize a knowledge base if it were available, top-tier knowledge base undeniably lays the groundwork for successful self-service strategies.
It is, therefore, important for a company to create a knowledge base that will provide these customers with the necessary answers and solutions.
In this blog, we'll discuss the main steps for creating informative articles that will best serve customers and the support team. In addition, you'll learn the elements to include in your self-service platform as well as the importance of having an effective tool for self-service purposes.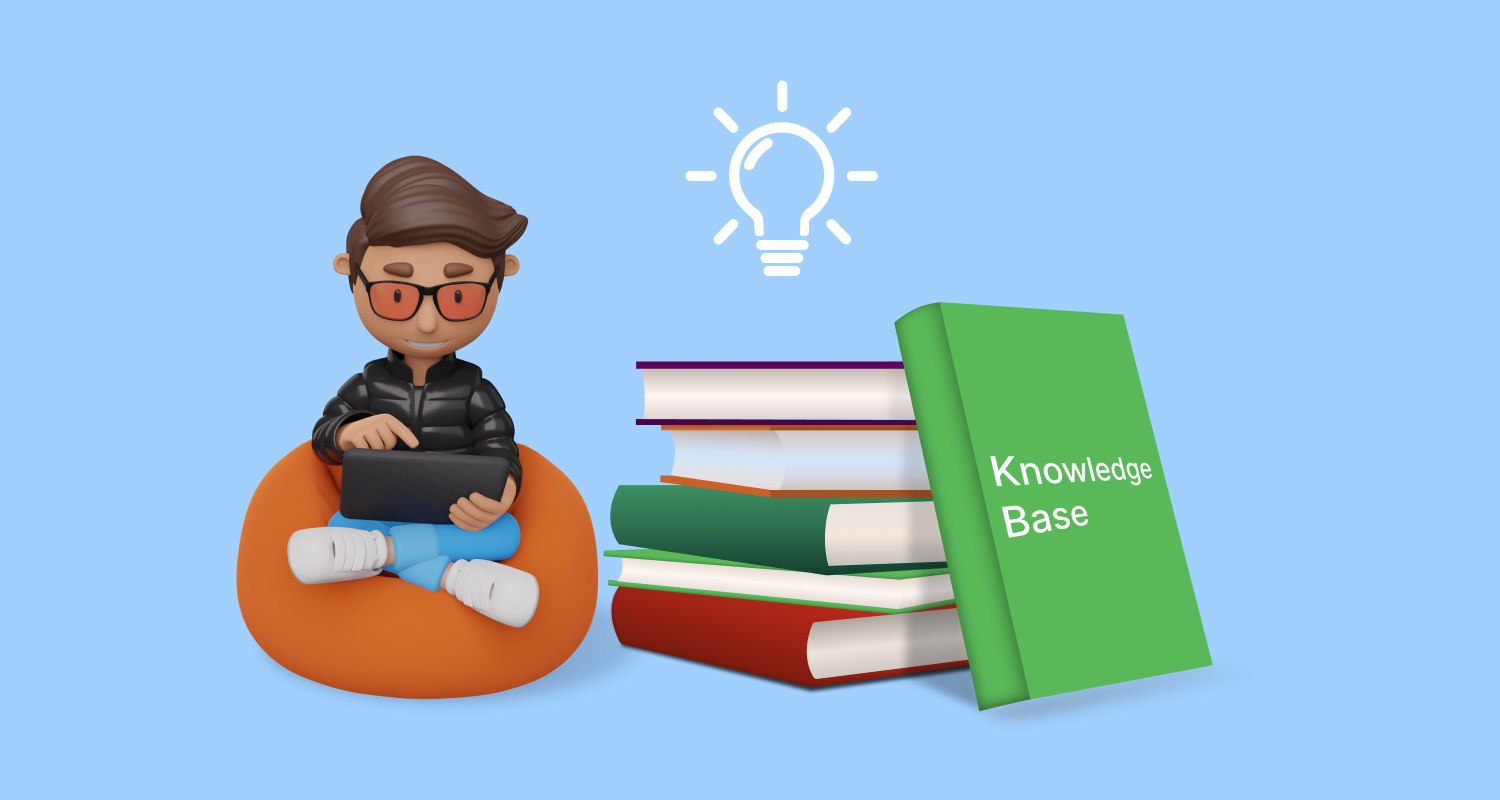 What is a knowledge base?
A knowledge base is defined as a self-help tool comprising helpful information about the products and services offered by a company. This information is stored in one central repository and helps customers resolve issues on their own. An internal knowledge repository is a reference point for the customer service team on additional information regarding a company or its brands.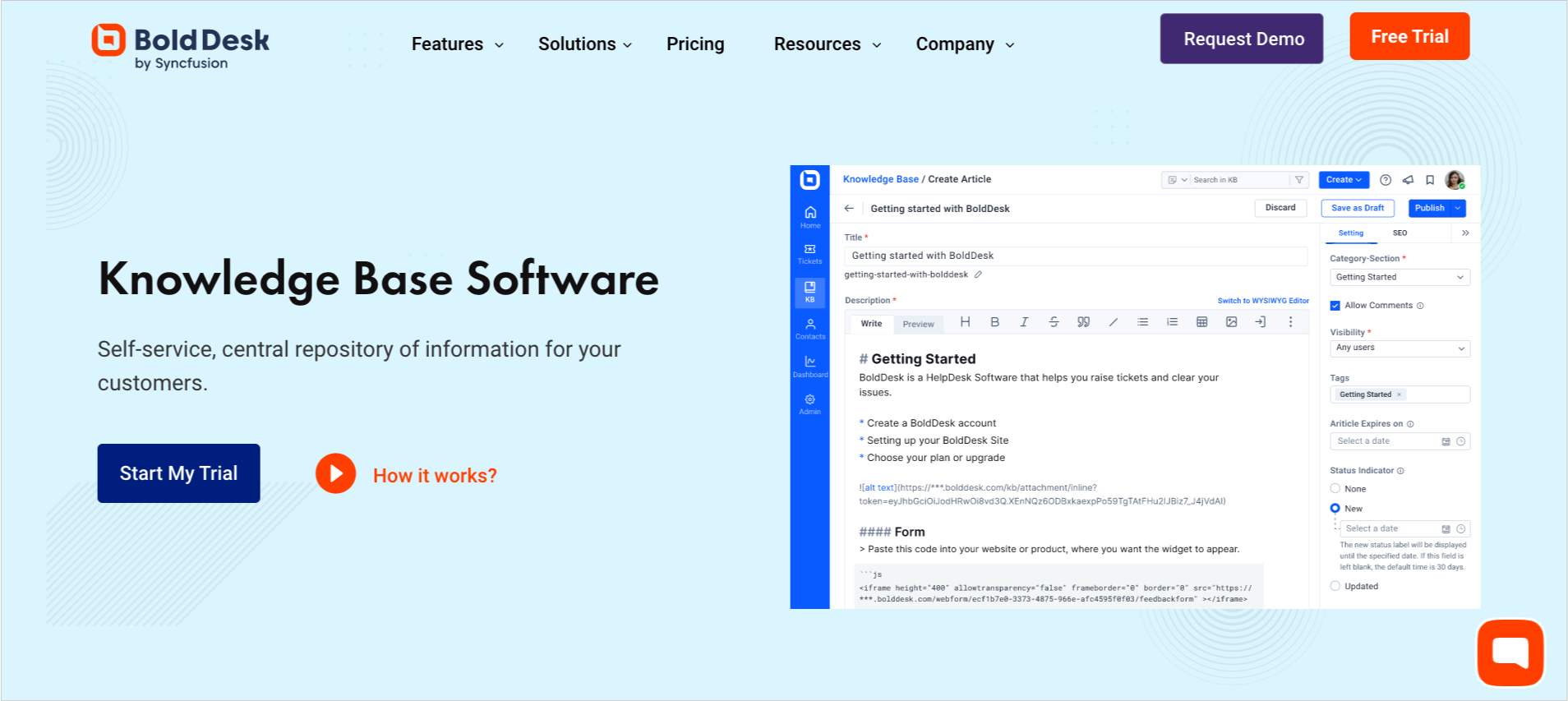 Businesses mainly build a knowledge base as an online resource center for customers and support teams to have easy access to useful information on company products and services.
Main elements to consider in your knowledge base
When you build a knowledge base, consider including the following main elements for optimum results.
Frequently asked questions page
How can you relieve your support team of giving repetitive answers to different clients with the same question? With a frequently asked questions (FAQs) section, your clients can get answers to common questions without contacting your team.
When clients have a question or need clarity on an issue, they visit the FAQs section first for fast answers. They only contact your support agents if the answer they seek has not been addressed in this section. This FAQs section reduces tickets and allows agents to focus on more complex issues.
Company support team contact options
Whenever clients are unable to resolve issues on their own, they will need to reach out to the support team for assistance. This is where the Contact Support option comes in. It is vital to include it in all your articles or content to make it easy for clients to contact your support team.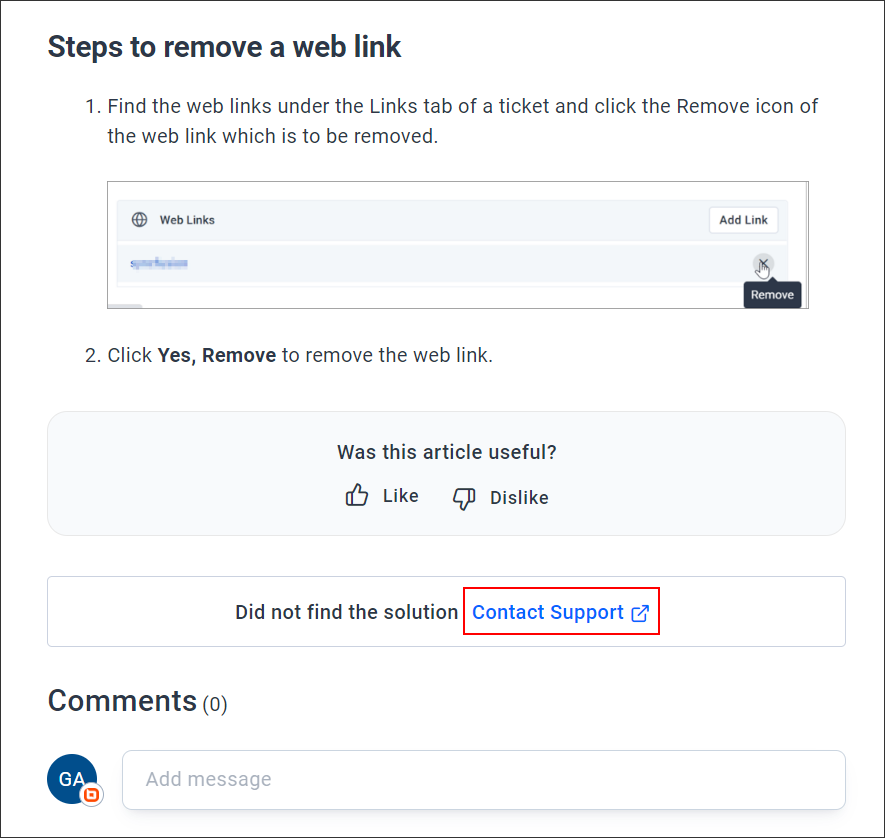 This option gives clients a personalized customer service experience. In addition, it reduces the resolution time. It also increases customer satisfaction due to the ease of access.
Search text box option
Optimize your knowledge base with an instant search function to make it easy for your customers to search through the information with keywords. Imagine how fast it will be for clients to get answers if they use this easy navigation tool. It saves them time and effort.
How-to videos
When you create a knowledge base, include videos where possible. Videos demonstrate practically how different features of a product function and give directions on the right way to use them.
For instance, here is a sample knowledge base article that includes a how-to video.
These demos make it easy for clients to use the products without contacting the support team for help.
Benefits of building a knowledge base
Having an effective self-service tool that provides helpful information to your customers is very important.
The following are the benefits that you can reap when you create a knowledge base:
Improved productivity
Providing a central information repository makes it easy for agents to access solutions. Knowledge base features such as search and auto-suggest make the hunt for information fast and easy.
Also, building a knowledge base empowers clients to resolve issues on their own, allowing agents to focus their efforts on more urgent tasks.
Preserves the knowledge of the organization
A well-documented knowledge base allows businesses to retain valuable information even when an experienced employee leaves.
Promotes collaboration among staff
A knowledge resource promotes collaboration by enabling staff members from various departments to contribute and update information as required.
It encourages teamwork and facilitates problem-solving as colleagues work together to identify and document effective solutions.
Seamless knowledge transfer to new staff
Another advantage you get when you create a knowledge base, you help bridge knowledge gaps by providing new employees with reliable guidance, thereby eliminating the need for constant consultation with senior employees.
Helps deliver more consistent customer support
Regardless of an agent's level of experience, a knowledge base can serve as a reliable support source, contributing to a consistently exceptional customer experience.
Provides users with 24/7 access to useful information
Another advantage you enjoy when you create a knowledge base is providing users with round-the-clock, location-independent access to resources and solutions. This allows them to find answers to common problems even when support agents aren't available.
Simultaneously, this knowledge base equips agents with all the necessary resources and information, enabling them to operate from anywhere and at any time.
How to create a knowledge base effectively
A study by IBM reported that companies with a well-established knowledge base are 3 times more likely to innovate and grow rapidly than those without. Thus, it is important to carefully create a knowledge base for it to be effective.
Let's explore the best practices you should consider when you build a knowledge base:
1. Define the purpose of your knowledge base
Do you want an effective knowledge base? First, and most importantly, define your purpose! How can you know what to include in your knowledge base if you don't even know why you need it?
With that said, it is important to set clear goals before you start to create a knowledge base. Important details like the audience you aim to reach with your knowledge base will determine what to cover.
Purpose of different types of knowledge base:
Internal knowledge bases include documents not meant for the public's eyes as well as unedited technical information that may be difficult for a general audience to understand.
On the other hand, an external KB could contain solutions for current customers or more general information for potential customers.
With a clear purpose, your team will have a seamless process when they build a knowledge base and publish it.
2. Prepare the design and structure
Deciding on the right design and structure to best present your content for your audience is an important step. The information should be organized in a simple manner that end users can easily find. Separate your content into categories and further subcategorize based on the different data types and purposes. Think out your internal links. This makes navigation easier.
In addition, the design you decide on should be relevant and easy to use. Clients should find the chosen structure and design to be user-friendly. As a result, it will allow them to have easy and fast access to the information they need.
3. Choose the topics or content to cover
Which topics should you cover, and in what order? To know the right topics to cover:
Identify popular and trending topics
Firstly, check the trends on the most searched topics on your website or on the Google Analytics tool. With this analytics tool, you can get insight into the most searched and trending topics in your field. You can have an overview of which keywords most people are searching for. This will help you choose more general topics to include in your self-service portal.
Track common ticket issues
Secondly, go through your ticket history list and check for the common issues that need to be addressed.
Involve support team
Lastly, you can ask the support team for the most recurring customer issues and questions that can be resolved or answered using articles.
The most common issues give you an insight into the topics that you should cover first when creating knowledge base articles. For instance, if tickets on password resetting are the most common, consider writing an article called "How to reset your password" to address that issue.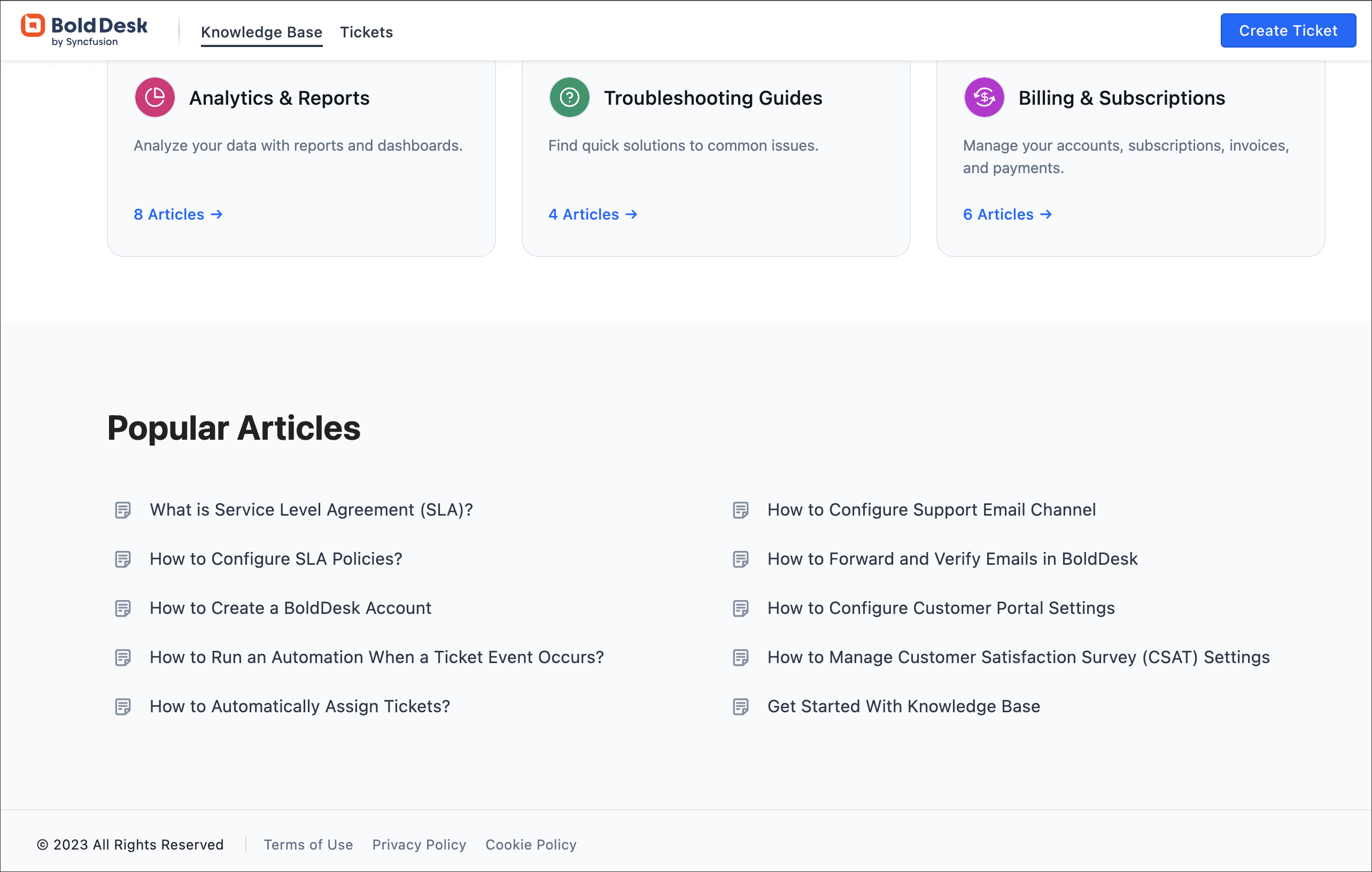 Remember, it is ideal to start with the basic information, followed by how-tos from the start-up process, and finally fixes to specific issues. This will ensure you cover all the important and essential content.
4. Provide simple content to reach all audiences
Make sure the content you write for an external knowledge base is relevant and comprehensible for any type of audience, knowledgeable or not. Explain to them in the simplest language possible. Avoid jargon. Make them understand the entire content very well for the information relayed to be useful to them.
From the title you choose to the introduction and, finally, the topics and subtopics, make them very simple and logical. Give your readers an easy time reading through articles and understanding the information they contain.
Where possible, add links to related articles to the content being written to give readers more information on the current topic of discussion.
5. Include visuals when creating knowledge base content
What can you do to make your content more audience-friendly? Consider adding attractive visuals such as images, videos, GIFs, and graphs or charts where they'd be good complements to your text.
Take screenshots of related pages from the company website and include them in the article you create for clarity. Such visuals make customers understand the information better and increase their engagement with your knowledge base page. Additionally, makes your content more attractive.
6. Make your content SEO optimized
How can people find your knowledge base articles online and discover your brand or company?
Optimize your self-service repository
First, optimize your knowledge base to make it easy for interested users to find your articles on your website.
Index your knowledge base
Second, index your self-service portal using the right search engine optimization (SEO) tools. This will make your articles visible to any internet users browsing in popular search engines like Google.
Use keywords
Third, ensure you include keywords for each article. Any internet users looking for information on topics like the ones you have published should find your article in the list.
Add the knowledge base link
Lastly, make sure to add your self-service portal's link to any platform you get an opportunity to. The more places you include your link, the higher the audience reached. This is a great marketing strategy for your brands. A great informative article can be all that a potential client needs to get on board and do business with your company.
7. Evaluate, maintain, and regularly improve your articles
Gauge how your articles perform by analysis of the client's feedback and clicks. Check data reports to see the number of users who read them. Gain insight into what users think of the content. Was the information provided of any use to them? This insight will help you know what your clients need and, thus, the topics to cover.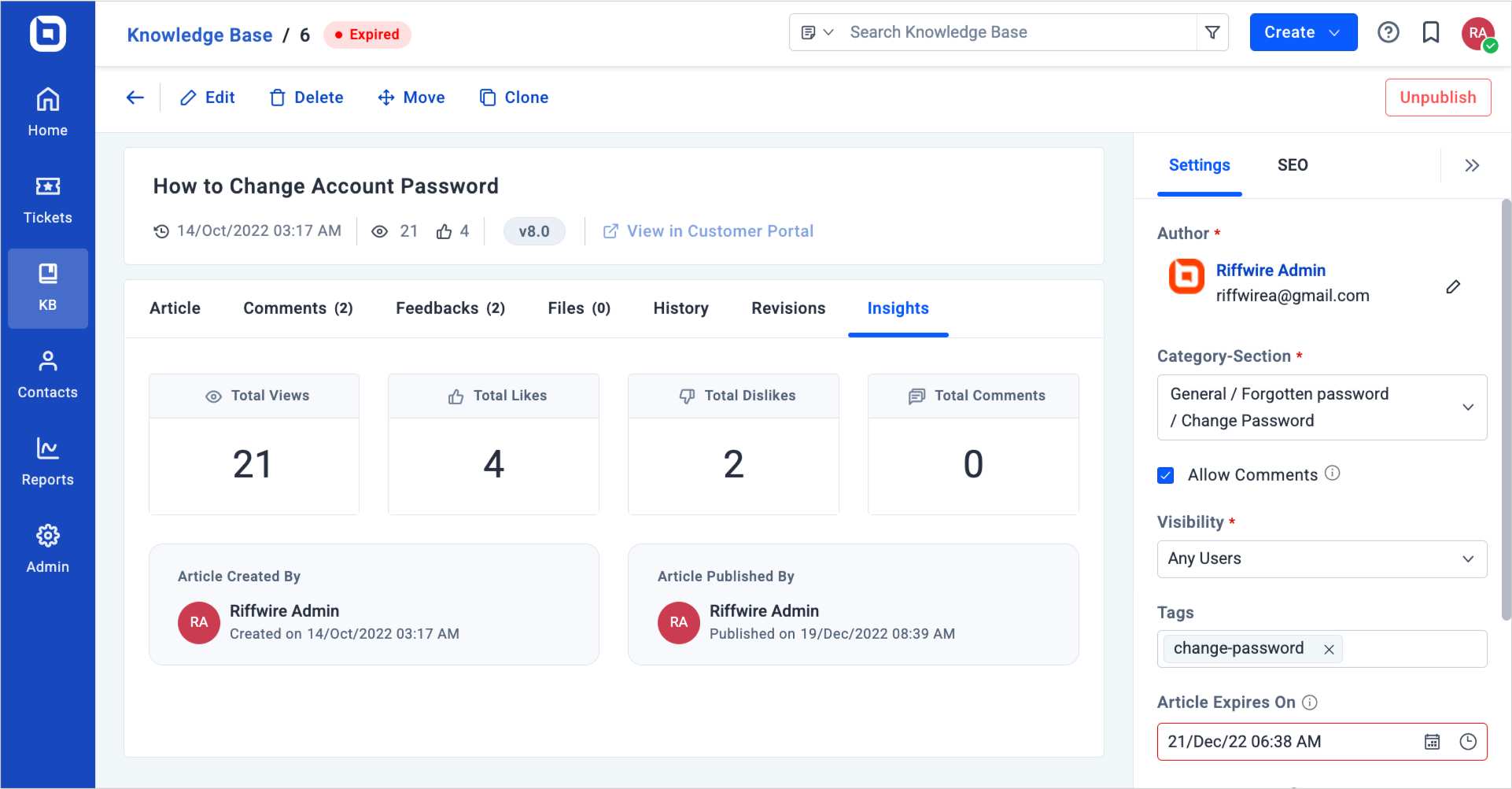 With every new improvement made in your products, ensure you update the articles in your self-service tool as well. The content should always be current. This will ensure the information stays relevant to the end users.
Take the first step in creating your knowledge base!
Follow the guidelines in this blog to create a knowledge base that is relevant and informative for self-service purposes. With your knowledge base, provide your audience with relevant and helpful information and improve their satisfaction with your company.
BoldDesk provides an effective customizable knowledge base software for your clients and support team. Contact us to schedule a 30-minute live demo to experience the best tool for your support team and customers. You can also begin a 15-day free trial to discover how BoldDesk's features can be customized to meet your business's needs.
Recommended reads
3 Simple Knowledge Base Article Templates
7 Proven Best practices to improve your knowledge base
7 Essential Knowledge Base Metrics for Enhancing Self-Service