As businesses expand and progress, they may encounter new challenges and opportunities that require them to adapt and evolve their operations. This can include changes to their customer support requirements, where they may need to provide more personalized assistance to their clients. To meet these changing needs, customer support departments need to be flexible and responsive. Help desk customization is a key strategy that can help you achieve this goal. In this blog, we'll explore the help desk software customization options within BoldDesk and how they can be tweaked to adapt to your requirements.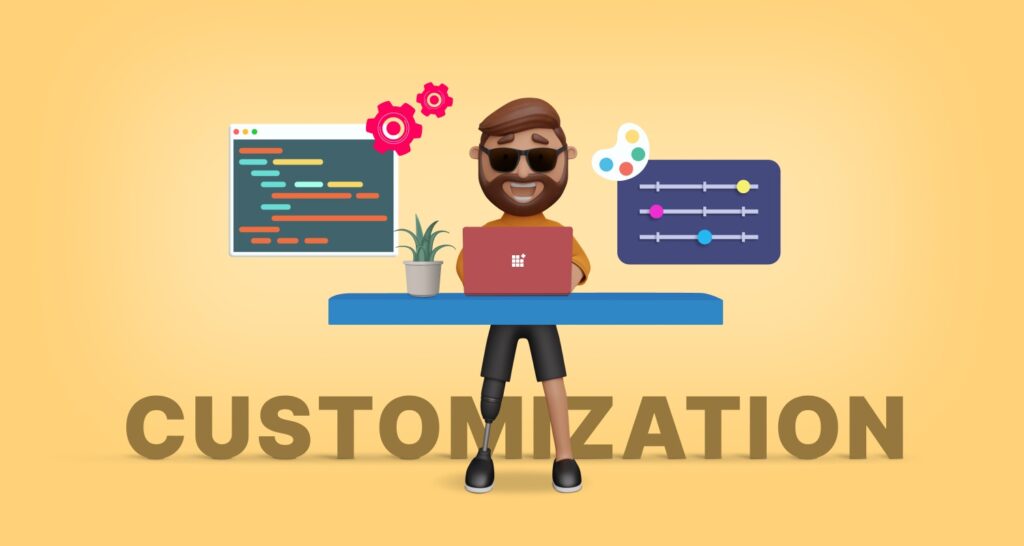 Reasons you should implement help desk software
When you're running a business, you have numerous responsibilities and tasks to manage simultaneously. Part of converting your business into a smooth running, well-oiled machine is providing top-quality customer service.
This is where help desk software comes in. It offers a wide range of tools that enable businesses to not only optimize their customer service processes but also give their agents the necessary resources to deliver outstanding support.
A customizable help desk solution will help you manage and track customer inquiries and requests, automate customer service workflows, and provide agents with access to a centralized knowledge base that contains information on common issues and solutions.
Explore more benefits that a help desk can offer your business in our blog.
Help desk software customization features available in BoldDesk
BoldDesk provides a wide range of personalization options that are aimed at boosting effectiveness and elevating user experience. Here are some of the features that the customizable help desk solution lets you adjust to match your business needs to guarantee smooth integration and peak performance.
1. Create customized agent roles and permissions
Creating customized agent roles and permissions allows businesses to tailor the support system to their specific needs. It also helps to improve security by limiting access to sensitive customer data to those who need it. Customized roles help streamline support operations by ensuring that tasks are assigned to the appropriate agents, reducing confusion and delays.
BoldDesk provides pre-established system roles such as account owner, support administrator, support manager, and agent. It also allows you to create custom roles for your team members. You can assign a name and description to a role, select the necessary permissions to be assigned to the role, and assign the created role to an agent. You can set up profiles for administrators and executives, as well, and determine the degree of access for each.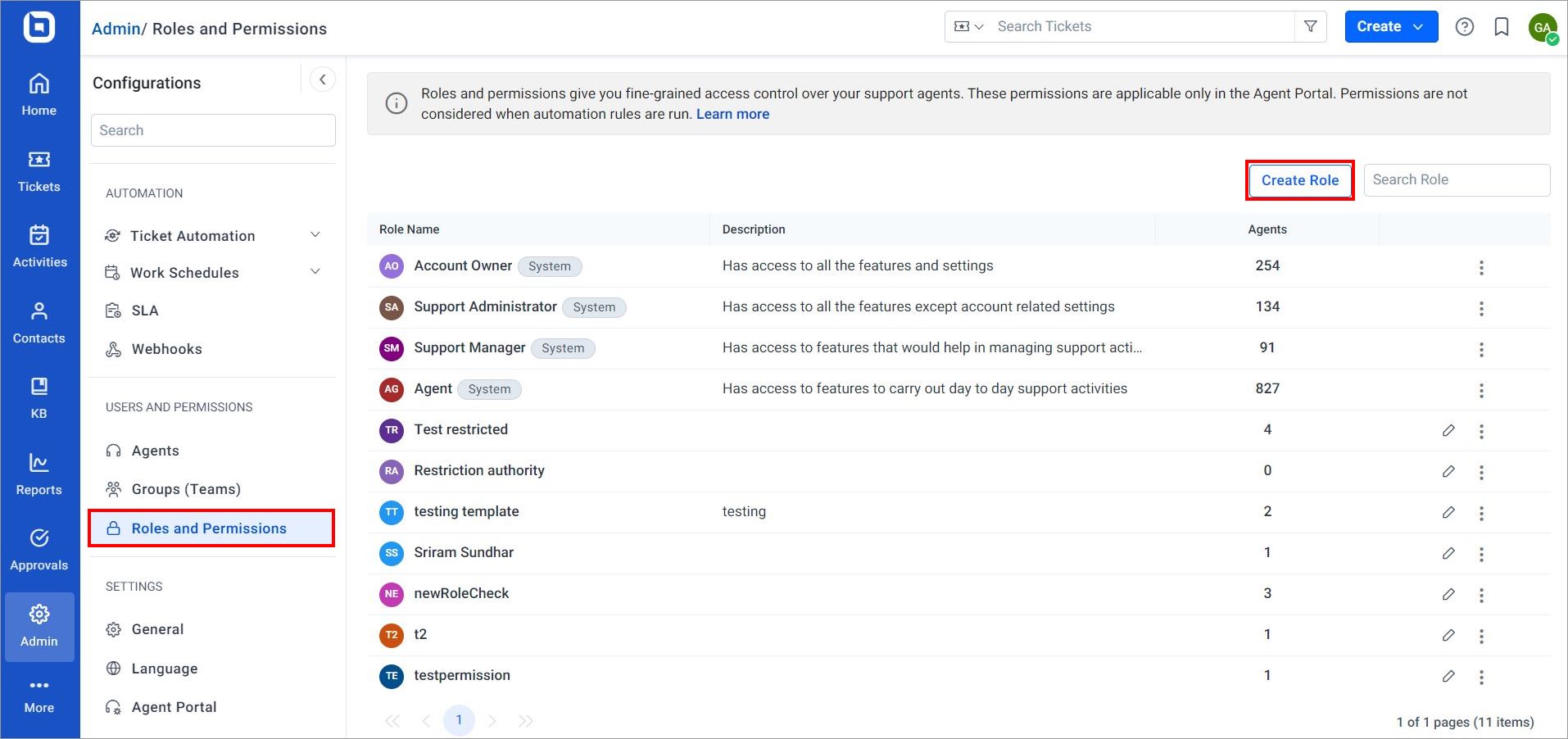 For example, you can leverage the access controls to designate an individual as an admin with access to all the features and settings, while limiting executives to only specific features and settings. There are also options to edit assigned privileges, add or remove agents from existing roles, and clone or delete custom roles.
2. Customize ticket fields
Adding custom fields enables agents to categorize tickets easily, allowing for more efficient issue resolution. With BoldDesk's customizable help desk software, you can enhance your ticket form by incorporating extra fields to collect additional information about customers. This lets your support agents tailor their interactions and gather the info they need all in one go, providing a better overall customer experience. BoldDesk lets you incorporate over 10 different custom field types, including drop-down menus, check boxes, and text boxes, to collect information like product type and issue severity.
The field display condition feature allows you to show or hide related fields in a form based on certain specified conditions. You may include a maximum of five conditions that must be fulfilled for a field to become visible within the form. For instance, the zip code field can be set up to appear only when an associated field, such as country, is designated as USA. In this case, the zip code field will remain hidden within the form until the country value is specified as USA.
The field dependency feature gives you the ability to establish a parent-child relationship between two fields. This simplifies data entry and maintenance, as changes made to the parent field, like country, will automatically update the corresponding child fields, like state, city, and region. A parent field can have multiple child fields, but a child can only have a single parent field.

This help desk customization feature can help you improve data accuracy and consistency by ensuring that related fields are always linked and updated together.
3. Customize contact fields
Implementing customized contact fields in your customizable help desk solution provides various benefits. It facilitates the collection of accurate client personal information, such as their phone number, physical address, and email address.
BoldDesk enables you to acquire more than just standard customer and company data by utilizing custom fields tailored to your business requirements. Personalized contact fields enhance ticket creation through automated processes such as categorization and routing.
You can also form contact groups based on distinct domains. Any contacts with email addresses that contain these domains will be automatically incorporated into the contact group.
For instance, by adding the domain syncfusion.com to a contact group, any new contact with an email address such as johndoe@syncfusion.com will be automatically assigned to the contact group. You can also create custom fields for such contact groups to collect specific information related to that group.
4. Rebrand the help desk
The significance of branding in help desk customization cannot be understated. It allows you to tailor the appearance of your help desk for agents, customers, and other essential stakeholders. By incorporating branding elements into your help desk, you can provide your customer service team with a distinct identity.
BoldDesk customizable help desk solution not only allows you to personalize the look and feel of your help desk, but also to customize individual pages. Whether it is the login screen or the feedback section, you have full control over the aesthetic of your help desk. BoldDesk empowers you to deliver a unique and cohesive user experience by aligning your agents' and clients' portals with the theme of your company.
You can customize branding elements such as:
Logo and Favicon:  Change the logo and Favicon of the customer portal to reflect your brand.
Colors: Select from an array of colors to incorporate into your help desk interface and support centers.
Logo linkback URL:  Enter your website's URL to link a logo to your site.
Tab title: Personalize the name you want displayed on the browser tab.
Discover additional branding elements provided by BoldDesk here.
5. Custom domain mapping
Custom domain mapping in a customizable help desk solution allows businesses to personalize their customer support experience by using their own domain name instead of the default help desk URL. This not only enhances brand recognition but also creates a sense of professionalism.
Normally, your help center's web address will be a BoldDesk subdomain like "example.bolddesk.com". BoldDesk can, however, can be tailored to map to your own domain, such as "support.xyzcompany.com," allowing your customer portal to reinforce your brand.

This feature will enable you maintain consistency across your website and support channels, making it easier for customers to navigate. It can also improve SEO by driving more traffic to your company's website, resulting in increased visibility and potentially higher conversion rates.
6. Create personalized response templates
Canned responses are a prewritten set of response templates or messages for frequently asked questions in the support tickets. Utilizing prewritten messages in support tickets and emails speeds up the resolution of common questions, allowing agents to devote more time to addressing complex and urgent matters. Compose, save, and edit responses to common questions and issues in BoldDesk. Keep customizable templates for greetings, apologies, expressions of gratitude, and email closings accessible to your team to provide a consistent tone to customers.

7. Create custom ticket statuses
Businesses should create and define custom statuses for their customer support tickets that match their unique needs. BoldDesk offers predefined ticket statuses—pending, on hold, and closed—that serve as triggers for SLA automation and provide updates on ticket progress.
However, in case these generic statuses fall short of meeting your requirements, BoldDesk customizable help desk software allows you to create new, custom statuses that suit your business's workflow more accurately. Simply provide a name for the custom status, such as "Waiting for customer response," categorize it as either pending or on hold, choose a preferred color, and decide if the ticket should automatically shift to open upon receiving a customer's response.

You also have the option to rearrange the ticket statuses according to your preference by simply dragging and dropping them, or you can choose to completely remove a ticket status. Such custom ticket statuses help customer support teams to better track and manage their tickets, improve communication, and provide more accurate reporting and analytics.
8. Run multi-brand customer and agent portals
BoldDesk customizable help desk solution allows businesses with multiple products or services to assign them separate brands, each with a unique brand ID and name. This feature enables the creation of distinct help centers for each brand.
Each time a new brand is established, a corresponding customer portal is generated. As every brand has a distinct identity, help desk customization will enable you to tailor these customer portals to reflect the brand by modifying the themes, module layout, and overall style of the portals. A custom domain can also be mapped to each customer portal to make it easily accessible by customers. Visitors to a brand's customer portal are limited to creating only tickets pertaining to that brand.
Agent portals, though, are common for all brands and can be accessed by adding '/agent' at the end of any customer portal URL, for instance, https://yourcustomerportalurl/agent (followed by a verification process).
Unlike customers, agents can view tickets across all brands, without having to visit different agent portals. This capability helps them work collaboratively on multiple brands using a single, unified agent portal. Admins can, however, utilize the available access controls in case you want to limit agents' access to tickets belonging to a given brand.
Once a brand is created, admins can modify or revise the brand name, enable or disable the brand, designate one brand as the default option, and configure and manage the brand's customer portals.

9. Custom ticket views
Ticket views are predefined filters or settings that allow agents to view specific sets of tickets based on criteria such as status, priority, category, or assigned agent. These views help agents and administrators organize and manage their workloads, prioritize tasks, and quickly locate relevant tickets.
BoldDesk lets you apply advanced filters and customizations to tickets with options to save them as views. Agents can tailor the ticket grid view by selecting the fields they want to show, with a maximum limit of 15 fields. Moreover, they can rename existing fields using labels such as high priority, escalated to management, customer inquiries, and unresolved issues.
BoldDesk lets you share views across the organization, share them with just a given department, or keep them private. Shared ticket views can offer managers a powerful tool for monitoring and analyzing team performance, allowing them to identify areas for improvement and optimize the help desk for maximum efficiency.
10. Customized support email
Establishing a dedicated email address for customer inquiries and concerns is an essential stage in help desk customization, as it streamlines communication, creates a more professional image, and boosts customer trust and satisfaction.  A default support email like support@subdomain.bolddesk.com is provided when you set up an account in BoldDesk.
Even so, our customizable help desk software allows you to establish a custom support email address using your business domain (support@mydomain.com ), which is familiar to your customers. Once a ticket is successfully created, an email notification is sent to the creator, and all further communication can take place within that email thread. You can set up your business support email address to link with the default BoldDesk support email address, enabling all your support request emails to be directed to BoldDesk and converted into tickets. Should you choose not to create tickets from emails sent to this address, BoldDesk offers the capability to prevent ticket generation.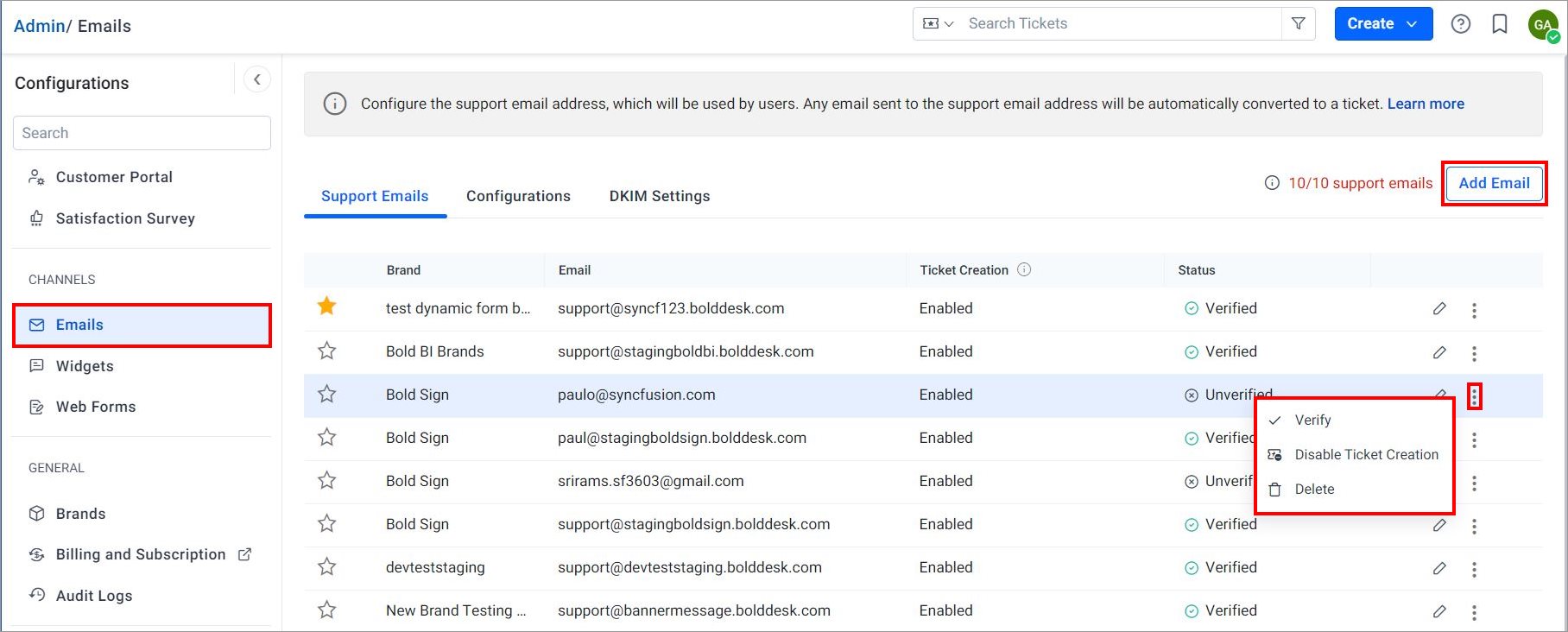 Additionally, BoldDesk's help desk customization lets you create create separate support email addresses in the event that you have multiple departments (sales@mydomain.com , marketing@mydomain.com ) or brands (brand1@mydomain.com , brand2@mydomain.com).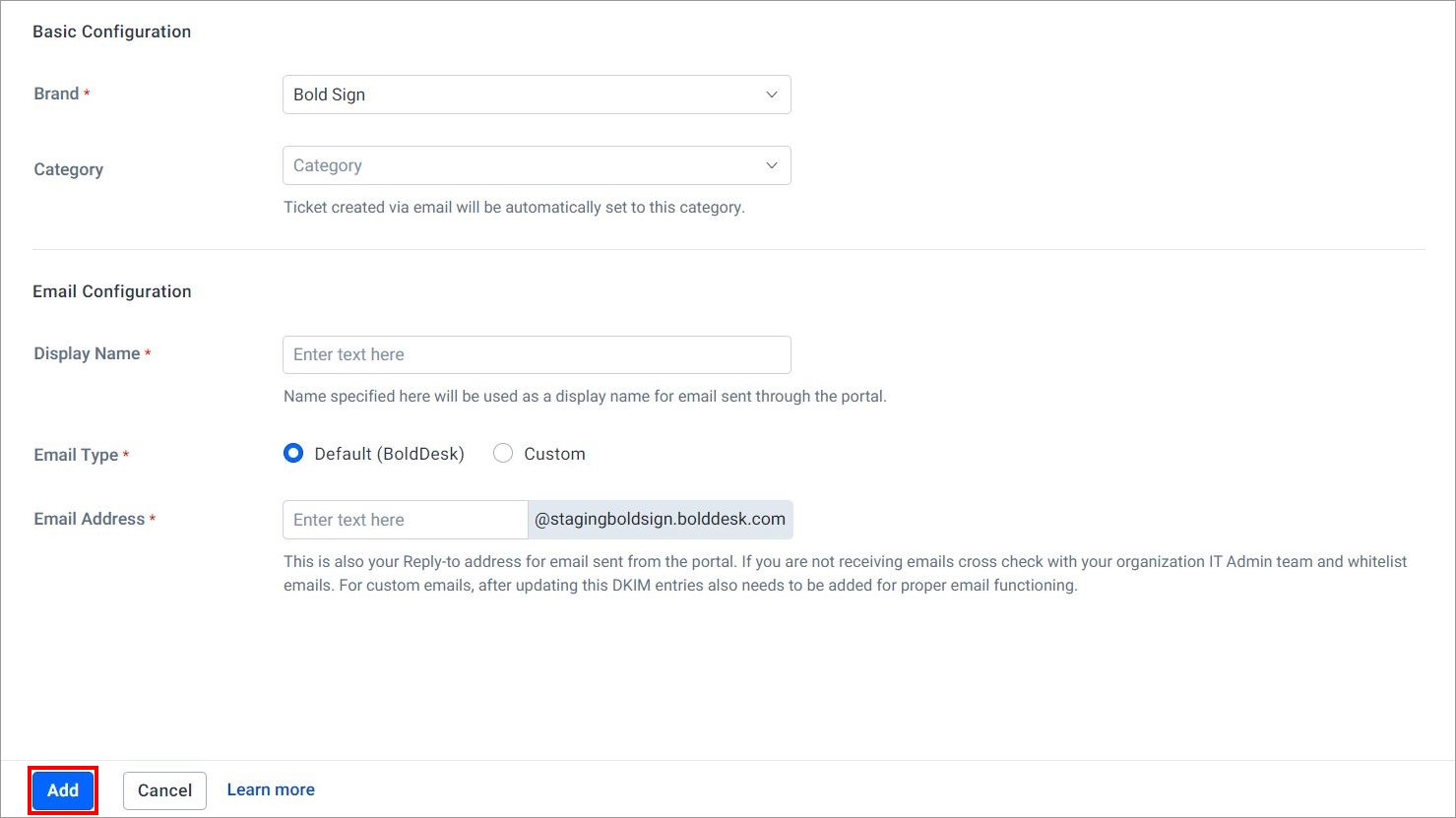 Conclusion
BoldDesk customizable help desk software empowers your company to modify its support system and create more efficient workflows that suit your specific needs. Whether you are a small business or a large enterprise, help desk customization can help you create a unique customer support experience that aligns with your brand and values. From customizing the color scheme and logo to creating custom fields and automating workflows, BoldDesk customizable help desk solution offers endless possibilities to optimize your help desk platform.
Sign up for a 15-day free trial of BoldDesk today. Get in touch to set up a live demo and see how BoldDesk can optimize your support team and better satisfy your customers. If you have any questions, feel free to contact our support team.