We've noticed that a lot of help desk software plans are priced per agent, and that a lot of companies find this pricing structure to be tiresome. Therefore, to overcome this, the BoldDesk team is introducing the unlimited agents plans, which will undoubtedly let a company with a large or growing support team save money. We do still have plans where companies can pay by agent, though, if that suits their needs better. Let's go through the details of the different plans available in our help desk software.
Unlimited agents pricing details
We provide three simple unlimited agents plans for everyone. The plans under this category are standard, pro, and business. With the plan comparison table in the following image, you can easily check the available features and select a plan based on your requirement. The yearly payment structure for this set of plans ends up saving customers up to 20% over the monthly payment structure. You can get more details from the unlimited agents pricing page.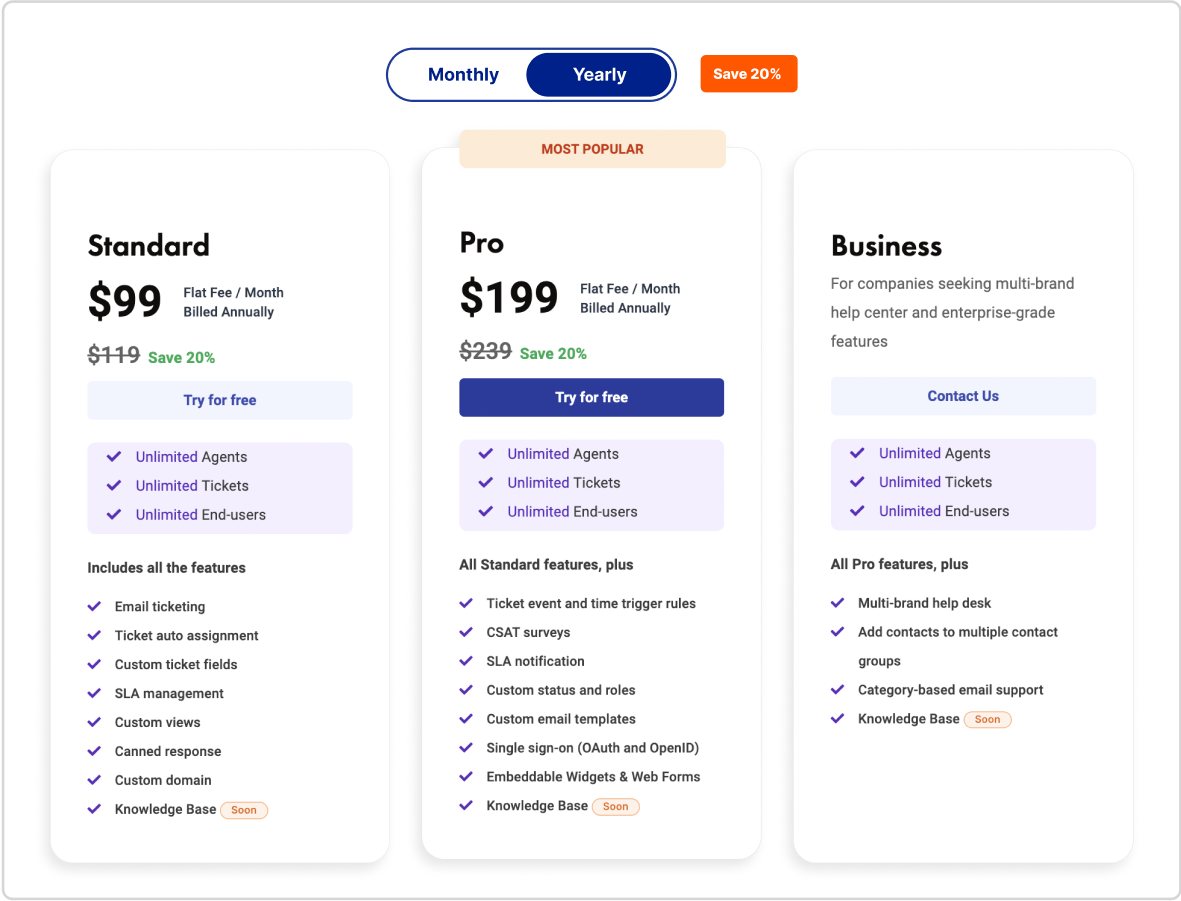 Agent-based pricing details
We provide three different pricing plans: starter, growth, and enterprise. Using the plan comparison table in the following image, you can easily check the available features and select the plan you require. The table shows the details for the plans with a yearly payment structure.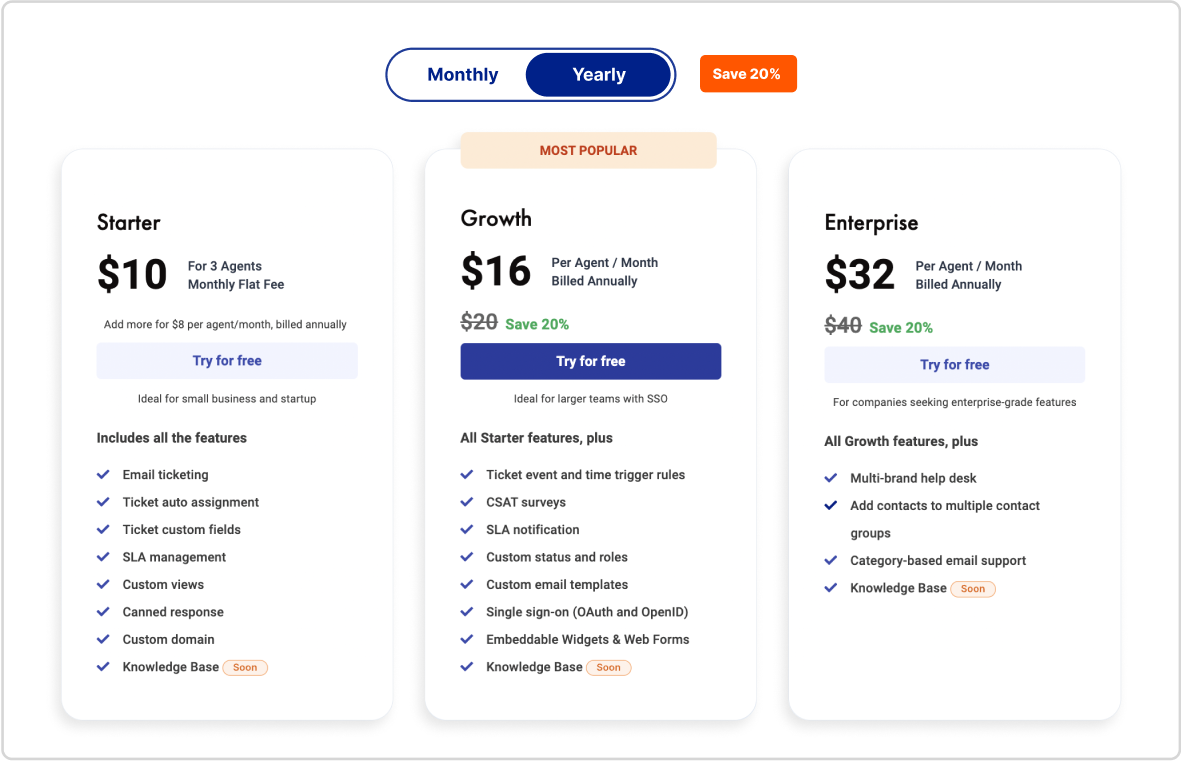 Benefits of choosing BoldDesk
Provides valuable features at a low cost.
You can experience a free trial that gives you full access to all the features of your chosen subscription plan. Even after the trial period, your data will be retained for 7 days while you upgrade your plan.
You can change your subscription plan at any time. For upgrades, the change will take effect immediately and will be charged pro
You can cancel your subscription at any time. However, your subscription will remain valid until the end of your billing period.
This help desk system offers free migration when you move from any other help desk software to BoldDesk.
By using an unlimited plan, you can expand your support team as much as you need with no added cost.
Comparison with BoldDesk competitors
BoldDesk is cloud-based, modern help desk software that is easy to use and budget-friendly. Compared with the other help desk competitors, it provides awesome pricing options. Additionally, it has a single flat fee for unlimited agents. Our customer support team also stands fully behind our products and is always ready to help. We work hard to give the finest possible support experience to every customer who needs it.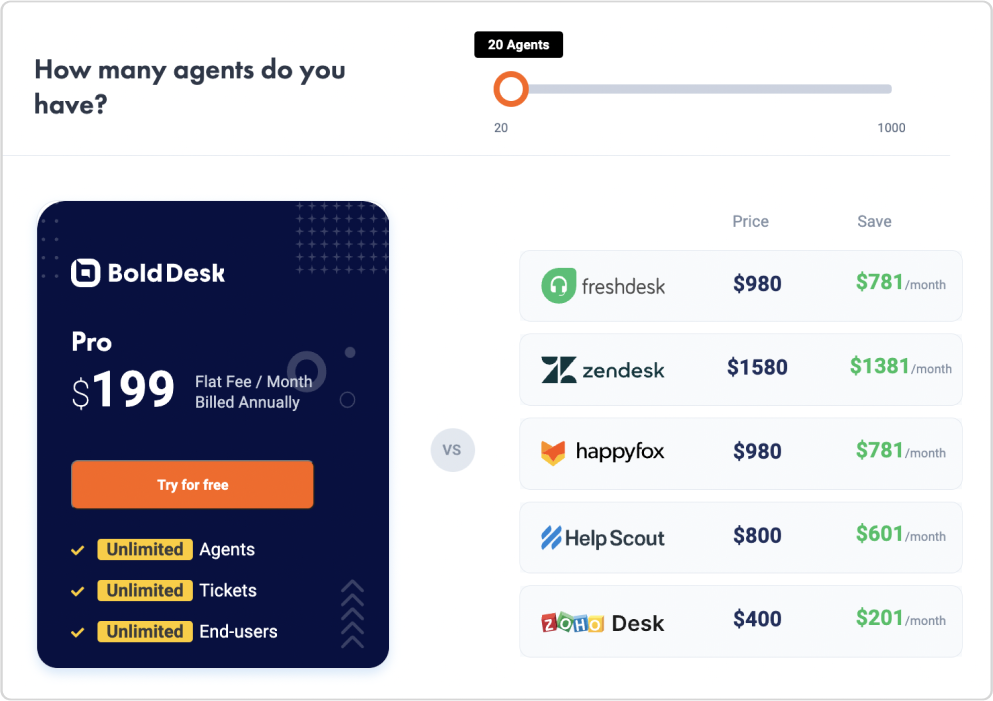 Follow the steps provided in this article on how to: Buy and Pay for a BoldDesk Subscription
Conclusion
From this blog, I hope you've seen how fabulous the BoldDesk pricing plans are. Save money, send timely support responses, and automate repetitive tasks to make your support team more productive. Try out BoldDesk in a 15-day free trial on. For more information, contact BoldDesk support.