We are delighted to announce new and upgraded features for BoldDesk in our latest release including one of our customers' most highly anticipated features: knowledge base software! We've also got a few surprises in store. Let's walk through some of the new highlights of BoldDesk.
Knowledge base software
Knowledge base software is a self-service tool and central source of information for your customers and support staff. With BoldDesk knowledge base software, you can create unlimited informational articles for different brands and products.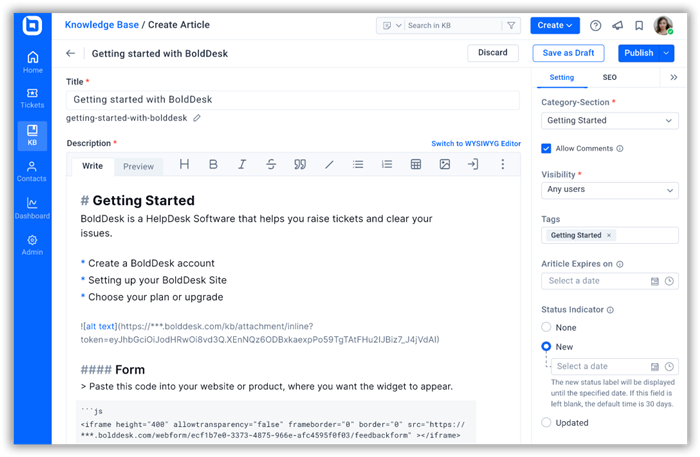 Using categories and sections, you can organize and group your articles. Also, you can apply tags to articles to better manage your content library. A powerful built-in search function allows your help center to get instant answers. Moreover, you can find solutions by searching the self-service tool for relevant articles based on keywords in tickets. Learn more about the software by perusing the knowledge base page.
Two types of knowledge bases are supported. These are: 
Public knowledge base
This is external data that all users can use. It includes documentation, user manuals, and a help center. A public knowledge base helps increase support agents' productivity by reducing the number of tickets that customers create. Furthermore, this self-service portal improves customer satisfaction by providing them a quick solution.
Internal Knowledge Base software
This is the private data for the employees within your organization. It helps improve internal knowledge sharing and collaboration, which leads to people throughout the organization being able to serve customers better. Some of the use cases of an internal knowledge base are providing a central repository for training materials to onboard new employees and how-to guides for advanced product features.
Agent portal improvements
The following are the new features we have developed for the agent portal:
Merge tickets
Merge tickets allows you to combine two or more tickets, as well as their attachments and messages, into a single ticket. The following are the features available in this feature:
Merge up to five tickets.
Close secondary tickets as needed.
Add a secondary ticket requester to the primary ticket cc if the original requesters are different.
Add a secondary ticket cc to the primary ticket cc.
Link tickets as related tickets for future use.
Add additional notes for both primary and secondary tickets.
Add secondary ticket comments to the primary ticket while merging the tickets.
Lock or unlock ticket
Locking a ticket limits the ability of users to edit ticket properties once the ticket's life cycle has reached its end. After locking a ticket, no one can update its properties. Additionally, BoldDesk includes specific permissions to lock a ticket.
Only users with the right permission can unlock or edit the ticket. This feature is useful when you want to restrict the editing of ticket properties by other users.
Autosuggest options as recommendations
Based on keywords in tickets, articles in the self-help tool that are relevant to the ticket are recommended to help users find a solution.
Link related articles to tickets
Using this option in the knowledge base software, you can link related articles to a ticket. This will enable end-users to easily get access to more information on the topic under discussion.
Insert knowledge base article in ticket update
While replying to a ticket, you can insert an article for the customer's reference. This will empower the clients to get a better understanding of the issue and refer whenever the same issue recurs.
Advanced filter improvements
In advanced filters, now you can use AND/OR condition-based filtering to filter tickets.
Edit message
The edit message option allows agents to correct any mistake in a message (i.e. reply or note) sent to the customer.
Multiple files upload option
This option allows agents to upload more than one file in the ticket field.
Go through the knowledge base software and its features here!
Conclusion
We are excited to provide new features that help you to empower the customer support team in your organization. We trust you will like these new features in BoldDesk. Please let us know in the comments what other features you would like to see in future updates.
Try BoldDesk to simplify your support agents' work and make them more productive. You can start a 15-day free trial on BoldDesk. If you have any questions, please contact us through BoldDesk support.