With the advent of digital help desks, businesses can now use a single platform to organize, automate, and simplify customer support requests, allowing employees to handle issues and inquiries quickly.
Our help desk, BoldDesk, has standout features like its ticketing system, which enables companies to keep track of client questions and support requests efficiently. Moreover, the platform offers a user-friendly interface for managing customer contacts, enabling support staff to contact clients via email and access each client's support history.
In this blog post, we will discuss some of the important help desk software features in BoldDesk that improve your customer support system.
 What is help desk software?
Help desk software is a program designed to help an organization's customer service representatives manage and resolve client requests, questions, and technical difficulties.
What is customer support?
Customer support is the help and support a business offers its customers before, during, and after selling a good or service. It includes responding to customer questions, issues, and complaints, giving consumers knowledge and answers, and ensuring they are satisfied.
Help desk software features to improve your customer support
Help desk software features is a robust and user-friendly platform for companies wishing to enhance their customer care procedures. Let's dig into its features and how they benefit customer support.
1. Track and resolve customer queries with an effective ticketing system
Organizations can manage and track customer requests and issues best with BoldDesk's ticketing system features.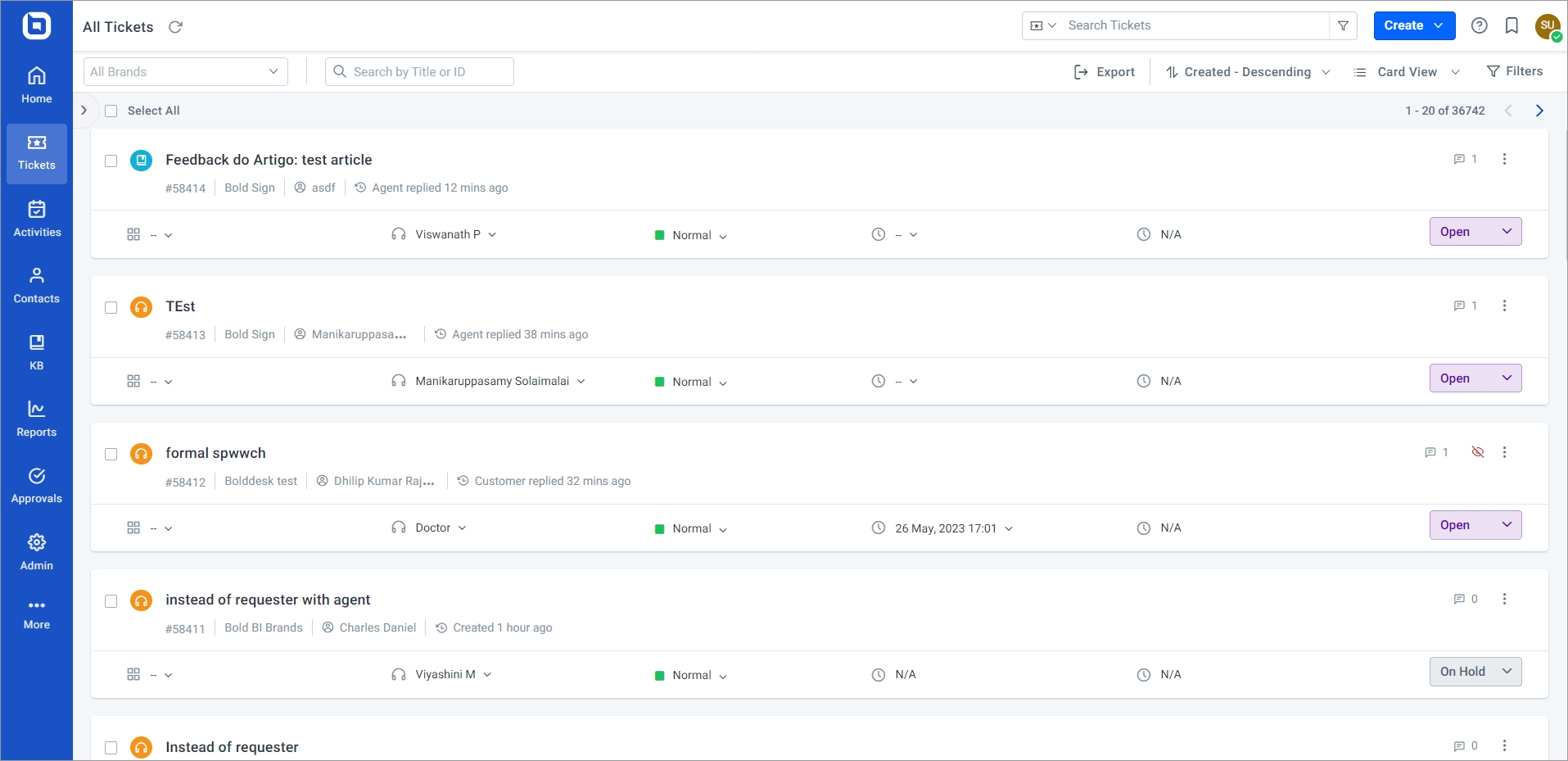 The BoldDesk ticketing software features have the following advantages:
Email-based ticketing: All emails sent to your support team's inbox are automatically turned into tickets. When a support agent writes a reply to the customer in a ticket, that reply is sent as an email to the customer.
Centralized platform: A centralized platform for managing customer communications ensures that all customers are taken care of.
Automated routing: The ticketing system features can automatically route tickets to the appropriate team or individual based on the keywords and tags in the ticket.
Tracking and reporting: The ticketing system features allow customer support leads to track customer inquiries and monitor response times.
2. Provide quick resolution using powerful automation
Some of the procedures involved in providing customer assistance and resolving difficulties can be tedious to do manually, again and again. With BoldDesk's automation features, a lot of that repetitive work can be automated.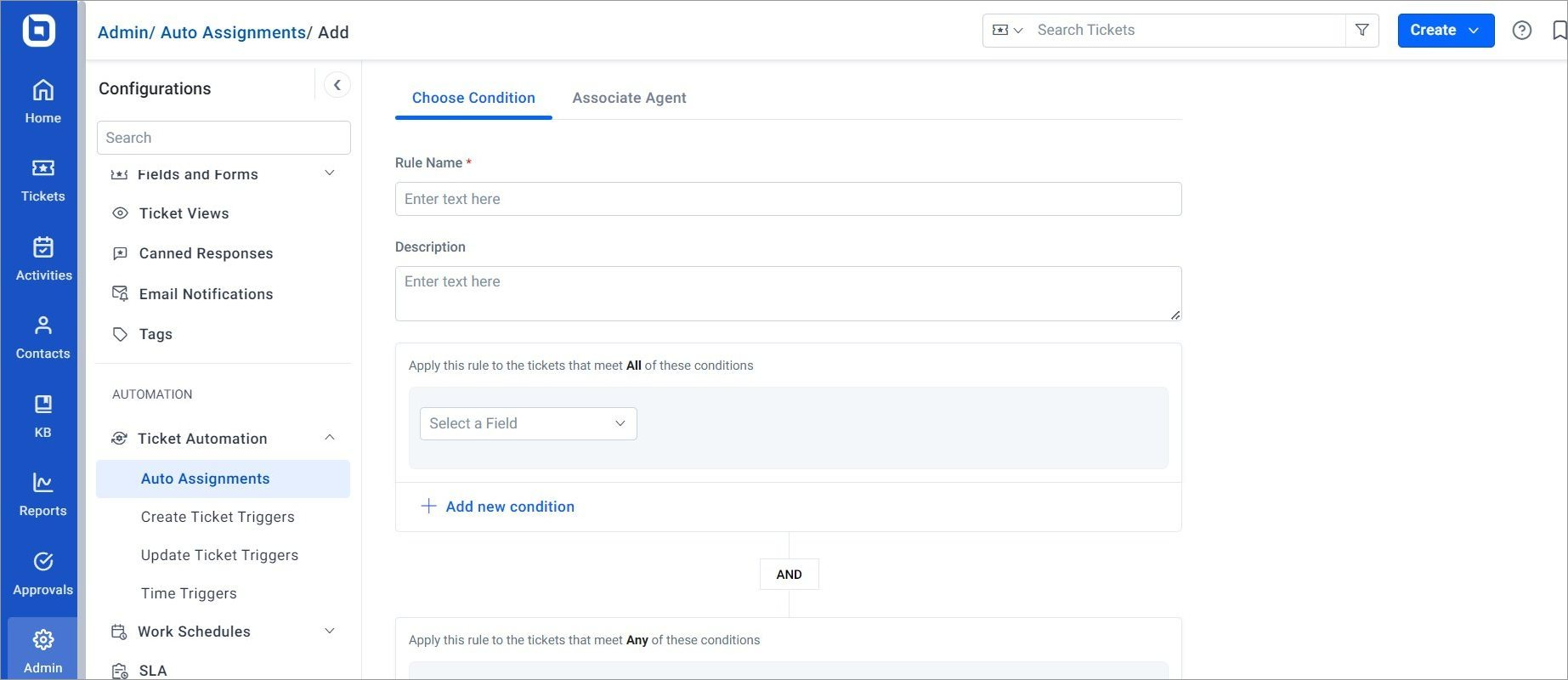 The automation features in BoldDesk include:
Notifications: Have emails of acknowledgment sent to customers when they create tickets. You can customize your automation rules to trigger other emails when conditions are satisfied.
Reopen tickets: An alert can be sent to team leads when customer feedback is below a certain threshold. The ticket can be automatically reopened to address the customer's concerns further.
Ticket distribution: The ticketing system features provide automatic round-robin distribution of tasks to guarantee even workloads. You can also provide keywords that trigger specific tickets to be sent to specific people or teams with more expertise.
SLA: If the conditions of your service-level agreement are not met, events can be automatically triggered. For example, if a ticket sits in an agent's queue with no communication sent to the requester for longer than the SLA-mandated first response time, the agent's manager is notified.
Automation improves customer support by ensuring tickets don't fall through the cracks and relieving the support team's workload.
BoldDesk provides all these help desk software features and more, letting you implement and customize the automation useful to your team.
3. Make informed decisions using reports and analytics
Dashboards of your support metrics give you an overview of your team's performance.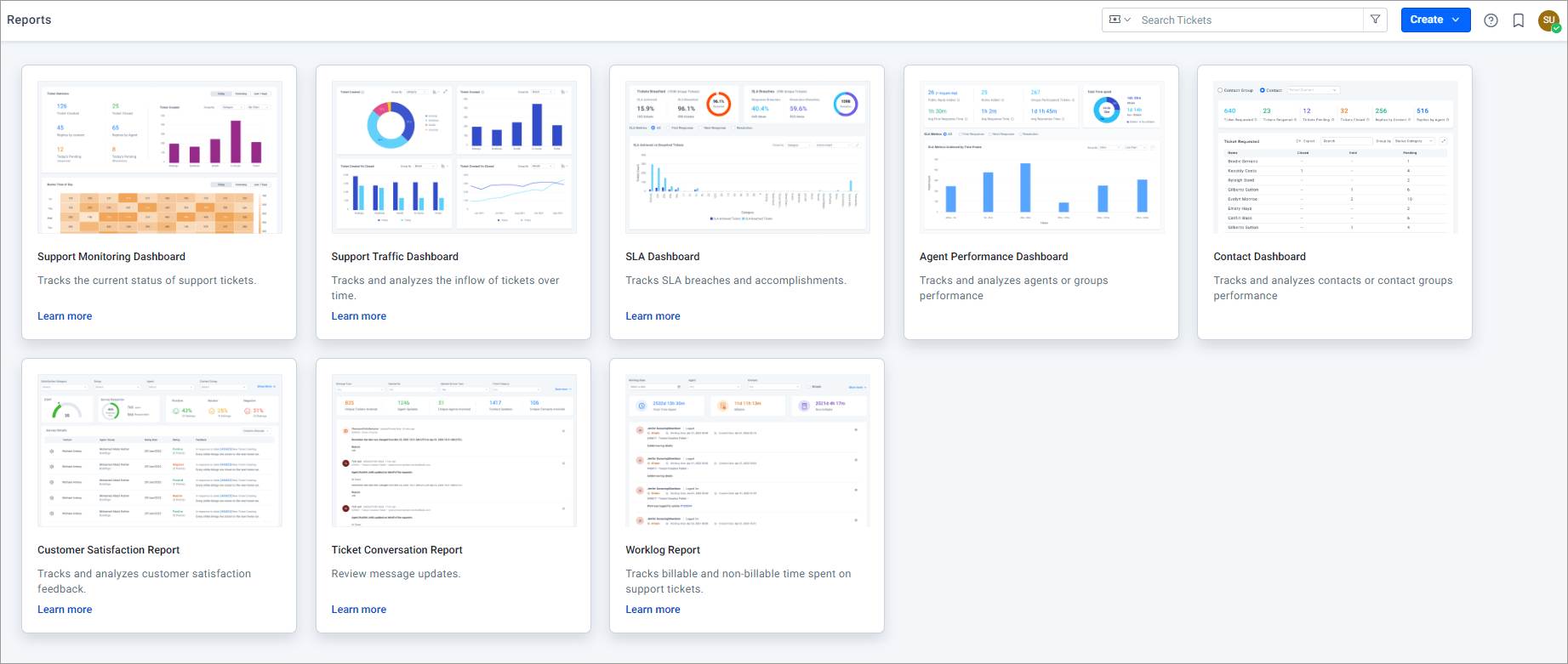 Monitor and analyze the data to find your team's strengths and weaknesses. Team leads can praise where appropriate and improve where necessary. Here are some examples of dashboards your team can use:
Support traffic dashboard: The metrics displayed by the support traffic dashboard help monitor and assess the flow of tickets over time. Support team leads can see where bottlenecks occur in the process and which agents may require more training to resolve tickets faster.
Support monitoring dashboard: This dashboard enables keeping track of outstanding and overdue tickets. It also shows what days and times of day are busiest, so that staffing can be appropriately scheduled.
SLA dashboard: The dashboard keeps track of SLA violations and accomplishments for reaction and resolution. It helps to identify which tickets violated the SLA and those that satisfied it easily.
Reports provide valuable insight into the performance of the customer support team and the issues customers face. Here are some examples of reports for customer service data your team can use:
Agent activity reports: Reports on agent activity include details like the time agents log in, the length of their breaks, and the number of tickets, calls, and chats they handled during their shifts.
Performance reports: These reports provide an overview of the performance of customer service representatives, including metrics such as call volume, response time, and customer satisfaction ratings.
Trend analysis reports: These reports analyze customer service trends over time, including common issues raised by customers and the effectiveness of customer service responses.
4. Offer a customizable and easy-to-use customer portal
The customer portal allows customers to track and send tickets via an intuitive interface.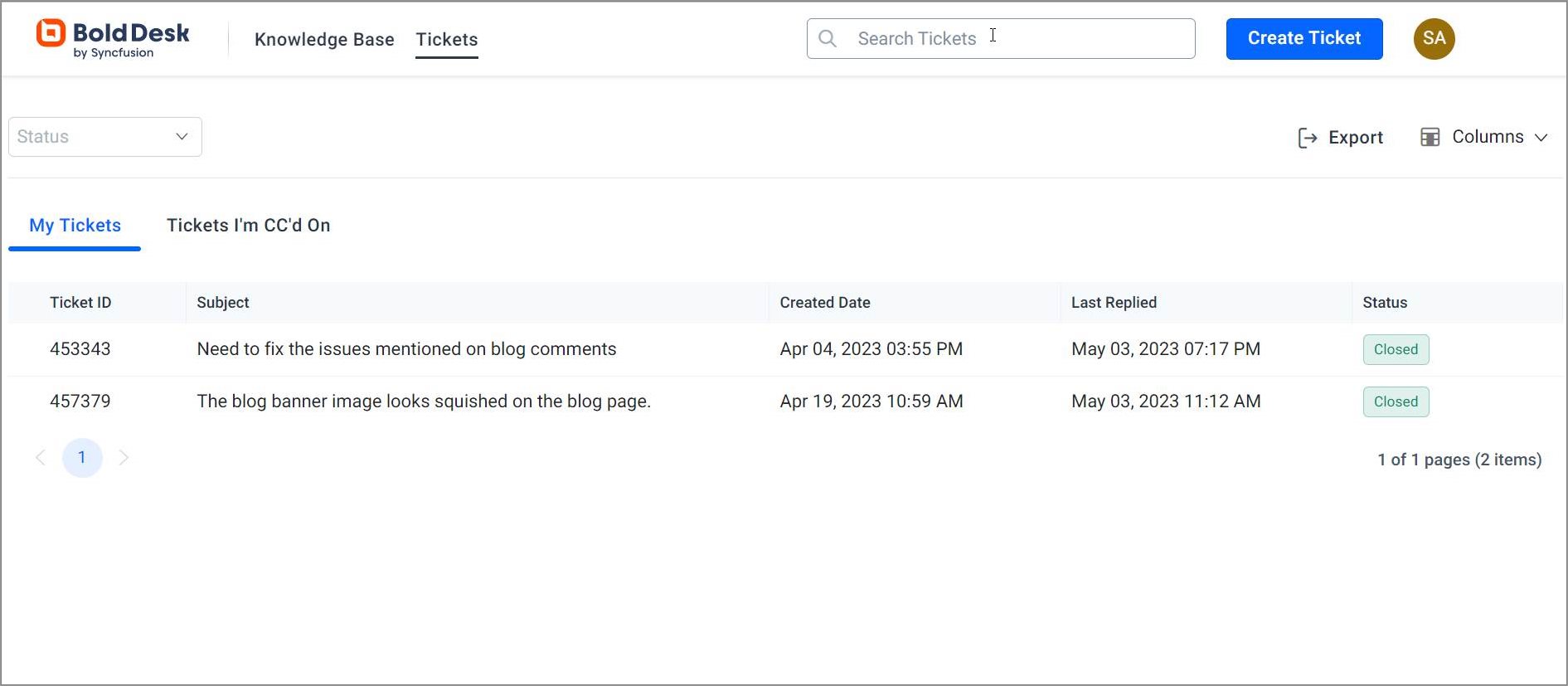 BoldDesk's customer portals have several useful features:
Self-service: This is where customers can access your knowledge base, FAQs, and other resources to look for their own answers before contacting support. We'll talk about this later in more detail.
Customizable: Customize your customer portal or portals completely to match your branding. Include the brand's logo, color scheme, domain, and banners with product announcements. Change the default text to match your style. You can also customize the fields in ticket forms.
Multi-brand portals: Companies with multiple brands can set up a separate customer portal for each one, all funneling into one agent portal. This way, the customer portals match the brands and don't cause confusion with customers who didn't realize they were all related.
5. Encourage customer self-service with a knowledge base
A knowledge base is a centralized repo of information containing articles, documentation, and resources that help users resolve technical issues and find answers to their questions.
BoldDesk offers knowledge base software so your company can create such a repository for its clients. Companies can also use this software to create internal knowledge bases to help support agents find answers and fixes for customers faster.

The BoldDesk knowledge base software gives your company all kinds of advantages:
Self-service: By definition, a knowledge base is a self-service tool. It empowers customers to resolve their issues themselves. This reduces the number of support requests, freeing customer support representatives to attend to more complex issues.
SEO tools: Create a knowledge base with SEO and social media marketing tools to promote your products, increasing awareness of them among potential customers. SEO drives visitors to a company's website, so employing these tools can bring in more customers.
Automation: Have articles auto suggested based on the keywords in a ticket.
Tracking: Knowledge base articles can be liked, disliked, and commented on. Track the number of views on an article and these customer interactions to see how popular articles are and what kind of information customers often require.
These are just a few of the help desk features in BoldDesk's knowledge base software. Use it to set your own article-publishing process, organize categories with drag and drop, and more.
6. Get smooth and easy access to all your programs through integrations 
Combine BoldDesk with your favorite tools and apps to speed up your workflow. Integrating BoldDesk features with other programs can improve the overall user experience and increase customer satisfaction.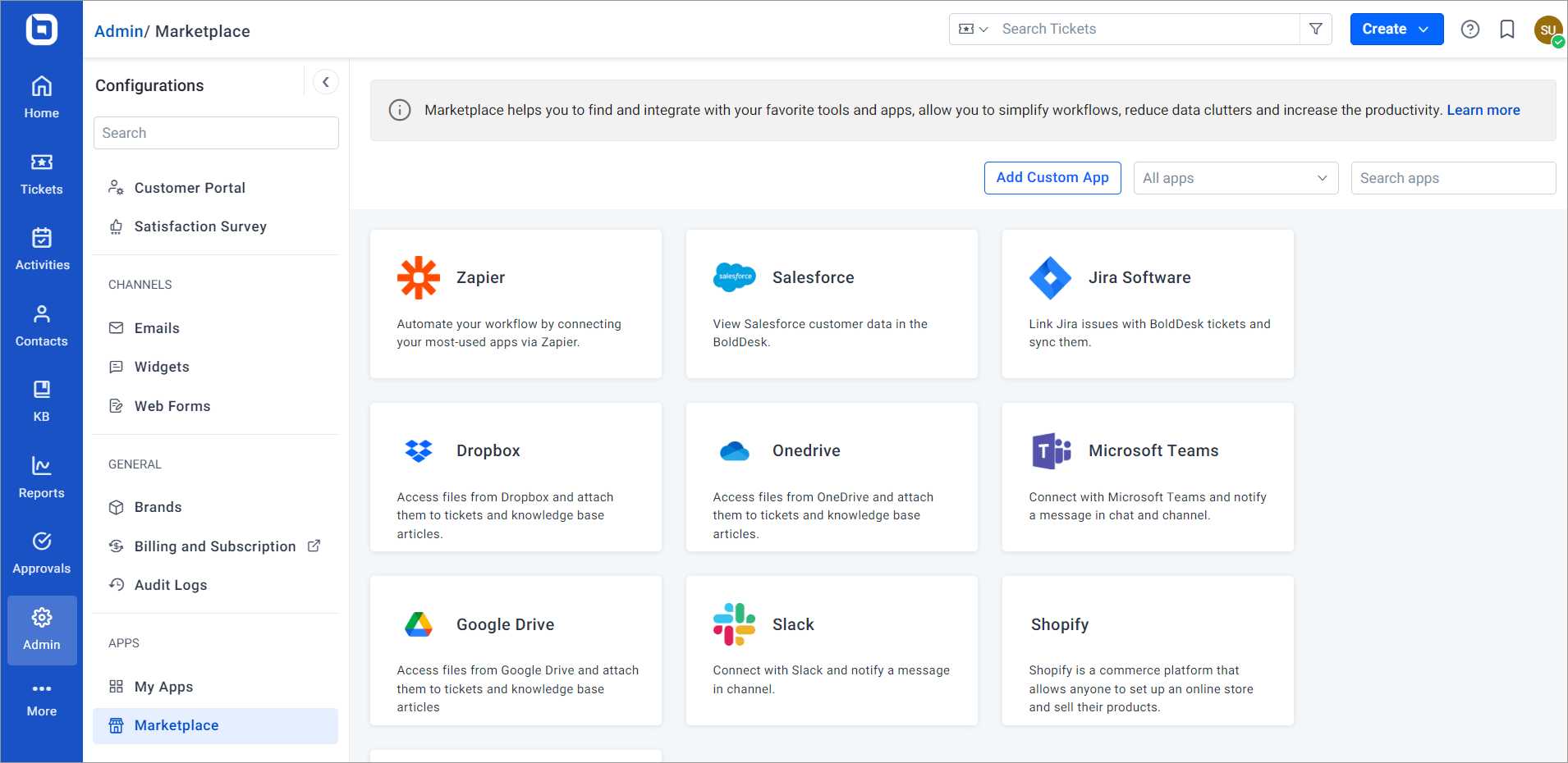 BoldDesk can integrate with your Jira, Microsoft Teams, Salesforce, OneDrive, Dropbox and other accounts. For example, you can link Jira issues to BoldDesk tickets, syncing them, so you can keep track of all parts of a solution in progress. If BoldDesk doesn't currently have an integration you need, you can request it.
7. Rebrand your help desk using customization
Customization is the process of shaping your help desk application to meet your unique requirements. We've discussed some of the customization options of BoldDesk in previous sections, such as for the customer portals in multi-brand help desk software features and for fields in ticket forms.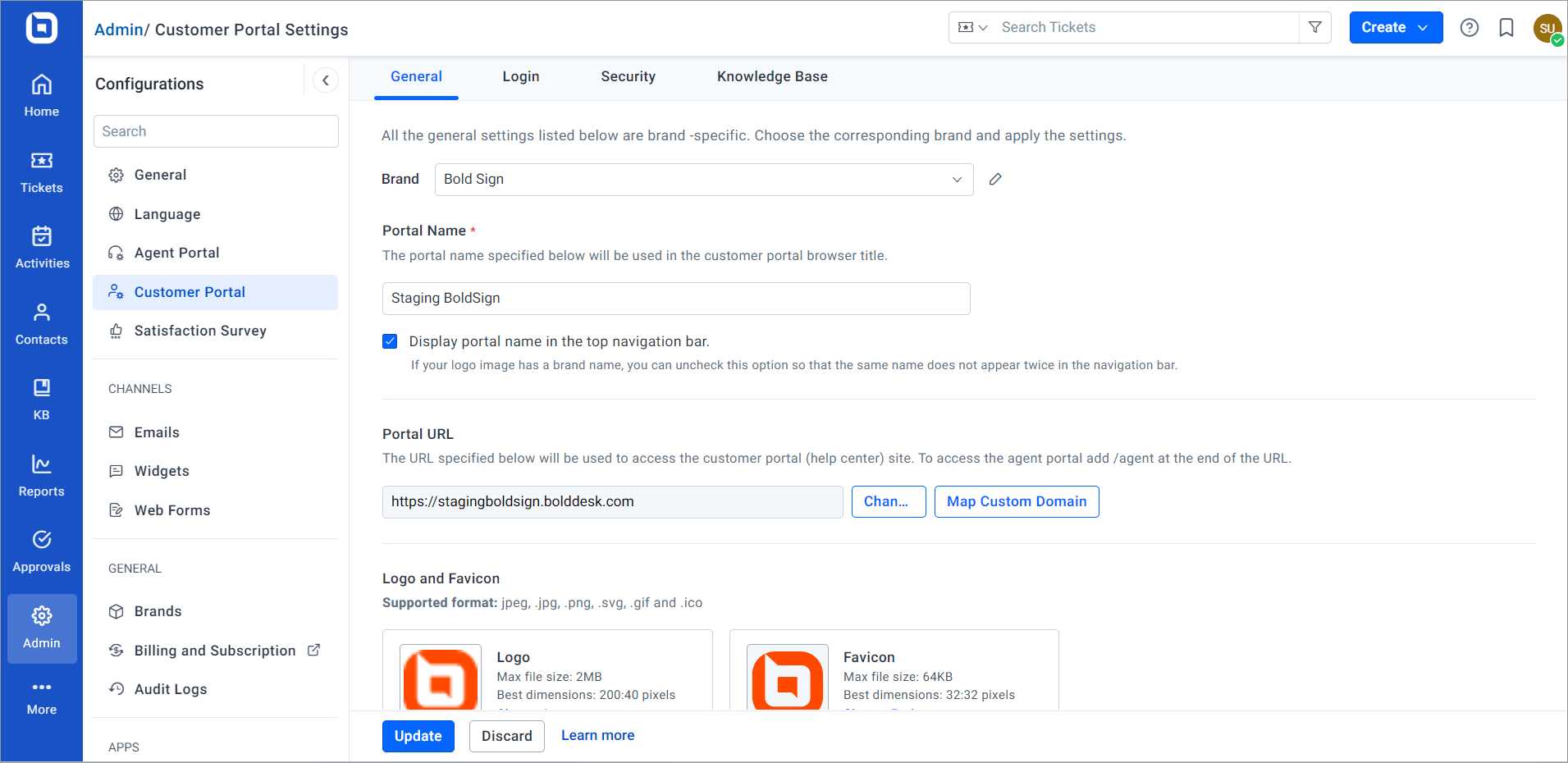 When you implement BoldDesk, you will also be able to customize:
Security: Choose a single sign-on platform to integrate. Set your own password policies. Arrange role-level access permissions and restrict certain agents to certain brands.
Branding: Your help desk will seamlessly fit the rest of your website or app with your brand's logo, colors, logins, and domain name.
For more details on BoldDesk's features and how to work with them, check out our public knowledge base.
Secure customer data in BoldDesk
To protect your and your client's information, access to your data is secured on many levels. Key features include previously mentioned role-based permissions, customized password policies, single sign-on integration, and IP restrictions.
Security measures such as encryption, audit logs, and two-factor authentication also help to protect sensitive information from being accessed by unauthorized parties. Even Syncfusion does not have access to your data. BoldDesk has proved it by successfully completing the SOC 2 Type 2 compliance certification! This grants consumers peace of mind that their data is safe.
Streamline your customer support using BoldDesk
To wrap up, BoldDesk is a reliable and user-friendly help desk software features solution that provides a rich feature set, flexible customization possibilities, and quick customer service.
It can be used by companies of all sizes and in various sectors to manage their customer support operations effectively.
Visit our website to start your free trial, book a live demo, or reach out to us. Don't miss out on this opportunity to elevate your customer service with BoldDesk!