Get ready to experience even higher levels of efficiency and streamlined customer support with the amazing, game-changing new features included in the BoldDesk May feature updates!
Experience powerful, cutting-edge latest features, like:
Multilingual help desk
Multilingual knowledge base
Activity module enhancements
New contact dashboard
Insights on raw data behind different dashboards
Advanced ticket search enhancements
Launching soon: Generative AI feature powered by ChatGPT
Let's learn more about the latest features in BoldDesk!
BoldDesk May release updates
The following feature updates have been added to the BoldDesk product to improve customer support experience.
Multilingual help desk
Customers who don't speak English can now enjoy BoldDesk with the new support for multiple languages. This multilingual help desk smooths interactions between support agents and clients by allowing them to set up the help desk in their preferred language.
Currently, BoldDesk can be customized to the following languages:
English
German
French
Spanish
Italian
Portuguese
Czech
Note: More languages will be supported by BoldDesk in the near future.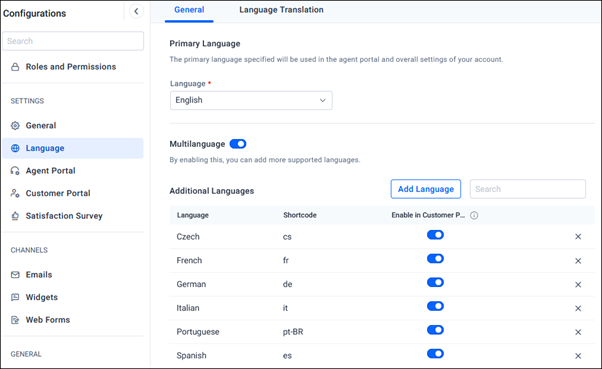 The multilingual support options have been added to the following features: customer portal, fields and forms, embeddable widgets and forms, email notification templates, and satisfaction surveys.
Multilingual knowledge base
Communication and information sharing in the BoldDesk knowledge base tool has also been elevated with support for multiple languages. Clients can now effectively communicate in their preferred language.
What's more, content in the knowledge base can now be written in multiple languages. This ensures a personalized and engaging experience for end users.
The key new features of multilingual support in the knowledge base include:
a. Primary and secondary language support
Allows multiple language support in the help center. This enables you to quickly and easily set up your help center in your customers' preferred languages.
b. Translate categories and sections
Translate the categories and sections in your knowledge base so users with non-English languages can find relevant information fast.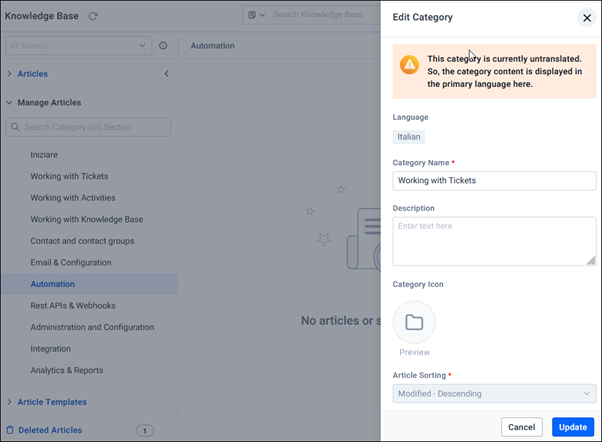 Translating the categories and sections of your knowledge base into multiple languages ensures a wider audience can access your knowledge base.
c. SEO metadata for different languages
Set up SEO metadata like titles and descriptions in an article's specific language.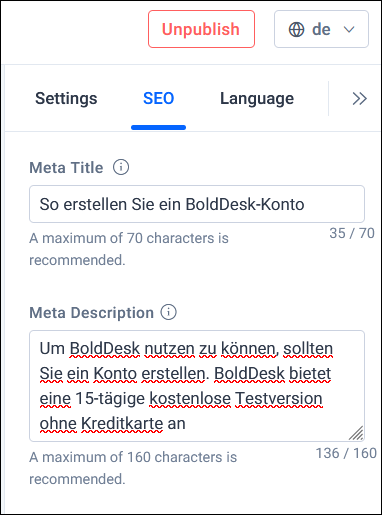 d. Article translation status
Track the status of your article translations as either outdated or up to date. This makes it easy for authors to identify which articles require further work to keep clients supplied with current and accurate information.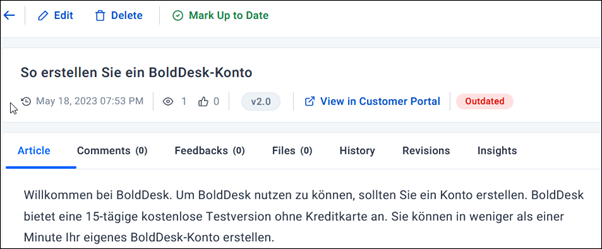 e. Keep different article versions and restore options in various languages
Maintain several versions of your articles in various languages. You can restore the articles to previous versions if necessary.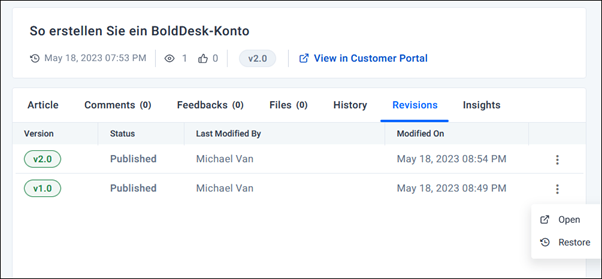 f. Language-specific history and metrics
Monitor your knowledge base article performance to ensure you optimize your content for better customer service.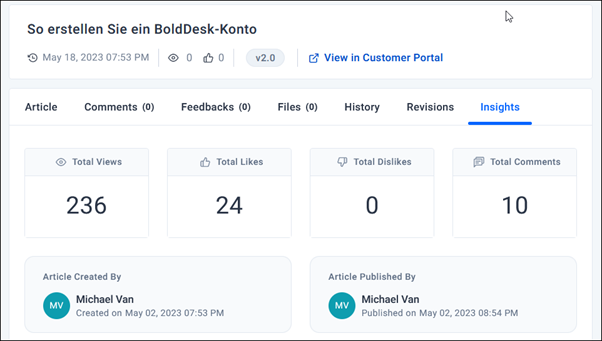 g. Multilingual tags and search options
Users can search for and tag articles in the help center in multiple languages.

h. Search function improvements
We have improved how search queries are processed and how search results are ranked to make the search function more effective and efficient.

i. Knowledge base access restrictions
Limit who can access and view the knowledge base portal. You can allow either all users or just logged-in users.

New features in activity module
Performing activities within the ticketing system has been made easier with the following new features in the activity module:
Attach files and images in comments: More easily share information and collaborate with others
Filter activities: Filter activities based on their type, date, and status to find any needed information.
Add watchers to activities: Watchers get notifications whenever a new comment is added to an activity.
Activity module filter in the global search page: Searching for activities in the global search page to easily find activities relevant to your work.
Mention agents in comments: Get the right user's attention.
Clone activities: Create new activities based on those that already exist.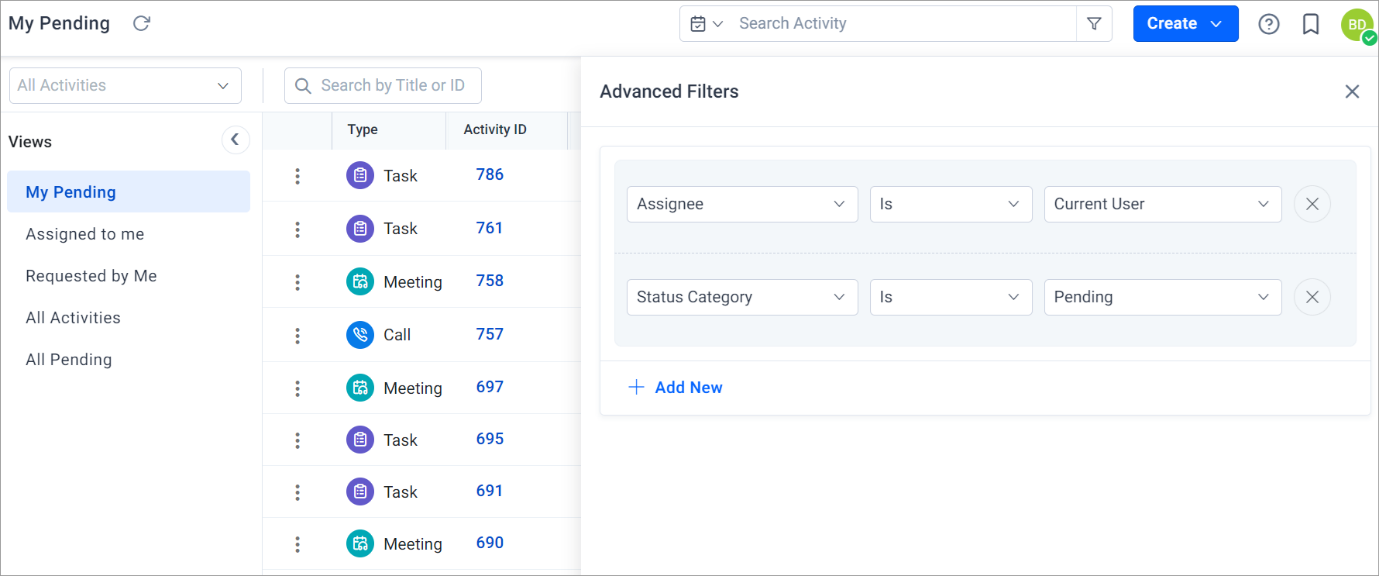 New Activities tab in contact profile page
A new Activities tab has been added to the contact profile page in BoldDesk. It provides a list of all activities linked to a specific contact so you can quickly view that contact's recent activities.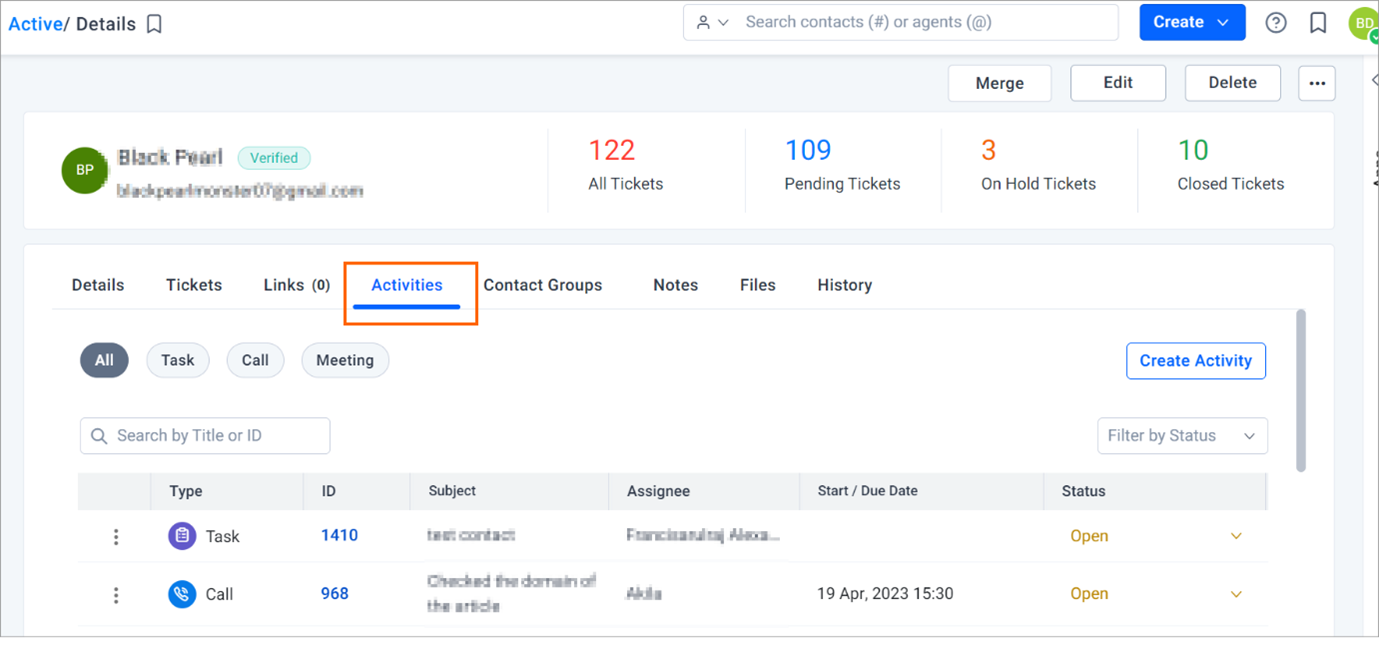 New reports and analytics feature: Contact Dashboard
A new Contact Dashboard has been added to the reports and analytics of BoldDesk for visualizing data based on contacts and contact groups.
With this dashboard, you can see statistics about requests, tickets, and SLAs. You can also apply filters to inspect specific data sets.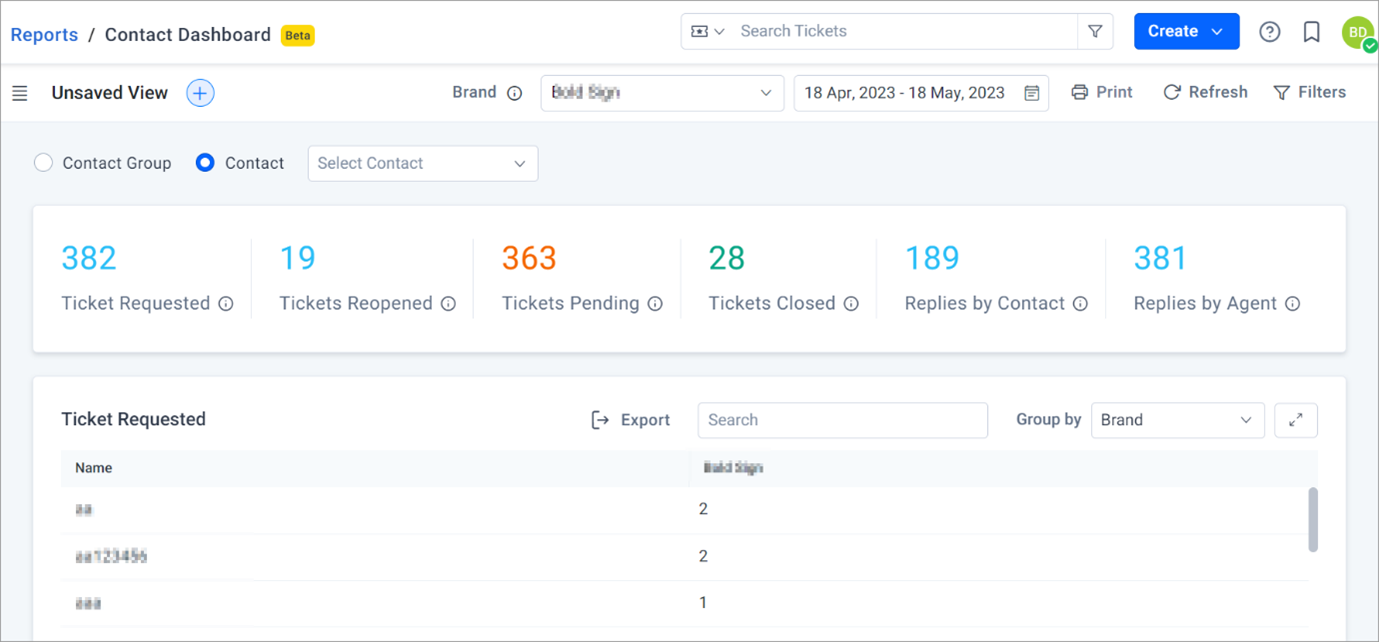 Insights into raw data behind different dashboards
You can now view the raw data used to generate charts and graphs for SLA and agent performance dashboards. This gives you a deeper view of your customer service information.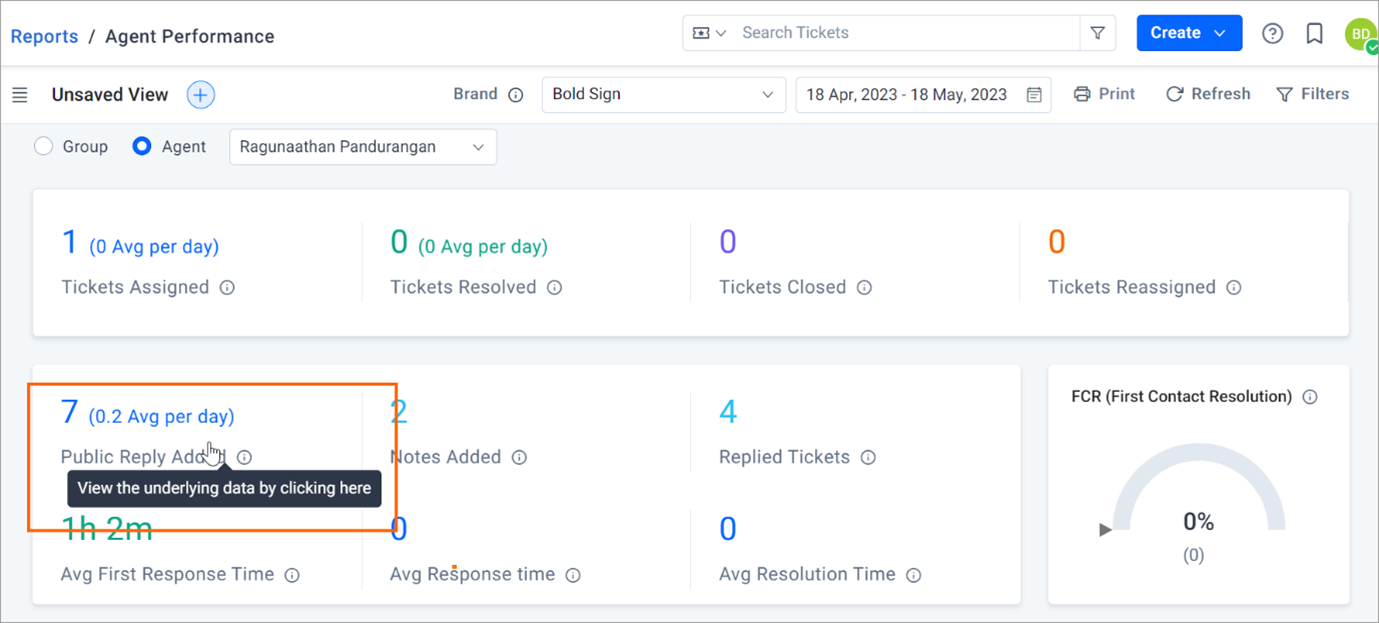 New advanced ticket filter options
To help you find tickets, new fields have been added to the advanced filter in the ticket module.
These new fields include:
Last Modified By: Filters tickets based on the last person to modify them.
Last Replied By: Filters tickets based on the last person to reply to them.
Ticket External Reference ID: Filters tickets using external reference IDs.
Not All operator in the Tag field: Excludes all tickets with the specified tags.
Multiple selection of the Subject field for keyword filtering: Allows you to search for tickets that have multiple keywords in the subject line.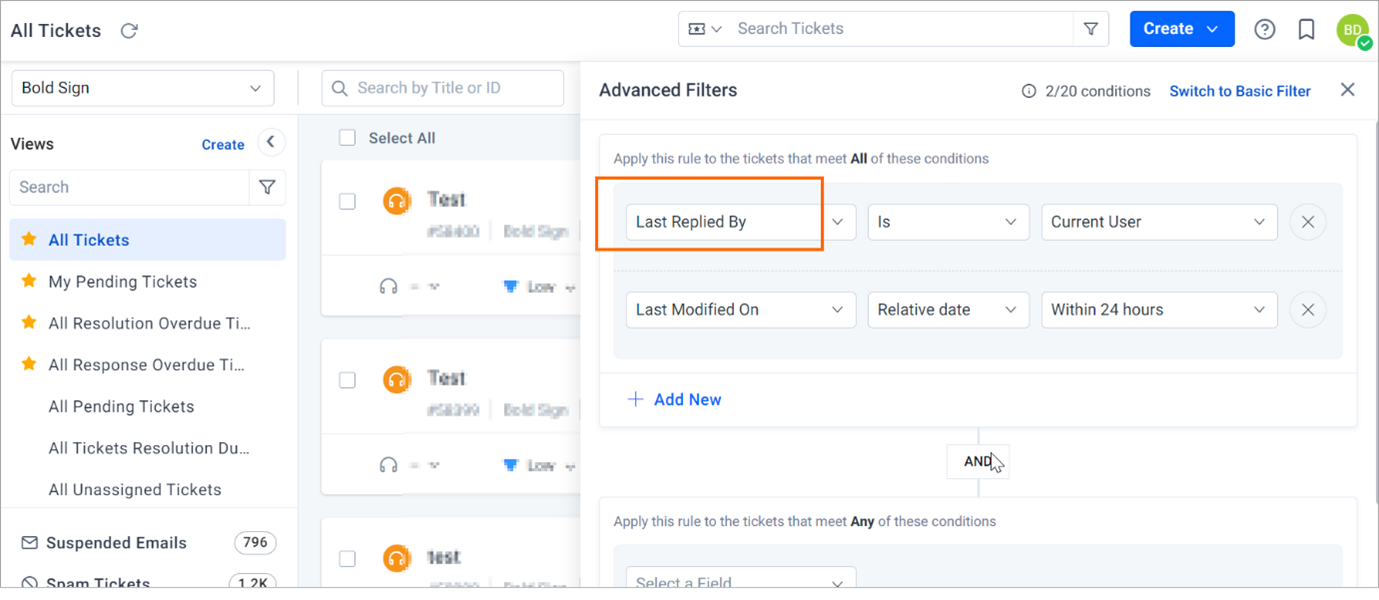 New generative AI integration coming soon
A new generative AI feature powered by ChatGPT integration will be launching soon! This new feature will have the following exceptional capabilities:
Rephrasing
Shortening
Elaboration
Grammar Correction
Summarization
Summary
With these exciting feature updates to BoldDesk, your customer support operations will thrive! Clients and support agents alike will have incredible experiences with the new features, like the multilanguage support and advanced ticket search options.
With BoldDesk, elevate your support team's productivity with a highly efficient ticketing system and provide the best customer experience possible with the new features added in this release.
Request a live demo or give these latest features a try with a BoldDesk free trial. Reach out to our BoldDesk support team if you have any questions.