Affiliate marketing is gaining popularity quickly across various industries due to its effectiveness. According to reports from Forrester Consulting Group, the affiliate marketing industry has experienced significant growth in the last decade. This trend continues.
With SaaS companies now joining the trend, affiliates have struck gold! SaaS affiliate marketing programs are currently game changers for affiliate marketers because of their best practices and advantages over other affiliate marketing programs.
This article explores why SaaS affiliates should choose SaaS affiliate programs and the best practices for SaaS businesses to attract the best affiliates in the market.
How SaaS Affiliate Marketing Works
SaaS affiliate marketing programs operate as follows:
Once affiliates decide on the SaaS brand to promote, they must register as affiliates on the SaaS affiliate program's homepage.
The affiliate receives a unique link, which is the link through which they refer leads or clients to the company's website. Affiliates attach their specific affiliate link to their preferred marketing platforms, such as social media, landing pages, and websites.
Any user or audience member who clicks the link and purchases or subscribes to the promoted SaaS product or service earns the affiliate a commission.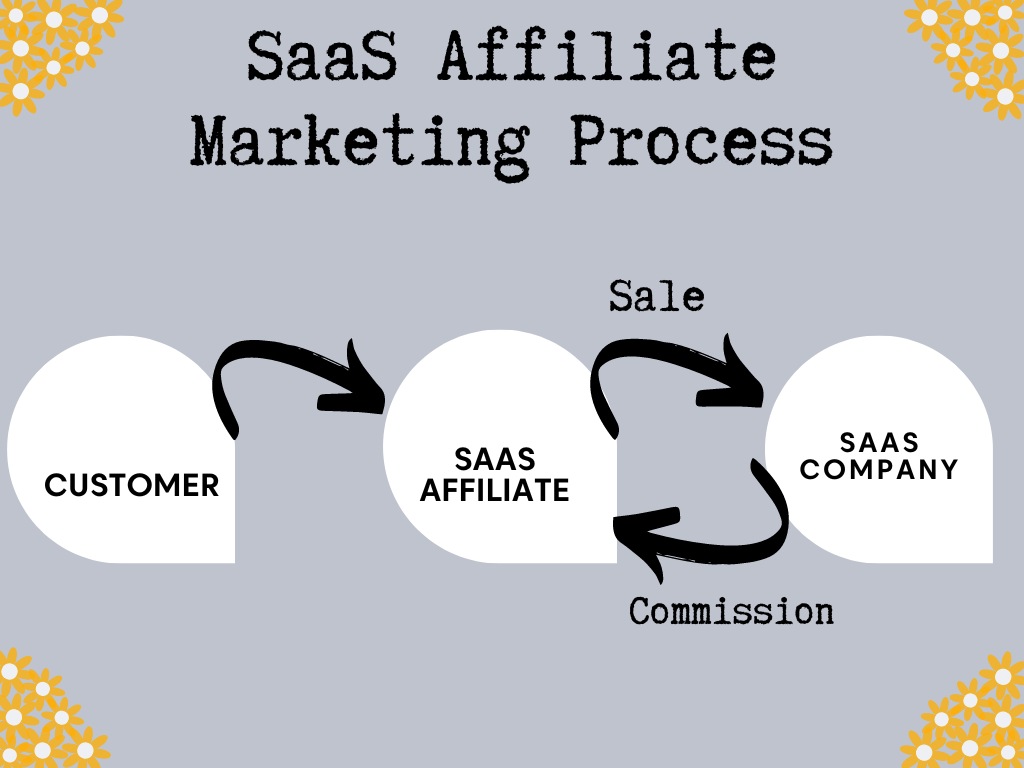 Additional Information
Most SaaS companies provide tools to assist their affiliates with the promotional process, including resources for affiliate training, promotional assets, dedicated affiliate managers, and templates.
SaaS affiliate partners can utilize multiple strategies to grow their business. For example, if the affiliate marketer is a blogger, they can use SEO tactics to write blog posts that potential customers or SaaS leads can easily find, increasing their chances of earning an affiliate commission.
Benefits for Affiliates Joining SaaS Affiliate Programs
There are several benefits for affiliate marketers who join SaaS affiliate programs. Consider registering for these programs today to take advantage of these opportunities.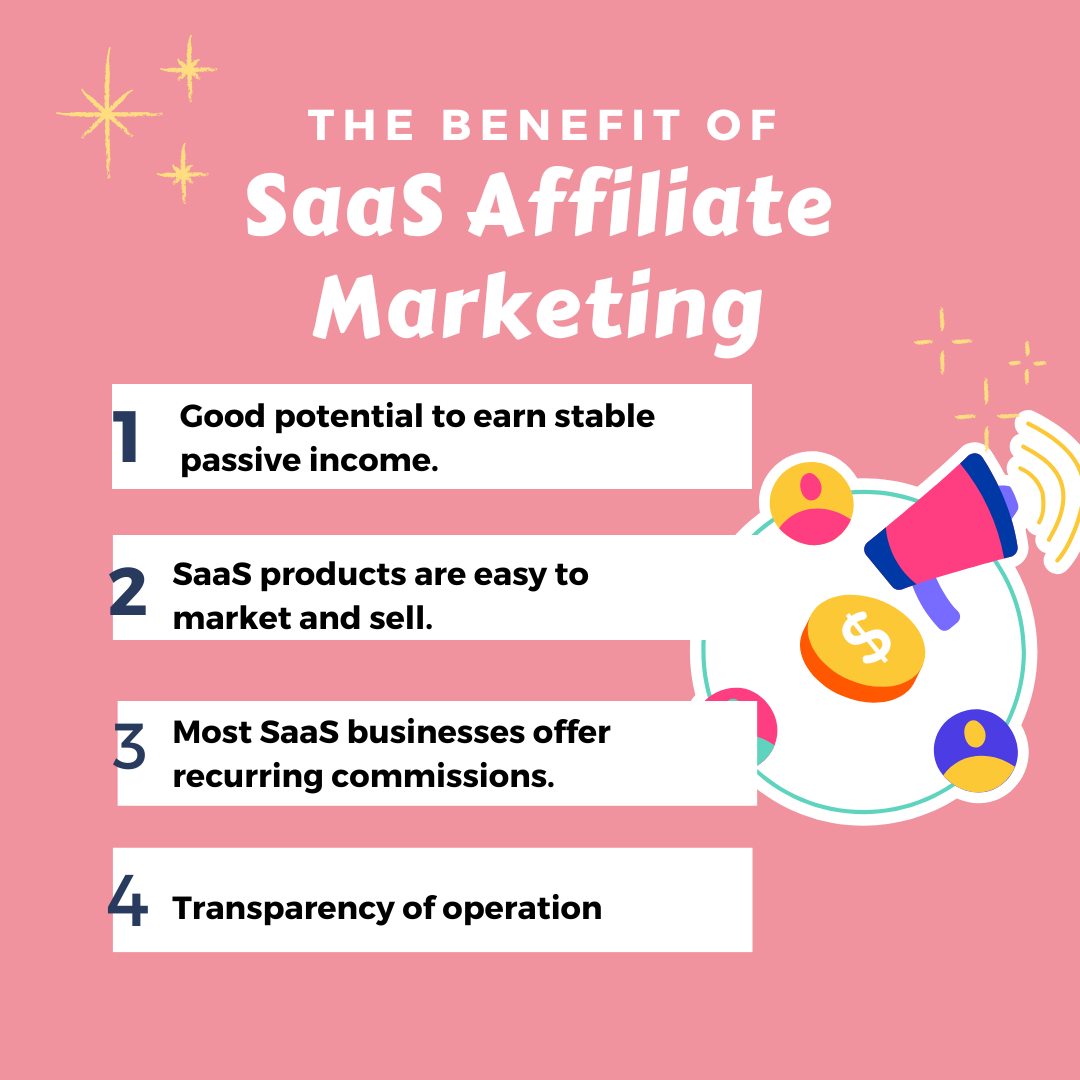 1. Good potential to earn stable passive income
There are good opportunities to earn stable passive income through SaaS affiliating. The main advantage of being an affiliate in the SaaS industry is the higher rewards, such as recurring commissions, compared to other industries. As the SaaS market continues to grow and competition increases, many SaaS companies are affiliating to stay ahead. This means that affiliates have a variety of SaaS affiliate programs to choose from, which can result in more income if they are able to win leads over.
SaaS businesses typically pay commissions using a subscription model, where the affiliate is paid as soon as the leads subscribe or purchase the promoted SaaS products. This allows affiliate marketers to earn multiple times from the same customer.
2. SaaS products are easy to market and sell
In addition, SaaS products are easy to market and sell because they are online-based and easily accessible. Affiliates can reach potential clients through their preferred online marketing platforms, and most SaaS businesses offer free trial packages so that clients can try the product or service before purchasing.
SaaS companies also provide support teams to help affiliates with the onboarding process, and the installation and maintenance processes are straightforward, which means that affiliates do not need to be involved after the sale is closed.
3. Most SaaS businesses offer recurring commissions
Most SaaS businesses offer recurring commissions, which is one major factor that sets their affiliate programs apart. What could be more motivating than knowing that every client you refer and who stays with the company will earn you a commission? With this program, affiliates can enjoy multiple payments, sometimes for a lifetime, every time their referred leads make a purchase. This is not typically offered in traditional affiliate programs, making it a win for SaaS affiliation.
4. Transparency of operation
SaaS companies prioritize transparency, especially because they operate online. Everything about their affiliate programs is available on their platforms, with details clearly stipulated in an organized way on their SaaS affiliate page. Affiliates are given affiliate tracking dashboards to monitor their progress, check their performance, and access their referral links at any time. They can also see the number of signups and clicks they have achieved through their dashboard.
Scalability of SaaS Products
SaaS products are renowned for their flexibility in being adjusted or modified to fit the specific needs of any customer. Being cloud-based, they can be easily managed and expanded as the customer's company grows. Additionally, most SaaS companies offer plans for businesses of different sizes, and the prices can be customized according to the client's needs.
Affiliates should use this to their advantage because it means that they can reach a wide range of customers, from small businesses to large companies. Furthermore, it suggests that the same customer will retain or upgrade their subscription even as the company grows.
Best Practices for Affiliates to Consider When Choosing SaaS Affiliate Programs
Affiliates must choose the best affiliate program in the SaaS market to maximize their income. So, what should affiliates consider before deciding which of these SaaS affiliate marketing programs are the best deals?
Recurring commissions
Recurring commissions are the best motivation for affiliate marketers, as they determine their income through conversion rates. Therefore, it is important to consider the percentage and conditions of the commissions offered by SaaS businesses. This includes whether the commissions are lifetime or periodic, as well as the rates and frequency. However, some high-percentage commissions may be offered for low-priced products, so it is important to check the conditions of payments.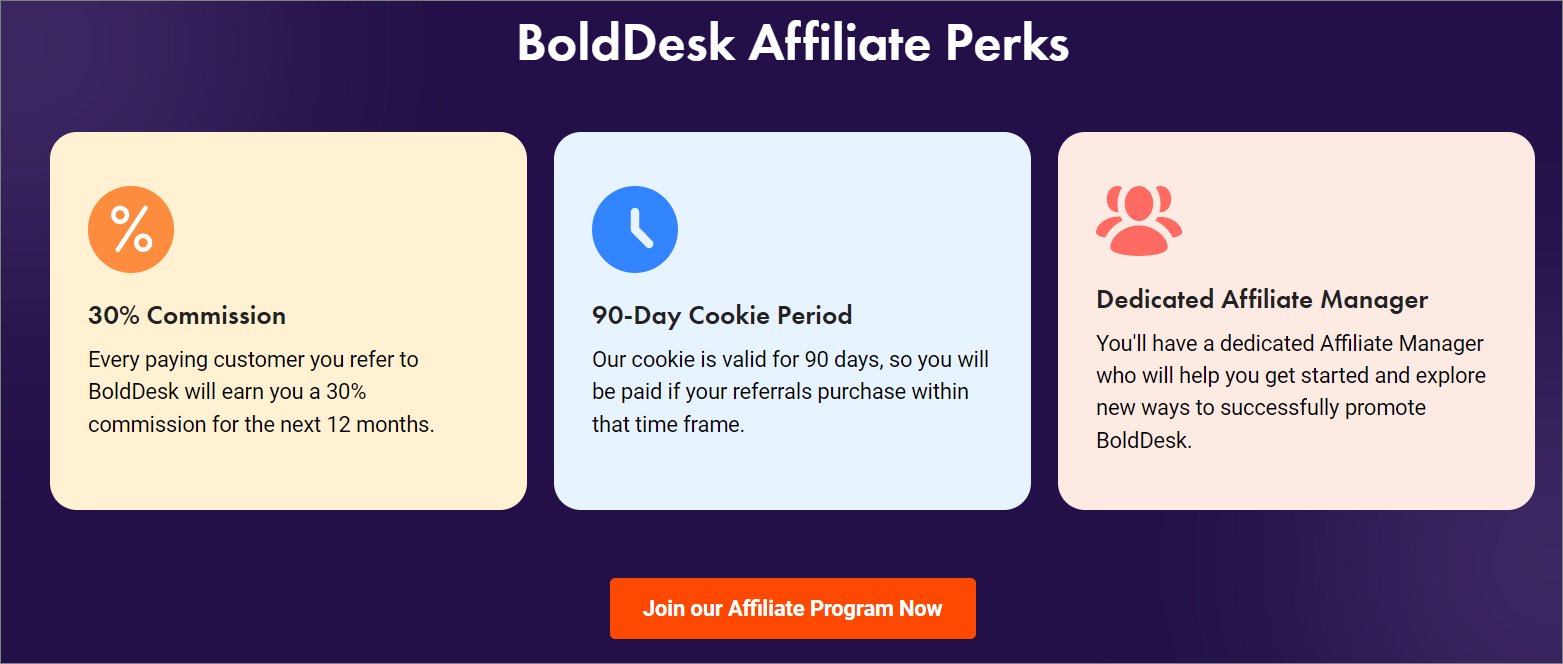 Cookies period
The cookie lifespan refers to the number of days a lead has to purchase after clicking on an affiliate link for the affiliate to earn a commission. A longer cookie period is better, as it provides more time to convince leads to purchase the SaaS product or service.
Product-market fit
When selecting a SaaS brand to promote, it is important to consider whether the product or service is relevant to your audience and solves a common problem. This can increase the chances of high audience reach and clicks.
Affiliate marketing materials
SaaS companies that offer promotional materials, such as dedicated affiliate managers and support resources like how-to articles, can help affiliates reach their audiences faster and more easily.
List of Some of the Best SaaS Affiliate Programs
Having discussed the benefits and best practices, here are some of the best affiliate programs to consider in the SaaS industry:
Check out the list of top trending SaaS affiliate programs for 2023 and discover why joining affiliate programs in the SaaS industry is a smart move.
Conclusion
In conclusion, the SaaS market presents great opportunities for affiliates in today's era. SaaS affiliate marketing programs offer numerous benefits compared to traditional affiliate programs. By transitioning to affiliate marketing for SaaS businesses, affiliates can increase their income and attain long-term stability. BoldDesk provides one of the best affiliate programs in the SaaS industry. Request a demo or a free trial of their ticketing software to experience it firsthand. For any inquiries, contact the BoldDesk support team.