Looking for the best products to promote through affiliate marketing? Affiliate marketing has never been better! The promotions are downright easy, and the commissions are an unbelievably great deal.
Can you imagine getting regular commissions for months by simply referring customers to products you promote?
Don't miss out!
In this article, we will explain what SaaS affiliate programs are, how they work, and their advantages. We'll list some of the best SaaS ones with their offers. Let's jump right in!
Why choose SaaS affiliate programs over regular ones?
When it comes to promoting SaaS products, it's all about the amount of commission you will get.
Most regular affiliate programs pay an average commission between 5% to 15%. Top SaaS affiliate programs have higher commissions of up to 30%.
Besides that, SaaS affiliate marketing is also fast-gaining popularity as one of the best marketing strategies across different industries.
Reports by Statista show that the affiliate marketing expenditure in the United States has increased over the years. From $2.5 billion in the year 2012, to $5.4 billion in the year 2017 and was at $7.4 billion by 2021. The expenditure was expected to further increase to about $8.2 billion in 2022.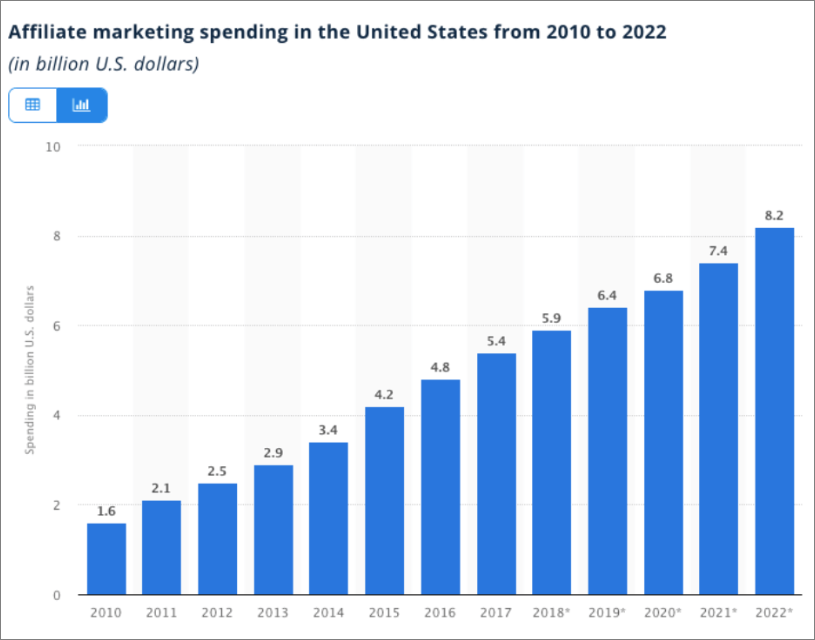 Image source: Statista
This increase in SaaS affiliate marketing expenditure shows that more businesses are shifting to affiliate market as a strategy to reach their customers.
What this means is, by promoting these SaaS products, you are assured of huge commission pay-outs that can either be paid once or monthly.
Affiliates get paid as long as the clients they refer maintain their subscriptions. What a way for affiliate marketers to earn huge commissions when they promote SaaS products in their pages!
Brief explanation of how the SaaS Affiliate Programs operate
The SaaS Affiliate programs generally works as follows:
A SaaS company looking to reach a wider target market pays online marketing advertisers.
For instance, they can use affiliates such as bloggers and content creators to promote their SaaS products on their pages on social media platforms.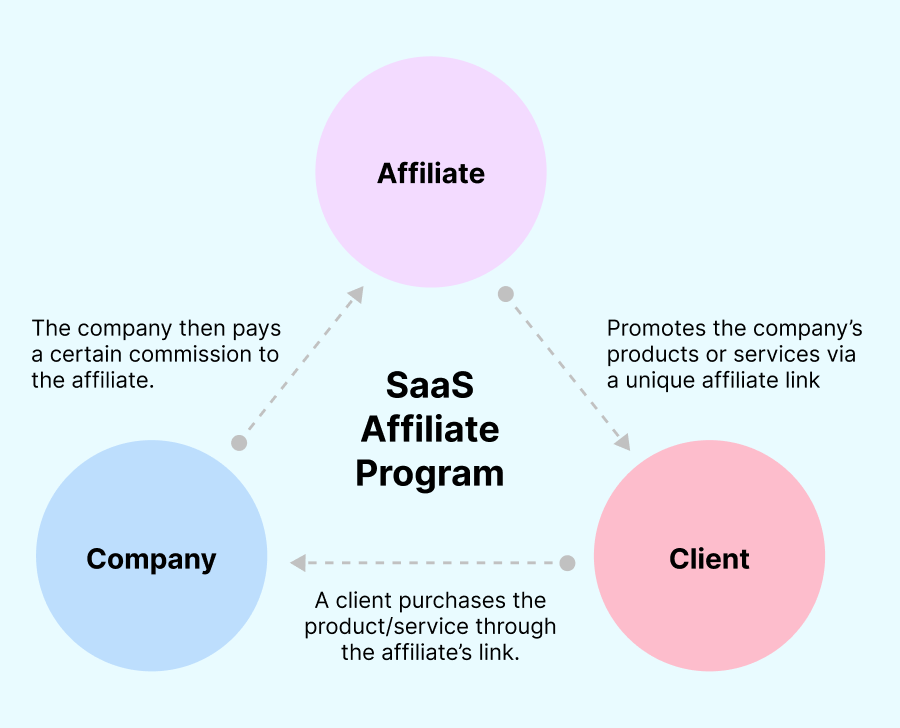 The affiliate marketer will get a unique link they can post to their sites to promote the SaaS products and draw traffic to the SaaS company subscription page.
Upon successfully closed sales, the affiliate will get a commission for each client who subscribes.
Why join a SaaS affiliate program?
Daily, SaaS industries seem to be growing both in number and demand. With this drastic digital revolution, many consumers are now in need of SaaS products.
Most companies are embracing new AI-powered technologies due to their advantages. Therefore, given that most SaaS products are AI-based, analysts predict that the SaaS industry is set to grow by an even greater percentage in 2023.
Due to the growing demand for SaaS products, this might be the right time to be a marketer for SaaS affiliate programs.
What makes SaaS affiliate marketing such a lucrative deal? For starters, they offer great transparency of commissions and pricing plans. Additionally, they have easy steps for affiliates to follow as they market the SaaS products.
Qualities of SaaS affiliate marketing programs to consider
Choosing the right SaaS affiliate programs to promote is key. Your effort should be well worth it. So, what should you look for in these SaaS affiliate marketing programs?
Commission rates
Consider SaaS affiliate programs with high commission rates, preferably more than 20%. The best ones even go a step further to offer recurring commissions and incremental revenue. This means you'll use less effort and earn more.
Cookie period
Given that a commission is earned based on purchases made within the cookie period, you should go for those with the longest lifespans.
Additional features
Top SaaS affiliate marketing programs have extra benefits, such as affiliate training resources, dedicated account managers, and affiliate dashboards.
Company brand reputation
Select SaaS brands and companies that have a good reputation. This will make it easy for you to get clients to make purchases. Consider reading their online reviews and learn everything about the SaaS brand first.
List of best SaaS affiliate marketing programs
Here is a list of the 15 best SaaS affiliate marketing programs in 2023 with high commissions:
1. BoldDesk
BoldDesk is cloud-based help desk software that performs outstanding customer service operations. It has powerful help desk features, such as a ticketing system, knowledge base software, canned responses, CSAT surveys, workflow automation, and SLA management.
These features help a support team perform tasks seamlessly, and they automate manual repetitive tasks. With BoldDesk, there is a 100% guarantee of customer satisfaction and a great customer experience!
The following aspects make it one of the best SaaS affiliate programs to promote: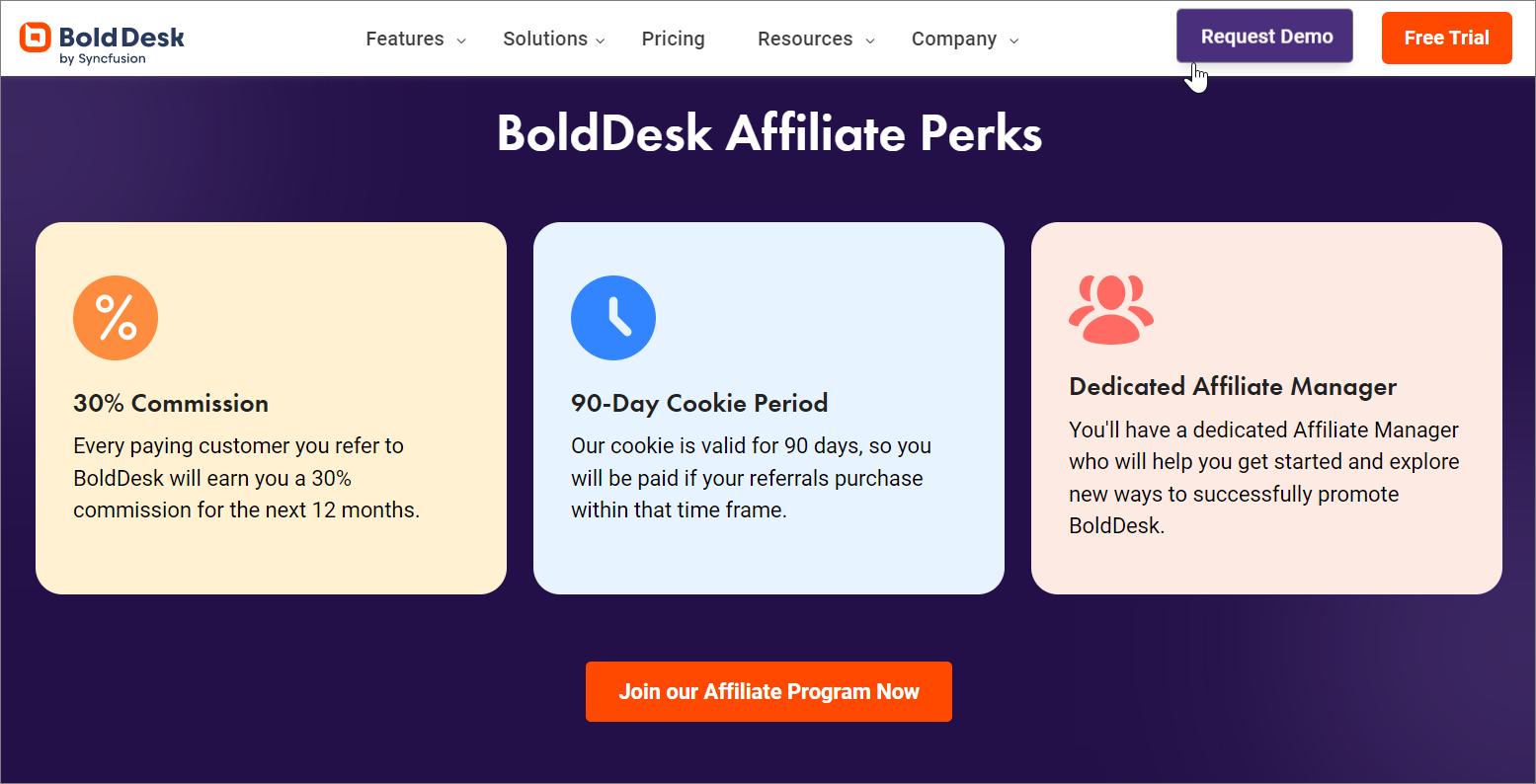 Affiliate Program Details
2. Brand24
Brand24 is a social media monitoring and analytics tool that allows individuals and businesses to track mentions of their brand, products, or services across various social media platforms, blogs, forums, news sites, and other websites.
With Brand24, users can monitor their online reputation, track their competitors, identify influencers, analyze sentiment and engagement, and measure the effectiveness of their social media campaigns.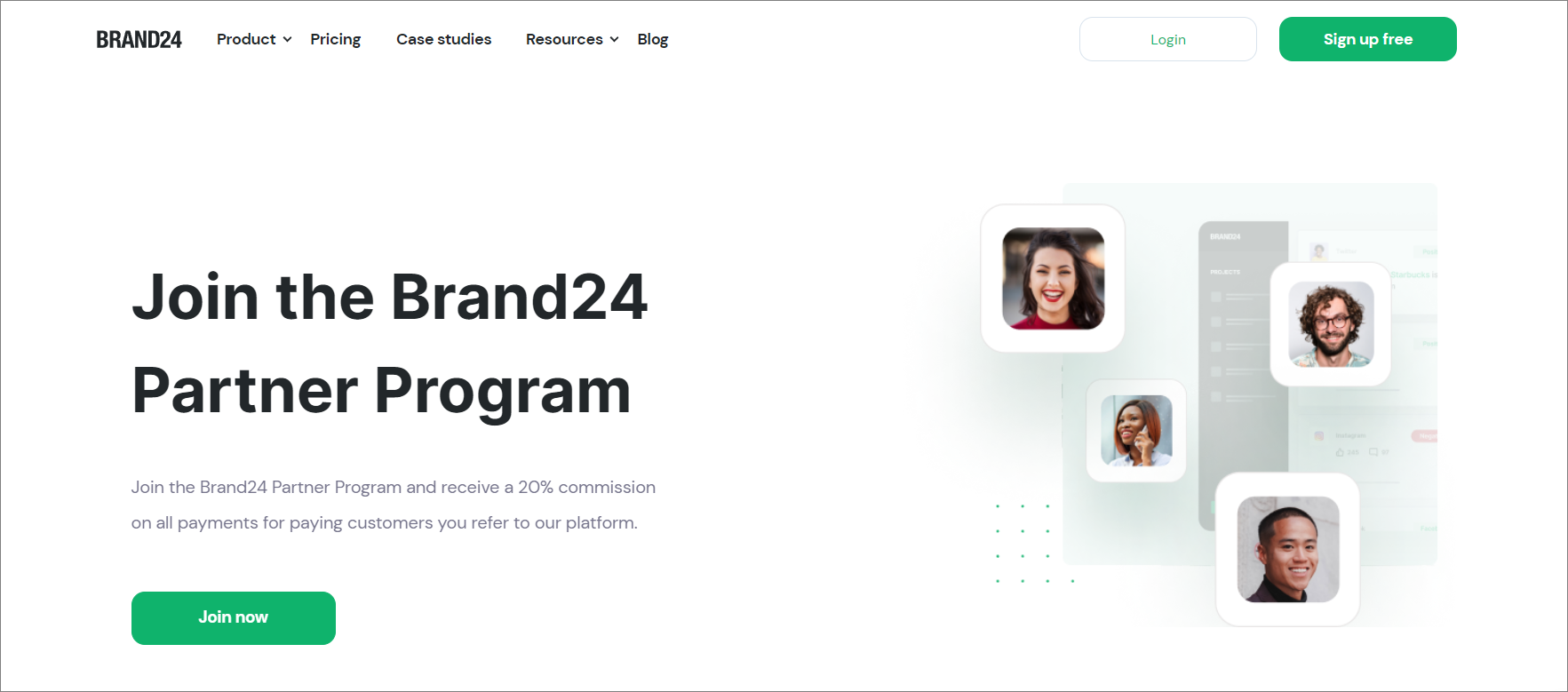 Affiliate Program Details
 3. Canva
Need a graphic designing tool that is very user-friendly? Canva has got you covered.
It has customizable templates that are readily available, ranging from logos, photos, documents, and many more. It has one of the best bounties in the SaaS Affiliate Programs.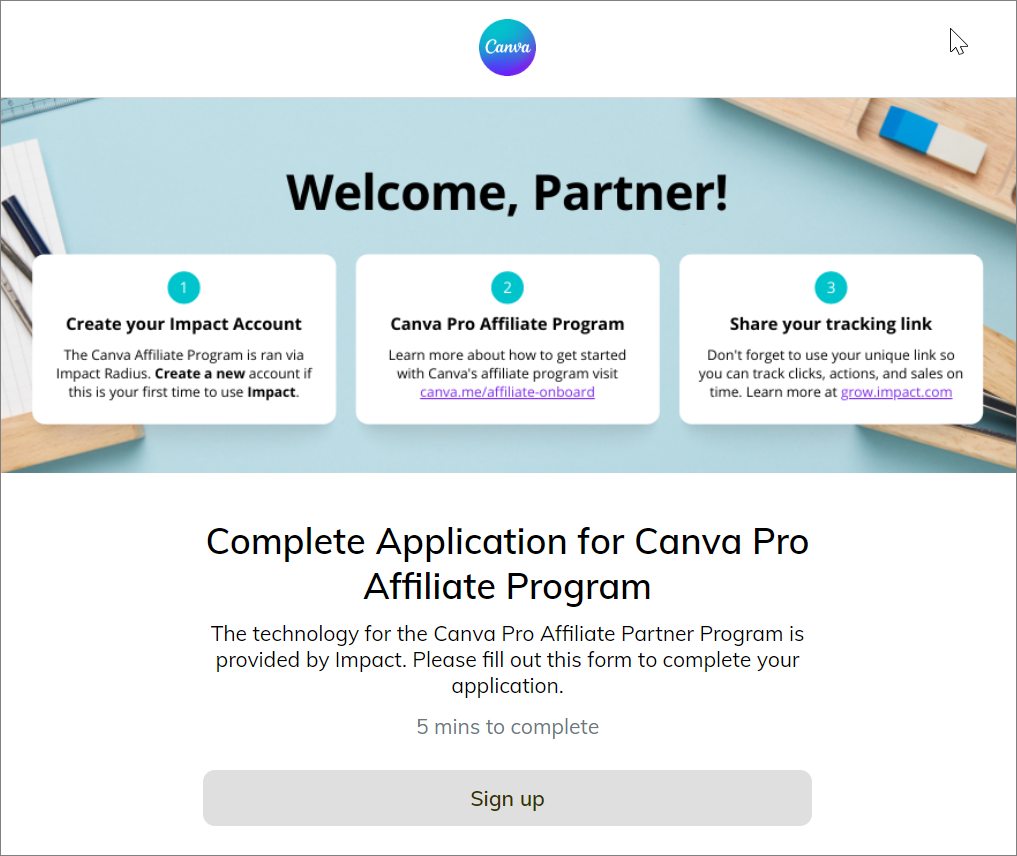 Affiliate Program Details
4. Triple Whale
Triple Whale is a top tier AI data platform for Shopify e-commerce businesses. With this powerful data insight tool, businesses can easily manage their marketing reports and analyze data.
It helps them get effective real-time insights on different performance metrics, leading them to make informed decisions.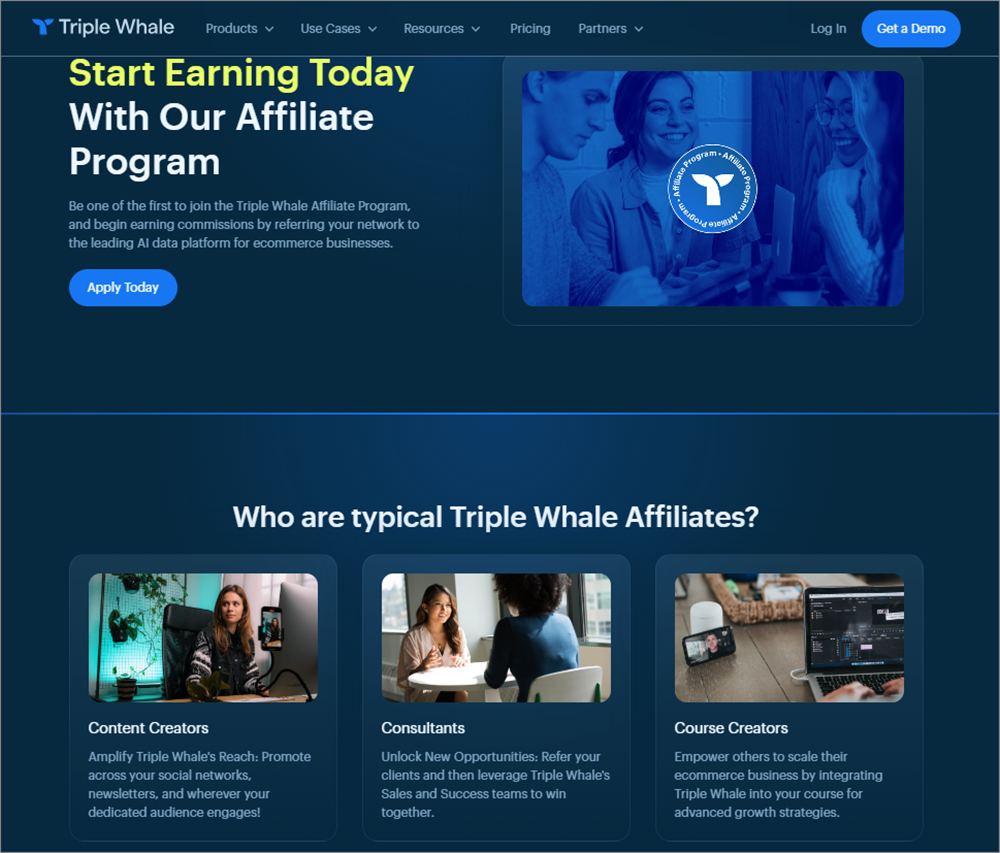 Affiliate Program Details
It has different commission plans including:
Blue tier (0-15 referrals): $50 for each completed demo + 15% recurring revenue for 6 months
Silver tier (16-50 referrals): $100 for each completed demo + 20% revenue for 6 months
Gold tier (51+ referrals): $100 for each completed demo + 25% revenue for 6 months
5. BoldSign
BoldSign is an enterprise-grade electronic signature software and API. You can easily collect legally binding eSignatures online from our app or yours. The BoldSign APIs are blazing fast and let you embed the entire eSignature process into your application seamlessly. It has a rich feature set that includes templates, branding, webhooks, team management, multi-tenancy, and more.
The following are the key aspects that helps you to promote the BoldSign affiliate program: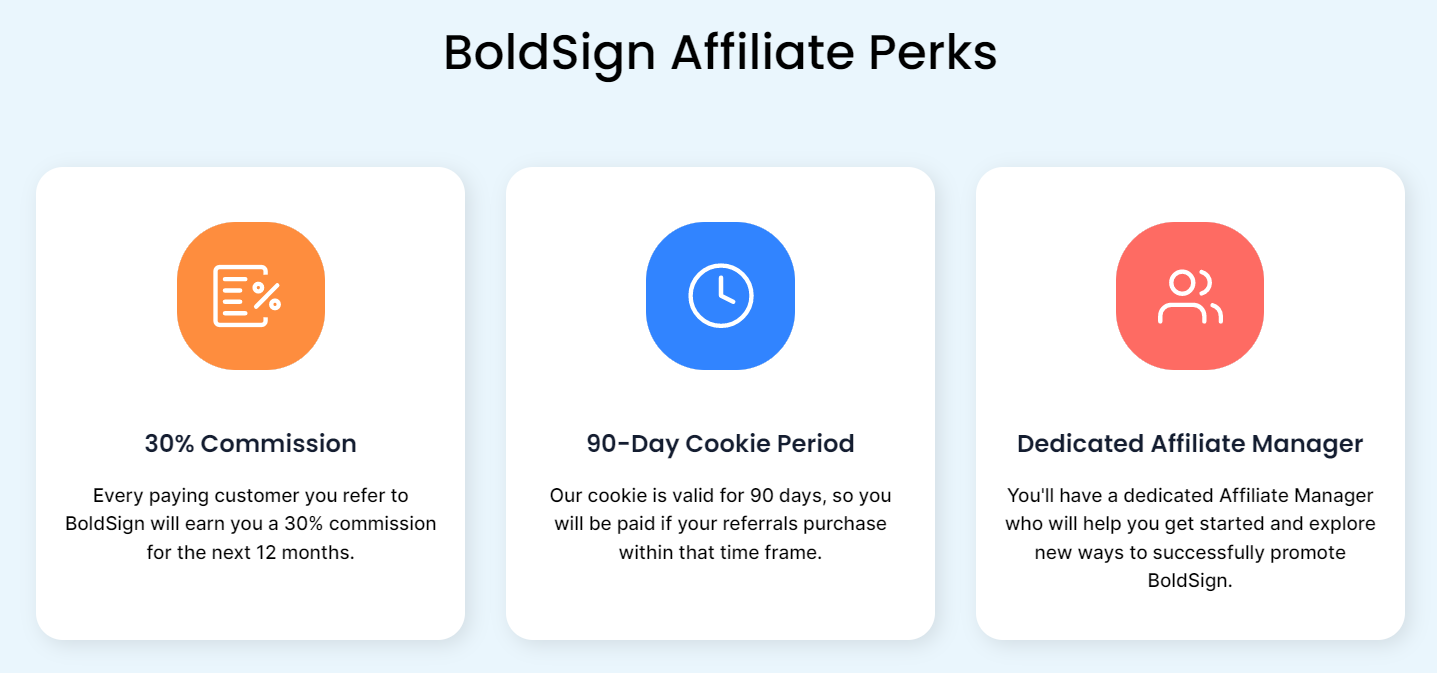 Affiliate Program Details
6. Shopify
For anyone looking to start an e-commerce store that has amazing hosting and marketing tools all in one SaaS product, Shopify has you covered!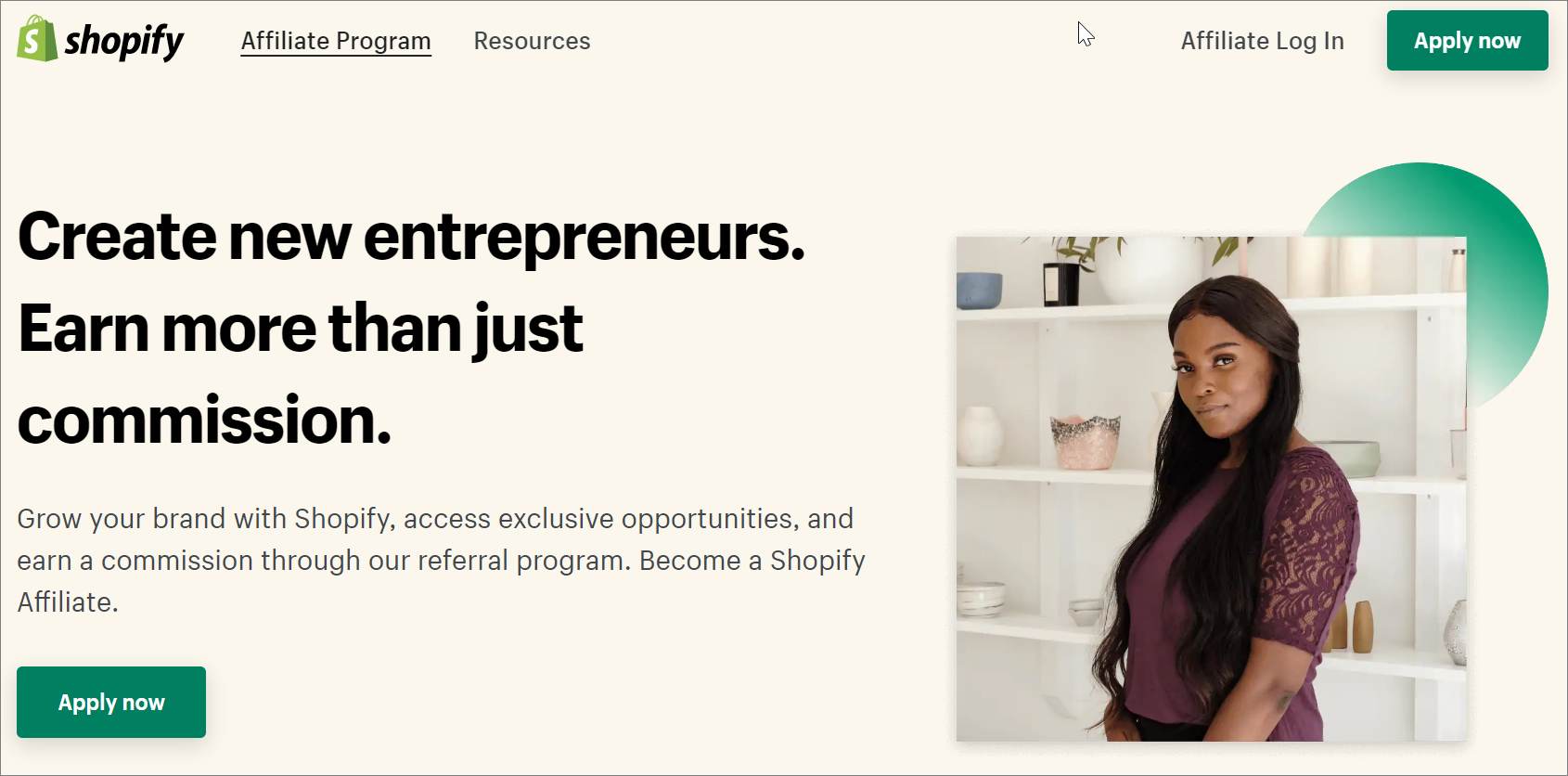 Affiliate Program Details
7. Microsoft Office 365
Microsoft Office 365 products have been migrated to SaaS products with most features automated for better functionality. This affiliate program offers great commissions. The following affiliate marketing advantages are reasons to choose the Microsoft Office 365 affiliate program.

Affiliate Program Details
8. SemRush
This is a powerful digital marketing tool used to improve online visibility and discover different marketing insights. With SemRush, customers perform search engine optimization (SEO), social media marketing, content marketing, and pay-per-click advertising.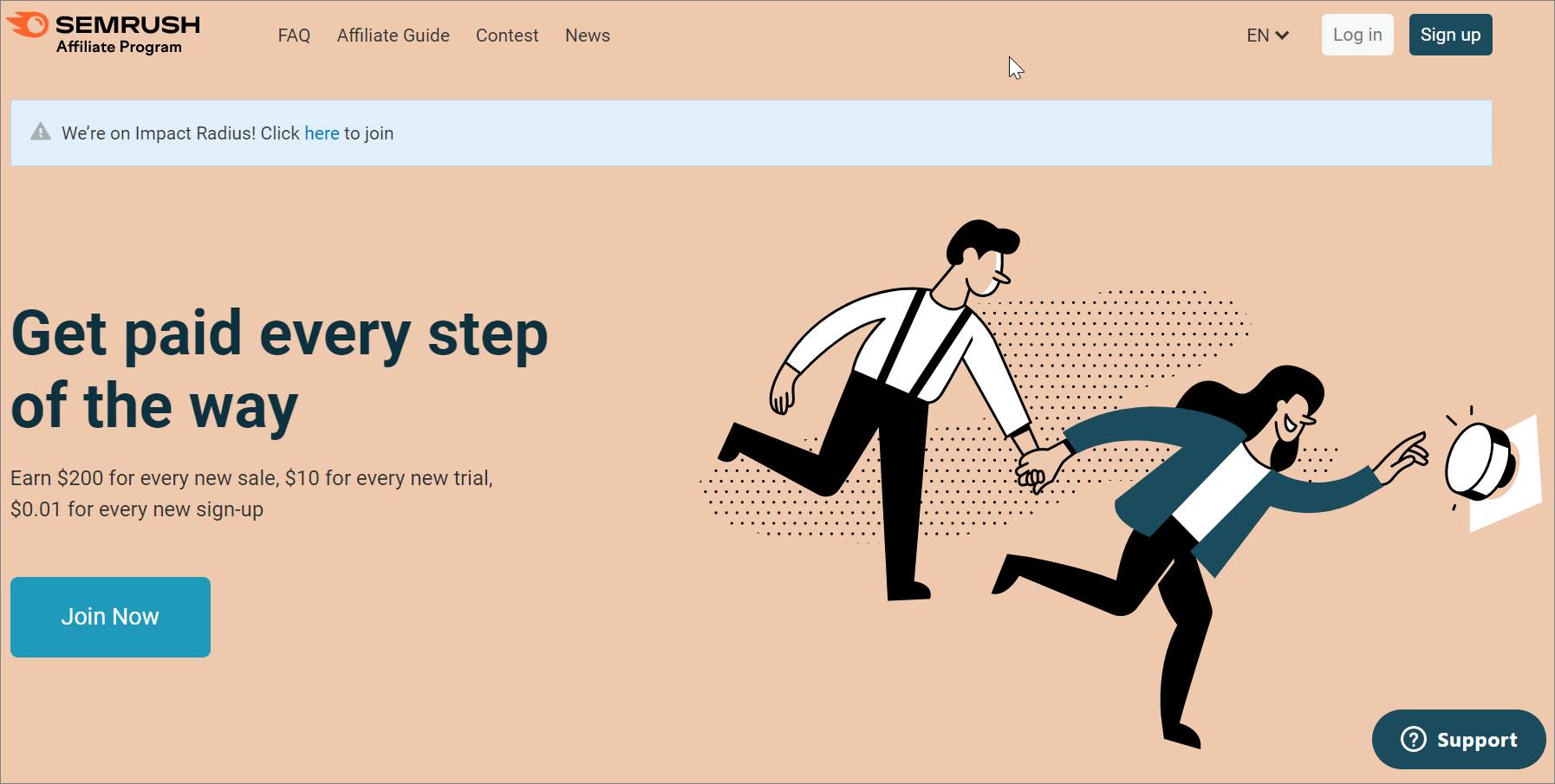 Affiliate Program Details
9. Privy
Privy is a SaaS product designed for email marketing. It provides a platform for online businesses to advertise their products and acquire new clients. It offers powerful features such as follow-up emails, product recommendation, etc. Privy sends targeted messages to potential clients with offers they can't resist.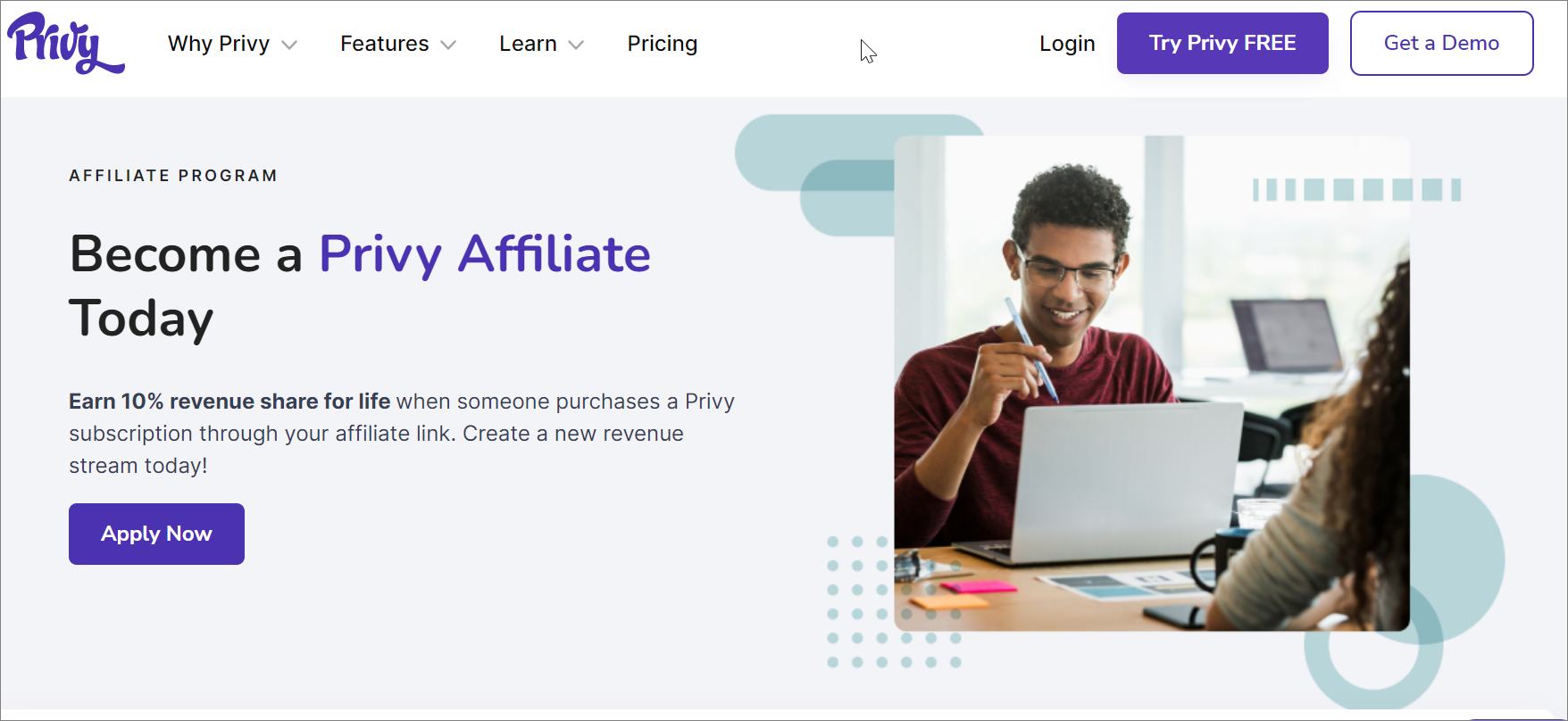 Affiliate Program Details
10. AWeber
AWeber is one of the oldest, most popular, most powerful, yet user-friendly tools for email marketing. Email automation has never been simpler than with AWeber! It has great features such as drag-and-drop, customizable templates, integration with third-party apps, tagging, reporting, and email designers.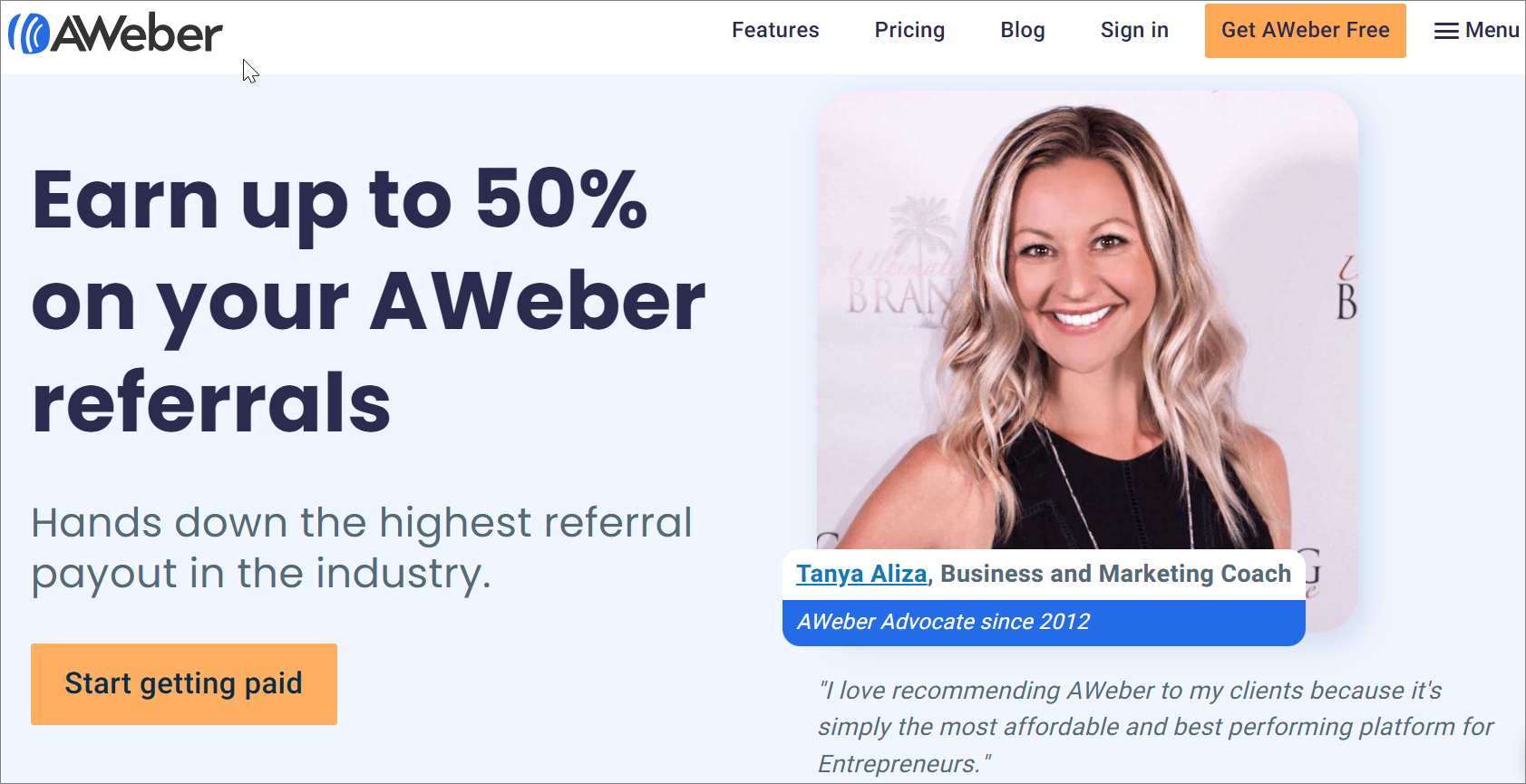 Affiliate Program Details
11. Unbounce
Unbounce is a smart and powerful AI-powered tool that helps marketers quickly create landing pages as well as obtain content copies for campaigns. It has amazing features that make it worth checking out.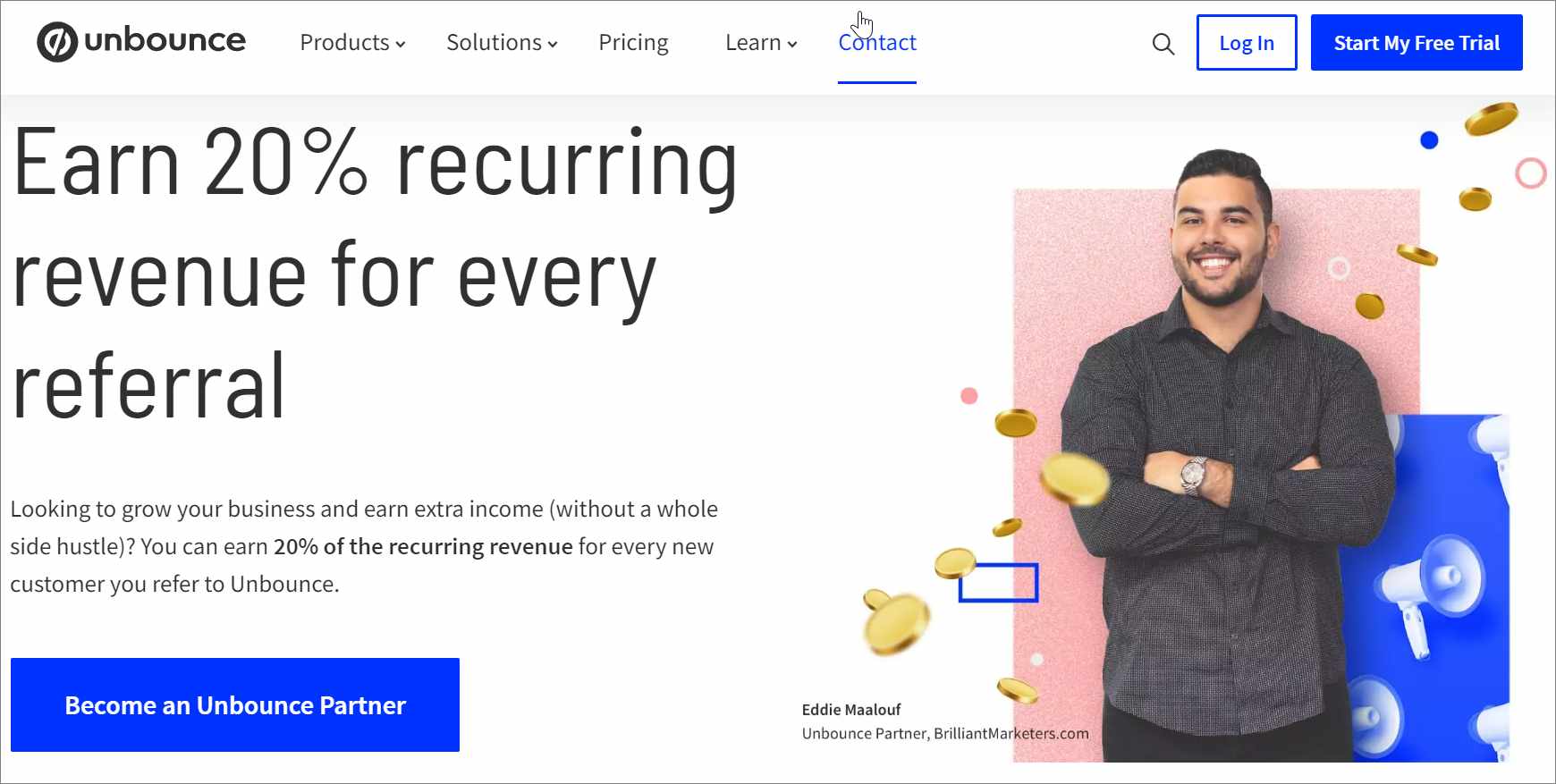 Affiliate Program Details 
12. LifeLock
This is one of the best tools for identity theft protection during the tax period and other seasons as well. With LifeLock, businesses are guaranteed the safety of their finances as well as their reputation.
It encrypts their details and keeps them safe from cyber insecurity. It scans, alerts, and fixes identity theft-related issues.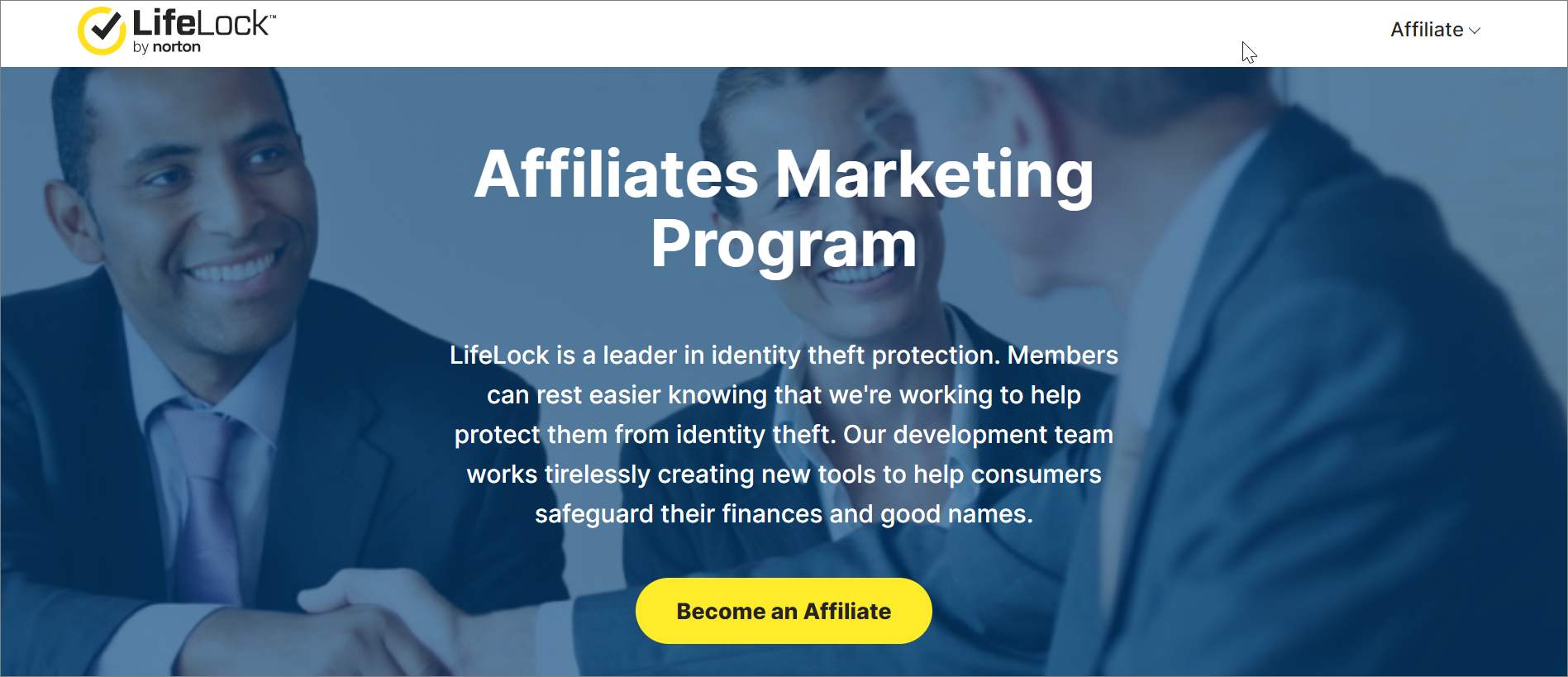 Affiliate Program Details
13. Moosend
Moosend's affiliate program can benefit both you and your audience. You can introduce your audience to a tool that will help them cut back on cost while increasing engagement and conversion, while you can earn a passive income through lifetime commission.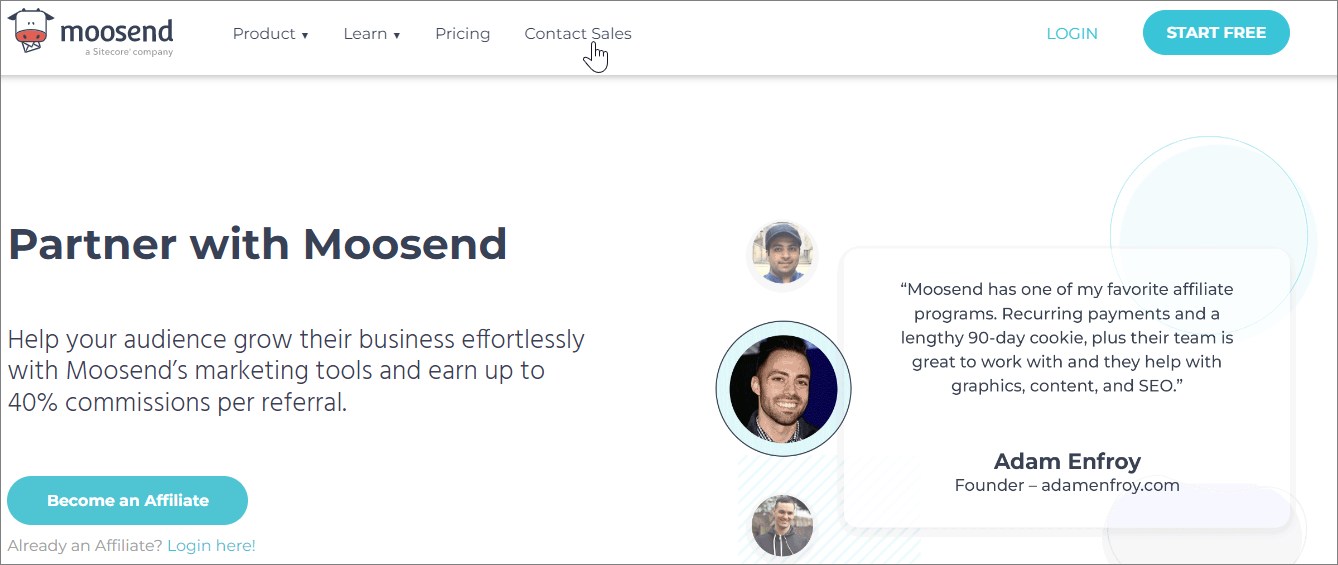 Affiliate Program Details
14. Reply.io
Reply is an AI-powered platform for sales engagement. It automates multichannel outreach in the sales process to generate more new leads.
In addition, it helps businesses get new clients and increase their revenues.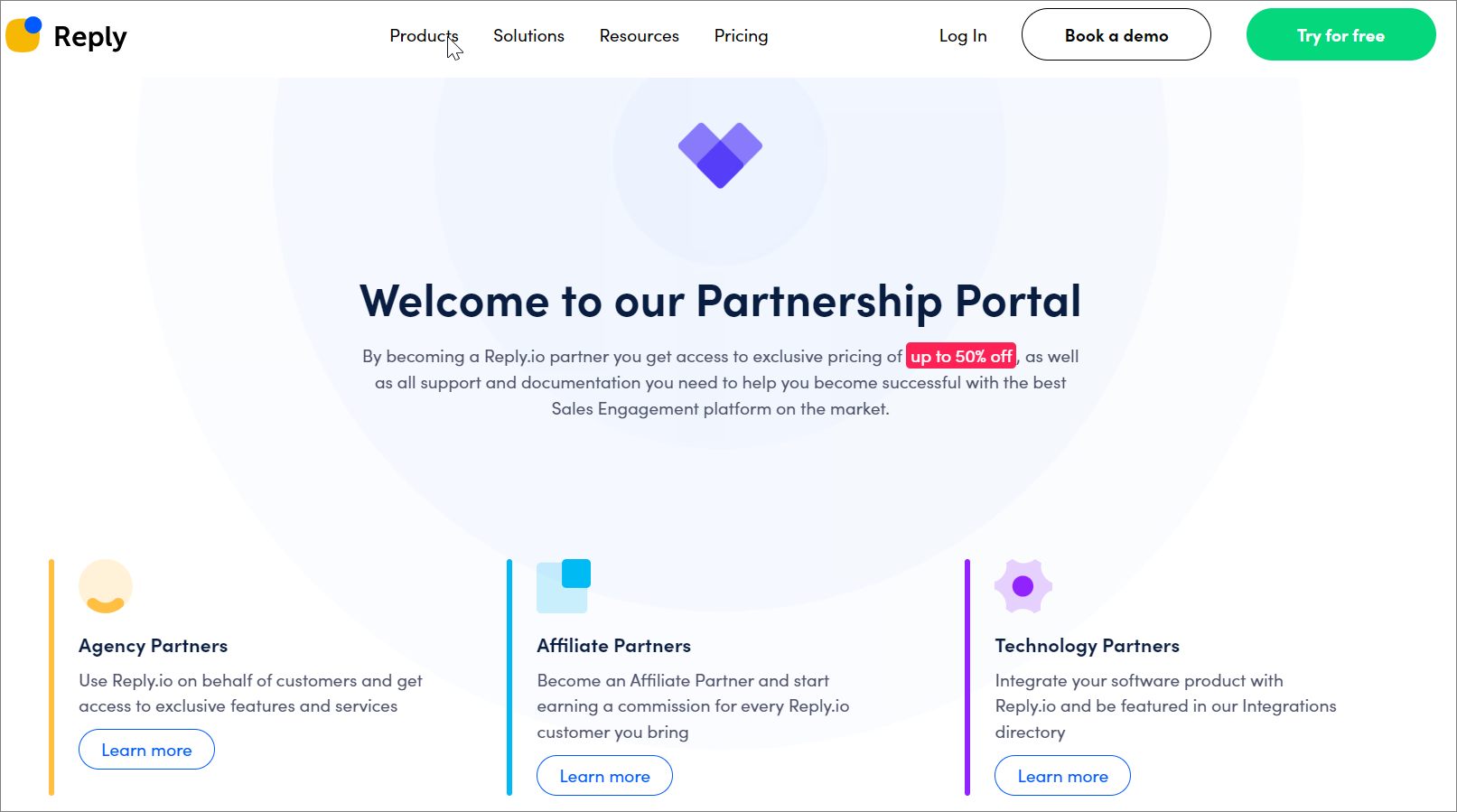 Affiliate Program Details
15. Tribe
Tribe is a SaaS brand that offers a platform for businesses to build online clientele. It has one of the best SaaS Affiliate Programs deals as listed below.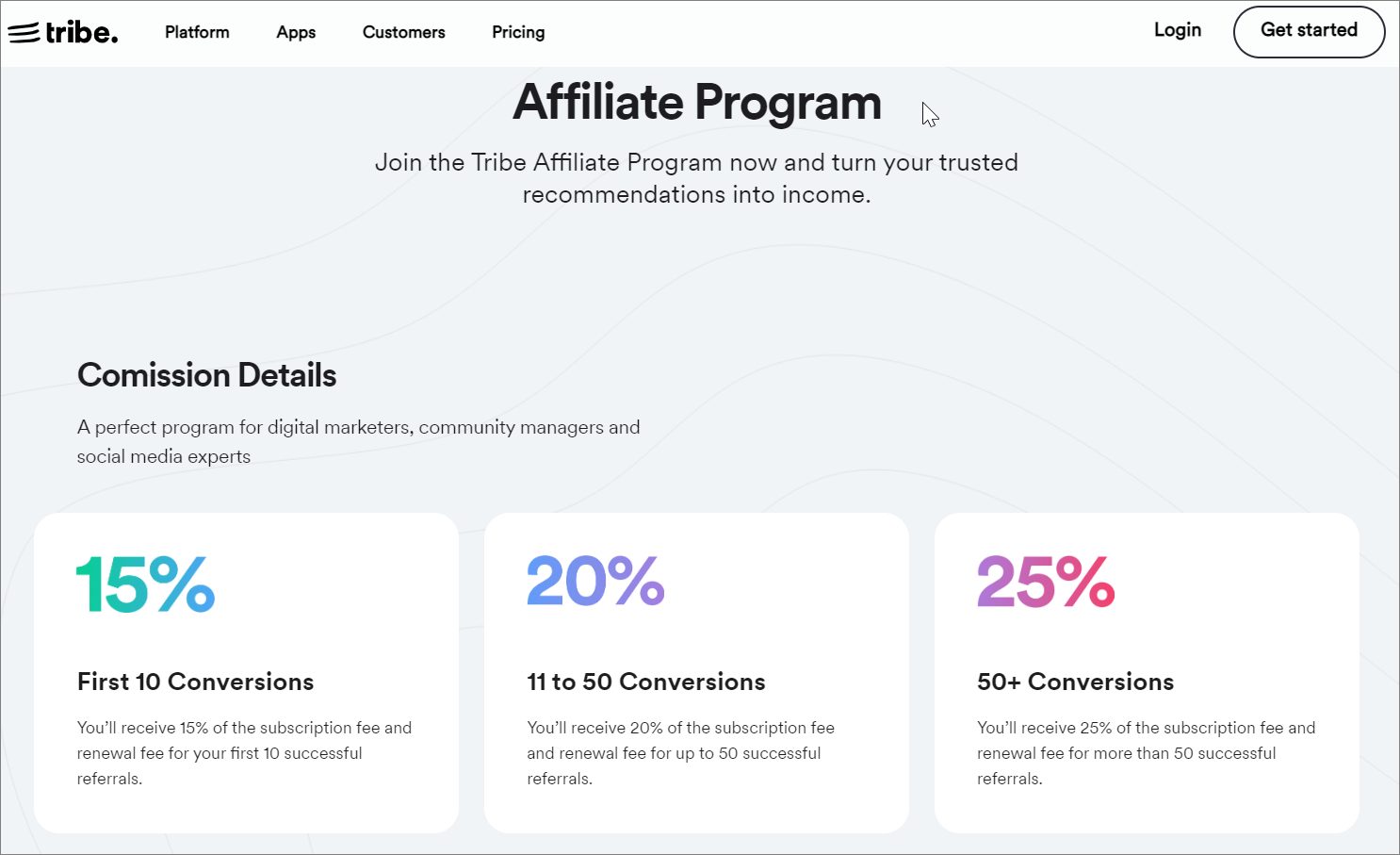 Affiliate Program Details
16. Omnisend
Omnisend is a platform that helps businesses with e-commerce marketing through email, SMS, and automation features.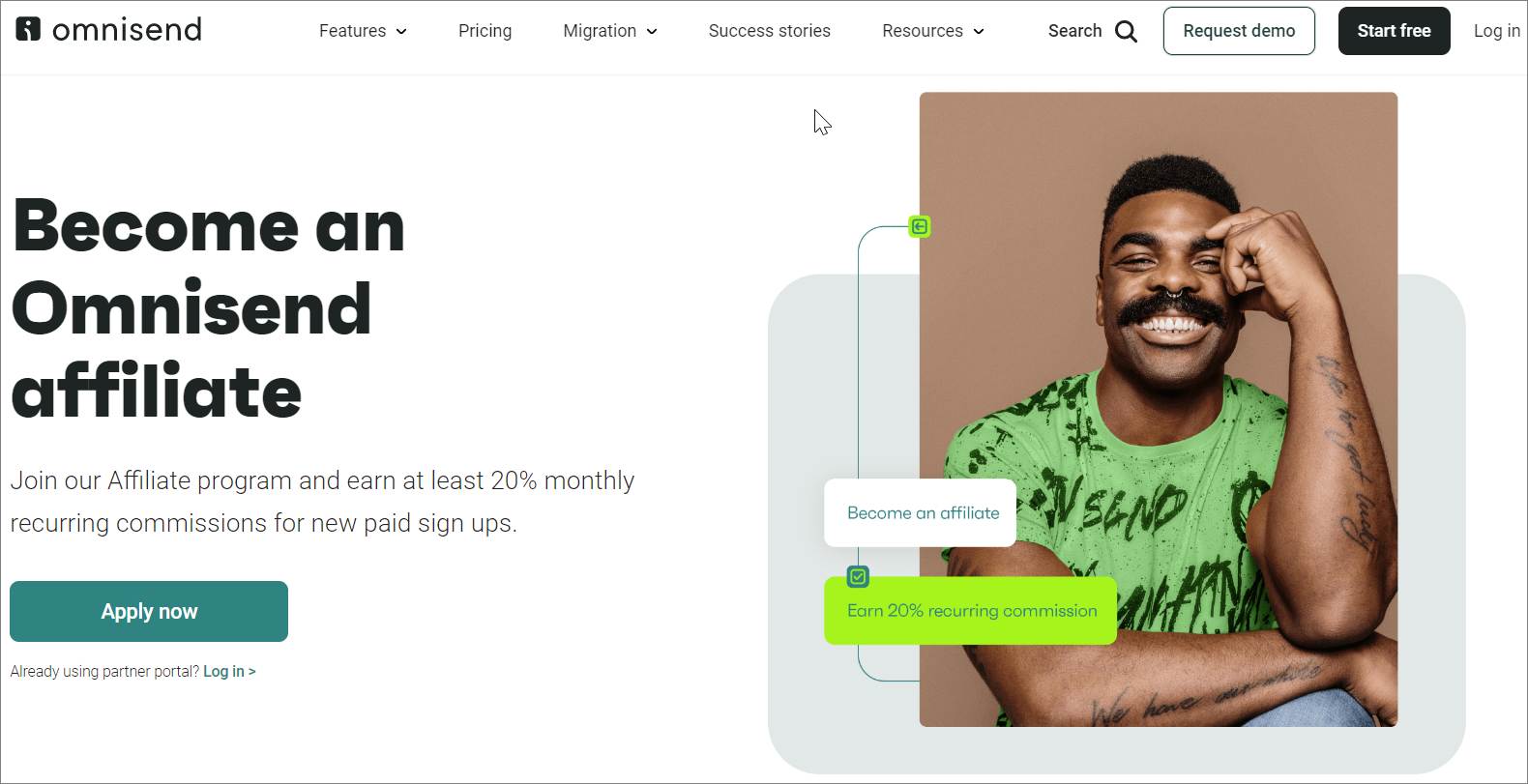 Affiliate Program Details
17. ConvertKit
ConvertKit is a popular marketing hub for content creators with amazing features such as broadcasting emails and creating landing pages. It has great affiliate packages for its promoters.

Affiliate Program Details
Conclusion
With SaaS products trending, there are many top SaaS affiliate programs to choose from. Select the program that best suits your target audience.
Earn huge commissions from simply promoting these affiliate programs! Contact the BoldDesk support team for any inquiries regarding our SaaS affiliate programs.